The best instant camera 2023: top retro models from Polaroid to Instax
Best
Contributions from
last updated
The best instant cameras for analogue snapping
QUICK MENU
1. The list in brief
2. Best overall
3. Best for big prints
4. Best hybrid
5. Best simple
6. Best pocket
7. Best retro
8. Best instant printer
9. How to choose
10. How we test
Whether for party snaps or a creative project, the best instant cameras make it easy to sample the nostalgia of analogue photography, letting you shoot and develop charming prints in minutes. From basic toy models to smarter hybrid options that connect to your smartphone, we've tested all of the top instant cameras and ranked our favorites in the guide below. Whatever your budget, we've created this comprehensive list to help you choose your ideal instant camera.
We think the best instant camera for most people overall is the Fujifilm Instax Mini 12. With a simple interface that's easy for novices to operate, the Mini 12 makes it straightforward to shoot and print vintage-style shots, using film that doesn't cost the earth.
If you'd prefer something smarter, we highly recommend the Polaroid Now+ as a capable hybrid that produces big, rich prints. While the camera itself is simple to use, its Bluetooth connectivity unlocks lots of creative shooting modes for more experienced photographers to experiment with.
You'll find a whole range of instant cameras below, each extensively tested by our team of experts. We take every camera out into the real world to see how it measures up in different shooting scenarios, where we assess everything from usability and battery life to image quality and how quickly it develops prints. We've summarised the results of our reviews to make your buying decision easier and, to that end, we've also shared a few useful tips to keep in mind when choosing.
Written by
Tim is TechRadar's Cameras editor, with over 15 years in the photo video industry and most of those in the world of tech journalism, Tim has developed a deeply technical knowledge and practical experience with all things camera related. He's also worked in video production with clients including Canon, and volunteers his spare time to consult a non-profit, diverse stories team based in Nairobi.
The quick list
If you're in a hurry to get straight to the best instant cameras, you can read a quick round-up of our favorite options in the summary list below. If there's an option that captures your interest, use the links beneath each entry to jump down to our full feedback.
Best overall
The best instant camera overall
With an interface simple enough for anyone to use, the Instax Mini 12 produces lovely prints using low-cost film packs.
Best for big prints
The best instant camera for big prints
Using big but pricey film, the Polaroid Now+ harnesses Bluetooth app connectivity to unlock another level of creativity.
Best hybrid
Fujifilm Instax Mini Evo review
The best hybrid instant camera
More pocketable than other Instax cameras, the Mini Evo is a retro hybrid that blends digital tricks with point-and-shoot ease.
Best simple
The best simple instant camera
Small and simple, the Polaroid Go isn't the cheapest instant camera, but it is one of the easiest to shoot with on the move.
Best pocket
The best pocket instant camera
Canon's instant hybrid camera uses Zink paper to achieve a slim build, while a built-in ring flash is perfect for party portraits.
Best retro
The best retro instant camera
Pairing old-school looks with a simple interface, the Instax Square SQ40 produces perfectly formed square prints with vintage warmth.
Best instant printer
Fujifilm Instax Link Wide
The best instant printer
A fun alternative to an instant camera, the Instax Link Wide lets you select and print colorful photos from your smartphone.
The best instant camera in 2023
Why you can trust TechRadar We spend hours testing every product or service we review, so you can be sure you're buying the best. Find out more about how we test.
The best instant camera overall
The best instant camera overall
Specifications
Focusing:
Normal and macro
Film type:
Fujifilm Instax Mini
Reasons to buy
+
Easy to use
+
Accurate viewfinder
Reasons to avoid
-
Overexposes in bright light
-
Handling is a little slippery
We think the ideal instant camera should be easy to use, comfortable to hold and produce attractive prints at a reasonable price. Picking up where the Instax Mini 11 left off, Fujifilm's latest effort gets even closer to perfection. While our tests found that its bubble-like design can be a little slippery in the hand, it's otherwise easy for anyone to use.
The Fujifilm Instax Mini 12 now turns on with a twist of the lens, which is more intuitive than previous editions. You still get the useful option of pulling the lens out to engage close-up mode, while the addition of parallax correction improves viewfinder accuracy, so that what you see when framing is closer to what's actually printed.
We found in testing that the camera still tends to overexpose snaps in bright sunlight, but repositioned exposure and flash sensors mean your fingers are less likely to affect readings. While its prints can feel small, the Instax Mini 12 makes it easy overall for newbies to capture rich, vintage-style party snaps at a relatively low cost. If you'd prefer similar performance with a retro flavor, we suggest taking a look at the Fujifilm Instax Mini 40.
Read our in-depth Fujifilm Instax Mini 12 review
The best instant camera for big prints
The best instant hybrid for big prints
Specifications
Film type:
Polaroid 600 & Polaroid i-Type
Reasons to buy
+
Perfectly sized prints
+
App versatility via Bluetooth
Reasons to avoid
-
Pricier film than rivals
-
A little bulky
Combining the boxy form factor, dual-lens autofocus and detailed image quality of the Polaroid Now with the Bluetooth connectivity of the OneStep+, we think the revamped Now+ is Polaroid's most complete instant camera yet. Connecting to the updated smartphone app opens up a realm of creative shooting modes: in addition to self-timer, double exposure, light painting and manual exposure options, there's now an aperture propriety mode for experimenting with depth of field, as well as a tripod mode for use with the new screw mount beneath.
While the Now+ remains as straightforward to use as any point-and-shoot, we found in our review that it's also a great option for getting creative. What limits this creativity a little is the cost of Polaroid I-Type film, which makes you think twice about wasting shots. But when you get it right, we discovered in testing that results are just as instant photos should be: delicious, vintage-style square prints that are large at 4.2x3.4in (with a 3.1in image area).
Read our in-depth Polaroid Now+ review
The best hybrid instant camera
The best hybrid instant camera you can buy
Specifications
Film type:
Fujifilm Instax Mini
Reasons to buy
+
Best-looking instant camera
+
Fun image effects
+
Bluetooth printer for phone snaps
Reasons to avoid
-
Poor digital image quality
-
Portrait-only UI
If you're looking for a camera that mixes the charm of instant photos with the convenience of digital shooting, the Instax Mini Evo is a fine choice. Its digital photo quality won't beat your smartphone, but that isn't the point; the main benefit is being able to decide which shots you print out, to avoid wasting precious film. Based on our time with it, we think the Mini Evo is also one of the best-looking instant cameras around – and more compact than Fuji's other models.
Another great party trick is its ability to double as a printer for your smartphone snaps, plus there's the option to play around with numerous built-in effects and filters before you hit the print button. These digital elements mean the Instax Mini Evo doesn't offer a 'pure' instant photography experience, and is more complex than alternatives like the Instax Mini 11. But we found that its versatility and charm more than compensate for those who want something more than a point-and-shoot.
Read our in-depth Fujifilm Instax Mini Evo review
The best simple instant camera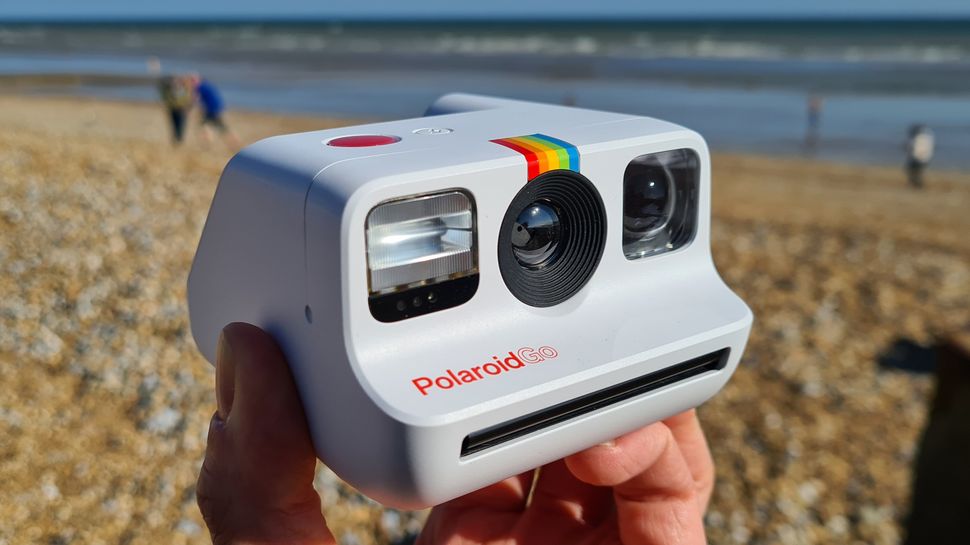 The best small and simple instant camera
Specifications
Film type:
Polaroid Go instant film
Reasons to buy
+
Pocket-size format
+
Point-and-shoot simplicity
Reasons to avoid
-
Bespoke film is small and expensive
-
Lacks autofocus
With the Go, Polaroid has edged ahead of Fuji on instant innovation – something that hasn't really happened since the late 1980s. It's officially the world's smallest analogue instant camera, fitting in the palm of your hand.
It's true that some hybrid instant cameras are even more pocketable, but they tend to 'cheat' by printing images on Zero Ink paper, rather than with a chemical development process. You get the real deal here, in square format like the larger I-Type film, only significantly smaller.
It's a shrunken version of the Polaroid Now, with most of the same features, including self-timer and double-exposure mode, which should please more advanced photographers as well as instant beginners. Autofocus hasn't made the cut, however, so there's a higher chance of ending up with blurry results if you don't keep a good distance from your subject.
At launch, it costs roughly the same as the full-size Polaroid Now, making it a lot pricier than the entry-level Fuji Instax Mini 11, but that's a figure worth paying if you want an instant camera you can take just about anywhere.
Read our in-depth Polaroid Go review
The best pocket instant camera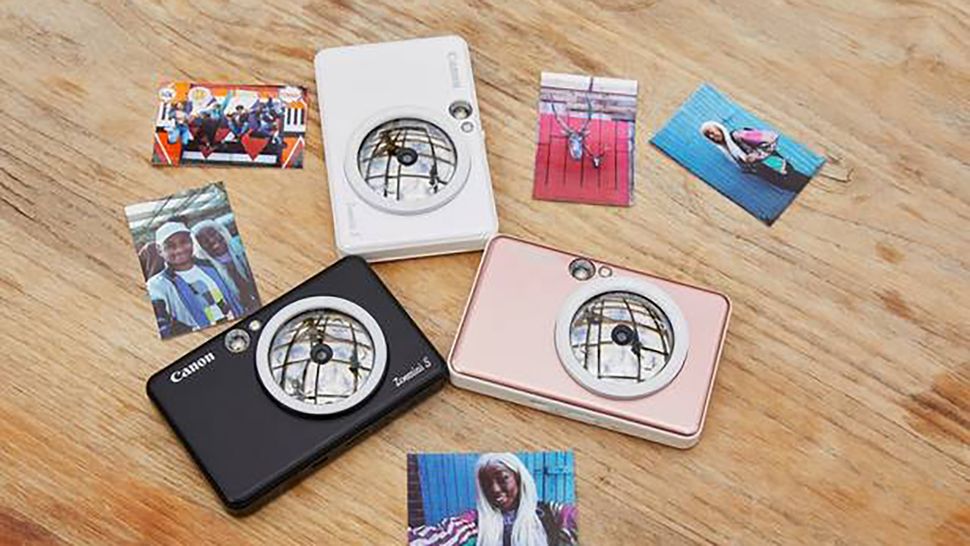 5. Canon Ivy Cliq+ / Zoemini S
The best instant camera that easily fits in your pocket
Specifications
Focusing:
Normal and Landscape
Flash:
Built-in, ring flash
Self-timer:
Via smartphone app
Film type:
Canon ZINK Photo Paper
Reasons to buy
+
Flexibility of digital and physical prints
+
Useful companion app
+
Compact design
Reasons to avoid
-
Zink prints not 'true' instant
-
Sub smartphone image quality
Canon's first instant effort is actually a hybrid, blending analogue 'film' with digital smarts. The zero ink paper it uses doesn't need exposing to light like regular instant film, so the camera can be much smaller. The Ivy Cliq+ / Zoemini S is truly pocket-sized, beating even Fuji's Instax Mini LiPlay for portability.
A built-in LED ring flash helps you take pleasing portraits, the mirrored lens barrel is purpose-built for selfies, and focusing is automatic, making this a great party camera. That said, we found in testing that it can be sluggish to start up, and printing a picture takes around 10 seconds – much slower than our current favorite, the Fuji Instax Mini 12. The credit card-sized prints it produces are detailed though, with colors resembling a traditional 35mm photo.
Battery life typically stretches to two packs of 10 images, but even with an SD card installed, it won't take any more pictures once you're out of film. From our hands-on time with it, we found the 8MP sensor is merely on par with today's entry-level smartphones, and with no built-in screen, you'll need a computer to review your digital snaps.
It seems a lot simpler than other hybrid cameras, but built-in Bluetooth support lets it perform double duty as a portable printer. Being able to turn your smartphone snaps into physical prints gives it an edge over bulkier instant cameras, and it's sensibly priced too.
The best retro instant camera
The best instant camera with a retro design
Specifications
Focusing:
Normal and selfie
Film type:
Fujifilm Instax Square
Reasons to buy
+
Decent-sized square prints
+
Point-and-shoot simplicity
Reasons to avoid
-
Pricier than many rivals
-
Limited room for creativity
In many ways, we think the Fujifilm Instax SQ40 is everything that an instant camera should be. For starters, its old-school design is both stylish and easy to use. The body is relatively chunky, but it features a small contour on the rear that we found makes it easier to hold than the Mini 12.
We didn't find too much opportunity for creativity during our review, but the payoff is point-and-shoot simplicity. The Instax SQ40 handles brightness automatically, generally adjusting well in all but bright sunlight, where it can overexpose a bit. There are just two modes to choose between: standard and selfie. The latter adjusts the focus distance to 0.3-0.5m for close-up shots.
We did find its fixed angle of view slightly tight, but parallax correction at least means what you're seeing through the viewfinder is essentially what you'll get printed out. And the 62 x 62mm square prints the SQ40 produces deliver exactly the desaturated, vintage vibes you'd expect from a retro camera. It's pricey, but the SQ40 is a fantastic party camera that almost anyone can use.
Alternatively...
The best instant printer
The best portable instant printer
Specifications
File format:
Fujifilm Instax Wide
Battery:
Li-on, rechargeable via microUSB. Approx 100 shots
Film type:
Fujifilm Instax Wide
Reasons to buy
+
App provides great range of control
+
Only prints the photos you want
Reasons to avoid
-
Instax Wide is pricey format
-
Slow to charge
The downside to most instant cameras is their size: if you want large photos, you'll need a large camera, which can be a pain to lug around. An instant photo printer takes up a lot less room, and lets you print directly from your smartphone. That almost certainly means better image quality than what you'll get from the cameras on this list.
The Instax Link Wide is entirely controlled by a smartphone companion app, letting you edit, crop and customize your pictures before printing, and has a built-in battery that's good enough for up to 100 prints between charges. It could be quicker to top up, needing several hours on mains power before it's fully charged, but that's really our only criticism.
Because it develops photos, rather than printing them like an inkjet, each one has the signature contrast-heavy and colorful style we expect from instant film. You'll have to wait a minute or two between pressing print on your phone and the final image appearing in your hands, but that's all part of the charm of instant film.
We think it's a better buy than the Instax Wide 300 camera, which hasn't seen an update in eight years and is rather cumbersome to use. If you want the biggest instant photos possible, this is arguably the best way to go about it.
How to choose the best instant camera for you
How to choose the best instant camera for you
While most instant cameras are simple and relatively affordable, there are still a few key things to think about when picking the best instant camera for your needs and budget.
The cheapest models will usually amount to little more than toy cameras with basic point-and-shoot settings. These are fine if you just want a straightforward camera for fun party snaps. But you'll need to spend a little more for modes like macro-focusing, while the higher-end is where you'll find hybrid digital functionality. This allows you to hook up your camera to a smartphone for further creative controls – or to produce physical prints from your smartphone's camera roll.
Print quality and size are also worth considering. Although no instant brand delivers super-accurate results (that's part of the vintage charm), Instax arguably produces the most natural images. Polaroid prints tend to have a dreamier look, which can be just as appealing, depending on your preferences. Films also come in different sizes to suit specific cameras, so it's worth considering whether you'll want pocket-sized prints or something bigger.
While instant cameras are generally affordable, you'll need to factor in the cost of film. It can add up pretty quickly, so pay attention to the price per pack – and think about how many pictures you're likely to shoot on a regular basis. Polaroid film tends to be pricier than Instax – for the price of a single pack of eight color Polaroid I-Type shots, you can get two packs of ten Instax Mini film.
Some instant cameras with digital screens or smartphone connectivity allow you to preview your shots before printing them out, to dramatically reduce wastage (and therefore the cost of dud snaps).
What is the difference between Polaroid and Instax?
Polaroid and Fujifilm's Instax are the two biggest brands in instant cameras. While both use similar technology, using chemical reactions that self-develop each image in your hand, the main difference between them is the type of film their cameras take.
Polaroid cameras take one or two types of film: the larger I-Type, which produces square format photos, and the newer 'Go' film, used by its tiny Polaroid Go camera. You can choose between color and black-and-white film, along with a range of different border colors.
Instax cameras offer a wider variety of film types: there's Instax Mini, Square and Wide film. Like Polaroid's film, these can't be mixed and matched between cameras, so choosing your preferred film type is an important part of picking the right instant camera for you.
Which is the best type of film? Polaroid's I-Type has the edge for size, but Instax film tends to work out as a little more affordable. For example, for the price of a single pack of eight color Polaroid I-Type shots, you can get two packs of ten Instax Mini film.
For a full comparison between the instant camera brands, check out our Polaroid vs Instax guide. And to compare the sizes of all the different Polaroid and Instax film types, check out our full ranked list below.
Which instant camera film is the best?
1. Instax Mini
The most common instant film format, producing pictures measuring just 62 x 46mm.
2. Instax Square
Fuji's take on the square format film popularized by Polaroid. Camera support for these 62 x 62mm photos is more limited.
3. Instax Wide
Twice the size of instax mini and twice the price, but photos measure a meatier 99 x 62mm.
4. Polaroid I-Type
Designed for use in the Impossible I-1and OneStep 2, I-Type film packs don't have batteries built in, so can't be used with vintage Polaroids.
5. Polaroid Go
Polaroid's answer to Instax Mini, the Polaroid Go film measures 66.6mm x 53.9 mm and is designed to work with the camera of the same name.
6. Polaroid 600
Film designed for vintage Polaroid 600-type cameras. It can also be used in the Impossible I-1 and OneStep 2.
7. Polaroid Zink 2x3
Credit-card sized instant film that uses heat-sensitive ink to produce images. Colors are more traditional than Instax. Compatible with many Zink-based cameras and printers.
Are new instant cameras still being made?
Instant cameras might seem a little old-school in 2022, but they're definitely still being made. In fact, they're an increasingly popular photography format. Inspired by retro cameras from the days when analogue film was the norm, these modern remakes are designed to recapture the accessible fun of point-and-shoot photography.
There are plenty of reasons why you might want to buy an instant camera in 2022. Unlike smartphone photography, instant cameras give you a physical print to hold in your hands straight away, stick on the fridge or share with your friends. It's a novel, tactile way to reconnect with photography's fun factor.
Another bonus is how easy it is to shoot with an instant camera. The best options are really simple to use, making it straightforward to capture warm vintage prints. Most feature just a handful of buttons and limited shooting modes, leaving you free to focus on framing. What's more, instant cameras tend to be available at much more affordable prices than compact cameras. That means they can be a great way for kids to get into photography, too.
Analogue photography has enjoyed a revival in recent years, and the trend shows no signs of going away any time soon. Instant cameras let you have a slice of the throwback pie without the steep learning curve, expense and hassle of more complicated film photography techniques.
How we test instant cameras
There's only one way to test instant cameras, and it isn't by pixel-peeping resolution charts – for these analogue snappers, it's all about real-world use. After analyzing each camera's design, build quality and features, we load it up with film and take it out for a day of instant photography. We take a range of shots of different subjects: people, high-contrast scenes and objects like flowers, to give us a good sense of how well the autofocus works (if the cameras has autofocus) and the kind of colors you can expect in different situations.
We also turn the flash on to see how that fairs, and time how long it takes for the print to be ready. Some instant cameras, like the Polaroid Now+, also have companion apps, so in those cases we'll test how well they connect to a smartphone and also take any special features (like double exposures, or light painting) for a spin to see how well they work in practice.
Sign up to receive daily breaking news, reviews, opinion, analysis, deals and more from the world of tech.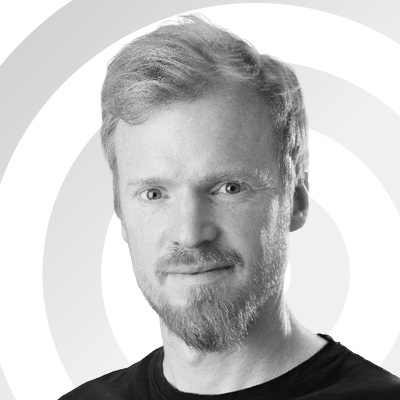 Tim is the Cameras editor at TechRadar. He has enjoyed more than 15 years in the photo video industry with most of those in the world of tech journalism. During his time as Deputy Technical Editor with Amateur Photographer, as a freelancer and consequently editor at Tech Radar, Tim has developed a deeply technical knowledge and practical experience with cameras, educating others through news, reviews and features. He's also worked in video production for Studio 44 with clients including Canon, and volunteers his spare time to consult a non-profit, diverse stories team based in Nairobi. Tim is curious, a keen creative, avid footballer and runner, and moderate flat white drinker who has lived in Kenya and believes we have much to enjoy and learn from each other.