The GoPro Hero 12 Black has landed – we explain the 5 pro-focused upgrades
It looks like a minor update, so what exactly is new in the GoPro Hero 12 Black?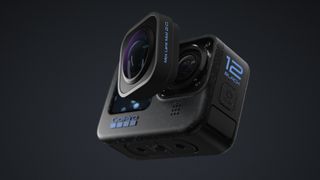 (Image credit: GoPro)
The latest in GoPro's flagship action camera series has landed, and on paper the highly anticipated Hero 12 Black is an underwhelming update to the Hero 11 Black.
The Hero 12 Black rumor mill touted bigger things; a totally new 1-inch sensor that, combined with the Hero Black series chops, would blow away the competition like the DJI Osmo Action 4 and create the best action camera available. Sadly for most GoPro fans, it was mere hyperbole, and the Hero 12 Black is a strikingly similar camera to its predecessor.
That's not a bad thing per se. We still have the 1/1.7-inch, 8:7 aspect ratio sensor with 5.3K video recording and 27MP photos, 6.0 HyperSmooth image stabilization, while the body design is virtually identical, too, with Media Mod compatibility. In fact, GoPro announced a new Max Lens Mod 2.0 that can expand the frame with an ultra-wide 177-degree field of view, plus a new GoPro Quik desktop app.
On the face of it, we're hard-pressed to see what's new and any reason to upgrade from a Hero 11 Black. However, dig a little deeper and there are some new features that could prove to be helpful in real-world use, especially for audiophiles. Let's take a look at 5 highlights.
1. Dual channel audio
The Hero 12 Black adds dual channel audio support. The ability to record two audio tracks simultaneously – one from an external mic or the front mic of GoPro's Max Lens Mod 2.0, and mix it with the in-camera audio – could transform the audio quality of your action videos. For example, you can grab the environmental sound from the in-camera mic, and pair it with higher-quality voice recordings from an external mic protected from distortions caused by wind.
2. Versatile audio control
Support for any wireless Bluetooth mic has been added, including Apple Airpods, meaning you gain reliable voice command control when out of the Hero 12 Black's range. Let's say you're inside a car with the Hero 12 Black mounted to the outside (like in the above picture), you can start video recording via voice command using Apple Airpods from your chair. Same goes for extreme sports when you're wearing a helmet. It's super-useful hands free operation.
3. Much improved battery life
The GoPro Hero 12 Black has up to double the run time of the Hero 11 Black. That's 70 minutes of 5.3K / 60p video, 95 minutes at 5.3K 30p and over 155 minutes of continuous full HD recording. That's a huge leap in performance from an already impressive Hero 11 Black, however, it's not because of a new battery type. In fact, the Hero 12 Black uses the exact same battery as the Hero 11 Black – so you can swap batteries between the two cameras. The improvement is instead thanks to what GoPro says is a "redesigned power management system".
4. Additional video modes
Video resolution and frame rates are unchanged, with the Hero 12 Black topping out at 5.3K up to 60 frames per second, and up to 8x slow motion in a lower resolution. What has been rolled out is video capture using the full 8:7 sensor area in all shooting modes, which was not the case in the Hero 11 Black. HDR video has also been added, plus GoPro's own log and luts color profiles. That's great news for those that share on social in multi-aspect ratios, and those with a keen eye for color – there should be greater color grading flexibility in the editing suite.
5. There's a tripod thread
Including the addition of an industry standard 1/4-inch tripod thread might feel like we are scraping the barrel at this point, but it is a useful feature that opens the Hero 12 Black to use with non-GoPro supports, including standard mounts, accessories, tripods and monopods. The thread is positioned on the underside of the camera between the fold out feet.
Early analysis
For most people, there's very little reason to choose the Hero 12 Black over the Hero 11 Black. The latest flagship has been launched with the same list price, that is $399 / £399 / AU$649.95 as standard, or $479.98 / £479.98 / AU$785.91 when bundled with the Max Lens Mod 2.0 (which is available separately for $99.99 / £99.99 / AU$169.95). If the price of the Hero 11 Black comes down it could be an excellent option instead, for most people.
And when we consider DJI made strides with its Osmo Action 4 launched just a month ago, introducing a larger 1/1.3-inch sensor and improved image quality, in a camera with more convenient magnetic mounting, it feels like advantage DJI. Each camera has its own upsides, and we'll be publishing a versus piece to see which camera comes out on top.
The Hero 12 Black will still be one of the best action cameras available, and it was perhaps the rumor mill that gave false hope for even better things. A modest update does leave us asking, "Have we reached peak performance?". We'll be sharing more conclusive thoughts on the matter in an upcoming full review.
You might also like
Sign up to receive daily breaking news, reviews, opinion, analysis, deals and more from the world of tech.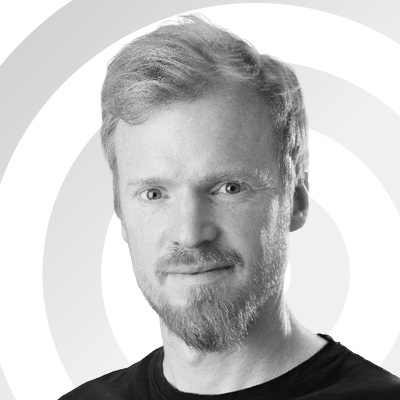 Tim is the Cameras editor at TechRadar. He has enjoyed more than 15 years in the photo video industry with most of those in the world of tech journalism. During his time as Deputy Technical Editor with Amateur Photographer, as a freelancer and consequently editor at Tech Radar, Tim has developed a deeply technical knowledge and practical experience with cameras, educating others through news, reviews and features. He's also worked in video production for Studio 44 with clients including Canon, and volunteers his spare time to consult a non-profit, diverse stories team based in Nairobi. Tim is curious, a keen creative, avid footballer and runner, and moderate flat white drinker who has lived in Kenya and believes we have much to enjoy and learn from each other.