Two-minute review
The Sony ZV-1F is designed for anyone who wants to create quality video content, but doesn't perhaps have the most advanced camera knowledge. It's neat, fits easily into a pocket, and offers great 4K video footage, making it a brilliant choice for beginner vloggers.
It's ideal for anyone wanting to move away from shooting video on their smartphone, and will absolutely hold its own if you're wanting to make the move into videography to upload to YouTube or social media.
Canon EOS R6 II specs
Sensor: 20.1 Megapixel 1" CMOS
AF points: 4,897 point Dual Pixel CMOS AF II, 100% coverage
Video: UHD 4K at 24, 25, 29.97 FPS, HD at 24, 25, , 29.97, 50, 59.94, 100
LCD: 3-inch LCD vari-angle touchscreen, 921,600 Dot
Memory card: Single Slot: SD/SDHC/SDXC
Max Burst: Up to 16 fps
Connectivity: Micro-HDMI Output, 1/8" / 3.5 mm TRS Stereo Input, USB-C Input, USB-C (USB 2.0) Data Output (Shared with Power Input), Wi-Fi, Bluetooth
Size: 105.5 × 60 × 46.4mm
Weight: 256 grams (Battery and Memory Card)
You can adjust the settings on this camera as little or as much as you'd like; you'll get fantastic results either way. It features Intelligent Auto modes, which read the scene you're shooting and makes the decisions for you like how bright the picture is, or you can set it to manual mode where you have control of all the settings and exposure levels.
Photography is possible, but it plays second fiddle to video. If you do want to delve into the menus and you're new to Sony, be warned that its cameras take getting used to; many users can be overwhelmed and confused by the dense menus. Much of the time it's easier just to set the custom buttons to what you want, then stay out of the menus as much as possible.
Other than that this is an incredibly intuitive little camera. It will turn on as soon as you flip the screen open, making it very quick and easy to get recording, and it has three main modes – video, S&Q (Sony's 'slow' and 'quick' in-camera modes for videos such as timelapses and slow motion), and photo — all accessible with just the press of a single button on the top of the body.
Image stabilization is super impressive, while the face and eye tracking is second to none, as is standard for Sony cameras.
Sony claims you can easily transfer all your images and videos over to your smartphone or computer using its Imaging Edge smartphone app – but anyone who's actually used this app will tell you it's… not great. If Sony could put as much effort into its app as it does in its cameras and autofocus, then it would make sharing your images an awful lot easier.
This is definitely a camera for vloggers rather than photographers, though, as it doesn't have raw capture capabilities. Also, its lens isn't interchangeable, and while the 20mm lens is decent for video, it limits your photography options somewhat.
Sony ZV-1F: release date and price
Benefits from optional accessories like the GP-VP2BT grip
Cheaper in the US
Accessory bundles not available in all regions
The Sony ZV-1F was released on October 17 2022, and you can buy it now for £550 / $499 / AU$845.
An accessory and travel bundle that includes memory cards, a flexible tripod, a pouch to keep your camera safe and dust free, and cleaning supplies is available on Amazon US priced at $598, but it didn't appear to be available in the UK or Australia at the time of writing.
The handling of a vlogging camera like the Sony ZV-1F is enhanced with optional accessories like the GP-VP2BT grip (£170 / $139.99 / AU$249), which gives more stability when vlogging. This grip can be used both as an extension of your arm and as a mini tripod.
Sony ZV-1F: design
Small and lightweight at just 256 grams
Optimized for auto rather than manual shooting
You'll likely need to use a grip if you don't have small hands
The Sony ZV-1F probably isn't going to be the best-designed camera you've ever come across, but it does have some great features which lend themselves to the types of shooting you'd likely be doing with this camera.
Part of the beauty of the Sony ZV-1F is its small size — it weighs just 256 grams and measures 10.5 x 6 x 4.6cm, making it incredibly easy to travel with, or to just stick it in your pocket when you're out and about and want to access it quickly.
That said, while nobody wants to lug a heavy camera around all day, its small size could be a disadvantage, depending on the user. It's a tiny little camera, and it doesn't have the biggest front grip, meaning it could be fiddly to hold onto if you don't have small hands. You can alleviate this potential issue by using it with the aforementioned GP-VPT2BT grip, however, that does involve spending more money.
The Sony ZV-1F has been built with partly recycled plastic material as part of Sony's Road to Zero environmental plan, and the fibers of the windscreen are made exclusively from recycled polyester.
It's designed to be dust-proof and moisture-resistant, but it isn't weather sealed. This does make it a less than ideal proposition for traveling as, obviously, you can't control the weather, but – unless you're a storm chaser – you probably won't be using it much in wetter weather anyway, so it's not a huge deal breaker for us. Additionally, if you're looking at this camera after handling some top-of-the-line stills cameras, it's going to feel plasticky and flimsy in comparison.
On the top of the camera is a button to switch between photo, video, and S&Q shooting modes, a video record button and a camera shutter button with a zoom toggle, and a Background Defocus button (great for showcasing products). On the back of the camera body there are the standard function, menu, playback and delete buttons, along with a control wheel via which you can access the ISO, timer, drive modes and exposure compensation — although these can all be reprogrammed to perform other functions.
Sony ZV-1F: features and performance
Decent eye and face tracking for humans and animals
Versatile touch-screen
Impressive SteadyShot
For such a small camera, the Sony ZV-1F can actually do quite a lot once you delve into its settings and features. Although the Intelligent Auto mode works a treat, you can also shoot fully in manual if you want to, as well as in Aperture and Shutter Priority, plus a few other modes.
There's also a Background Clear/Defocus button on the top of the camera, which is great for showcasing products or focusing on a certain person in your shot. In photography terms, this is basically a quick and easy way to change your aperture to create a nice bokeh effect. You can also change the aperture manually when the camera is in the right shooting mode, with the available range running from f/2 to f/8.
When I was out reviewing this camera, I was very impressed and pleasantly surprised with how effective SteadyShot is, particularly when shooting video. When I looked back at the footage it was obvious that I was walking around with the camera, but those movements didn't ruin the footage and overall it did seem very smooth. Matters would be improved even further if you were to use the camera with a gimbal.
I'm primarily a stills photographer with little video experience, so I'm very much in the target audience for the ZV-1F. At a Christmas market, I found it's quick to take out when needed, and switches on as soon as you flip the screen out, so I was able to start shooting almost instantly.
One frustration every photographer is familiar with: you see something happen that you want to capture, but by the time you've got your camera out of your bag, done the bag up again, turned the camera on and selected the right settings, the moment you wanted to shoot is long gone; so this was a nice change. I'm also quite a clunky walker, and I noticed just how good SteadyShot was when the video footage wasn't going all over the place.
Even in the dark, Sony's incredible autofocus was brilliant. One odd limitation of this camera is that it uses an older contrast-detection system, rather a hybrid setup that includes both contrast- and phase-detect technology, which makes it slightly less reliable than its predecessor.
Having said that, when I was walking around the market I noticed the AF automatically recognizing and tracking people's faces as they walked across the frame, even when they weren't looking directly at the camera. There's animal recognition too, although when I tested this on a couple of camera-shy black cats it didn't seem to detect and track their faces unless I focused myself by tapping on the screen, so it seems that its effectiveness depends on the lighting, and the color of the animal you're working with.
Features and performance 4/5
Sony ZV-1F: image and video quality
Better suited for daytime or well-lit shooting
Can only shoot JPEG images
Good audio, but you'll need an external mic for the best results
While it's not the most powerful, all-singing all-dancing camera in the world, the Sony ZV-1F does actually produce great image and video quality. It has a 1-inch sensor with 20.1MP resolution which isn't bad at all, and can record 4K video and slow motion in Full HD with its wide and sharp 20mm lens.
We found that the ZV-1F performed better during the day than in lower-light situations, so that's something to keep in mind if you're planning on shooting content at night. Looking at the footage we shot of a Christmas market, overall the camera handled the contrasting light levels pretty well.
You can see in our sample images and videos that well-lit subjects and scenes were captured very well, although with the occasional blown highlights; the darker skies had noticeable noise and grain - something we'd expect from a 1-inch sensor.
The ZV-1F is designed to capture your voice clearly, whether you're shooting inside or outdoors. It's perfect for recording dialogue, as it features a built-in directional three-capsule microphone. It also comes with a windscreen to eliminate any muffling from winds, which can make or break a video. We found the sound was captured very well for casual day-to-day vlogging, but for anything more professional you'll definitely need an external mic for better audio quality.
Another thing worth noting is that when it comes to photography, this camera can only shoot JPEGs. While the images that came out of it were very good, you don't have as much detail, or editing headroom, as you get with raw files. That said, if you just want to snap quick images that you can upload quickly with little or no editing, this camera will be absolutely fine.
Image and video quality 3.5/5
Should I buy the Sony ZV-1F?
Buy it if...
You are a beginner who's just getting into video
With its straightforward setup and ease of use, the Sony ZV-1F would be a great camera to go for if you're just starting out in the world of vlogging. It has Intelligent Auto modes, so you don't need to know anything about settings or light levels – you can just take the camera out and start shooting.
You want something to capture moments, but nothing too fancy
If you want to capture memories of your travels, family moments, or just day-to-day vlogs, and don't want to spend ages editing and color-grading the footage, this is a great camera to go for.
You want a second camera
If you're already happy with your current stills camera, and don't want to spend thousands on another camera that can do both, this is a great option as a second camera for video.
Don't buy it if...
You primarily shoot stills
While you can shoot stills with this camera, it's definitely built more for videography. You'll soon find yourself wanting to change the lens or needing more megapixels. It also only captures JPEGs, and for serious photography you really want a camera that can shoot in raw.
You want to use different lenses
The ZV-1F features a fixed ultra-wide 20mm lens which isn't interchangeable, making the camera quite limited in terms of focal length. It can capture wide expanses and grouped selfies, but you can't zoom in close to the action.

Also consider
If our Sony ZV-1F review has you wondering about alternatives, here are three rivals to consider: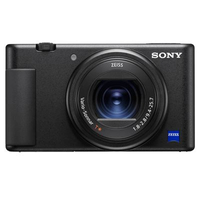 (opens in new tab)
Sony ZV-1
You can't talk about vlogging cameras without mentioning the ZV-1F's predecessor, the Sony ZV-1. Even more than two years after its release it's still topping our best vlogging cameras list. While the 20mm prime lens of the ZV-1F is useful to have, if you miss being able to zoom, and want better AF, the ZV-1 is a fantastic option to go for, and as it's been out for a couple of years, the price isn't too much higher than the ZV-1F.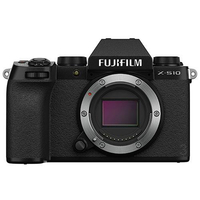 (opens in new tab)
Fujifilm X-S10
If you want a bigger and better option, the Fujifilm X-S10 is a fantastic all-rounder for content creation. It has a 26MP APS-C sensor and in-body stabilization, although you will need to buy additional lenses separately, which can get expensive. Saying that, it's a great hybrid camera, and well worth investing in if you want to shoot both video and stills.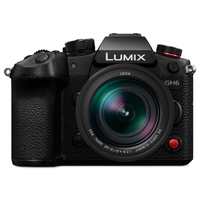 (opens in new tab)
Panasonic Lumix GH6
If you feel the ZV-1F is far too simple, check out one of the best premium vlogging cameras out there. A premium camera at a very premium price, the Lumix GH6 has a huge range of video options, and beats its predecessor in almost every area. If you take video seriously, this is the camera to go for, if you have the budget.
Sony ZV-1F: testing scorecard
Swipe to scroll horizontally
Sony ZV-1F

| Attributes | Notes | Rating |
| --- | --- | --- |
| Price | A snip but you will want optional accessories | 4/5 |
| Design | Small and simple | 3.5/5 |
| Features and performance | Decent autofocus and image stabilization | 4/5 |
| Image and video quality | Decent video but stills are JPEG only | 3.5/5 |
First reviewed: January 2023