One-minute review
Avid readers who go through books within days might find it more economical to sign up for an ebook subscription service such as Amazon's Kindle Unlimited. It's essentially a library of over a million digital titles – several of which have an audiobook version as well that you can listen to – and you're allowed to 'borrow' a maximum of 10 at a time and save 20 titles in total in your library.
You can find books across several genres on the platform, although we found that it's skewed heavily towards romance and self-published titles. This is great for the adventurous reader but not ideal for anyone looking for specific authors or titles. Still, there are plenty of bestsellers from well-known authors.
Browsing on Kindle Unlimited, however, can be a little frustrating. Once you sign up, you're shown a few options like 'favorites' or 'recommended', each with just 20 titles to browse through. If you want a better overview of what's available on the platform, it's best to navigate to 'Browse The Catalogue' on a desktop browser window, an option that's not available on the app or the ereaders.
This niggle aside, you can use Kindle Unlimited on your phone or tablet via the Kindle app, read on a browser window or access it via your Kindle ereader. The best part is that you can move from one device to another without losing your place as it all gets synced almost instantly (give or take a few pages).
The main thing to note about Kindle Unlimited is that you won't own the books you select to read; they're only borrowed. If you've already got 10 titles in your library, you'll need to return one to borrow another. However, unlike a traditional library, there's no time limit to how long you can hold on to the ebook for – read at your leisure and return when you're ready to discover your next read.
If you're a fast reader, Kindle Unlimited's monthly subscription fee might be well worth it as opposed to buying each book individually.
Kindle Unlimited price and availability
Monthly subscription of $9.99 / £7.99 / AU$13.99
30-day free trial
Amazon Kindle Unlimited's monthly cost is $9.99 / £7.99 / AU$13.99, which is similar to what several other streaming services will cost you. This monthly subscription gets you access to over a million ebooks, about 2,000 audiobooks that have a corresponding ebook on the platform and, in some countries, a limited number of magazines as well.
During special shopping events, Amazon does offer either a discount on the monthly cost for a few months or an extended free trial, but these are restricted to new Kindle Unlimited subscribers only. You do get a 30-day free trial to give the service a whirl before paying up.
It's important to note that Kindle Unlimited is not part of the Amazon Prime subscription and is an additional service that you will need to sign up for. If you are a Prime member, you can use the Prime Reading service at no additional cost, but it limits you to a catalogue of just 1,000 titles at a time (otherwise works the same as Kindle Unlimited).
In comparison, ebook subscription service Scribd costs the same in some markets but a bit more in others ($9.99 / £10.99 / AU$14.99) and gets you access to a very varied range of content, including more magazines and audiobooks, podcasts, documents (that includes recipes and business templates), plus free access to six additional educational and streaming apps, making it a touch more cost effective. Moreover, there's no limit to how many titles you can add to your personal library. The downside here is that you can't use Scribd on any ereader.
Kindle Unlimited library and content
Over a million ebooks
About 2,000 audiobooks
Some magazines available in select markets
Where Scribd has far more audiobooks than ebooks, it's the other way around for Kindle Unlimited; that's because Amazon has its Audible platform dedicated to audiobooks. Kindle Unlimited is more about ebooks you can enjoy on your Kindle ereader or on the Kindle app, with only a couple of thousand of those available with an Audible narration.
Practically any genre of ebook you can think of is available on Kindle Unlimited, but we found that there were a lot more self-published titles on the platform, a large part of which is romance novels. If you know what you're looking for, you can search for a specific author or title on any device (even a Kindle ereader), but browsing the full catalogue is best done on a desktop computer.
As mentioned earlier, there's an option to 'Browse The Catalogue' available when browsing through Amazon on a Mac or PC that's not available on the Kindle app or the ereaders. Any title you add via the browser will, of course, become available on all the devices you've got Kindle Unlimited set up on.
Unlike its name, the catalogue isn't quite unlimited, although it can be argued that a million titles is a lot. The service isn't unlimited in the number of items you can borrow either – you can download 20 titles in total, but only borrow 10 at a time. If you want to add more, you will need to 'return' a book to do so.
If you're looking for new releases, you will be disappointed. Several popular authors don't have their books on the platform and, if they do, you'll need to wait a while before they become available on Kindle Unlimited.
The catalogue is updated each month, with some existing titles leaving the platform to make room for others. If, however, you have a book sitting in your library, you can still read it after it's been removed from the catalogue by downloading it to your device.
While magazines are available to US customers, several other countries don't have access to these. Where available, the number of magazines is quite limited, with Scribd offering a lot more. That said, if magazines are your focus, you might be better off signing up for Readly, which offers over 5,000 magazines.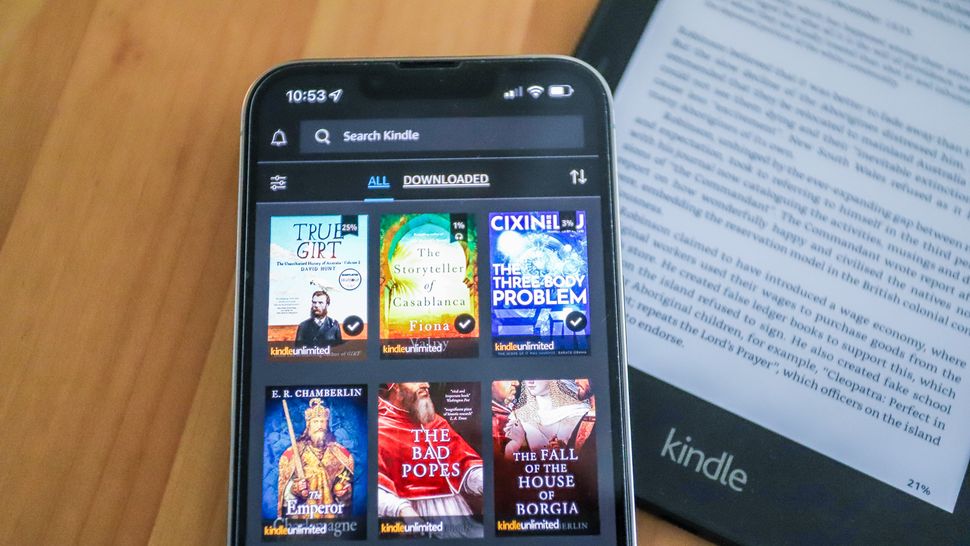 Kindle Unlimited user experience
Kindle app is well designed
eReader support
Excellent audio and text quality
No matter what screen or device you're using Kindle Unlimited on, your library is easily available to you. Whether on a browser, the Kindle app or a Kindle ereader, you can filter your Kindle Unlimited library with just a single tab or click and start reading on any device. If you want to switch from one to another, you'll find that the book opens at the page you stopped at; however, there are times when this is a few pages off when moving from an ereader to the Kindle app, but always spot on when moving from a browser to the app.
Titles that have both the ebook and audiobook versions can, of course, be read or listened to and you can do this even on a Kindle ereader – most of the recent models have Bluetooth support to pair wireless headphones with. We were unable to test the audiobook quality on a Kindle ereader as we used the Amazon Voyage to test the platform, which doesn't have Bluetooth connectivity. We used the Kindle app instead to listen to audiobooks and couldn't find cause for complaint. In fact, you can read and listen at the same time, with the text sections getting highlighted as the narration continues.
Kindle Unlimited vs Prime Reading
Both Kindle Unlimited and Prime Reading are essentially the same, but with two key differences. The most significant of the two is price. While Kindle Unlimited is a standalone service that requires a subscription, Prime Reading is available as a perk of Amazon's Prime membership. So if you're already a Prime member, you might be able to make do with Prime Reading, but there is one caveat that segues into the second difference between the two platforms.
Prime Reading has a very limited catalogue. Where Kindle Unlimited cycles through a million titles, Prime Reading has no more than 2,000 ebooks at any given time but this is a subset of what's available on Kindle Unlimited. That said, a lot of the popular titles from Kindle Unlimited are available on Prime Reading. For example, at the time of writing, David Hunt's Girt and True Girt – personal favorites of this reviewer – were available on both ebook platforms. Unlike Kindle Unlimited, though, there are no audiobook options on Prime Reading.
Should I subscribe to Kindle Unlimited?
Subscribe if...
You're a voracious reader
The cost of ebooks vary but even if you're buying the cheaper ones, at some point that cost will clock up, particularly if you're a power reader. The monthly subscription price for Kindle Unlimited can save you a pretty penny if you're someone who reads three to five books a month. And considering you can save up to 10 books at a time, that's plenty to keep even the most avid reader busy for a long time.
You like discovering new authors
Kindle Unlimited lacks titles from some big-name publishers as they haven't given Amazon permission to make them available on the platform. Instead, you'll find a plethora of self-published titles – authors who sign up for Amazon's Kindle Direct Publishing platform automatically get added to Kindle Unlimited – and this could help you discover new authors. There is a flip side to this though as self-published authors usually lack editors and you may not enjoy what you read.
You're not an Amazon Prime member
Prime members have access to Prime Reading at no additional cost, with about 2,000 titles from within the Kindle Unlimited catalogue available on this smaller platform. This is economically better for occasional readers, saving them the cost of an additional monthly subscription.
Don't subscribe if...
You prefer audiobooks to ebooks
While you do get access to some audiobooks with your Kindle Unlimited subscription, they are limited. If you mostly have your stories read to you rather than read them yourself, you might be better off with an Audible subscription, where you own the titles you select.
You want to own the books you read
Kindle Unlimited is essentially an online lending library, so any ebook you 'borrow' will either be returned to make room for another or you will lose them if/when you cancel your subscription. This is the case with Scribd and Kobo Plus (where available). If you want to hold on to the ebooks, you're better off buying them outright.
You prefer more mainstream, contemporary titles
As mentioned above, the more popular publishing houses have either not allowed Amazon to share their titles on Kindle Unlimited or have severely restricted the number of ebooks they've made available. This includes the 'big five' publishing houses, namely Penguin Random House, Macmillan, HarperCollins, Hachette, and Simon and Schuster. You'll be able to buy the books from the Kindle Store, but not 'borrow' on Kindle Unlimited.
[First reviewed April 2022]