The best-rugged smartphones (opens in new tab) on the market offer extreme durability, massive batteries, and a wealth of features specific to outdoor use cases. We've tested all the top handsets designed for intensive use and picked the best options.
EDITOR'S NOTE: NOVEMBER 2022
As we approach Black Friday season we know that many people are on the hunt for new devices. For those that are in need of a durable phone, not just a smartphone in a durable case, here is our list of the best we have found.
Since last month, we have paired down the list and added some that have recently been reviewed by our team.
Collin Probst, B2B Hardware Editor
The following rugged smartphones are dust and water-resistant and sometimes waterproof, with cases or shells that are tough enough to drop on hard surfaces without breaking them. Some of these devices will survive any impact, bump or drop without bearing a scratch, making them ideal for use outdoors or in dangerous environments.
Some of the phones on this list have even undergone stringent tests to ensure they meet military standards and can thus withstand extreme temperatures, shocks, and more.
Best rugged smartphones of 2022
Why you can trust TechRadar Our expert reviewers spend hours testing and comparing products and services so you can choose the best for you. Find out more about how we test.
Software (opens in new tab) on the best-rugged smartphone is no slouch either, as most offer extra features vital in certain lines of work: some might have infrared cameras (opens in new tab), sound level meters, and sometimes even VOC (volatile organic compound) detectors.
So whether it's your hobby or your profession that is leading you to wild or dangerous places and has you needing a device that'll last a long time with plenty of features or makes you prefer hardy phones over fashionable yet fragile standard smartphones, the best-rugged smartphone is what you need.
Finally, remember that while all ruggedized smartphones will be waterproof and dustproof (and therefore meet the IP68 specification), not all waterproof phones (opens in new tab) will be ruggedized. So think carefully while shopping for the best-rugged smartphone for your needs, and look into all the features these handsets boast.
So, read on to find our top picks for the best-rugged phones on the market.
---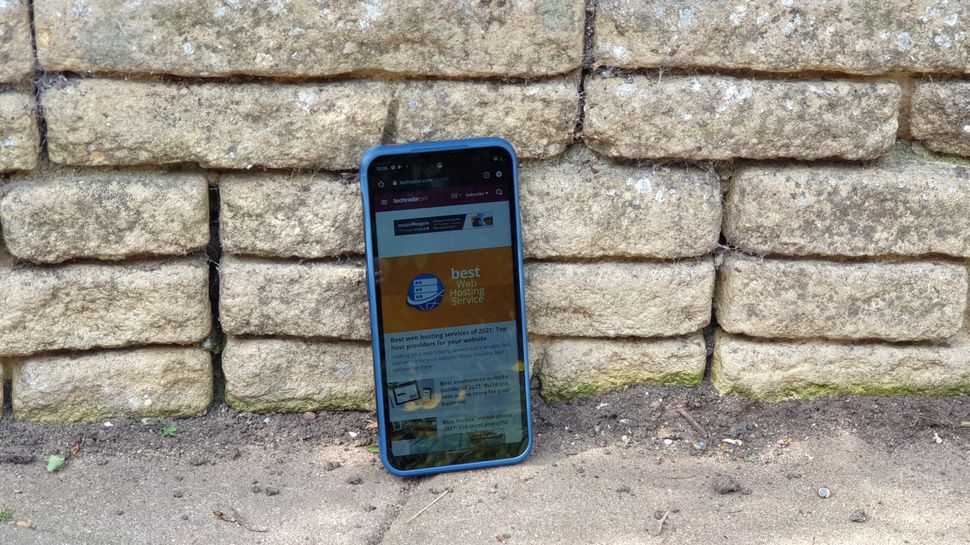 The Nokia XR20 is the first rugged smartphone to launch under the Nokia banner with the help of HMD Global which now owns the brand. Unlike other rugged smartphones that stand out due to their designs, the Nokia XR20 is meant to blend in with its slim profile and sleek look.
In terms of durability, the XR20 is IP68 certified, MIL-STD-810 rated, and is the first rugged smartphone to feature Corning Gorilla Glass Victus. The device also features a red emergency button along with a dedicated, non-customizable Google Assistant button.
However, what really sets the XR20 apart from the pack is the fact that HMD Global has guaranteed that the device will receive four years of security updates with three years of OS updates. The company also includes free one-year screen replacement.
This product is currently on sale in the UK at Very (£130 off!) and 36% off on Amazon
Read the full Nokia XR20 5G rugged smartphone review (opens in new tab).

The Blackview BV9900 Pro used to have the title of our favorite rugged smartphone, and while it's been beaten to the post, it's still a worthy buy.
The Blackview BV9900 Pro has a FLIR thermal imaging camera, a rarity on rugged smartphones despite how useful it can be. This joins an array of 'standard' cameras led by a 48MP one which is useful for a range of photography needs.
The phone performs well with its MediaTek Helio G90 chipset, which is paired with 8GB RAM and takes on many tasks with ease. It's also pretty well protected for a rugged phone.
Sure, the phone is a bit behind in a few ways - its battery could be better and we would have liked to see 5G connectivity, it's still the best rugged smartphone you can get right now.
Read our full Blackview BV9900 Pro rugged smartphone review (opens in new tab).

You will either love or hate the styling, but the basic phone technology inside here is solid, and it comes with largely unaltered Android 12. Plenty of RAM, storage and battery capacity advantages are offset by a questionable GPU and the sheer bulk of this construct. Not the most elegant phone Doogee has ever made, but it can brush off being dropped, immersed in water and getting dirty.
Amongst the best features of this phone are the five camera sensors, including a 64MP main sensor and an 8MP night vision camera. It can capture 4K video and high-quality still images, along with decent selfies.
But probably the most significant selling point is a 12,000 mAh battery that makes it useful for those that hike away from civilisation. If curated well, this battery could last for days.
Its weaknesses is a lack of support for 5G communications, its sheer weight and size and a curious styling that's meant to connect it to Batman.
Not the cheapest rugged phone on the market, and certainly one of the heaviest.
Read our full Doogee S89 Pro review.

Those assuming this phone was an enhanced version of the AGM H5 would be incorrect, because it has inherited more features from the AGM Glory Pro.
In addition to some design elements, they both share is a huge screen, substantial battery and a powerful SoC.
But what's unique to the H5 Pro is that the rear mounts a 109dB capable waterproof speaker designed to foist your musical tastes on those within a country mile radius.
The thinking here appears to be that irrespective of how far from civilisation that a camping trip takes you, Kumbaya need never be unaccompanied.
On the plus side of this equation, it has a very clean distribution of Android 12, and the camera sensors are excellent. Sadly, it can't capture better than 1080p video or stream video at higher than 480p from Netflix, and it doesn't support 5G services.
Considering that this isn't an cheap phone, that last feature might be a deal-breaker for some.
Read our full AGM H5 Pro review.

The chassis of this phone appears to have been machined from a solid block of alloy that makes it highly robust but also a hefty 430g.
A significant chunk of that weight comes from a staggeringly big 13,000mAh battery, easily one of the biggest in a phone we've ever encountered.
To get a battery of that capacity charged isn't easy, though Blackview did enable 33W fast charging on this device, and the USB-C port on it can transfer power to other devices using an OTG cable if required. Total charging time is around 200 minutes using the included charger, but because the battery is segmented into two cells, a half-charge can be achieved in a little over an hour.
Fully charged, the BV7100 has an incredible 1152 hours or 48 days standby rating.
Those are quoted numbers, but even if you use your phone for typically battery-draining activity, it should last a couple of days at a minimum.
The weaknesses of this design are that it doesn't support 5G and the best rear camera only supports 1080p video capture. The BV7100 isn't poor, but it isn't anything special, with the exception of the battery.
Read our full Blackview BV7100 review.
---
We've also featured: