While other designs have better processors, more memory and greater battery capacity, this one dials back all those things to deliver a highly affordable solution that combines practicality with some excellent features.
Pros
+

Cheap

+

Good specification

+

Great camera sensors

+

33W fast charge
Cons
-

Only 4G

-

Only 2K video capture
Why you can trust TechRadar We spend hours testing every product or service we review, so you can be sure you're buying the best. Find out more about how we test.
Ulefone Armor 22: 30-second review
For those following the evolution of rugged smartphones, we're currently experiencing a fork in the road where the makers are creating two sub-classes of these devices.
In one direction are cumbersome phones with huge batteries, and in the other are more elegant options, like the Ulefone Armor 22, that offer a more practical experience without the battery life of a Tesla.
Available in black and black with a few green highlights, the Armor 22 ticks all the classic rugged phone boxes, having chunky metal sides with an isometric relief and angled corners.
The layout is the de facto power button and rocker on the right and the custom button and SIM card slot on the left, making this phone an easy transition for most users.
However, it is one of the few phones to include a 3.5mm audio jack, and a SIM tray takes two Nano SIMs and a MicroSD card without the need to choose between them.
But where some independent thinking has occurred is in the camera department, with dual 64MB sensors on the rear. One is the primary lens, and the other is a night vision sensor.
It is one of the few designs we've seen using the new SONY IMX686 sensor, and having tested the best rugged smartphones out there, we can say the results are impressive.
That feature was clearly a priority for Ulefone, but they took a step back with the processing power using the MediaTek Helio G96, a small notch below the highly popular G99 chip.
Overall, the Armor 22 is a classy design that delivers a practical phone with the ability to handle the environment for those who find themselves in the rain or desert dust on a regular basis. And, the asking price is low for such a well-made and considered specification.
Ulefone Armor 22: price and availability
How much does it cost? From $220
When is it out? Now
The Armor 22 comes in two colours and two memory size options, 128GB and 256GB. The cost of both varies massively depending on where they're bought, with the cheapest options and longest delivery times being from AliExpress.
I can be bought directly from the maker, with a smaller storage model priced at $220 and the larger for $240. The only problem with the maker as a source is that it doesn't sell this phone to Europe now.
On Amazon.com the 128GB model costs $270 and the 256GB $290, but currently offers a coupon to get $50 from that price. With such a small price differential, it's probably not worth considering the 128GB model unless you are working with an especially tight budget.
Considering the specification, the Armor 22 is a fantastic package of features for a modest outlay.
Ulefone Armor 22: Specs
Swipe to scroll horizontally
| Item | Spec |
| --- | --- |
| CPU: | MediaTek Helio G96/ Octa Core / 2.05 GHz / 6nm / 4G |
| GPU: | ARM Mali-G57 MC2 |
| RAM: | 8GB LPDDR4X |
| Storage: | 256GB UFS 2.2 |
| Screen: | 6.58-inch FHD+ 120Hz |
| Resolution: | 1080x2408 |
| SIM: | Dual Nano SIM + MicroSD |
| Weight: | 324g |
| Dimensions: | 176.8. x 84.9 x 15mm |
| Rugged Spec: | IP68/IP69K, MIL-STD-810G, standard 60529 |
| Rear cameras: | 64MP SONY IMX686 Primary, 64MP OV64B Nightvision |
| Front camera: | 8MP OV8856 Sensor |
| Networking: | WiFi 5, Bluetooth 5.2 |
| OS: | Android 13 |
| Battery: | 66000mAh (Max charge 33W - 11V 3A) |
Ulefone Armor 22: design
Sci-fi styling
Projecting camera cluster
Lightweight
Some makers have been trying to tone down the sci-fi aesthetics that blighted some decent rugged phone designs, but Ulefone didn't entirely give it up in the Armor 22.
That said, some isometric patterning on the sides makes gripping the phone easier, especially in the wet, and the phone looks far from ugly.
One place that needs some adjustment is the octagonal camera projection on the rear, as it stops the phone from lying flat. It sits proud by at least 4mm from the phone's back and probably goes to explain why this phone doesn't have wireless charging.
Besides that one point, the rest of the Armor is a tour de force in how to make a very functional device, with all buttons being easy to locate without looking and robustly made of metal.
The list of things that are right in this phone is long, but we noted that the screen is large and bright, an audio jack and an IR blaster are included on the top of the phone, the SIM card tray takes dual Nano SIMs and a MicroSD card without forcing one of these out. And at just 324g, this is easily one of the lighter rugged phones we've covered and a quarter that of some designs.
The only other aspect we wish was better was the number of rubber plugs over various ports designed to make the Armor 22 waterproof.
It's our experience that with repeated use, these rubber plugs aren't as effective at stopping water and dust, and eventually, wear negates their protection. One positive to this is that in this design, the plug that protects the USB-C port and the one that is most likely to be pulled out for charging every day is held in place with a screw, suggesting it can be replaced.
Though at this time, this isn't an accessory Ulefone lists on its website.
Design score: 4/5
Ulefone Armor 22: hardware
De-tuned SoC
8GB of RAM
4G not 5G
With so many phone makers using the MediaTek Helio G99, it was something of a shock to find one with something different inside.
But the difference here is a marginal one, since the G96 is merely a slightly down-clocked version of the G99, with a maximum clock of 2.05GHz over the 2.2GHz on the G99.
For those that are interested, the G96 appeared in June of 2021 and was fabricated on an older 12nm node, and eleven months after its launch, the G99 was released using a TSMC 6nm process.
Across the board, including the GPU, the G96 is about 10% slower than the G99, but critically, it isn't as power efficient due to the chip fabrication, where the difference is closer to 25%.
That has implications because of the battery size that we'll discuss later, and it begs the question of why Ulefone didn't use the G99.
The maximum amount of RAM the G96 can support is 10GB, but the Armor 22 only comes with 8GB, and this version of Android 13 it uses doesn't support the trick of mapping some storage as if it were RAM.
Even without this feature, 8GB is plenty of memory for most uses, and the user experience isn't dramatically impacted by the choice of the G96 chip or the memory configuration.
More of an impact is the camera options, which aren't common with other designs, and we'll talk about more in that section.
What we need to mention is that the G96 only supports GSM, 2G, 3G and 4G, with no support for 5G comms. 5G still isn't something that comes as standard, and it isn't available here. But the frequency ranges covered by the mobile phone part of this device should work in most regions without an issue.
Ulefone Armor 22: cameras
64MP Main sensor
64MP Night vision
No 4K video recording
The Ulefone Armor 22 has three cameras:
Rear cameras: 64MP SONY IMX686, 64MP Omnivision OV64B Night vision
Front camera: 8MP Omnivision OV8856
The typical model for rear camera clusters we've seen is a three-camera solution with a primary sensor, night vision and a smaller macro option. The Armor 22 ignores the macro option, providing instead six lens optics to the 64MB SONY IMX686 to cover close-up work, and then another 64MP sensor purely for night vision, the OMNIVISION's OV64B.
The SONY IMX686 replaces the IMX586 with a significantly larger sensor, going from half an inch to a massive 1 / 1.72 inches sensor area to capture more light and produce better images.
Due to the different resolutions of these sensors, the sensor elements are the same 0.8 μm on each. With more of these elements, the IMX686 can pixel-bin data in a four-to-one ratio, simulating the equivalent of 0.16 μm elements.
Combined with its f/1.89 aperture, this impact of pixel-binning is especially noticeable in low light conditions, where the IMX686 dramatically outperforms its predecessor and introduces much less grain to the captures.
By default, the camera app isn't configured to disable pixel-binning, and the maximum image resolution is 16MB, or 4608 x 3456, but it can take shots at the full 64MP pixels if required.
Interestingly, in Night vision mode, pixel binning is not used, and images are captured at full 64MP quality by default.
The results of both these sensors for photography are excellent, and the SONY IMX686 is a dramatic step up from the sensor that came before.
The only disappointment here is that even with 64MP, the camera app implementation only offers 2K video at 30fps when the sensor is rated to 4K at 60fps. Maybe the storage on this device isn't quick enough to capture that quality, but for video capture, it isn't ideal.
We could be equally critical of the 8MP OV8856 front sensor, as it only captures 1080p, but frankly, 16MP and 32MP front-facing sensors are probably a waste, and this one provides the level of functionality that most will want.
At this price point, we weren't surprised that the Armor 22 doesn't support Widevine L1 encryption for video streaming isn't a huge surprise, but you should be aware that the best quality you will get from the bigger streaming services is 480p because of that.
Ulefone Armor 22 Camera samples
Image 1 of 12
Ulefone Armor 22: performance
Average performer
Small battery for rugged
Fast 33W charging
Swipe to scroll horizontally
| Benchmark | Test | Score |
| --- | --- | --- |
| Geekbench: | Single core | 506 |
| | Multi core | 1478 |
| | OpenCL | 1428 |
| PCMark: | Score | 9717 |
| | Battery | 13 hours 56 minutes |
| Passmark: | Overall Score | 7599 |
| | CPU Score | 3707 |
| 3DMark: | Slingshot OpenGL | 3372 |
| | Slingshot Extr. Open GL | 2440 |
| | Slingshot Extr. Vulkan | 2292 |
| | Wild Life | 1152 |
The obvious comparison that can be drawn is to compare this phone with a recent G99-powered device, like the Fossibot F102.
In the majority of benchmarks, the difference is less than 10%, and in a few, like the Geekbench OpenGL and Vulkan, it is only about three percentage points off the F102.
Where it suffers more is in the Passmark tests, being closer to 20% slower.
In one test, the PCMark Work 3.0, it did better the F102, but it still trailed other G99 designs, like the Blackview BV9300 score.
This makes the Armor 22 powerful enough for general use and some light gaming, but it's hardly a powerhouse compared to any of the Dimensity or Snapdragon SoCs.
The battery capacity of 6600mAh might seem large by ordinary phone standards, but for rugged phones, that's a small battery, though bigger than Lenovo ThinPhone or Kyocera DuraForce Pro 3, to name a couple.
As we've seen before, it is possible to underutilise a big battery or make the most of the smaller option, and the Armor 22 thankfully does the latter.
The quoted standby is 360 hours (15 days), and talk time is 27 hours, but those don't really tell you much about the power consumption of the phone when it is being used as they typically are.
However, it only managed a little under 14 hours on the PCMark battery test. Looking at its competitors and the battery capacity, the G96 isn't as power efficient as the G99. The G99 would probably have given this phone at least another hour or two with the same battery. Another aspect of the battery is that with 33W fast charging, it can be recharged very quickly from completely exhausted.
Given how quickly this battery can be restored, it is disappointing that Ulefone didn't include wireless charging as an option.
Ulefone Armor 22: Verdict
Forgetting the few cost-cutting exercises like the G96 Soc, for the relatively low cost of this phone, the Armor 22 is an exceptional package. A good quality screen, excellent camera sensors and reasonable battery life all combine to make this a credible choice as a second device for wilderness adventures or taking on a building site.
It's not 5G, and it won't capture 4K video, but at this price point, those things aren't typically included.
But what stood out head and shoulders here was how practical this phone is. Because we've seen a truckload of phones that have the mass of a house brick that are as thick as a 2-by-4, and they're not anything you want in your pocket for a working day.
For those wanting a no-nonsense design that can take the knocks and even water submersion, take a decent picture and work globally, the Armor 22 is worth considering.
Should I buy a Ulefone Armor 22?
Swipe to scroll horizontally
Fossibot F102 Score Card

| Attributes | Notes | Rating |
| --- | --- | --- |
| Value | A fantastic phone for relatively little money | 5/5 |
| Design | Other than the camera cluster projection, the design and layout of this phone are considered. | 4/5 |
| Hardware | Uses the G96, and not the G99, sadly. | 4/5 |
| Camera | Dual 64MP rear cameras but no 4K video | 4.5/5 |
| Performance | 10% slower than a G99 design, but the user experience is fine | 3.5/5 |
| Overall | More phone than most might expect at this price | 4.5/5 |
Buy it if...
You need a phone to go outside
Those who often work in the environment need a phone that can get wet or muddy and not have issues, and the Armor 22 is that phone.
Photography is important
The primary sensor is an excellent SONY pixel-binning 64MP sensor that can deliver some terrific image quality when combined with six-lens optics. The night vision sensor is also 64MP and perfect for photographing wildlife at night.
Don't buy it if...
5G is a requirement
While the Armor 22 supports all the legacy frequencies and 4G LTE, it doesn't support 5G and that technology's speeds. Depending on where you are regionally, this is either no problem at all or a bigger issue.
4K video is a requirement
The best video this phone can capture is 1440k resolution, even if the sensor is much better than that resolution. If you want to capture 4K video, either pick another phone or take a 4K action camera along with you.
Also consider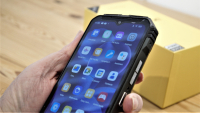 Doogee S100 Pro
Using the G99 SoC and 104MP camera sensor, this is a marginally more powerful option. But with a price tag of $400, this is also a more expensive option. You get a huge 22000mAh battery for the investment, making it last longer on battery power but also much heavier to carry.
Read our Doogee S100 Pro review for more information.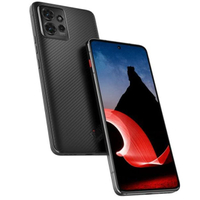 Lenovo ThinkPhone by Motorola
Another lightweight rugged design, sold by Lenovo outside the USA and under Motorola branding inside that region.
A much more expensive option, but in return, you get the superior Snapdragon 8+ Gen 1 SoC, 8GB of DDR5 RAM, 256GB storage, and a larger screen. But the cameras aren't significantly better and battery capacity is even smaller.
The only caveat is that it's only designated as waterproof in fresh water, oddly.
Read our Lenovo ThinkPhone by Motorola review for more information.
Mark is an expert on 3D printers, drones and phones. He also covers storage, including SSDs, NAS drives and portable hard drives. He started writing in 1986 and has contributed to MicroMart, PC Format, 3D World, among others.