30-second review
This phone isn't a ThinkPad computer, but it has been themed to look similar and work alongside Windows systems.
However, there are a few big reasons why you might want to deploy this Android phone in business, the first being security.
Alongside the usual protections offered by Android 13 (not 12), Motorola put a special security module in this device that isolates encryption keys and other security information from main memory, making them much more difficult to access nefariously.
When you combine that with a centralized management service that allows phones to be wiped, locked, and specific software to be installed remotely, then this is a device that the IT department will hopefully like and not curse.
And, sporting the latest Qualcomm Snapdragon 8+ Gen 1 SoC, this is easily one of the most powerful phones we've ever tested. In short, it can handle computing tasks that would crush other designs.
We should also mention that it is drop, dust and water resistant (freshwater, not salt), has a fantastic camera that can shoot 8K video, and is dual SIM.
While it has a few minor omissions, the only significant caveat here is the price. But considering the technology that Motorola stuffed inside, the ThinkPhone might well be worth that inflated asking price.
Lenovo ThinkPhone price and availability
How much does it cost? $900/ £899 (around AU$1,345)
When is it out? It is available now
Where can you get it? You can get it in most regions direct Lenovo, Motorola or through an online retailer.
Business smartphones often aren't expected to be cheap, and the ThinkPhone isn't. At almost £900 in the UK and $900 in the USA (around AU$1,345), that's more than a 256GB Apple iPhone 14 and slightly less than the iPhone 14 Plus.
Alongside the phone, Motorola has designed a wireless charging stand, but the pricing for that accessory isn't currently available.
Lenovo ThinkPhone design
Thin and lightweight
Rugged without rubber plugs
Narrow screen border
When the term 'rugged' is used for a phone. It is normal to expect chunky and heavy designs that look destined for life on a building site or farm. The ThinkPhone isn't remotely like that, yet it still achieves the same drop standards and waterproofing as those with industrial styling.
Weighing only 188.5g, this is half the mass of a typical rugged Chinese phone and should easily fit inside a jacked or even a trouser pocket.
Yet, it still has a 6.6-inch display, is dust and waterproof according to IP68 without rubber plugs, and it can handle being dropped 1.5m.
However, there are a few caveats about the robust side of this design that Motorola placed in the copious notes on its product page.
These include the fact that liquid damage isn't covered by the warranty and that the water immersion of 1.5m for up to 30 minutes is only for fresh water and not the ocean. And, that last detail explains why the camera has all manner of photographic modes, but underwater photography isn't one of them.
The button layout is predictably Android, with the power and volume controls on the right and a user-customisable button on the left. We should complement Motorola on the user-assignable button, as we've seen plenty of implementations that weren't as flexible as the one in the ThinkPhone.
The SIM slot isn't on the left side but on the bottom next to the USB-C port. The phone accepts Nano-sized SIMs but has no place for a MicroSD card.
Given how new this design is and the cutting-edge technology in it, that it didn't use eSIMs or have any MicroSD card reader was disappointing.
The camera cluster is on the top left, and it stands proud of the flat underside of the phone, causing it to rock when placed on a flat surface. The flat base is designed to make charging the ThinkPhone wirelessly easier, but the camera cluster does the complete opposite.
One other design curiosity with the ThinkPhone is that the screen has a very narrow border minimising the chassis of the phone noticeably. As nice as this looks, we had a few occasions when the phone didn't react to a finger press. We eventually realised that another fingertip had inadvertently made contact with the screen due to the thin border, which interfered with the touch sensor.
For those curious, the fingerprint reader is embedded in the screen, making it equally accessible for right and left-handed owners.
Once we realised this, it was relatively easy to counter, but a new owner might think the phone isn't working correctly and send it back.
Design score: 4/5
Lenovo ThinkPhone hardware
Ultra powerhouse
Amazing camera specs
Modest battery size
Specs
The Lenovo ThinkPhone that was sent to us for review came with the following hardware:
CPU: Snapdragon 8+ Gen 1
GPU: Adreno 730
RAM: 8GB LPDDR5
Storage: 256GB
Screen: 6.6-inch pOLED 144Hz HDR10+
Resolution: 1080 x 2400 FHD+ (402ppi)
SIM: Dual Nano SIM
Weight: 188.5g
Dimensions: 158.76 x 74.38 x 8.26 mm
Rugged Spec: IP68, IP69K and MIL-STD-810H
Rear cameras: 50MP Sensor, 13MP ultrawide
Front camera: 32MP Sensor (wide)
Networking: WiFi 6E, Bluetooth 5.3
Comms: 2G, 3G, LTE, 4G, 5G
OS: Android 13
Battery: 5000 mAh
With Chinese phone makers pressing more powerful SoCs into their rugged designs from MediaTek, the Qualcomm SoC in the ThinkPhone takes phone performance to a whole new level.
The details of how powerful the Snapdragon 8+ Gen 1 is are further documented in the performance section, but this is easily the most powerful phone this reviewer has tested.
What makes it so powerful is the tri-cluster core arrangement, headed by a single Cortex-X2 core that runs at a blistering 3.0GHz. To that headline act are added three fast Cortex-A710 cores at 2.5GHz, and the final cluster has four efficiency Corex-A510 at 1.8GHz.
The supporting GPU is an Adreno 730, a notch up from that used in the Snapdragon 888 and 865. The icing on this architectural cake is that the SoC connects to 3.2GHz LPDDR5 memory, with 8GB in this model.
That power level will eat most phone tasks for breakfast, but it's also critical in the camera functions that require that performance.
Another standout choice in this phone is the pOLED display technology that's rated for HDR10+ presentation. The natural resolution of 1080 x 2400 allows for 1080p video to be fully shown and allows extra pixels for the interface.
The quality of this panel is remarkably high, but it would all be just window dressing if the video encryption technology wasn't onboard to allow the best streaming quality. Thankfully this phone, unlike so many others, does support Widevine L1, meaning that streaming Netflix, Disney+, or Amazon should result in the best quality images with a good connection.
The ThinkPhone is one of the few phones that is HDR10+, Amazon HDR Playback, and YouTube HDR Playback certified that we've seen.
The review phone came with 8GB of RAM and 256GB of storage, but it may be that Motorola will make versions of the ThinkPhone with 128Gb or 512GB depending on demand. Memory can be bumped to 12GB by subverting some of the storage into what appears to be RAM to the system, a feature we've seen on Android 12 phones.
Other hardware features include dual Dolby Atmos capable speakers, WiFi 6E networking, and 5G comms.
There are only blemishes on this hardware tour de force, and those are the lack of any support for a MicroSD card and that it doesn't support eSIMs.
Lenovo ThinkPhone cameras
Rear cameras: 50MP f/1.8 primary, 13MP f/2.2 ultrawide, 2MP, f/2.4, (depth)
Front camera: 32MP f/2.5 (wide)
With so many cameras using the Samsung HM2 108MP sensor, it's refreshing to see one that goes for fewer pixels and instead focuses on the delivery of high quality images and video.
The best video resolution we've seen from the HM2 is 4K, but the sensor on the ThinkPhone (and we believe it is an Omnivision OV50A) offers 8K at 30fps, 4K at 60fps and slow-motion video of up to 960 fps for 1080p captures. And, its gyro-EIS stabilised to help with getting those smooth shots.
For portrait work, the camera can use Phase detection autofocus (PDAF) to keep the objective in focus while allowing the background to blur. And there is also a continuous shooting mode that's ideal for getting sporting events or similar.
But even without the special modes, and there are plenty, the results from this camera are excellent, almost irrespective of lighting conditions.
The output is almost certainly the result of a four-way pixel binning algorithm that reduces chromatic aberrations and clarity but still manages images of a good resolution.
And, for those wanting the very best results, it can shoot in RAW mode.
Overall, the camera on the ThinkPhone is excellent, and the photo application has, with a few small exceptions, got all the special modes and manual controls for those that use them.
Camera samples
Lenovo ThinkPhone performance
Benchmark breaking performance
Game capable SoC
Benchmarks
This is how the Lenovo ThinkPhone performed in our suite of benchmark tests:
Geekbench: 1314 (single-core); 4259 (multi-core); 6357 (OpenCL)
PCMark (Work 3.0): 16474
Passmark: 16535
Passmark CPU: 8080
3DMark Wild Life Extreme: 2840
GFXBench Aztec Ruins OpenGL: 1080p Offscreen 117fps, 1440p Offscreen 45fps, 4K Onscreen 21fps.
GFXBench Aztec Ruins Vulkan: 1080p Offscreen 126fps, 1440p Offscreen 48fps, 4K Onscreen 22fps.
Having an SoC fail to run a test is usually down to a missing feature, but with the Qualcomm Snapdragon 8+ Gen 1, several of our standard benchmarks refused to execute because it was 'Maxed Out'. When trying to run Slingshot and Wild Life on 3DMark, the benchmark declared that "Your Motorola ThinkPhone is too powerful for this test". And, the only 3DMark bench we managed to run successfully was Wild Life Extreme.
As a result of these issues, we've included a selection of GFXBench results to represent better the performance envelope that the ThinkPhone is capable.
This phone strongly suggests that we need a whole new slew of testing tools for phones because the performance of the new Snapdragon SoCs is on a whole new level.
However, Qualcomm also has the new Snapdragon 8 Gen 2 with its Adreno 740 GPU that has been seen previously in the Samsung Galaxy S23 and the Xiaomi 13. Tests on those devices show that the Gen 2 and Adreno 740 silicon is marginally faster than Gen 1 and Adreno 730 combination.
Unless you already have a Samsung S23 or an iPhone 14, the speed and power of the ThinkPhone should impress you.
Lenovo ThinkPhone battery
Decent 5000 mAh capacity
68W Fast charging
15W Wireless charging
As rugged smartphones go, 5000 mAh is a modest amount of battery capacity, and realistically the most you can expect from this platform is a couple of working days of use.
But because of the modest-for-a-rugged-phone battery capacity and the 68W charging from the included TurboPower charger, charging is rapid, and you are soon ready to go.
Alternatively, for those that like to charge overnight, the Qi-compliant 15W wireless charging will work equally well and saves the USB-C port from wearing out.
The only aspect of the battery and charging of the ThinkPhone that is mildly disconcerting is how warm the phone can become when rapidly charging over USB. It doesn't get excessively hot, but it is noticeable when you pick it up.
While all batteries do heat up charging, we'd be wary of this one if it suddenly started to get any warmer than normal.
There is a balance here that Motorola is making about keeping the ThinkPhone light and thin and having enough battery to operate for long enough. The ThinkPhone should get you through two working days unless you play games, but it isn't enough time for an extended adventure holiday or hiking expedition.
The hardware in the ThinkPhone is exceptional, and when combined with management tools like Moto OEMConfig and Moto Device Manage, this becomes more than just another Android phone.
There are a few minor issues, like the lack of a MicroSD card slot, but mostly the phone's specification is excellent.
More of an issue is the price because being more expensive than Apple isn't a notoriety that most phone makers wish to have. With the high quality of the hardware and software platform, we appreciate that Lenovo sees the ThinkPhone as a premium solution. But more aggressive pricing might have been a better choice as it would have attracted more customers not having a business pay for their phone.
Lenovo ThinkPhone score card
Swipe to scroll horizontally
| Attributes | Notes | Rating |
| --- | --- | --- |
| Value | Expensive, but the hardware justifies some of this cost. | 4/5 |
| Design | Thin and elegant, yet powerful and waterproof | 4/5 |
| Hardware | Security enhanced, stunning pOLED screen, camera that can capture 8K video and dual SIM, but no MicroSD card reader | 4/5 |
| Performance | Blows most of the benchmarks to bits, remarkably fast | 5/5 |
| Camera | 50MP sensor with HDR, HDR10, 8K and 8K video, slow motion, this camera has it all. | 4/5 |
| Battery | Not a huge battery but enough for a couple of days | 4/5 |
| Overall | A phone that most owners will adore, but is it more than some are willing to spend currently | 4/5 |
Should I buy a Lenovo ThinkPhone?
Buy it if...
The remote management of phone is important
With a remote admin platform baked in, the ThinkPhone is perfect for those businesses that need to distribute software to their employees or control what data is on their phones.
You use demanding apps
The power in the Snapdragon 8+ Gen 1 is remarkable, and if local processing of data is required, this phone can easily cope with it.
You intend to watch streamed content
One of the few phones we've seen with Widevine L1 level video encryption, so it's ideal for those that like to watch Netflix or Disney+ on their phones.
Don't buy it if...
Need more battery life
The 5000 mAh on this phone is enough for general use, but there are phones out there with 22000 mAh available to them. If you don't get to see a power socket very often, there are phones with more capacity.
If you are on a budget
It is possible to get a useable rugged phone for much less than this easily. Ulefone, Blackview, Doogee and Unihertz are all brands that offer better value for lower-specified devices.
Also consider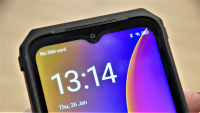 Ulefone Power Armor 18T
The 18T is undoubtedly the Ulefone Power Armor design for those with a bigger budget or business signoff to get a premium rugged option. It has a 9600 mAh battery, a 108MP main camera and FLIR 3.5 Thermal imaging sensor. And, all this is for about 60% of the cost of a ThinkPhone.
Read our Ulefone Power Armor 18T review for more information.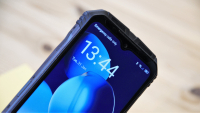 Doogee V30
This phone uses the Dimensity 900 SoC and comes with 8GB of RAM. It is another practical design with a 108MP camera and much greater battery capacity. While it doesn't offer security enhancements, it's a fraction of the cost of the ThinkPhone.
Read our Doogee V30 review for more information.