With so many options available, identifying the best microSD cards on the market is no easy feat. But we've carefully selected the top microSD flash memory cards you can use in smartphones, cameras, drones, and game consoles, like the Nintendo Switch.
Many of the microSD cards featured in this guide also include an adapter that allows them to be used in devices that support standard SD memory cards.
MicroSD cards allow you to expand the capacity of many devices quickly. But it's not as straightforward as just packing a bunch of gigabytes into a small memory card.
The best microSD cards also need to offer high speeds. These are essential when moving large files to and from the card. This is especially true when recording video in Ultra HD (4K) resolutions. Your device will be writing a lot of data and need ample space.
This is our pick of the best microSD cards currently available in terms of pricing, reliability, and usability. Remember that it is advisable to have cloud backup if you lose your card (they're tiny, remember).
Should data on them ever become corrupted or accidentally deleted, you can also try one of our best data recovery software. And if you're looking for an SD card for your camera instead, check out our best SD card guide for advice.
Best microSD Cards
The Samsung Evo Plus microSD card looks like 'one card to rule them all at first glance. A low price point paired with huge read and write speeds makes it a desirable option. And while we don't expect these cards to hit top numbers in testing, we did find this card only reached a write speed of 58.5MB/s, which is less than half the advertised speed. A read speed of 76.1MB/s is also a touch shy of claimed max read speeds. But considering how little this card costs, it's a speedy little number that should more than match most devices you throw at it. We were pleasantly surprised to see its performance at such a low price.

As one of the more costly microSD cards on this list, you might think that the Pro Endurance's claimed to write speeds of 30MB/s are surprisingly low compared to other cards in this price range. During testing, we also found that this card fell slightly short of its claimed read speeds of 100MB/s at just 74.4MB/s. However, it more than excelled when writing data, pushing over 15MB/s above the stated 30MB/s at 45.6MB/s, and the key to this card's prowess is in its reliability and consistency. If you need a card for your drone or dash cam that's capable of 4K video recording, it's a great choice.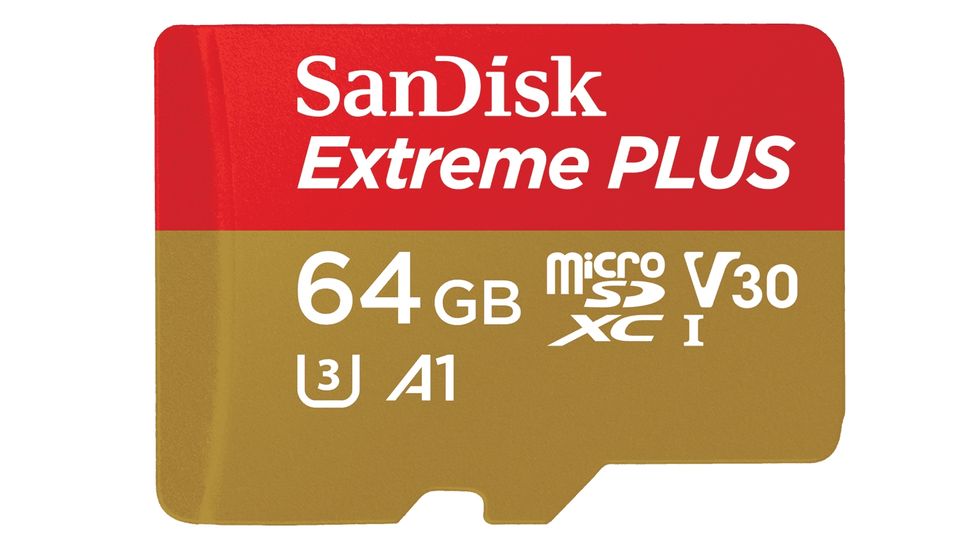 SanDisk claims this microSD card can read up to 95MB/s and write 90MB/s, and in tests, it came pretty close to those speeds. This makes it a very fast card, and with smaller files, it's even faster, which means this is a great card for action cams, drones, or burst photography. Again, it's a bit pricey, but if you don't mind spending a bit above the odds, you'll get a great microSD card for your needs.

Despite being one of the cheaper microSD cards in this guide, the Lexar Play surprised us during testing, popping out a healthy 75MB/s write speed and 83.1MB/s read speed. The latter didn't match up to its advertised 150MB/s read speeds, but it did excel at the stated 30MB/s write speeds, which means this card trumped some of the more expensive cards in our round-up. If you're looking to grab a microSD card for your drone or other media device and need to bank big data (capacity exceeds 1TB) or perhaps need multiple decent cards, the Lexar Play is a great option.
---
Frequently Asked Questions
How to choose your microSD memory card
1. It's not worth looking for memory cards with capacities smaller than 4GB simply because the price premium you pay twice or four times the storage is tiny.
2. Make sure you include the delivery price when doing the numbers, as you often end up paying more for the postage than the drive itself, particularly for low-cost models.
3. If you opt for large-capacity cards (32GB or more), ensure that your device is SDXC compatible.
4. If you plan to move files to and from portable devices (tablets or smartphones), consider a micro USB card reader such as the Leef Access.
5. Avoid buying your memory cards from vendors with little feedback on auction websites, as these drives might be fake. All the vendors listed below are tried and trusted ones.
6. For 128GB and above, SD cards are generally cheaper as users usually settle for 64GB as this matches the maximum supported capacity of most portable devices. In general, microSD cards with an adaptor cost less than the equivalent SD card.
7. Note that all the capacities will likely be much less than stated when formatted.
8. SD cards are usually divided into classes, giving a rough idea of the minimum performance to be expected. A Class 4 card is guaranteed to deliver at least 4MBps, while a Class 10 should surpass 10MBps.
9. Similarly, many vendors report their speeds in terms of "x" rating, which is a multiple of 150KBps (the read speed of a standard CDROM drive). A 100x card can be expected to deliver more than 14MBps.
10. If you plan to buy microSD cards to store data, don't. Memory sticks, being cheaper and more robust, are a better choice.
What are the largest memory cards in the world?
Below is the list of the most significant memory cards; eight have a 1TB capacity, four SD, and four microSD. At the time of writing, the highest capacity microSD or SD cards are:
Samsung, HP, Teamgroup, Micro Center, Netac, and Patriot are the other trustworthy memory card vendors that sell 512GB microSD and SD cards but have yet to announce any plans to sell 1TB models.
It is worth noting that there are sad, dozens of fake 1TB and 2TB memory cards available on open marketplaces such as eBay and Amazon for rock-bottom prices. We strongly discourage anyone from purchasing them; they are big, fat scams.
Read our microSD card reviews
---