Not a cheap phone, but also not underspecified for the price. Exceptional performance and features in a chunky go-anywhere design. Lots to like here with relatively few flaws. The V30 shows well how Doogee has matured as a phone maker.
Pros
+

eSIM and SIM support

+

IP68 and IP69K protection

+

108MP camera

+

5G
Cons
-

Lacks 3.5mm headphone jack
Why you can trust TechRadar We spend hours testing every product or service we review, so you can be sure you're buying the best. Find out more about how we test.
Two-minute review
Each time Doogee comes out with a new flagship design, it moves the bar for numerous companies in the rugged phone sector.
The new V30 takes features exclusive to premium branded phones only months ago and delivers them in an affordable package for those that work outdoors or yearn to adventure.
Ticking the rugged phone boxes, this is an IP68, IP69K and MIL-STD-810H compliant design that can handle dust and water, including full submersion for limited periods and shallow depths.
But the parts of this phone that will interest the discerning customer are all inside. Specifically, the Dimensity 900 SoC, 8GB of RAM, 256GB of storage and 108MP camera.
These make the V30 a potent and capable phone that can connect using 5G when available and capture the world around it in astounding detail.
On the rear are a 108MP Samsung S5KHM2SP03 main camera (F1.79, 90-degree FOV, PDAF) a 20MP Sony IMX350 night vision camera (F1.8, 70-degree FOV) and a 16MP wide-angle & macro camera (F2.2, 130-degree FOV).
For selfie-takers, the front has a 32MP IMX616-AAJH5-C front camera (F2.0, 90-degree FOV).
Like we've seen before with this sensor, the taking of 108MP images negates some of the special features like HDR and Bokeh, but you can get those things in a 12MP mode.
However, other phones don't offer 4K video capture, and the V30 does, along with lower resolutions.
Viewing those pictures or streamed content is easy on its 6.58-inch IPS 120Hz display with a natural resolution of 2408 x 1080, similar to one of that we've seen before on the Ulefone Power Armor 17 Pro.
With a battery capacity of 10800mAh, the V30 should operate for more than three days of normal use without needing a recharge. And, using the included 66W charger, it can recover 50% of its battery capacity from empty in around 30 minutes.
These features and its 5G functionality make the V30 an exceptionally good choice for anything travelling abroad, capturing images and video and then securing them over cellular or WiFi connections.
It might not be the cheapest rugged phone design, but the amount of technology that Doogee shoehorned into it makes it easily worth the asking price.
Doogee V30 price and availability
When is it out? It is available now
Where can you get it? You can get it in most regions direct from AliExpress or on Amazon.com
The Doogee V30 costs $449.99 directly from Doogee or $529.99 on Amazon.com for next-day delivery. European costs from online retailers are slightly better, with the Amazon.co.uk cost being just £407.99.
Whereas direct from an Australian online retailer, the V30 costs AU$ 779.
But if you want a real bargain Doogee has this phone at its own outlet on AliExpress, and it costs only £329.16 or $395.24, although delivery might take 30 days or more.
Considering the features of this phone, the price is very competitive.
Doogee V30 design
Built to last
By-the-numbers buttons
No audio jack
From the outside, there isn't much radical about the V30, as it falls into the familiar tropes where most large rugged phones fall.
One unique aspect is that the phone's body has a boat-like profile, making it slightly easier to handle than some thicker phone models. Having its sides elevated also helps when picking up, which might otherwise be a challenge.
The construction uses a combination of a milled metal frame covered largely in impact-resistant plastic and dense TPU. This has been texturized for better grip and to match a section of 'leather' on the flat underside.
One curiosity is the side panels that have a wood grain finish, although it's hard to determine what they're actually made from. It all looks nice, and with the 'Leather' underside, it gives the phone the feel of a luxury car interior.
Every phone maker seems to be glued to this layout with the thumb-activated power button, and Doogee engineers didn't buck that trend. It works well for right-handed users and less elegantly for left-handed.
Typically, rugged Chinese-made phones come with a SIM tray that can accept two Nano SIMs and a MicroSD card, but the V30 only supports one Nano alongside the MicroSD or, alternatively, two Nano and no MicroSD.
However, as we'll cover elsewhere, this phone supports eSIMs, so it can have up to five different numbers and services if required.
The charging and data port is the USB-C variety placed on the centre of the bottom edge and covered in a rubber plug. We've seen designs by Ulefone recently that dispensed with the rubber plug but still offering to waterproof, something Doogee needs to consider offering in its designs.
However, the phone will wirelessly charge at 15W with a suitable Qi wireless charger if repeatedly removing the plug annoys you.
What is missing is any 3.5mm audio jack. Doogee assumes music fans will be using Bluetooth or buy their own USB-C-to-audio adapter, as one isn't included in the box.
What you get with the phone is a plastic tool to avoid breaking a nail opening the SIM tray, a Euro pinned wall-socket PSU rated to 66W, USB-C to USB-C OTG cable, some screen protecting accessories and a User Manual.
Design score: 4/5
Doogee V30 hardware
Powerful
High specification
eSIM flexibility
Specs
The Doogee V30 that was sent to us for review came with the following hardware:
CPU: MediaTek Dimensity 900
GPU: Mali-G68 MC4
RAM: 8 GB (15 GB with Memory Fusion)
Storage: 256GB (expandable to 1TB with MicroSD)
Screen: 6.58" FHD+ 120 Hz IPS waterdrop display
Resolution: 2408 x 1080
SIM: Dual Nano SIM (or 1 and MicroSDXC) and eSIM (4)
Weight: 376g
Dimensions: 177 x 80 x 18 mm
Rugged Spec: IP68, IP69K and MIL-STD-810H
Rear cameras: 108MP main, 20MP night vision, 16MP ultrawide
Front camera: 32MP
Networking: WiFi 5, Bluetooth 5.0
OS: Android 12
Battery: 10800mAh
The MediaTek Dimensity 900 is the SoC of choice for flagship designs for those companies unwilling to pay Qualcomm for the latest Snapdragon silicon. We've seen it used in the V30 and the Ulefone Power Armor 18T, and it impressed us in both devices.
This is a third-generation MediaTek APU that combines dual ARM Cortex-A78 performance cores with six ARM Cortex-A55 cores for efficiency. Its integrated GPU is Mali-G68 MC4 can handle 4K video encoding/decoding and supports OpenGL3.1 and Vulkan for 3D rendering.
As an SoC and not just a CPU/GPU, this 6nm chip can connect to LPDDR4X or LPDDR5X, and supports UFS 2.1 and 3.1 storage.
In this phone, the memory type is LPDDR4X, and this is one of those designs where the amount of RAM can be expanded by sacrificing some of the storage. This memory fusion mode enables up to 15GB of RAM to be allocated, nearly doubling the amount available for apps.
But it isn't just the SoC and memory model that is premium on this design. The networking technology is also state of the art, with WiFi 6 (2x2 MIMO), Bluetooth 5.2, and mobile comms for 2G, 3G, 4G and 5G cellular services.
Using the dual SIM mode can choose from physical SIMs and eSIMs, and if the service provider supports the mode, it can communicate over dual 5G links at up to 2.7Gbps download speeds.
Where the eSIM model used in the V30 is truly revolutionary is that the whole process of getting a service can be achieved from the phone. If you imagine wanting to go to a distant country and needing a local number and service, this would normally involve sourcing a physical SIM and paying for that service when you arrive.
Using the pre-installed eSIM store, you can simply select the country and the required data plan, sanction the payment and magically, you've now got access to the local service and a mobile number. And, if you are involved in some shuttle diplomacy or the like, it is possible to have four eSIM numbers active at any time.
The only disappointment in the hardware is that the V30 doesn't support the Widevine L1 video decryption standard, only L3. With only L3 decryption streaming services like Netflix and Disney+ reduce the best resolution available to just 480p. 1080p playback on YouTube and with capture videos is possible, but not over the mainstream services.
This limitation appears to be the norm among Chinese phones, regrettably.
Doogee V30 cameras
108MP sensor on the rear
Wide-angle, macro and night vision
Four cameras in total
The Doogee V30 has four cameras:
Rear cameras: 108MP Samsung S5KHM2, 16 MP OmniVision OV16B10 (Ultra-Wide), 20MP Sony IMX350 (Night Vision)
Front camera: 32MP SONY IMX616 Sensor (Wide)
We've seen the 108MP Samsung S5KHM2 main sensor before on the Ulefone 17 Pro, and it can deliver some amazing resolution images if you need the highest levels of detail.
The trade-off for getting 12000 x 8992 resolution pictures is that it will only do this in a basic snapshot mode, with all the clever Pro and specialist capture being limited to 12MP.
With such a large sensor and all the light it can capture, the 12MP results are excellent, but it would be nice to extract more resolution without losing all the shooting modes.
Where this camera design differs from that in the Ulefone 17 Pro is it uses 8MP supporting wide-angle sensors, while the ones in the V30 are 16MP and 32MP. This results in better close-up and macro results, along with better selfies.
But it isn't only the supporting sensors that are generally better, but also the way that the main 108MP is exploited is superior in the V30.
We've seen designs that use this sensor and then offer only 2K video resolution, but the V30 does offer 3840 x 2160, aka 4K UHD. The screen might not have the resolution to display these capture without scaling, but it can grab video at 4K.
There is still work to be done here, Because irrespective of what video resolution you pick, the only framerate available is 30fps. Not only is this not helpful for those that like 25fps, but it also ignores all the possibilities for slow motion.
That point aside, the results from this camera are outstanding, with exceptionally crisp images and natural colours, and they're relatively artefact-free.
While I'm sure that the latest Apple or Samsung premium design might be able to do better, there isn't much that is substandard about the images the V30 can capture.
Camera samples
Image 1 of 13
Doogee V30 performance
All-round performer
Strong GPU
Power and efficiency
Benchmarks
This is how the Doogee V30 performed in our suite of benchmark tests:
Geekbench: 694 (single-core); 2108 (multi-core); 2588 (OpenCL)
PCMark (Work 3.0): 10005
Passmark: 10737
Passmark CPU: 5281
3DMark Slingshot: 5165 (OGL)
3DMark Slingshot Extreme: 4033 (OGL); 3829 (Vulkan)
3DMark Wild Life: 2187
HWBot Prime: 5208
The performance of this phone is terrific, as across the benchmarks. These results display its superiority to MediaTek Helio series SoCs and the Qualcomm Snapdragon 480 5G in every test. The Dimensity 900 is equivalent to the Qualcomm Snapdragon 695 in a few respects, though it is marginally better in many areas.
Where often Octo-core SoCs are good at multi-thread tests but less wondering at single-task challenges, the 2.5GHz Cortex-A78 performance cores deliver excellent single-thread performance. But when two of these are combined with the six Cortex-A55 cores, it can also achieve excellent results in multi-threaded scenarios.
Compared to the MediaTek Helio G99 phones, the V30 is around 30% faster at single-thread tests and up to 25-30% better at multi-threaded. And it entirely crushes lower G and P series SoCs.
The Mali-G68 MC4 is also a dramatic improvement over the Mali-G57 MC2 used in the G99 designs, delivering an improvement of around 40% in most of the 3DMark benches and closer to 80% in Wild Life.
Overall, the performance of this phone is fantastic, as the configuration of the SoC allows for high performance and power efficiency when priorities change.
There is nothing low-budget about the performance of the V30.
Doogee V30 battery
Good battery size
66W Fast charging
15W Qi charging
When phones get more than 10,000 mAh, they've got enough battery for extended use without a recharge, and this one has 10800 mAh of battery inside.
According to Doogee, the V30 should operate for more than three days of typical use without needing a recharge, and it might make it to a fourth.
The included 66W charger can recover 50% of its battery capacity from empty in around 30 minutes, although if you use the 15W wireless charging, it will take four hours to reach the same level.
There are rugged designs that offer more battery, but they trade weight for that advantage, and the physical mass of the V30 isn't so great that it becomes impractical.
The available capacity is enough for a camping holiday, and the power efficiency of the platform makes the most of it.
The V30 is easily the best Doogee phone we've tested so far, with many positive aspects and relatively few caveats.
It has a powerful platform, an impressive camera, decent battery life and 5G communications. But the stand-out feature is the inclusion of eSIM technology, which makes international use significantly less of a hassle.
We'd like to see more camera options at 108MP, framerate control on the video, and L1 Widevine decryption, but those things could all be added with firmware and software enhancements.
Doogee has set a new high watermark for rugged phones, and we can't wait to see how its competitors react.
Doogee V30 score card
Swipe to scroll horizontally
| Attributes | Notes | Rating |
| --- | --- | --- |
| Value | Not cheap but excellent value for the money | 5/5 |
| Design | It's chunky but easy to handle and use. | 4/5 |
| Hardware | A powerful platform, 5G comms, 108MP camera and eSIM technology | 4/5 |
| Performance | Fast, strong GPU and power efficient | 5/5 |
| Camera | 108MP stills, 4K video but only 30fps at any res | 4/5 |
| Battery | Good battery size gives lots of use time, and it has fast charging with provided charger | 4/5 |
| Overall | A premium spec rugged phone for an affordable price | 4.5/5 |
Should I buy a Doogee V30?
Buy it if...
Pictures and videos are important
The sensor on this phone can take excellent pictures and video, and the SoC has the power to process them on the phone.
You are travelling to many countries
The eSIM technology in this phone is a game-changer for those that travel.
You need a go-anywhere design
It's waterproof, dustproof, can handle submersion and knocks, 5G and has eSIM technology. There isn't much that this phone can't cope with.
Don't buy it if...
Large phones are an issue
With such a big screen and more than 10,800 mAh of battery capacity, the V30 is a large phone.
Want a budget phone
The cost here is more than some of the cheaper rugged designs. Therefore if you don't care about the camera, battery capacity, performance, and 5G, then choose something that costs less.
You intend to watch streamed content
The lack of Widevine L1 reduces most streamed content to 480p, so even if it has a good quality and high-resolution screen, using it for Netflix or Disney+ won't yield high-resolution results.
Also consider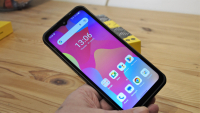 Ulefone Power Armor 17 Pro
A cheaper design but with a decent SoC and the same 108MP Samsung camera sensor, but you trade down to 4G comms and half the battery capacity. A good phone for the price, but maybe not V30 great.
Read our Ulefone Power Armor 17 Pro review for more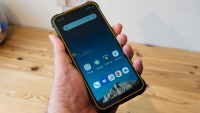 AGM Glory G1S
A Qualcomm Snapdragon-based design with plenty of useful features, including thermal vision. However, it is much more expensive, only offers a 48MP primary camera sensor and only works on T-Mobile only in the USA.
Read our AGM Glory G1S review for more information.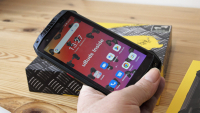 Ulefone Armor 15
An attractive design with a secret bay to hold and charge included Bluetooth headphones. Unfortunately, it doesn't offer 4K video and has a smaller battery, but it costs less and comes with earbuds. It's an option.
Read our Ulefone Armor 15 review for more information.
Mark is an expert on 3D printers, drones and phones. He also covers storage, including SSDs, NAS drives and portable hard drives. He started writing in 1986 and has contributed to MicroMart, PC Format, 3D World, among others.