For those who saw the 16 Pro and assumed this would be more of the same, this is a surprise. A more expensive design with a smaller battery but otherwise much higher specification. Still, it's one of the cheaper options for those that want an Helio G99-powered phone.
Pros
+

IP68 and IP69K

+

Lightweight

+

Helio G99 SoC

+

108MP Camera
Cons
-

Only 4G

-

5380 mAh battery
Why you can trust TechRadar We spend hours testing every product or service we review, so you can be sure you're buying the best. Find out more about how we test.
Two-minute review
When you've recently reviewed the Ulefone Power Armor 16 Pro and then are sent the 17 Pro, it's not an unreasonable conclusion that the new phone will build on the previous design.
But, the Ulefone Power Armor 17 Pro takes very little, if anything, from its predecessor.
Where that was a super-cheap and heavy, rugged smartphone with a massive speaker on its back, the 17 Pro is double the cost, significantly lighter and generally has a much better specification.
Where the 16 Pro uses the lacklustre MediaTek Helio G25 SoC, the 17 Pro sports the very pinnacle of the Helio series, the G99. A chip that, in comparison to other SoCs, the G99 is a very powerful ARM processor and offers excellent performance.
The underlying platform allows this phone can handle most tasks with ease while also offering great battery life. Additionally, it supports a wide range of features, such as dual-SIM support, NFC, and Wi-Fi 6. In terms of gaming performance, the Helio G99 is enough power for most games, although it may struggle with more intense titles.
The strengths of this design over other rugged options are that at just 290g it is much lighter than most, and the case isn't oddly shaped and thickened. That makes it a more practical phone to carry, even if you don't use the optional protective case and its belt clip.
It also has an impressive 108MP rear camera, along with an 8MP PDFA wide-angle sensor and an 8MP night vision camera, Though even with that massive rear sensor, it still can't capture 4K resolution video, only 2K.
There are two significant weaknesses in the 17 Pro, and the first of those is a battery capacity of just 5380 mAh, an amount that you would find in any typical mid-priced phone.
The battery can be fast charged, and the phone supports wireless charging, but this isn't a phone that you would want to take on a long hike away from civilization.
The second major weakness is that it doesn't support 5G, making this a 4G phone with LTE support at best. Phones costing this much are starting to come with 5G, but this one doesn't.
Overall, a phone that is more practical than most rugged designs and an interesting divergence from the previous 16 Pro.
This isn't an expensive device and has plenty of useful features for the asking price..
Ulefone Power Armor 17 Pro price and availability
How much does it cost? $340 / £290
When is it out? It is available now
Where can you get it? You can get it in most regions direct from AliExpress or on Amazon.com
Typically, on Amazon or other mainstream online retailers, the 17 Pro costs around $340, but for those willing to wait for AliExpress to deliver, it can be purchased for $60 less.
That still makes it almost twice the cost of the 16 Pro, but the power and performance in this design justifies the additional cost.
Alongside just the phone, the 17 Pro can be bought with an additional protective case, a wireless charging base, a portable Bluetooth speaker, or various combinations of those items. With them all included by AliExpress, it costs about the same as just the phone from Amazon.
Even with the increase over the 16 Pro, this is still one of the cheapest phones built around the MediaTek Helio G99 SoC and more sophisticated than the typical rugged designs.
Ulefone Power Armor 17 Pro design
Solid construction
By-the-numbers buttons
Dedicated flashlight
Rugged phones tend to fall into two subcategories; chunky or slim. And, the 17 Pro is distinctly in the 'slim' category, only 12.5mm thick.
It would be even thinner if the camera cluster on the rear didn't project outwards.
At just 290 g, this is one of the lightest phones from Ulefone we've seen, and unless specifically primed, most people picking up this device would assume it was a regular Chinese smartphone.
That said, there are a few rugged hints, in that the back has a faux carbon fibre finish, and the sides and all the buttons are metal.
The button layout is the de facto standard comprising of the audio rocker and power button (doubling as thumbprint reader) on the right and the custom button and SIM tray on the left.
On the bottom edge is the USB-C charging port and a 3.5mm audio headphone jack, and neither of these is protected by a rubber plug.
Despite the lack of a plug, the phone is rated for IP68 (maximum depth of 1.5 metres up to 30 minutes) under IEC, and it even has underwater camera modes.
Also, in the bottom left corner is a lanyard hole for those wanting to secure the Pro 17 to a strap or belt.
As with most modern phones, the standout feature is the display. It's a 20:9, 1080 x 2408 FHD+ screen, offering 6.58‑inches of touch panel that even those with big fingers should be able to operate. It's bright and colourful and has a decent resolution for viewing captured images and video. The refresh rate is 120Hz, enough to avoid screen tearing when rapidly scrolling images.
In the centre of the back are the cameras, in a generally good position for those that often accidentally put their fingers on the edge of their photos. This is a triple-sensor cluster with the top sensor offering an amazing 108MP resolution. The two other sensors are one for wide-angle work (8MP) and a night vision camera (also 8MP).
To provide flash illumination, three conventional LEDs and two IR LEDs are also part of the rear camera cluster.
The 16MP selfie camera on the front is centrally mounted in a cutout at the top of the display. Normally the loss of a part of the panel to this feature would annoy us, but the screen here has extra pixels to avoid this being a factor in presenting video or images.
Overall, the Pro 17 is a good example of a new generation of ruggedized designs where its ability to withstand the environment and a few hard knocks hasn't compromised it as a phone in any substantial way.
Design score: 4/5
Ulefone Power Armor 17 Pro hardware
Low spec platform
Decent battery size
Endoscope option
Specs
The UleFone Power Armor 17 Pro that was sent to us for review came with the following hardware:
CPU: MediaTek Helio G99
GPU: Mali-G57 MC2
RAM: 8GB LPDDR4X
Storage: 256GB eMMC 5.1
Screen: 6.58-inch IPS LCD
Resolution: 2408 x 1080
SIM: Dual Nano SIM (+microSDXC up to 128GB)
Weight: 405g
Dimensions: 172.7 x 80.4 x 12.5 mm
Rugged Spec: IP68, IP69K and MIL-STD-810H
Rear cameras: 108 MP, f/1.9, (wide), 1/1.52", 0.7µm, PDAF 8 MP, f/2.2, 119˚, (ultrawide), 1/4", 1.12µm 8 MP, (night vision), 2 infrared night vision lights
Front camera: 16 MP, f/2.2, (wide), 1.0µm
Networking: Wi-Fi 5 dual band, Bluetooth 5.2
OS: Android 12
Battery: 5380 mAh
The Mediatek Helio G99 is a mid-range mobile system on a chip (SoC) released in 2021. It is based on the 12nm fabrication process and is the successor to the Helio G90T. The Helio G99 is an 8-core CPU with 4 ARM Cortex A-76 and 4 ARM Cortex A-55 cores. This package includes a Mali-G57 MC2 GPU for graphics and support for up to 8GB of LPDDR4x RAM and UFS 2.1 storage.
In this design, 8GB of memory is combined with 256GB of main storage, providing enough space for most use profiles. But this is also one of the new designs where some of the main storage can be reallocated to RAM, boosting the amount available by up to 5GB. But, the maker warns that not all Android software is compatible with this Virtual Memory Expansion feature.
While this chip doesn't compete with some of the latest Snapdragon designs, it's an excellent all-around performer and allows the 17 Pro to deliver impressive benchmark scores.
An SoC of this performance level is critical when you have a camera capable of 108MP images in the system for the post-processing of that data.
One contradiction of this design is that the screen has a resolution of 2408 x 1080, providing more space than a 1080p video requires to be fully represented without scaling.
However, the Pro 17 doesn't support the Widevine L1 video decryption standard, resulting in streaming services like Netflix and Disney+ reducing the best resolution available to just 480p. It is possible to get 1080p playback on YouTube and with capture videos, but not over most streaming services.
This limitation appears to be the norm among Chinese phones, and it may be to do with the additional cost of getting L1, over the L3 decryption many come with.
While still image capture can be made at crazy resolutions, even with a 108MP sensor, the Pro 17 can only offer 2K recording at 30fps, with no 4K options.
While there may be good reasons for avoiding 4K, why they didn't include faster frame rate versions of 1080p, 720p and 480p is a mystery. They're all locked at 30fps.
For western buyers, the lack of 5G comms might be an issue, depending on the locale, but it does offer a pervasive selection of 4G LTE frequencies (FDD and TDD) alongside support for 3G and 2G legacy services.
One curiosity is that this design supports simultaneous dual SIM support, allowing both connections to be active. However, the support of two 4G connections to a single device depends on the local telecom operator and if they allow this on their service.
Ulefone Power Armor 17 Pro cameras
108MP sensor on the rear
Wide-angle, macro and night vision
Four cameras in total
The Ulefone Power Armor 17 Pro has four cameras:
Rear cameras: 108MP Samsung HM2, 8 MP GC08A3 Sensor (Wide), 8MP Samsung S5K4H7 Sensor (Night Vision)
Front camera: 8MP SONY IMX481 Sensor (Wide)
When you see the Samsung HM2 108MP sensor on this phone, one is immediately drawn to conclude that this might be a good phone for pictures, and it is.
However, the 108MP mode that captures whopping 12000 x 8992 resolution images isn't the one that most people will use. Because none of the 'Pro Mode' features exists at this level of detail, and with the exception of 4X digital zoom, there are no options.
The standard resolution for pictures is only 12MP, or 4000 x 2992, or about 12% of the sensor area.
Admittedly not as impressive as 108MP, but the lower quality setting gives full control over ISO, aperture and speed, resulting in much better quality results.
It's also worth considering that the typical size of a 108MP image is between 20MB and 25MB, whereas a 12MP is usually below 10MB. It takes longer to take 108MP images, you have less control, and they take up excessive space.
Usually, we might complain that RAW isn't supported, but 108MP RAW images would be exceptionally large and probably not practical on this platform.
It's tempting to think that the 108MP is just a hook to get customers who want the best pictures, but it's more complicated than that due to the results of using a 108MP sensor to take 12MP images.
These pictures are predictably good, display relatively few artefacts and chromatic aberrations, and are well colour balanced even with everything set to auto.
It would have been nice to have a 24MP or 56MP mode which had all the controls of 12MP, but it is possible to get some excellent results out of the Pro 17, just not by using 108MP.
Camera samples
Image 1 of 11
Ulefone Power Armor 17 Pro performance
Performance powerhouse
GPU isn't the very quickest
Benchmarks
This is how the Ulefone Armor 17 Pro performed in our suite of benchmark tests:
Geekbench: 537 (single-core); 1592 (multi-core); 1619 OpenCL)
PCMark (Work 3.0): 9176
Passmark: 9359
Passmark CPU: 4489
3DMark Slingshot: 3675 (OGL)
3DMark Slingshot Extreme: 2763 (OGL); 1367 (Vulkan)
3DMark Wild Life: 1359
HWBot Prime: 4846
These results are right up with the very best we've had from rugged phones, bettered only by those powered by the MediaTek Dimensity 900 SoC or Qualcomm Snapdragon 480 5G.
And, even those devices only make a handful of score points more, and not across all benchmarks.
To underline this, the Passmark score of 9359 is one the highest we've tested from a rugged phone, and only Dimensity 900-powered devices did better.
The only weakness we noticed is that the Mali-G57 MC2 isn't as quick as the Mali-G68 MP4 that the Dimensity 900 SoC uses, delivering 1359 on the Wild Life test on this phone, but more than 2000 on the Doogee V30 and Ulefone Power Armor 18T.
That makes the G99 a little less suitable for gaming, but not by an amount most players would immediately notice.
What is more likely to be noticeable is the amount of battery capacity.
Ulefone Power Armor 17 Pro battery
Small capacity for rugged design
66W super fast charging
Qi charging and MagSafe
The elephant in this powerhouse is the battery, or more specifically, the 5380 mAh battery Ulefone blessed the 17 Pro with.
By rugged phone standards, that's not huge, and while it is bigger than the 4,323mAh that Apple gives the iPhone 14 Pro Max, we typically see phones with 10,000 or more mAh in this sector.
The available capacity has a quoted standby of 294 hours and a talk-time of 29 hours, but realistically most phones don't run out of power on standby or while being used as a phone.
With a smaller battery, Ulefone did make some effort to enable the phone to charge quickly, and with a suitable charger like the one included with the phone, it can handle a 66W fast charge. Due to the flattened back, this design can also wireless charge up to 15W using Qi charging pad (not included). It will also wireless reverse charge to another phone with Qi.
Its final trick is that it can also magnetically wireless charge in much the same way as a recent iPhone, allowing it to be used with a magnetic wallet. Included in the box is a soft magnetic wallet that doubles as a phone stand, conveniently.
While the 17 Pro might not have the battery capacity of the 16 Pro or 18T, it does have a few other neat charging features that go some way to balance this equation. The smaller battery positively impacts the phone's overall weight, importantly.
There are many things to like about the 17 Pro that address some of the issues with the 16 Pro and also offer a hint at where Ulefone is likely to go with future rugged designs.
Instead of emulating spare parts from a transformer, the Pro 17 offers a large but not excessively sized phone that is robust and protected from the environment without resorting to shipping container aesthetics.
The MediaTek Helio G99 SoC gives plenty of processing performance, and the 108MP camera sensor delivers excellent photo capture. The only real caveat is the limited battery capacity, making it less than ideal for long adventure holidays away from mains power.
It might cost nearly double the cost of the 16 Pro, but the 17 Pro is a lot more phone for the cash and probably better value on the investment.
Ulefone Power Armor 17 Pro score card
Swipe to scroll horizontally
| Attributes | Notes | Rating |
| --- | --- | --- |
| Value | Plenty of phone for the money | 4/5 |
| Design | A by-the-numbers button layout, but a highly functional design better. | 4/5 |
| Hardware | No 5G technology, but a powerful SoC with lots of RAM and storage included | 4/5 |
| Performance | Excellent performance only outshone by Dimensity 900 designs | 4/5 |
| Camera | 108MP capture with limited options and 2K video. Good put might have been even better. | 4/5 |
| Battery | Small-ish battery for rugged phone, but has excellent charging options. | 3/5 |
| Overall | A practical and attractive rugged phone or working outside. | 4/5 |
Should I buy a Ulefone Power Armor 17 Pro GT?
Buy it if...
You often drop phones
A resilient phone that can handle the environment well, but please don't drop it into water deeper than 1.5m, as it won't float.
Photography is important
While it might not be an iPhone 14 or Samsung S22, it can still take decent-quality pictures with its enormous 108MP sensor.
You work outdoors
The dust and waterproofing on this design shouldn't be upset by a rainstorm or being dropped into the mud. And that it offers this without annoying rubber plugs is a bonus.
Don't buy it if...
5G is important
This design doesn't support 5G of any variety, although it does support LTE for those with that service available.
You are away from power for days
The smaller battery in this phone isn't ideal for long periods away from mains power, though it should last a couple of days, depending on use.
You intend to watch streamed content
The lack of Widevine L1 reduces most streamed content to 480p, so even if it has a good quality and high-resolution screen, using it for Netflix or Disney+ won't yield high-resolution results.
Also consider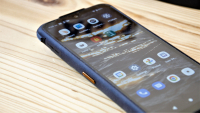 AGM H5 Pro
Another $150 gets you a much faster processor and GPU, more RAM and memory, a bigger screen, a better camera and a big speaker on the back. The speaker is only 109dB rated, saving your ears.
Read our AGM H5 Pro review for more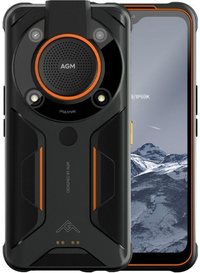 AGM Glory SE
A much more expensive phone that also sports a big speaker. Even heavier but better in all respects, this design costs three times as much but offers a Snapdragon 480 CPU and 5G connectivity.
Read our AGM Glory 5G review.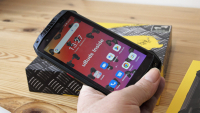 Ulefone Armor 15
An attractive design that includes a secret bay to hold and charge included Bluetooth headphones. Like the 16 Pro, it doesn't offer 4K video, has a similar battery size and costs a little more.
Read our Ulefone Armor 15 review for more information.
Mark is an expert on 3D printers, drones and phones. He also covers storage, including SSDs, NAS drives and portable hard drives. He started writing in 1986 and has contributed to MicroMart, PC Format, 3D World, among others.