Best gaming console in 2023
Best
Contributions from
last updated
If you want to buy the best gaming console, you've come to the right place.
Best gaming console in 2023: Quick guide
1. The quick list
2. Best overall
3. Best performance
4. Best affordable
5. Best handheld
6. Best for kids
7. Best for PC gamers
8. Best for retro gamers
9. FAQs
Although you might only be able to squeeze the very best performance out of a high-end gaming PC, picking up one of the best gaming consoles can be a much cheaper way to experience all of the latest and greatest video games releasing right now.
Now is a great time to think about picking up a new console because the very latest systems like the PlayStation 5, Xbox Series X and Xbox Series S have all been on the market for a few years, meaning that they are readily available worldwide and often subject to good bundle deals or discounts. There are also a handful of more niche alternatives like the Steam Deck (which is effectively a powerful handheld PC) or retro-oriented Super Pocket to consider, too.
With so many options, the process of picking out a new machine might seem a tad overwhelming at first. That's exactly why we've assembled this handy guide, which outlines what we consider to be your best choices for a new console at the moment with a wide range of options depending on your specific preferences or budget.
When buying a new console, it's also worth taking a look at some potential accessories. Why not also visit our guides to the best PS5 accessories or the best Xbox Series X and Series S accessories?
Best gaming consoles - The quick list
The best console for retro games
Cute and colorful, the Super Pocket is our top pick for retro gamers. There are two editions to buy, each offering a great library of inbuilt titles and full compatibility with Evercade cartridges. At under $60 / £50, it is also by far the cheapest console on this list.
Best gaming consoles in 2023
Why you can trust TechRadar We spend hours testing every product or service we review, so you can be sure you're buying the best. Find out more about how we test.
Best gaming console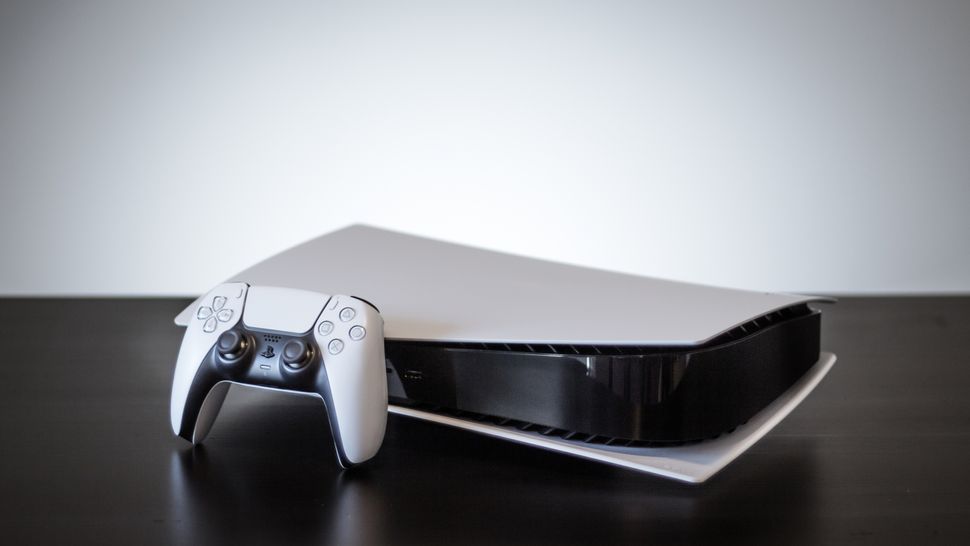 The best gaming console
Specifications
CPU:
AMD Zen 2-based CPU with 8 cores at 3.5GHz (variable frequency)
GPU:
10.28 TFLOPs, 36 CUs at 2.23GHz (variable frequency)
GPU Architecture:
Custom RDNA 2 'Oberon'
Memory interface:
16GB GDDR6 / 256-bit
Memory bandwidth:
448GB/s
Internal storage:
Custom 825GB SSD
IO throughput:
5.5GB/s (raw), typical 8-9GB/s (compressed)
Expandable storage:
NVMe SSD slot
External storage:
USB HDD support (PS4 games only)
Optical Drive:
4K UHD Blu-ray Drive (for standard edition)
Reasons to buy
+
4K and 120Hz support
+
Excellent controller
+
Great library of exclusive games
Reasons to avoid
-
Large size
-
The internal drive fills up fast
Buy it if
✅ You love PlayStation exclusives: The PS5 has some of the best console-exclusive games on the market. There is also backward compatibility with the PS4's wide library so you will always have a ton to play.
✅ You want to play in 4K: The PS5 is capable of producing a 4K resolution picture at 30 fps, 60 fps, and even 120 fps in supported titles. This can look absolutely stunning with the right setup.
Don't buy it if
❌ You have limited space: A more compact model is on the horizon, but most PS5s right now are truly massive. If space is a concern then you'll mostly likely want to clear space to fit the system.
With a library of incredible exclusives including Marvel's Spider-Man 2 and The Last of Us Part 1, the PS5 is absolutely one of the best consoles you can buy right now. It might not be quite as powerful as the Xbox Series X on paper, but it still offers superb performance and in a wide range of first and third party titles. You can expect to experience games with ray tracing and at resolutions up to 4K.
The included controller, Sony's DualSense Wireless Controller, is also a major highlight with a brilliant form factor and fantastic haptic feedback. Priced at $499.99 / $479.99, you're getting plenty of value here compared to the competition. Purchasing games through discs can be great value, but there is also a cheaper digital version priced at $399.99 / $379.99 which cuts out the disc drive if you wish to solely expand your collection of games via the digital store.
It is worth nothing that the console's storage may become an issue if you buy lots of digital games, however. Although the console comes packed in with 667.2GB of usable space out of the box, which does sound quite large, this will fill up very quickly given the large file sizes of many of the best PS5 games. Picking something up from our guide to the best SSD for PS5 can go a long way to help alleviate this issue.
A new PS5 model is on the horizon, though, intended to replace both the digital and disc version of the base model. This revision is much slimmer, has a slightly more appealing design, and provides an option to purchase a detachable Ultra HD Blu-Ray disc drive down the line. Read our full breakdown of the new model releasing in November to learn more.
Best performance gaming console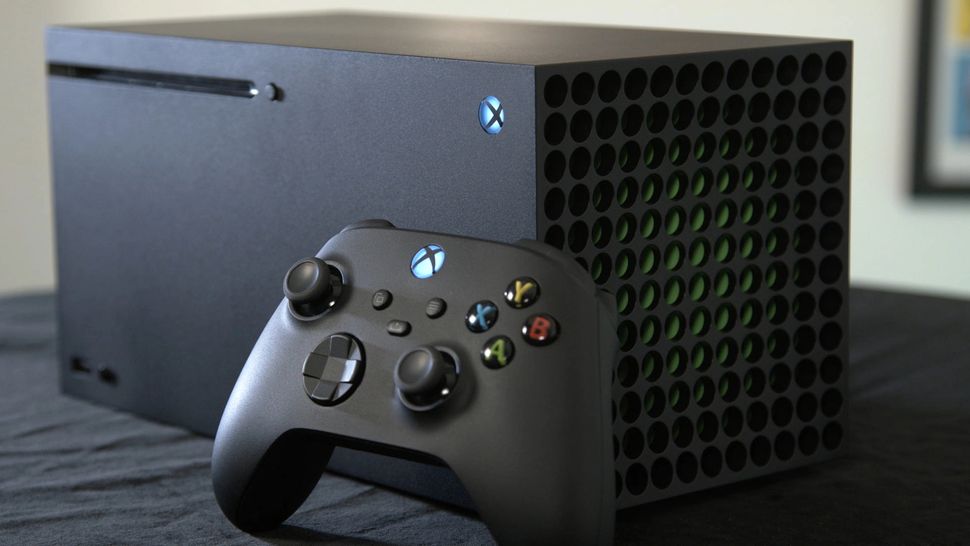 The most powerful gaming console
Specifications
CPU:
8x Cores @ 3.8 GHz (3.6 GHz w/ SMT) Custom Zen 2 CPU
GPU:
12 TFLOPS, 52 CUs @ 1.825 GHz Custom RDNA 2 GPU
Memory:
16 GB GDDR6 w/ 320b bus
Memory Bandwith:
10GB @ 560 GB/s, 6GB @ 336 GB/s
Internal Storage:
1TB Custom NVME SSD
I/O Throughput:
2.4 GB/s (Raw), 4.8 GB/s
Expandable Storage:
1TB Expansion Card (matches internal storage exactly)
External Storage:
USB 3.2 External HDD Support
Optical Drive:
4K UHD Blu-ray Drive
Reasons to buy
+
Game Pass is amazing
+
Dolby Vision and Atmos support
+
4K/60fps gameplay (4K/120Hz support)
Reasons to avoid
-
The exclusive library is lacking
-
Minimal U.I. improvements
Buy it if
✅ You want the most powerful console: The Xbox Series X is more powerful than any other system on the market. If power is the priority, this should be your choice.
✅ You want to play Game Pass games: The Xbox Game Pass subscription service is excellent value for money and offers hundreds of great titles for a low monthly price.
Don't buy it if
❌ You want to play PS5 exclusives: There are some highlights, but the Xbox Series X's library of exclusive games is a bit of a let down compared to the PS5.
From a raw technical perspective, the Xbox Series X is comfortably the most powerful console currently available and is therefore our top pick if pure performance is your number one concern. A lot of the best Xbox Series X games look and sound phenomenal, thanks in no small part to the stellar implementation of Dolby Atmos surround sound and Dolby Vision - which compliment the console's high-end specs very well.
Priced at $499 / £449, the Xbox Series X is comfortably better than what you would be getting for that price in the gaming PC or gaming laptop market. Like the PS5, the Xbox Series X also has 4K support and compatibility with desirable graphical features like ray tracing. As the system utilizes Gen 4.0 NVMe SSD tech for its storage, it is also unlikely to be slowing down any time soon.
The one area where the Xbox Series X may disappoint is in its software library, which lacks the many compelling console exclusives that you can find on PS5. Xbox Game Pass, however, does help make up for this, offering players the chance to tap into a wide range of titles for a low monthly price. There is also excellent backwards compatibility, far better than what the PS5 offers, which allows you to play games dating all the way back to the original Xbox.
That's not to say that the Xbox Series X lacks a handful of decent exclusives of its own, of course. Forza Horizon 5 is one of the best racing games on the market, while simulator fans will surely appreciate the hardware-intensive and stunningly beautiful Microsoft Flight Simulator. There are loads of multi-platform releases to consider too, including the brilliant Lords of the Fallen and Sonic Superstars.
Best affordable gaming console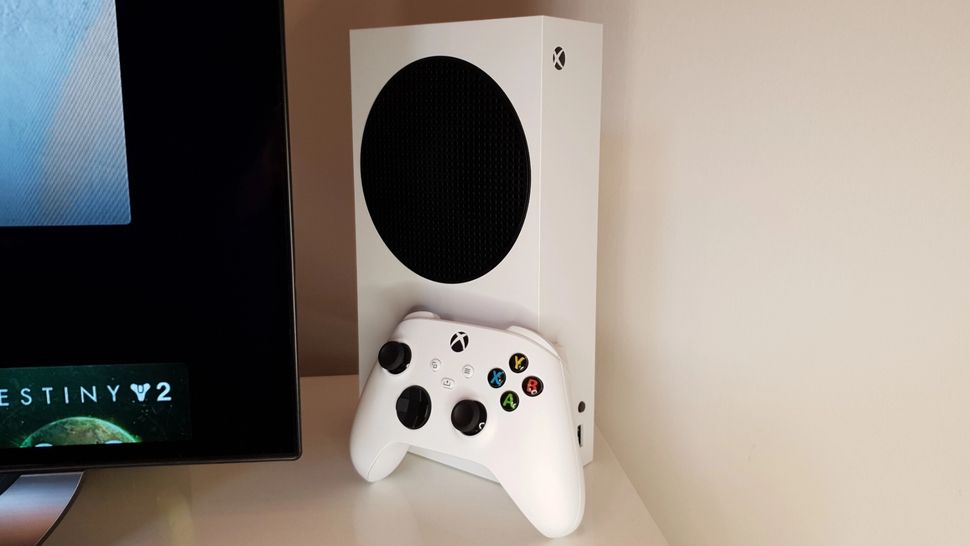 The best affordable gaming console
Specifications
CPU:
8-core 3.6GHz (3.4GHz with SMT) custom AMD 7nm
GPU:
4 teraflops at 1.565GHz
Resolution:
1440p with 4K upscaling
Usable storage space:
364GB
Reasons to buy
+
The smallest Xbox ever made
+
Plays all Xbox Series X games
+
Completely silent in operation
Reasons to avoid
-
No 4K
-
512GB SSD fills up fast
-
No disc drive
Buy it if
✅ You want good value for money: The Xbox Series S offers the ability to play all Xbox Series X games in 1440p for a very affordable price.
✅ You want a compact system: The Xbox Series S is a fraction of the size of its larger sibling, making it ideal for those with cramped gaming spaces or playing on the go.
Don't buy it if
❌ You want to play in 4K: The Xbox Series S can only output a maximum resolution of 1440p. If you own a 4K monitor or gaming TV, you should consider the Xbox Series X instead.
At just $299.99 / £249.99, the Xbox Series S presents incredible value. That's before additional discounts, too, where we frequently see that price slashed to as low as $249.99 / £199.99 or the addition of bundled games to bolster the package.
While this low price point makes it an obvious choice for the best affordable gaming console, you should keep in mind that you are making a number of concessions when picking the Xbox Series S over its larger sibling or the PS5. For a start, the machine lacks a physical disc drive and is limited to a 1440p resolution instead of the 4K output of the Xbox Series X. This means that games will not look quite so sharp, especially if you're using a 4K monitor or expensive gaming TV.
The 512GB SSD may also begin to fill out quicker than expected if you're downloading many of the larger titles that are available on Xbox Game Pass. This can be solved by the addition of a Seagate Xbox Storage Expansion Card, but this is an expensive solution if you're after the higher capacity models.
This is to be expected when you're paying about 2/3 the price for the Xbox Series X, however, and this console still lets you enjoy all the great current-generation Xbox games like Forza Motorsport and Starfield. It also makes for a perfect media streaming centre, offering native apps for Netflix and Disney Plus where the 1440p resolution of this console helps make images look far crisper than your standard 1080p picture.
Best handheld gaming console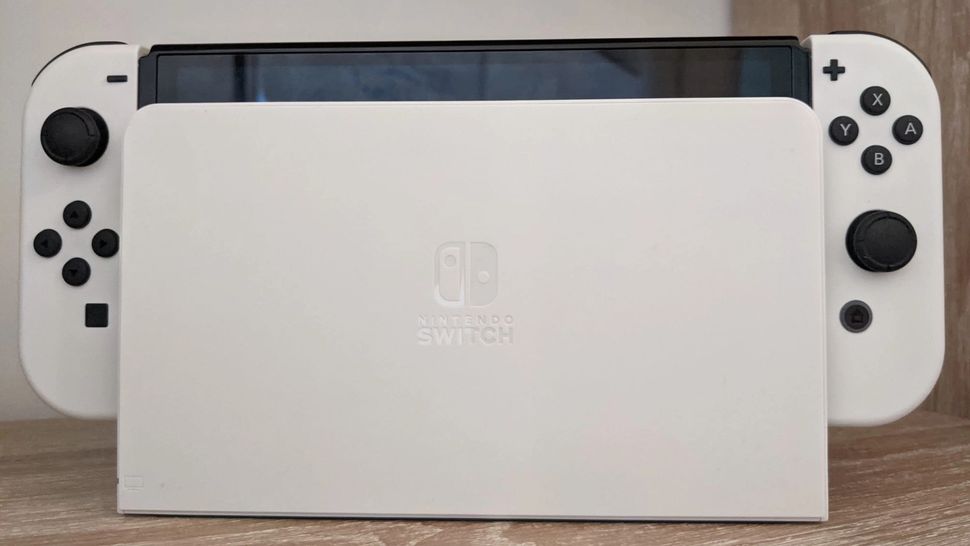 The best handheld console
Specifications
Dimensions:
4 x 9.5 x 5.4 inch(W x L x H) with Joy-Cons
GPU:
768MHz (docked)/307.2MHz (undocked) Nvidia custom Tegra SOC
Max Resolution:
1080p (docked); 720p (handheld)
Storage:
64GB (expandable with MicroSD)
Portable battery life:
approx 3 - 7 hours
Reasons to buy
+
Large 7-inch screen
+
Beautiful and vibrant OLED display
+
Enhanced speakers and kickstand
Reasons to avoid
-
No upgrades in TV mode
-
Processing power is the same
Buy it if...
✅ You want the definitive handheld experience: Compared to the original Nintendo Switch, the Nintendo Switch OLED benefits from a stellar display, improved speakers and a much better kickstand.
✅ You want to download games: Among its other upgrades, the Nintendo Switch OLED features double the internal storage of the base model making it ideal for digital titles.
Don't buy it if
❌ You can find the original model much cheaper: Despite the improvements of the Nintendo Switch OLED, the original Nintendo Switch could still present a fantastic value option if you manage to find it in a steep sale.
The Nintendo Switch OLED is easily the definitive model out of the company's current console lineup. While it boasts the same internals as the stock Nintendo Switch, the screen has received a substantial upgrade. It is now a larger 7-inch OLED panel that helps the best Nintendo Switch games really pop.
With its $349.99 / £299.99 asking price, the Nintendo Switch OLED positions itself as significantly cheaper than both the PS5 and Xbox Series X. This cheaper price and handheld form factor do have a tangible impact on performance, however, meaning that many ported games like The Witcher 3 can begin to struggle. This will be most noticeable if you're someone who primarily plays on the TV in docked mode.
With this variant, you're also getting a greatly improved kickstand and significantly better speakers as well, leading to a much better experience while playing in handheld or tabletop mode. All of the original Nintendo Switch library of compatible with the Nintendo Switch OLED too, granting you immediate access to incredible exclusive games like Super Mario Bros. Wonder and The Legend of Zelda: Tears of the Kingdom.
Despite the many upgrades found in the Nintendo Switch OLED, there are still some circumstances where buying the older original Nintendo Switch Model is still advisable. This includes getting your hands on any potential limited edition designs, such as a the cute Animal Crossing Switch, or if you can manage to snag one of the cheapest Nintendo Switch bundles and deals.
Best gaming console for kids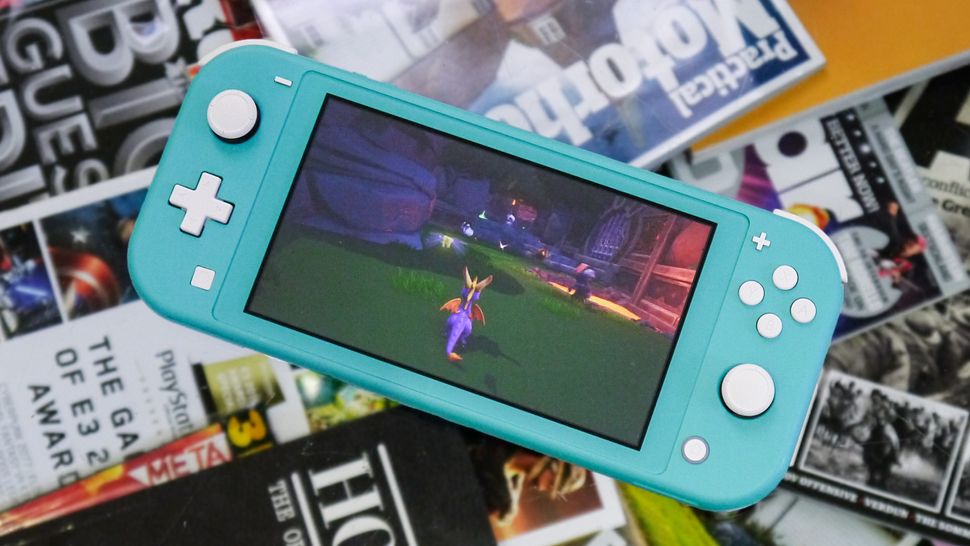 The best games console for kids and families
Specifications
Dimensions:
3.6 x 8.2 x .55 inch
GPU:
NVIDIA Custom Tegra processor
Screen:
Capacitive touch screen / 5.5 inch LCD / 1280x720 resolution
Storage:
32GB (expandable)
Portable battery life:
approx 3 - 7 hours
Reasons to buy
+
More portable than Switch
+
Nice selection of colors
+
Comfortable design
Buy it if...
✅ You need a durable handheld: The Nintendo Switch Lite is made of thick and durable plastic. The fact the Joy-Cons are built-in also means they cannot be lost.
✅ You want good value for money: The Nintendo