The best VPN for torrenting and torrents 2023
VPN
Contributions from
last updated
Staying safe while you torrent is a no-brainer, and a VPN is the best way to do it
Since torrenting exposes you to unknown files from anonymous sources, it's crucial to use one of the best VPNs for torrenting. A virtual private network (VPN) is a digital privacy tool that keeps your connection secure and private while sharing or downloading via peer-to-peer (P2P). It ensures your connection is encrypted and private, protecting you from unwanted snooping from your internet provider, cyber criminals, and even the government.
With so many VPNs on the market, finding a trustworthy service can be challenging. In its 15-year history, TechRadar has reviewed hundreds of the best VPN services, and our team continuously conducts regular testing of our top picks to ensure they still deserve their rankings. While we do not encourage or condone illegal torrenting, we want to ensure your safety online, because torrenting carries lots of risks.
P2P torrenting is often used to download music, movies, and video games, much to the chagrin of governments, internet providers, and media companies. But also, when you share P2P, your activity becomes available to the public. Check out the best torrenting VPNs on the market today:
The best torrenting VPNs in 2023
Keep reading to see our expert takes on the best VPNs for torrenting, and see which one suits you best.
The best torrenting VPN overall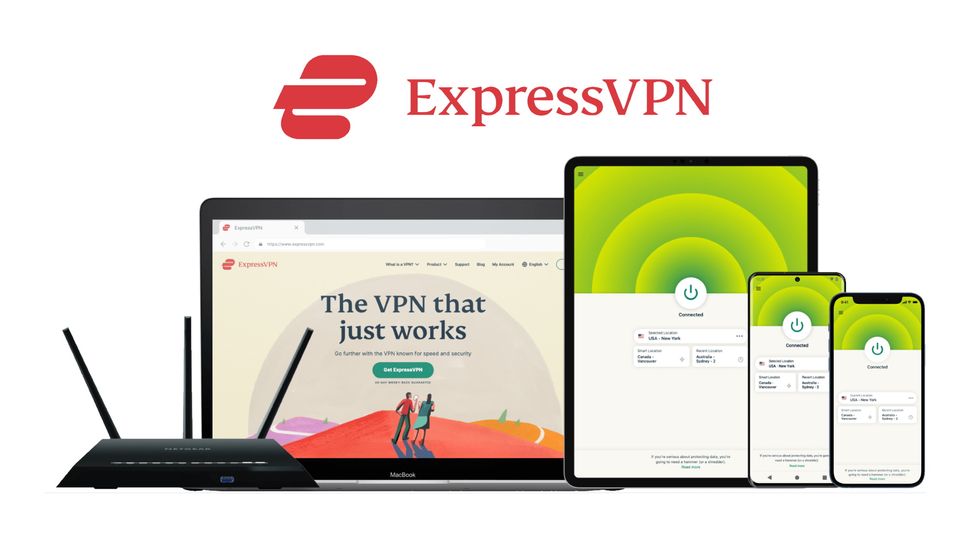 ExpressVPN has all the features you'd want from a VPN for torrenting and other use cases, justifying its placement on our best VPN list.
It establishes P2P support across all its servers and all with unlimited bandwidth. Being located in the British Virgin Islands, ExpressVPN is outside the jurisdiction of the major surveillance alliances, which could force a VPN company to abdicate information about their users - and this is the key advantage for protecting your anonymity. That, coupled with an independently audited no-logging policy, makes ExpressVPN a trustworthy torrenting partner.
▶ Try ExpressVPN with a risk-free 30-day money-back guarantee.
From tight control over its server setup to military-grade AES 256-bit encryption, ExpressVPN is one of the most reliable services out there. It even created a proprietary, open-source Lightway protocol to offer users a faster, more secure VPN experience. With kill switches, your data is safe even if your VPN connection drops, so you don't risk leaking data about your online activities or identity. We're glad to see effective kill switches for desktop and Android phones, although iOS doesn't have one specifically - you'll have to settle for an auto-reconnect option if you do most of your torrenting on iPhone or iPad.
The software's split tunneling feature for both Mac and Windows users is worth mentioning, as it allows users to choose to protect their torrent client only. That leaves all other online activities, such as web browsing or gaming, unaffected by the VPN.
ExpressVPN is speedy enough for downloading large files—we tested its connection speed to multiple servers around the world and witnessed an average range of 420 Mbps to 560 Mbps. However, it's not the fastest VPN on the market—nowhere near NordVPN and Surfshark, for example. Also, if you want a VPN service with built-in antivirus capabilities, note that Express lacks this option. Price-wise, ExpressVPN costs more than other providers, so if you are on a strict budget, we recommend going for NordVPN or Surfshark.
You can subscribe to ExpressVPN using cryptocurrencies such as Bitcoin, Ethereum, and XRP if you wish to remain anonymous from the very beginning. Although its interface is not as intuitive as some of its competition's, ExpressVPN provides 24/7 customer support via live chat or email, a valuable feature for first-time VPN users.
The best torrenting VPN with antivirus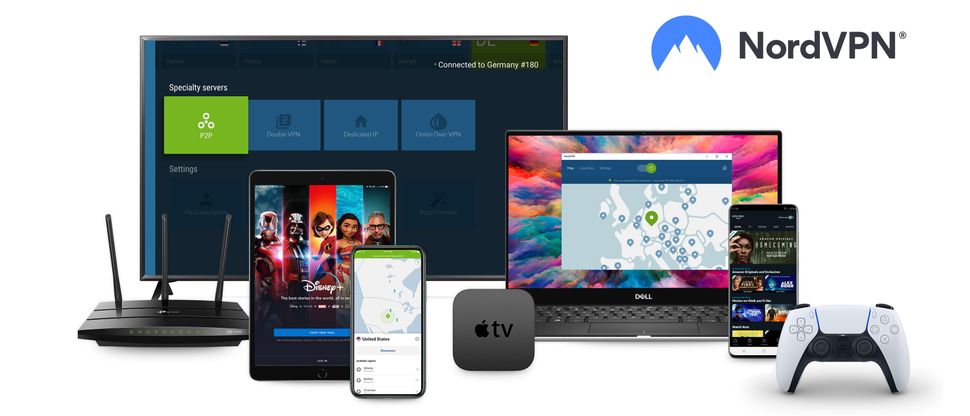 When talking about VPN security, NordVPN is one of the first names that springs to mind. That's unsurprising when you consider the ultra-secure connections you get with IKEv2/IPsec and OpenVPN protocols both supported, alongside the provider's very own high-speed NordLynx version of WireGuard. It offers numerous 'Double VPN' servers, which pass your data through two separate VPN servers for additional security. Furthermore, it supports Onion over VPN for extra privacy.
Like most top-notch VPNs, there's a clear no-log policy, too. But Nord has gone the extra step here by inviting external auditors PricewaterhouseCoopers to verify the security of its apps. It even launched a program that encourages anyone to uncover and report security problems with the service. Besides, NordVPN delivers extraordinary connection speeds of up to 820 Mbps, which we confirmed in our last test.
▶ See how NordVPN compares with a 30-day money-back guarantee.
NordVPN has a P2P-optimized infrastructure, as it explicitly supports and allows this type of file-sharing activity on its entire server network. However, NordVPN stands out from its competition by offering obfuscated servers as an additional layer of privacy and security. This feature is crucial for residents of countries with strict internet censorship, as it disguises VPN traffic as regular HTTPS-encrypted traffic, making it near-impossible to detect for ISP and network administrators.
In addition, NordVPN prevents any potential leaks of your DNS requests. This feature is particularly crucial while torrenting, as it keeps your device from accidentally bypassing the VPN connection by sending DNS requests directly to your ISP's DNS servers. NordVPN ensures all DNS requests are encrypted and handled through its servers, keeping your IP address hidden from third parties.
While NordVPN has more servers than ExpressVPN, it operates in only 60 countries, a surprisingly low number for a high-end provider. However, its server network is well-placed, ensuring you have a nearby server on every continent. It also doesn't allow unlimited simultaneous connections to its encrypted servers, making it a worse choice than PIA for families.
Thanks to its advanced features, NordVPN is a robust and reliable VPN solution for torrenting, and it is affordable if you opt for its two-year-long plan. Like ExpressVPN, NordVPN accepts cryptocurrency payments and allows you to try its services risk-free for a month, thanks to its 30-day money-back guarantee.
The best cheap VPN for torrenting
Private Internet Access (PIA) justifies its name by providing a secure, privacy-focused service for users looking for a torrent VPN solution.
For starters, there's P2P support on every one of its staggering 35,000 servers. Therefore, you can use torrents from any location with unlimited bandwidth and no limits. PIA isn't just secure, it's one of the only VPN services that has proven its no-logs claims in court, twice. When American authorities presented a warrant for information, PIA gave them absolutely nothing because it didn't have anything to hand over, to begin with. If you need a VPN that completely protects your digital privacy, PIA lets you rest easy knowing it upholds its privacy policy.
▶ Try PIA on unlimited devices with a 30-day money-back guarantee.
Moreover, PIA uses the highly secure OpenVPN and WireGuard protocols, while its MACE feature keeps ads, trackers, and malware at bay. That means you won't need additional apps or extensions to combat intrusive ads, and the websites you visit won't be able to profile you based on your interests. In addition, the company has open-sourced apps, allowing curious developers to check the code and confirm it works as advertised.
PIA also allows you to configure port forwarding, which provides a direct connection between your device and a P2P seeder, streaming service, or gaming server. This excellent feature can significantly enhance your P2P download speeds and ensure a smoother, more secure torrenting experience. Although it may be challenging to set up for new users, PIA provides extensive guides for its customers, making it accessible to everyone.
Still, PIA lags behind the direct competition a little when it comes to pure download speeds—with peak speeds of 510 Mbps. If speed is a priority, check what Surfshark has to offer. Besides, its desktop apps are better suited to more technical users, so complete beginners will prefer the intuitive feel and attention to detail that comes with NordVPN.
Overall, the company's attractive pricing and extensive P2P-optimized server network make it a solid pick for users looking for a torrenting VPN. Although it caters to tech-savvy users, PIA is an excellent solution for anyone looking for a privacy-oriented VPN.
The best of the rest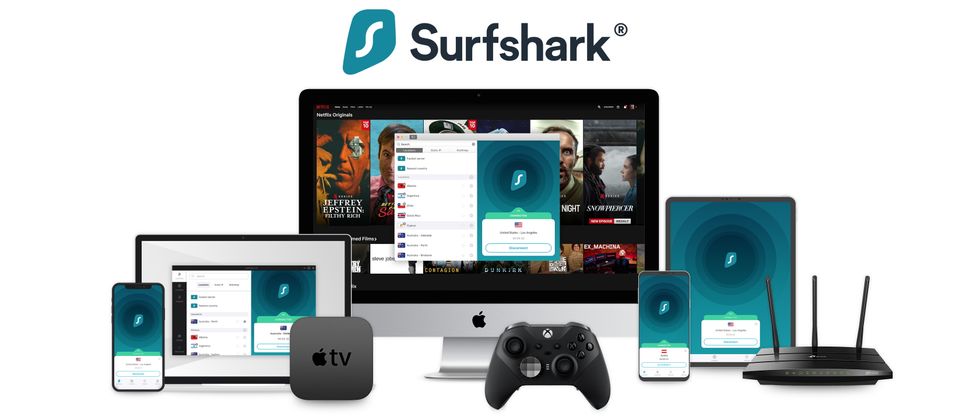 If you've already heard of Surfshark before, it's most likely because of its speed since it tops our list of fastest VPNs. In addition, it currently tops the list in our cheap VPN guide, thanks to the rock-bottom cost of its multi-year plan that makes it an absolute bargain.
There's P2P support on most servers, but it's not that obvious which ones have it. Zero-knowledge DNS servers, Bitcoin support, split tunneling, and Multi-Hop VPN encryption make it even more difficult for others to track you, while ad, tracker, and malware-blocking keep other privacy-busting dangers at bay. Meaning you get a full security suite to protect you online.
▶ Try the fastest VPN with a 30-day money-back guarantee.
Surfshark's excellent privacy policy explains its no-logging status clearly, with in-depth details on the data it does (and doesn't) collect. Thanks to its transparency, we know that Surfshark's servers collect only a tiny amount of data during a session: your user ID and connection time. However, you can rest easy knowing it deletes this data regularly.
Surfshark's speeds make it stand out from the competition - we saw WireGuard-powered downloads peaking at an excellent 950 Mbps, up from the 790 Mbps of our past testing. In addition, it lets you establish unlimited simultaneous connections using a single account. That means you can get the VPN working on your PC, Mac, smartphone, TV streaming devices, gaming consoles, router, and every other compatible device.
Although Surfshark includes a kill switch on Windows, Macs, Android, and iPhones, there were some minor issues with it on Windows during our testing, where we didn't feel we got a clear enough warning when the connection dropped. If you suspect an accidental IP leak could put you in danger, we'd recommend using ExpressVPN or NordVPN. Also, unlike PIA, Surfshark doesn't support port forwarding due to apparent security risks.
In short, Surfshark is a safe and reliable choice for casual users looking for an all-around-effective torrenting VPN. It also offers handy 24/7 customer support via email and live chat and a 30-day money-back guarantee.
---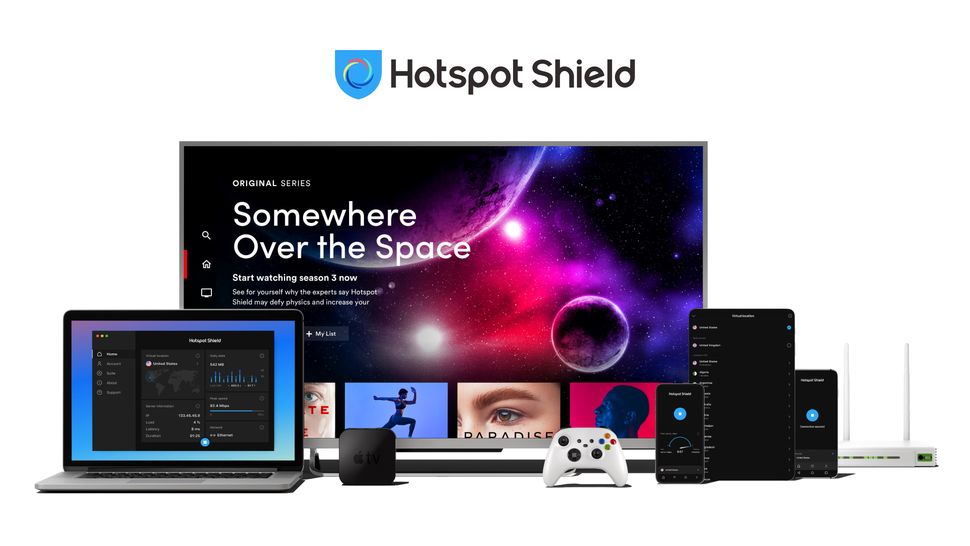 Hotspot Shield built its reputation on its exceptional server speeds and unique protocol. Its brilliantly named Catapult Hydra protocol allows Hotspot Shield users to achieve significantly faster connection speeds, unlike the more conventional OpenVPN protocol.
However, with other VPNs offering their proprietary protocols (like Express and Nord above), Hotspot Shield no longer stands out as the market leader. But luckily, it has plenty more strings to its bow. It fully supports P2P on its global network of 1,800+ servers and offers reliable kill switches on its Windows, iOS, and Android apps.
▶ Try Hotspot Shield for free, plus a 45-day money-back guarantee
Our tests have also confirmed that Hotspot Shield doesn't limit your data or bandwidth usage and doesn't throttle your speeds in any way. Although one of the main reasons to use a VPN is to avoid ISP throttling, some VPN services will purposefully reduce your download speed if you engage in bandwidth-heavy activities. You can rest easy knowing Hotspot Shield won't interfere with your connection, whether you download, stream, or browse content.
But, unlike all the other services on our list, Hotspot Shield hasn't put itself through any form of public security or privacy audit. Although it lacks transparency, Hotspot admits that it logs some data. Nothing potentially harmful to you - we're talking about session duration, devices, and IP addresses. Again, nothing that we'd consider a major issue, but it makes VPNs like ExpressVPN and PIA more attractive to privacy-conscious users.
Still, Hotspot Shield's basic plan is completely free and comes with unlimited bandwidth and data. And if you decide to give a paid version a shot—all plans come with a 45-day money-back guarantee, giving you enough time to check if it suits you.
How to choose the best VPN for torrenting
The virtual private networks we've picked out all support torrents (believe it or not, not every VPN does) but—just as important—are all equipped with the right features and tools that you need when torrenting.
A few are obvious, starting with privacy and security. Torrenting, by its very nature, is risky, and while peer-to-peer sharing of big files is undeniably useful, you can leave yourself exposed to threats from bad actors. So, you want a VPN with strong encryption protocols and plenty of security smarts. A clear no-logs policy is also crucial—the biggest VPN providers even have these independently audited.
Download speeds are crucial as well. There's no point in choosing a VPN that throttles your speeds so much that downloads crawl along at a snail's pace. We also recommend only opting for torrenting VPNs that are watertight from DNS leaks and have a solid VPN kill switch (which we test in our reviews). The latter shuts down the internet connection if the VPN stops working, thus preventing your true IP from being exposed even if you're not paying attention.
Torrenting VPN FAQs
What is a VPN?
A virtual private network (VPN) is a cybersecurity and digital privacy tool that encrypts your data and routes it through a secure server elsewhere in the world. This protects you from anyone who might try to spy on your internet usage, and changes your IP address so you can appear to be from anywhere you want—letting you unblock foreign content and torrent in total privacy.
Do I really need a VPN for torrenting?
We'd highly recommend it—especially if your main reason for doing so is to download videos and games. Because torrenting VPNs effectively make your movements online anonymous, nobody can tie your activity back to your IP address. So, you don't need to worry about aggressive letters through the door telling you to cease and desist.
What is port forwarding?
Ports are where internet connections start and end, and each one has a specific purpose. They enable your device to quickly distinguish between differing internet traffic, such as emails or web pages. There are over 65,000 ports for you to use.
Port forwarding allows you to dedicate specific ports to specific devices. This means that, depending on how you set it up, you (and anyone else on the internet) can access your device and files remotely. This lets you more easily share files with your friends, enable remote access to your computer, and even host game servers on Minecraft.
There are three types of port forwarding:
Local port forwarding: used for pulling files and data from a device that you don't have access to, but that an intermediary device has, and is usually run over a local area network (LAN).
Remote port forwarding: this type of port forwarding works in a reverse fashion, enabling your device to be visible and accessible by anyone online—rather than the other way around. It's commonly used by businesses to enable remote access to servers.
--This type of port forwarding allows your device to be visible to other remote devices or on the internet. In this case, data is being pushed from your device to the remote destination server, and then back to the source port and to your device. With remote forwarding, anyone on the internet or remote device can get access to your device.--
Note: both local and remote port forwarding use transmission control protocol (TCP) over port 22 for secure shell (SSH) tunneling.
Dynamic port forwarding: similar to local port forwarding and works by creating a proxy through a remote port. This lets you access any remote destination port from just a single port on your device. It's commonly used by people sharing files with friends.
It can be as dangerous as it sounds, so if you do decide to set up port forwarding, be sure to use incredibly strong passwords, always keep your device updated, and don't overexpose yourself. The more you port forward, the greater the risk of a cyberattack. Even if you're just port forwarding to download files from peers, it's vital to make sure that you're properly set up and protected with a VPN to ensure your real IP address doesn't get leaked.
What is the best torrenting VPN in 2023?
We've put ExpressVPN at the top of our list of torrenting VPNs—it just ticks all the boxes. It's a given that it's fast, secure, and easy to use. But it also benefits from really effective kill switches on its desktop clients and Android app, and we really like that its thorough no-logging policy is independently audited by PricewaterhouseCoopers. It's an excellent choice for torrenters.
Is torrenting safe with a VPN?
As well as giving all the data you exchange online end-to-end encryption, torrenting with a VPN turned on also helps to keep your identity completely anonymous. That means there's no chance for your ISP or anybody else to find out who you are or what you're downloading online.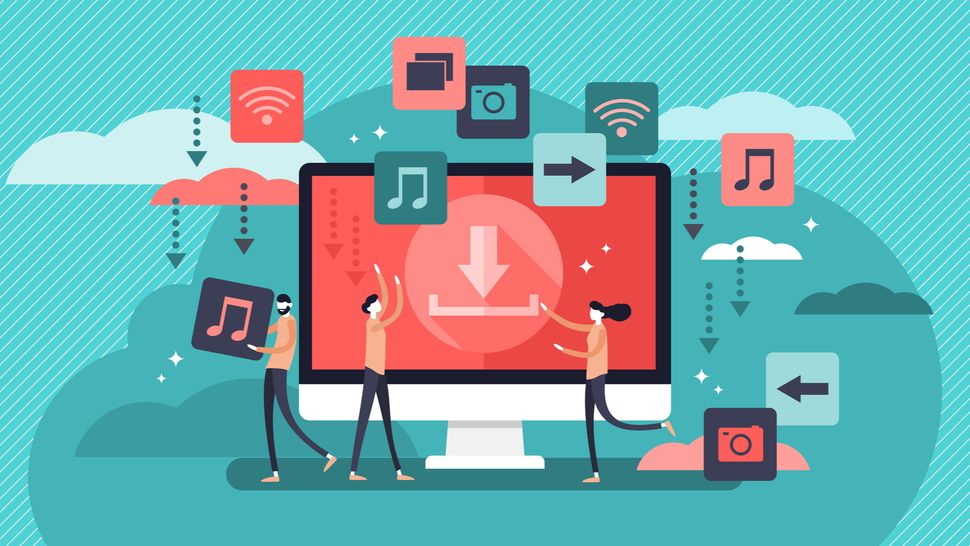 Is a free download good enough for torrenting?
In a word...no. There are some genuinely excellent free VPN downloads out there that function perfectly well for letting you check emails on public Wi-Fi and basic IP spoofing. But they tend to limit the data you use, throttle internet speed, and in some cases, won't allow P2P activity whatsoever.
So for torrenting, it pays to grab a premium version like ExpressVPN or NordVPN - both of which are VPNs with free trials.
What does a kill switch do?
VPNs are fantastic for online privacy, but if your VPN connection drops for any reason you'll immediately be at risk from having your IP details leaked - a real problem if you're downloading something dodgy. A kill switch shuts off your entire internet connection the moment its own connection drops, and thus keeps your IP address hidden. You can learn more about them in our dedicated guide to VPN kill switches.
What are DNS leaks?
A DNS leak is a type of security flaw that effectively allows your IP address to be seen by other people, for example cybercriminals or the government. Any VPN worth its salt will have strong encryption measures and protocols in place that make sure DNS leaks aren't possible and therefore keep you anonymous online.

Sign up to receive daily breaking news, reviews, opinion, analysis, deals and more from the world of tech.
Adam was formerly the Content Director of Subscriptions and Services at Future, meaning that he oversaw many of the articles TechRadar produces about antivirus software, VPN, TV streaming, broadband and mobile phone contracts - from buying guides and deals news, to industry interest pieces and reviews. Adam has now dusted off his keyboard to write articles for the likes of TechRadar, T3 and Tom's Guide.