Hotspot Shield has a large VPN network, lots of features, and unblocked almost everything we threw at it. Unfortunately, the poor Windows kill switch, lack of audits, and a host of usability and app issues leave this VPN lagging behind the top competition.
Pros
+

Unblocks US Netflix, iPlayer, Prime Video, Disney Plus

+

P2P support

+

Apps for everything

+

Helpful live chat support

+

Free plan supports unlimited traffic

+

45-day money-back guarantee
Cons
-

Windows kill switch doesn't work with WireGuard, IKEv2

-

Above average prices

-

Doesn't unblock 9Now, 10 Play

-

Some logging

-

Below-par support website

-

Inconsistencies across apps, underpowered iOS client

-

No audit

-

No Bitcoin support
Why you can trust TechRadar We spend hours testing every product or service we review, so you can be sure you're buying the best. Find out more about how we test.
Hotspot Shield VPN - quick menu
Hotspot Shield is a popular VPN with just enough interesting and unusual features to help it stand out from the crowd.
The core service has a sizable network of over 1,800 servers across 90 countries and 130+ locations. Malware blocking and anti-phishing are included for free, P2P is supported everywhere, and there are servers optimized for streaming, gaming, and more.
There are apps for Windows, Mac, Android, and iOS, a command line app for Linux, and a TV app for Amazon Fire TV or any smart TV with access to Google Play. If all that still isn't enough, the support site has guides on manually setting up the service on these and other platforms (routers, too).
WireGuard support has made a big difference to performance (more on that below), with Hotspot Shield's Hydra protocol, OpenVPN, or IKEv2 available as a backup in some situations.
The service supports from one to twenty-five simultaneous connections, depending on your plan.
▶ Want to try Hotspot Shield Premium? Check out the Hotspot Shield website.
Hotspot Shield pricing
Hotspot Shield's free VPN plan offers just one US location, almost no features, support for one device only, no email or live chat support, and a host of annoying ads on the mobile apps. There is one big plus to the free plan: there are no annoying "per month" bandwidth limits. You can use it as much as you like, but unless you really have no VPN budget at all, it's hard to recommend.
The paid VPN starts at $12.99 billed monthly and supports up to ten devices, dropping to $7.99 on the annual plan.
That's at the high end of the normal VPN price range. Most providers charge around $3 to $5 per month for annual products and even less for longer-term contracts (Private Internet Access offers a three-year plan covering up to 10 devices for an initial $2.03 a month).
Hotspot Shield does have a handy option in the Family plan, which gets you coverage for five people, with five devices each, for only $19.99 billed monthly, or $11.99 on the annual plan.
If you'll use all those licenses, that translates to $2.40 per user per month.
There's no Bitcoin payment option, unfortunately, but you can use a card or PayPal, and if anything goes wrong later you're protected by an unusually generous 45-day money-back guarantee.
Privacy
Hotspot Shield's Privacy Policy begins with some reassuring details on the company's logging practices. There's no record of your browsing history, and although it logs your IP address when you connect, this is deleted at the end of the session.
There is still some logging, the policy explains, including:
"The duration of VPN sessions and the bandwidth consumed.
"The domains that have been accessed by our users, but on an anonymized basis such that we do not know which user accessed which domain (we also aggregate this information on an approximately monthly basis).
"device hashes, which are used to identify devices and associate them with other data we collect... Device hashes are not linked to VPN browsing activity."
There's some scope for problems here. Anonymising URLs is more difficult than it sounds, and we just have to hope that Hotspot Shield is doing it properly. And even if it doesn't log your browsing, there's still scope for building fairly detailed profiles on how you use the service. For example, the company could keep a record of the time and date of every session, the device used, your approximate location, and how much data you transferred.
That's just speculation, but there's also real-world evidence of Hotspot Shield taking some tracking-related liberties. We expected the web dashboard's Download button to point us to an installer file hosted on the Hotspot Shield website, for instance, but in reality, it links directly to web analytics company Kochava. That doesn't feel like the action of a company putting your privacy first.
Our real concern here is that although Hotspot Shield promises there's nothing to link your account to any VPN browsing activity, it's not yet confirmed with an independent audit. We're left to take Hotspot Shield's words on trust.
Kill switch
Hotspot Shield's apps include a kill switch to block your internet connection if the VPN drops, preventing IP leaks. It's a very useful feature, but not all kill switches deliver on their promises, so we were keen to run some tests.
One immediate problem we noticed is the Windows kill switch only works Hotspot Shield's own Hydra protocol. It's automatically disabled if you use WireGuard or IKEv2. That's unusually feeble; we can't think of any other VPN who offers a kill switch that doesn't support the most standard protocols.
There's another issue. The kill switch is turned off by default, so we expect one of the first things any experienced user will do is jump into Settings and turn it on. Great! Very sensible. Except if you switch to the Protocols tab and choose WireGuard for speed, the app will disable the kill switch without warning. You'll assume you're protected, but you're not, and you'll never realize unless you check Settings again (and why would you?)
It may be even worse than that. The default protocol setting is Automatic, which means even if the app mostly chooses Hydra, which supports the kill switch, there's always the chance it'll choose WireGuard or IKEv2, which do not. That means, with the default settings, the kill switch sometimes works, sometimes doesn't, depending on the app's preferred protocol.
You can avoid this by activating the kill switch, and changing the Protocols setting from Automatic to Hydra. But that's far from obvious, and even experienced technical users might not realize that's necessary.
When we figured out how to reliably activate the kill switch, the results were initially very good. We tried forcibly closing the connection, and simulated a crash by terminating the Hotspot Shield process, but the results were the same: the kill switch activated, the app recovered and reconnected, and our traffic was never unprotected.
We did find problems with some more extreme situations. If we stopped Hotspot Shield's Windows service, for instance, the VPN dropped, but this time the kill switch didn't activate, and the device automatically switched to its regular unprotected connection.
Overall, the app offers a decent kill switch for Hydra connections but the lack of support for WireGuard and IKEv2 is a major weakness. The app desperately needs an update to ensure the kill switch protects everyone, no matter which protocol they're using.
Performance
Hotspot Shield makes big claims about the performance of its Catapult Hydra protocol, but does it live up to the hype? We tested the service with SpeedTest's website and command line app, along with a number of other benchmarking sites to find out.
Our tests revealed Hydra download speeds of 210 Mbps in the UK and 190 Mbps to 195 Mbps in the US. That's a poor result and below the OpenVPN speeds of some providers.
Switching to WireGuard saw speeds close to triple that in the US, at a very acceptable 570 Mbps. While other providers are better—NordVPN, IPVanish, Surfshark, and others all beat 900Mbps in recent tests—it's more than fast enough for most devices and situations.
Virtual locations
Many VPNs make use of virtual locations. For example, they might offer a location in Malta, which returns a Maltese IP address, but actually use a server that is physically based somewhere else. This can be useful if, say, the location doesn't have great connectivity, or it has a repressive regime that might be monitoring your traffic. But if you're in that country and think you're connecting to a local server, but it's actually 10,000 miles away, you're not going to get the performance you might expect.
Hotspot Shield hosts its India servers in Singapore to avoid the upcoming data logging laws, and that looks like a smart move to us. But the company doesn't say if it uses other virtual locations, so we ran some tests to find out more.
The service appears to use several virtual locations. Some of these are similar to other providers: Cambodia, India, and Pakistan all appear to be hosted in Singapore. But others are more of an issue. Algeria, Azerbaijan, Israel, and Malta all seem to use servers in Amsterdam, for instance. Every other VPN we've checked hosts its Israel location in or close to Tel Aviv, and when it does use virtual locations, they're usually much closer.
This won't matter to everyone. Yes, if you're in Israel, then routing your traffic through Amsterdam won't help speeds. But if you're actually in or near the Netherlands, having local servers for several countries could be a performance plus.
What's important is that a provider is clear and up-front about its use of virtual locations, so potential customers can decide for themselves.
ExpressVPN says exactly which of its locations are virtual, for example, and also tells you where they're really hosted. We'd like to see Hotspot Shield (and the rest of the industry) do the same.
Netflix and streaming
Hotspot Shield claims to be the best Netflix VPN, avoiding detection and getting you "unrestricted access to the content you love." Sounds promising, but we decided to check this by trying to access Netflix and a bunch of other top streaming services from Hotspot Shield locations around the world.
Our US tests got off to a great start, as Hotspot Shield's specialist streaming location unblocked US Netflix, Disney Plus, and Amazon Prime Video.
Need access to other Netflix libraries? The service also got us into Netflix UK, Australia, Canada, and Japan.
The perfect record came to an end in Australia, where Hotspot Shield couldn't get us access to 9Now (normally relatively easy) or 10 Play.
The service recovered for our final tests in the UK, though, unblocking BBC iPlayer, ITV, and Channel 4.
10 successes out of 12 is still a great result, and if you're looking to unblock Netflix (or most other platforms), Hotspot Shield is a must for your shortlist.
Other providers worth considering include ExpressVPN, NordVPN, Private Internet Access, ProtonVPN, PureVPN, and Surfshark. These great VPNs all scored 100% in their last unblocking tests.
Torrents
Like most VPNs, Hotspot Shield doesn't like to boast about its P2P support, but pay close attention to the website and you'll discover some good news.
The service fully supports P2P on all servers, so once you've connected with any of the clients (Windows, Mac, Android or iOS), you're ready to start downloading.
We don't like to take website claims for granted, so we verified Hotspot Shield's torrent-friendliness by successfully downloading torrents while connected to the US, UK and Japan.
Search the support site for the keywords P2P or torrent and you won't find anything at all, but there are a few simple guides for beginners in the Resources and Blog sections (try searching here), including advice on why you might want to use a VPN for torrenting, and pointers on how to download torrents anonymously.
Whatever method you're using, Hotspot Shield doesn't have any bandwidth limits or restrictions, so you should be able to use the service as much as you like.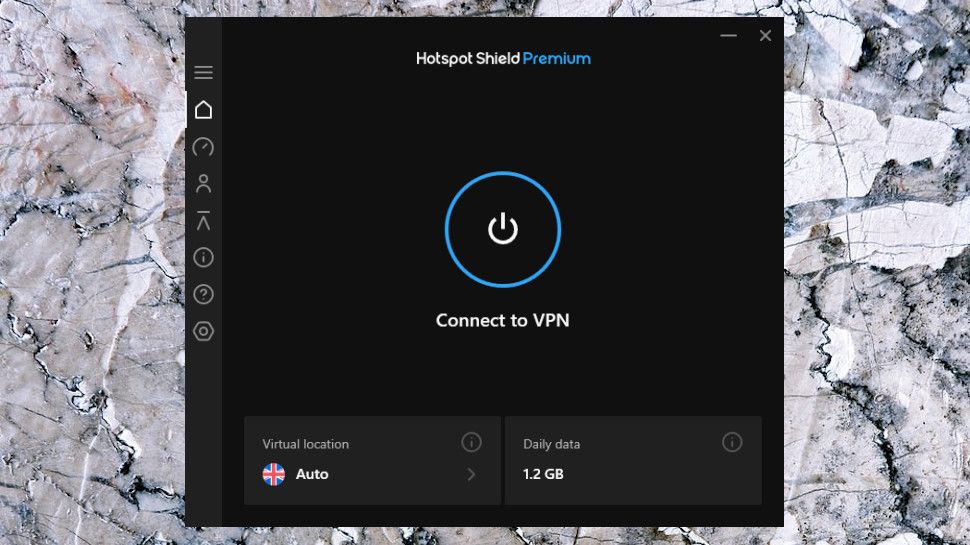 Windows app
Hotspot Shield's Windows app opens with a dark panel displaying the current default location, a large On/Off button, and a tiny sidebar with more options. There are more buttons and settings than most apps but it's not difficult to use. Even total VPN newbies are likely to be able to explore the app's features right away.
Tapping the On button got us connected in a reasonably speedy 4 to 5 seconds. Some VPNs are faster—IVPN's WireGuard connections can be up and running in around a second—but others can take 10 to 20 seconds, occasionally even longer.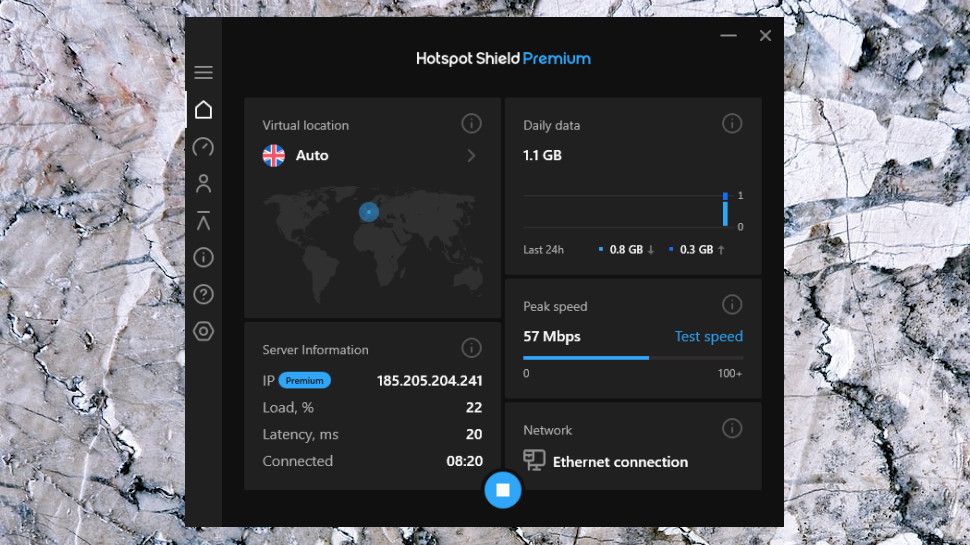 Once connected, a map appears showing your new virtual location, while other panels display a host of connection details: your server IP address, load and latency, the amount of data used on the current day, your current transfer speeds, and the name of your local network (handy as a reminder when you're connecting to wireless hotspots, say). It's a little cluttered and could intimidate not-so-technical users, but if you're not interested in the stats, they can all be safely ignored.
Clicking the current location displays a list of other countries and cities you can choose from. The top of the list has shortcuts to the best streaming and gaming servers, a handy touch which should save you some scrolling.
There are no server load figures or ping times to help with your decision, though, and no Favorites system to group commonly-used locations, a surprise considering the rest of the app looks so feature-packed.
Hotspot Shield's settings dialog box is more accessible, with a choice of protocols (WireGuard, IKEv2 or Hydra), and switches to run the client when Windows starts, prevent IP leaks, and enable the kill switch.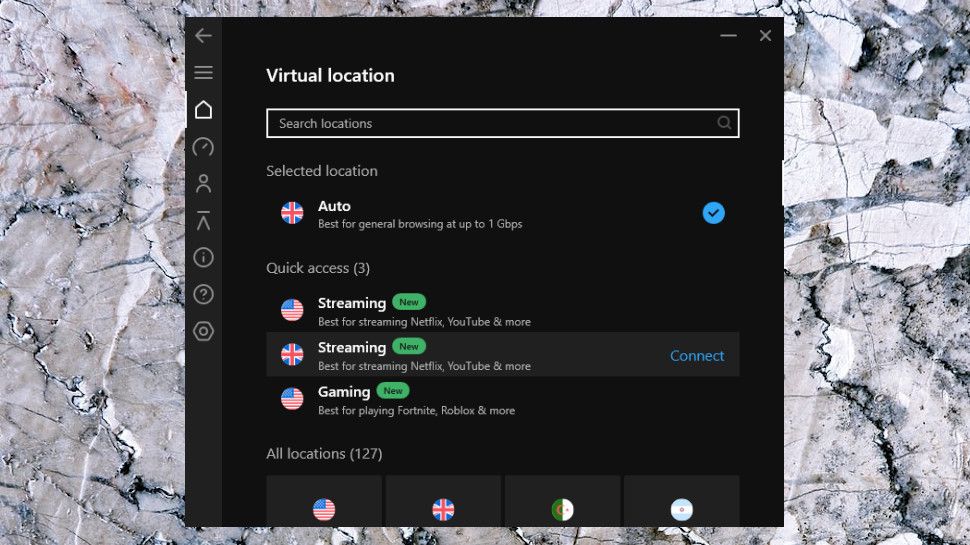 There's a handy bonus feature in the client's ability to automatically connect to Hotspot Shield when you access unsafe Wi-Fi hotspots, safe hotspots, or all networks. That option isn't available nearly as often as we'd like, especially on Windows, and it's good to see it here.
Split Tunneling is a handy feature that enables choosing both websites and apps that won't have their traffic routed through the VPN. If a website doesn't work as usual when the VPN is on, or perhaps gaming performance is affected, add them to the Bypass list and they'll use your regular connection instead of the VPN tunnel.
Support for keyboard shortcuts is a small usability plus. Ctrl+Shift+C connects and then disconnects, for instance, while Ctrl+Shift+V displays and enables choosing a virtual location.
This all worked well for us, but if you run into difficulties, a Support page includes links to open the FAQ, Live Chat, and "Leave a message" pages on the Hotspot Shield website.
Mac app
Hotspot Shield's Mac app is a stripped-back version of the Windows edition, with many features dropped and some unexpected and (we suspect) unnecessary differences.
The opening panel has the same color scheme and visual style, for instance, but there's no auto-connect option to automatically choose a location. The Mac location picker uses a conventional list, rather than the tiles used on the Windows app, and there are no Streaming or Gaming icons to access specific server types more quickly.
The Settings box is distinctly short on options. You can choose Hydra, WireGuard, or IKEv2 protocols, and there's the same split tunneling system. But the app doesn't include the kill switch, configurable IP leak protection, keyboard shortcuts, or the ability to automatically connect on launch or when you access insecure Wi-Fi.
If you only need the VPN basics, and you never use the Windows app, this may not matter very much. But for everyone else, the interface inconsistencies and shortage of features make this a below-par Mac choice.
Android and iOS apps
Mobile apps typically lag far behind their desktop cousins on the features front, but Hotspot Shield's Android and iOS releases are a surprising exception to that extremely common rule.
The Android app has the same sleek black interface that we saw on Windows and Mac. Getting protected is as easy as tapping the Connect button, and the app displays a whole host of stats on the current connection if you're interested.
Although it's missing one or two small features (no IKEv2 support, for instance), the app is just as powerful as the desktop builds. There's WireGuard and Hydra support, split tunneling, and integration with Android's system-wide kill switch. You can use Connection Center to set the app to automatically connect when Android starts, when the app is launched, when you access unsecured (or all) networks, or even when you access cellular networks.
Hotspot Shield's iOS app can't quite match this level of power. In particular, it's missing the auto-connect options and split tunneling apps. But there are still some real surprises here.
The app has WireGuard, Hydra, and even IKEv2 support, for instance. Split tunneling for websites allows you to choose whether you access a site via the VPN or your regular connection. The kill switch disables internet access if the VPN drops, while the Always-on VPN feature gets you reconnected as soon as possible.
There are some small annoyances, too. We tapped Privacy Settings and the app asked us to consent to using our personal data, "in order to keep this app free." This doesn't affect anyone on the paid plan, so we're really not clear why the app displays this at all.
There's room for improvement, but overall, these are decent apps, easy to use, fast enough for most purposes, and they unblock almost everything.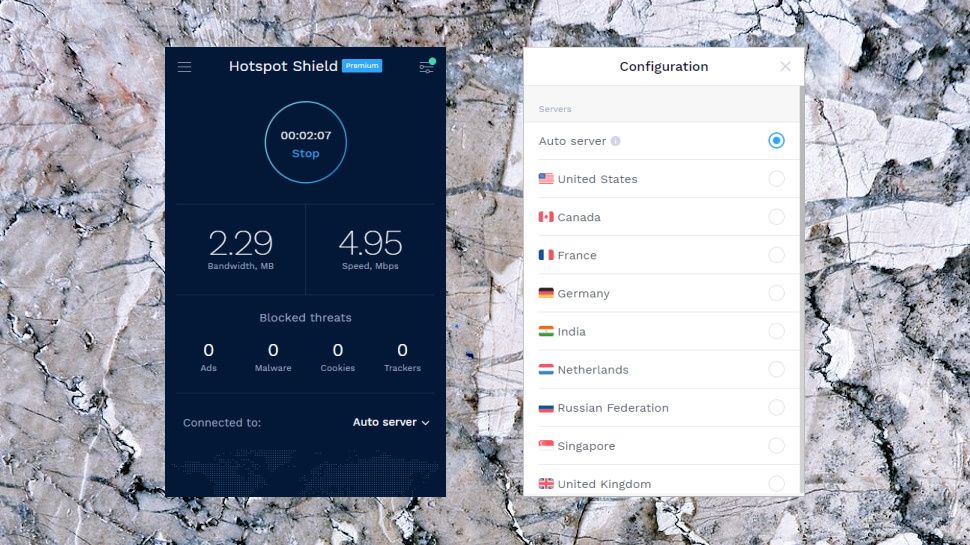 Browser extensions
Hotspot Shield's Chrome and Firefox extensions are lightweight tools that allow you to connect to new VPN locations from inside your browser. This only protects your browser traffic, but if you're trying a little website unblocking, it's often the most convenient solution. Even better, it's also available for free.
Hotspot Shield's split tunneling for websites comes included, too. Add websites to your Auto Protect list and the extension automatically turns on the VPN whenever you access them. Add websites that don't work with the VPN to your Bypass list, and they're directed through your regular location.
Just in case that's not enough, Hotspot Shield has also crammed in ad, cookie, tracker, malware, and WebRTC blockers, along with a handy option to ignore any resources you're accessing which are hosted within your local network.
This has all worked very well for us in the past, but not so much this time around. The extension regularly told us it was connected, when we were still using our normal connection.
We don't know if it was related, but later the extension disappeared from the Chrome store. Hotspot Shield told us that it was 'temporarily unavailable' and the developer was "looking into it," but that was it.
Our own connection problems were bad enough, but having your Chrome extension pulled from the store makes this sound like a major issue. We can't give any definitive verdict without more details, though. Whatever the cause, chances are it'll be fixed by the time you read this.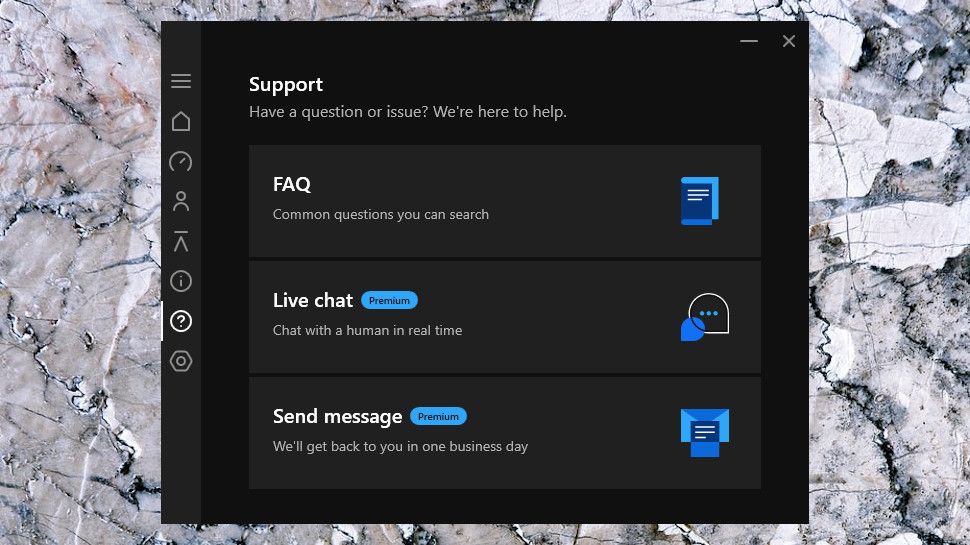 Support
If Hotspot Shield isn't working for you, the various apps give you instant access to advice on common issues by embedding documents from the website. As usual, if your issue is more complex, you can head off to the support website for more in-depth guidance.
A web-based Support Center organizes its articles by platform, as well as categories like Payments and Subscriptions, Manage Account, and Common Issues. There is some useful information on the website that you won't always get elsewhere (release notes, for instance), but most articles can't match the depth or reliability you'll get with providers like ExpressVPN.
The 'Why is my speed slow when I'm connected?' Android article, for instance, includes the dubious claim that it's normal to experience speed reduction from 30-50% when using any VPN service, and the only fix it can suggest is to switch the connection off and on a few times. If you've any VPN experience then we'll bet you could write a far more helpful article in about five minutes.
We weren't impressed by an assortment of technical issues, either, including repeated warnings that "you're not authorized to access this page" when we clicked links to some documents.
Fortunately, if you can't find an answer in the knowledgebase, you're able to get in touch with the support team via live chat or email.
We tried live chat, and were a little disappointed when a basic chatbot arrived first. It did a reasonable job of answering our simple product question, though, and asked if we were satisfied. We tapped the thumbs-down icon, and the bot passed us to a friendly and knowledgeable agent in under a minute.
There's room for improvement on the support site, but many users should quickly find the core details they need, and a quality support team is always on hand to help with anything else.
Hotspot Shield review: Final verdict
Hotspot Shield is a decent VPN with plenty of apps, which unblocks almost everything, and has good live chat support for help if you need it.
But it's also slow, with a flawed Windows kill switch and a bunch of usability and other annoyances. A lack of significant updates recently suggests we won't see major improvements any time soon.