The best Smart TV VPN for 2023
Watch shows, movies, and sports around the world on your smart TV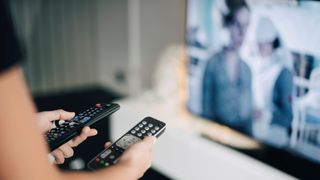 (Image credit: Getty)
Streaming on your phone or tablet is great in certain situations, but most times you want to watch something on the big screen. Whether or not you've discovered the wonders of using a VPN to watch geo-blocked content, there's no reason to hunch over your phone to do so with most newer TVs being smart in one way or another.
Bringing all the security and unblocking features to your TV set-up, the best VPN allows you to connect to its network of servers based all around the world. In turn, you can switch your IP address to appear as if you're browsing from anywhere in the world and open the gates to overseas content. It also comes with that extra layer of online security, with all traffic from A to B encrypted through a choice of protocols and other privacy features.
Unlike on your smartphone, though, installing a Smart TV VPN isn't quite as straightforward on your TV depending on what kind you have. Don't worry though as with 15 years of experience in reviewing security software, our experts at TechRadar periodically test dozens of services to recommend only the best services. Below our top 5 picks right now for those looking to take their TV setup to the next level.
Today's 3 best Smart TV VPNs: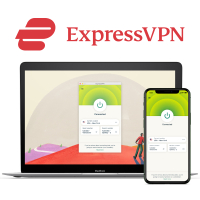 1. ExpressVPN - the #1 best Smart TV VPN
ExpressVPN—our favorite VPN overall as well—is fantastic at unblocking geo-restrictions on Netflix, Amazon Prime, Hulu, Disney Plus, and many more. Offering a number of ways to use it on your Smart TV, it also comes with a no-questions-asked 30-day money-back guarantee and three months extra free.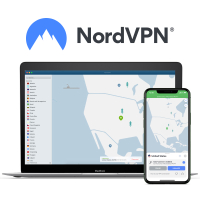 2. NordVPN - a superb mix of streaming and security
NordVPN has a fantastic reputation—and for good reason. It's prolific in the streaming services it can unlock and has extra security perks, too. Set up via SmartDNS or through your router to utilize your Smart TV.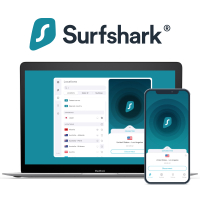 3. Surfshark—one of the cheapest VPNs available
Look no further than Surfshark if you want to grab a fully-functioned Smart TV VPN that's also ridiculously affordable. A premium option that's really simple to use, it has become a TechRadar favorite. It offers most of the same features as the other top services, just for less money.
What makes the best VPN for Smart TV?
When choosing the best Smart TV VPN, there are a few things to prioritize. First off, with streaming as the priority here, you'll want a provider that hosts high-speed servers so you can comfortably stream in 4K.
Of course, you'll also want to benefit from all your favorite streaming platforms. That means picking a VPN that can unblock the likes of Netflix, BBC iPlayer, Disney Plus, Amazon Prime Video, and the rest no matter where you are. What's more, you'll be in need of a VPN that is both affordable and boasts excellent security features.
With a Smart TV VPN, things can get a little trickier when it comes down to the installation process. Not all models allow you to simply install an app onto its interface (see the FAQ section at the bottom of the page for more details). The best Smart VPNs will therefore offer router support or SmartDNS as well as an app. With this in mind, we'd also recommend a service that has a reputation for great customer support in case you're in need of assistance.
The best Smart TV VPN in 2023:
1. ExpressVPN
Configure the best overall VPN onto your Smart TV
Fast speeds: Yes | Number of servers: 3,000+ | Server locations/countries: 160/94 | Maximum devices supported: 5 | Streaming sites unblocked: Netflix, iPlayer, YouTube, Amazon, Hulu | SmartDNS?: Yes | Support: 24/7 live chat, web guide
Offers multiple Smart TV avenues for VPN
Unblocks Netflix, Disney Plus, Amazon Prime Video, and BBC iPlayer
Great security features
Fantastic live chat support
Only able to connect 5 devices
ExpressVPN finds itself once again stealing the top spot for best Smart TV VPN thanks to its versatile offering across a number of TV models, loaded with impressive features and a great streaming unblocking record, to boot.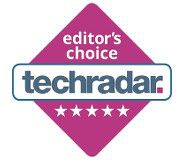 With the lion's share of Smart TV VPN users looking to stream content, ExpressVPN is certainly the one for the job, offering an excellent way to enjoy 4K HDR streaming no matter where you are in the world. That's in part thanks to its healthy network of 3,000 servers spread out across 94 countries.
It also makes easy work of accessing all the main streaming services, including BBC iPlayer, Disney Plus, Amazon Prime Video, and even Netflix, though its success rate in accessing libraries around the world has become a little more trial and error. If Netflix is a priority, you'll want to check out Nord and Surfshark at #2 and #3.
When it comes to Smart TVs, ExpressVPN offers a number of routes to take to utilize the unblocking and security perks of a VPN depending on your model. Many Android TVs will be able to run Express' Android client without issue. That means you can simply visit the Google Play Store via your TV, install, and away you go.
ExpressVPN Aircove
ExpressVPN Aircove is the first VPN router powered by Wi-Fi 6 technology for faster and more reliable wireless connections—peak speed can reach up to 1,200 Mbps. Using the #1 VPN overall has never been easier. Check ExpressVPN full review to learn more about this leading service.
For those Smart TVs that don't support the use of VPN natively on the device itself, ExpressVPN gives you two other options. You can utilize its MediaStreamer, which allows you to benefit from better streaming options offered by a VPN—though you won't benefit from the privacy and security benefits this way.
Alternatively, ExpressVPN can also be installed onto your router, with ExpressVPN one of the few providers to offer a sleek router VPN app where you can configure your connection. It even developed its very own VPN router Aircove to make things even easier. This means being able to easily use features like its powerful kill switch, built-in speed test, and sift through protocols like its own Lightway protocol, as well as OpenVPN and IKEv2.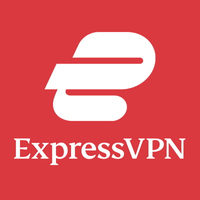 Get the #1 VPN for Smart TV risk-free
You can probably tell by now that we're big fans of ExpressVPN, but we're also extremely fond of its no-questions-asked 30-day money-back guarantee and the special offers it has on show. Sign up for a year now and you'll get an extra 3 months absolutely FREE as well as secure cloud storage from Backblaze.
2. NordVPN
A speedy, reliable, well-known provider
Fast speeds: Very | Number of servers: 5,500+ | Server locations/countries: 80+/59 | Maximum devices supported: 6 | Streaming sites unblocked: Netflix, iPlayer, YouTube, Amazon, Disney Plus, Hulu | Smart DNS?: Yes | Support: 24/7 live chat, web guide
One of the fastest VPN
Unblocks Netflix, iPlayer, Prime Video, and Disney Plus
Double VPN
Speedy live chat support
Steep renewal prices
NordVPN is an excellent choice for Smart TV VPN as one of the best-in-class providers on the market. Boasting some of the best security features, NordVPN also maintains its reputation as one speedy performer with highs of 820Mbps (though you'll only be able to connect to NordLynx through either a router VPN or Android client on your Smart TV - SmartDNS doesn't get access to this protocol).
Great news for those looking to stream, NordVPN is able to unblock BBC iPlayer, Disney Plus, Prime Video, and Netflix. In fact, while its ability to unblock Netflix libraries around the world had proved a touch hit-and-miss previously, NordVPN now proves itself to be one of the current strongest Netflix VPNs alongside Surfshark, with our recent tests giving us access to Netflix in the US, UK, Canada, Australia, and Japan. This is all possible thanks to its network of 5,500+ servers based in 59 countries.
Bypass Netflix password sharing ban
NordVPN Meshnet opens up to many different use cases like secure file sharing, multi-player gaming and virtual routing. Ultimately, keen streamers might be able to use Meshnet to overcome Netflix new rules on password sharing. Read the full explainer to know more.
Much like ExpressVPN's MediaStreamer, NordVPN's SmartDNS is your first port-of-call for users looking to optimize their Smart TV with the benefits of a VPN. Considering NordVPN is known for its excellent security features including split tunneling, Double VPN, and CyberSec's malware and ad-blocking functionality, you can also opt to install NordVPN onto your router.
It's latest addition Meshnet, which allow to enjoy NordVPN's benefits across up to 60 devices, can also be used here to connect the VPN at your Smart TV at ease. Even better as it's now free of charge for all users.
With excellent 24/7 support and informative how-to guides to take you through the steps, this shouldn't be too difficult to set up.
---
3. Surfshark
An affordable Smart TV VPN choice
Fast speeds: Very | Number of servers: 3,200+ | Server locations/countries: 110+/95 | Maximum devices supported: Unlimited | Streaming sites unblocked: Netflix, iPlayer, YouTube, Amazon, Disney Plus, Hulu | Smart DNS?: Yes | Support: 24/7 live chat, web guide
Easy to connect
Access to major streaming platforms
Extremely cheap
Could be too basic for some
Surfshark is a service we love to recommend again and again. Sitting at the top of our cheap VPN guide, even at such an affordable rate, it doesn't compromise functionality and features. Loaded with a SmartDNS, too, it'll be easy to set up on your Smart TV in no time, too.
With over 3,200 servers in its arsenal across 95 countries, we've put it through the wringer and ensured it can unblock BBC iPlayer, Hulu, Disney Plus, Amazon Prime Video, and Netflix. In terms of performance, it saw a significant leap in our recent speed tests, jumping from an average of 790Mbps to a staggering 950Mbps. It's now the fastest VPN when using WireGuard, but the speeds with OpenVPN are still below average.
The fastest VPN
Surfshark makes it to the top of our cheap VPN list but is also #1 on our fastest VPN guide. Read the full Surfshark review to know more.
Boasting great security and privacy features, you'll need to install Surfshark on your router to truly benefit from what Surfshark has to offer. This includes its kill switch, 256-bit encryption, a no-logs policy, DNS leak protection, as well as protection against malware, trackers, and blocking those pesky adverts.
Pay less than $2.50 a month when signing up for its 2-year plan and enjoy one of the most affordable VPN providers out there. And if you run into any issues, there's 24/7 support on hand and a reassuring 30-day money-back guarantee, too.
---
4. Proton VPN
A fast, streaming unblock Smart TV VPN powerhouse
Fast speeds: Yes | Number of servers: 1,700+ | Server locations/countries: 64 countries | Maximum devices supported: 10 | Streaming sites unblocked: Netflix, Disney Plus, Amazon Prime Video, iPlayer, YouTube, Hulu | Smart DNS?: No | Support: Guides, live chat, online form
Free plan with unlimited bandwidth
Unblocks Netflix, BBC iPlayer, Disney Plus, and Amazon Prime Video
Great performance
Not quite offering 24/7 live chat
No SmartDNS
Proton VPN deserves its place on our best Smart TV VPN list thanks to its streaming unblocking prowess and exceptional overall performance. Not only that, you can try its completely free VPN to see if it's the one for you—although, be warned, without the ability to stream.
While a lot of VPN providers now struggle to access more than the US Netflix library, Proton has retained access to its access to US, UK, and Canadian exclusives. In our last round of tests, Proton was also able to bypass geo-restrictions on Disney Plus, Amazon Prime Video, and BBC iPlayer.
Free VPN
Proton has recently enlarged the network of its free plan from 29 to more than 100 servers across three locations. Read the full Proton VPN Free review to know more.
While ProtonVPN doesn't offer a SmartDNS feature like the rest of these providers, it has a great Android TV app, and you'll be able to install it on your router, too, for those with Samsung or LG TVs that aren't able to install apps straight onto their device. Still, we think it's worth it for its unblocking capabilities, and its decent speed performance, producing figures of 510Mbps with WireGuard protocol.
It is worth noting that Proton doesn't have a 24/7 live chat just yet. This might be a potential minor issue for those new to VPNs.
---
5. CyberGhost
A quality VPN with a vast server network
Fast speeds: Very | Number of servers: 8,950+ | Server locations/countries: 115/91 | Maximum devices supported: 7 | Streaming sites unblocked: US Netflix, Disney Plus, BBC iPlayer, YouTube, Amazon, Hulu | Smart DNS?: Yes | Support: 24/7 live chat, web guide
Thousands of servers
Great features
Unblocks US Netflix, BBC iPlayer, Disney Plus, and Amazon Prime Video
Fast performance
Occasional interface niggle
CyberGhost's huge network of over 8,950+ servers sets itself apart from the other providers on this list, offering serious breadth across 91 countries - great news if you're looking to access geo-restricted content across Amazon Prime Video, Peacock, US Netflix, BBC iPlayer, and other services. In short, it's a great streaming VPN option, though we have come up against some problems unblocking UK Netflix and Disney Plus.
Not one to shy away from big claims, CyberGhost states it provides the 'speed you need for the smoothest viewing experience', which rings true when you consider its incredibly fast performance of up to 730Mbps. A must for streaming on your Smart TV, this puts it in great stead for the best Smart TV VPN.
Easily set up through its DNS, you can also connect via your router to access features like its kill switch, DNS & IP leak protection, and array of protocols including its excellent WireGuard.
You'd think it can't get much better, but CyberGhost also offers 24/7 customer support and an impressive 45-day money-back guarantee.
---
Smart TV VPN FAQs
What's the best Smart TV VPN for 2023?
Offering multiple avenues in which to equip your Smart TV with a VPN, ExpressVPN is our #1 choice for the best Smart TV VPN.
Whether you install through its dedicated Smart DNS, MediaStreamer, via a router, or for TVs that are compatible, its excellent Android app, ExpressVPN offers great overall performance. You'll also be able to make use of its nifty security and privacy features, and its excellent track record for unblocking your favorite streaming services.
Can I install a VPN on my Smart TV?
One VPN does not fit all when it comes to the best Smart TV VPN. Depending on the brand and model of your TV, it may not simply be a case of installing an app onto your TV. For Samsung TV owners, its Tizen operating system and LG's WebOS, are unable to support downloading VPN apps straight onto your TV.
It's a similar case if you're smart-ifying your TV through certain media streamers where its OS also doesn't support downloading apps straight onto the interface. This goes for the likes of Roku and Apple TV where you'll need the right Apple TV VPN to do the job.
For some Smart TVs, then, you'll need to set up the VPN on your router and connect your TV or media streamer to it. Whichever VPN provider you go for, you'll be able to find comprehensive guides walking you through the process of setting it up.
Alternatively, you can benefit from a VPN's geo-spoofing capabilities by using a SmartDNS to gain access to all the content you want to watch on your TV. Of the above list, four out of five offer SmartDNS.
From here, go to your "network" settings on your TV or media streamer, hit "Wi-Fi", and click on your connection. From here you'll see an option to "Configure DNS", and change it from "automatic" to "manual". The final step is to connect your VPN from another device, add its IP address, and you're away.
Can I use a VPN on a Samsung TV?
You can use a VPN on a Samsung TV, though the process is not as straightforward as installing a VPNs Android client onto your TV thanks to Samsung's Tizen operating system.
In order to use a VPN on your Samsung TV, you need to either install a VPN on a router or choose a VPN that offers SmartDNS as a feature, like ExpressVPN's aptly named MediaStreamer.
Which VPN services work with Smart TVs?
Any Smart TV that is able to connect to the internet has the potential to work with a VPN – it simply comes down to what brand and model to figure out exactly how. While Samsung and LG TVs will need to connect to a VPN via SmartDNS or a router-equipped VPN, most other Android TVs can easily install an Android VPN on their interface.
The case is the same for media streamers. While a Fire Stick VPN is well equipped to install most VPNs via its dedicated App Store, for Roku and Apple TV devices, you'll need to also go down the router or SmartDNS root.
Can I get a VPN on my Android TV or Fire TV?
For Android TVs, the good news is that, yes, you can. And it's super straightforward to do. Any TVs running the Android TV operating system can visit the Google Play Store on their TV and download dedicated clients to their TVs. These include:
Sony
Sharp
TCL
Xiaomi
MINIX
Nvidia Shield
Formuler
Similarly, with Amazon Fire TV, you can head straight to the App Store on your TV and install a VPN from there. While not all VPN providers have a dedicated Android TV client, it is fairly commonplace, with our top 5 best Smart TV VPNs all offering an Android and Fire TV client.
What is the best free Smart TV VPN option?
We don't readily recommend just any old free VPN as, while there are plenty of options out there, they don't always offer the safest experience in terms of transporting your online data. Without the funding of subscribers, your information could be at risk of being sold on to sustain the infrastructure of a free VPN, sending its privacy credentials into question.
However, ProtonVPN's free tool is a great choice with unlimited bandwidth and the reassurance that it's sustained with its premium counterpart. What's more, it's a free VPN we truly rate as a Smart TV VPN, and is a great stepping stone toward a full-fat VPN.
---

Sign up to receive daily breaking news, reviews, opinion, analysis, deals and more from the world of tech.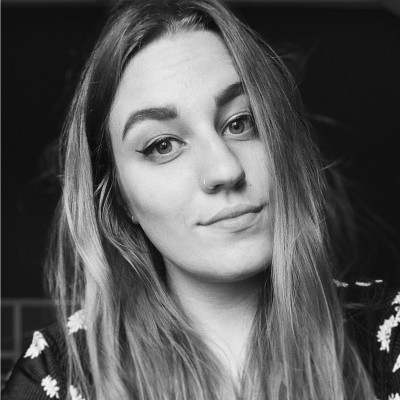 Alice is eCommerce Editor at Future with a focus on streaming services, such as Disney Plus and HBO Max, and VPN. She predominantly writes buying and streaming service guides, as well as how to watch articles. Previously a Commercial Content Writer at Trusted Reviews, Alice has five years experience giving online buying advice, and over two years writing about consumer tech.