PureVPN has been in the VPN business since 2007, so it's no surprise that the company has built up a lengthy list of features.
The service covers most of the technical basics: strong encryption via WireGuard, OpenVPN and IKEv2; DNS and IPv6 leak protection; torrent support; split tunneling to control which apps use the VPN; and a smart kill switch to protect you if the VPN drops.
Platform support is a highlight, with dedicated apps for Windows, Mac, iOS, Android and Linux, extensions for Chrome and Firefox, and more downloads and tutorials to help you set up the service on routers, Kodi, Android TV, Amazon's Fire TV Stick and more.
You can use PureVPN on up to 10 devices simultaneously, and in an unusual bonus, this provider allows you to share these 10 slots with your family. If there are four people with phones, say, they can each install and use PureVPN with their own login, and you'll still be able to connect six other devices at home.
PureVPN's network has a sizable 6,500 servers across 96 locations and 78 countries. That can't quite match CyberGhost (8,900+ servers, 115 locations, 91 countries) but it's a far larger network than most. And it's fast, too: while other providers boast about 10Gbps server connections (if they even have those), PureVPN began upgrading its servers to 20Gbps in late 2021.
What's new?
Recent PureVPN improvements include a major revamp of its Android TV and Fire Stick apps.
New WireGuard support ramps up performance; improved split tunneling allows you to decide which apps use the VPN, and which don't; the app now supports 11 extra languages (Chinese, Dutch, Spanish, French and more), and in-app support makes it easier to get help when you need it.
A handy new Shortcuts feature enables mobile users to save their favorite streaming service and its best location directly within the app. You could add a US Netflix shortcut to the Locations menu which connects to your preferred US server, for instance, then opens the Netflix site, all with one tap.
New obfuscation support works to conceal your VPN use, which may help you avoid problems in countries or environments where VPNs are blocked. The bad news is this only works with OpenVPN; the good news is the apps will use this by default if they can't connect via anything else, and there are no other settings to tweak. You're just a little more likely to connect now than you were before.
PureVPN has also unveiled PureKeep, a password manager which can generate and store secure passwords, then sync them across your devices. It's available as a paid add-on to the VPN, priced at $0.99 a month for the first term, $4.99 afterwards.
PureVPN pricing
Pricing starts at a fairly average $10.95 billed monthly (many top providers charge around $10-$13 for monthly billing).
The annual plan is good value at $3.24 a month, especially as that's covering up to 10 family members. But that's partly due to a one-off discount, and it renews at $4.49.
A special two-year plan is priced at $1.99 a month. That's cheap, but it also renews at $4.49 a month like the annual plan.
It's not on the regular pricing page, but the PureVPN website also offered us a five-year plan for only $1.49 a month. That undercuts just about everyone else, although Ivacy's current five-year price is even better at $1 a month.
Be aware that PureVPN often offers incredible Black Friday VPN deals, so it's worth heading through to the company's website to check them out.
This isn't just about the main plans, though. PureVPN has several optional extras.
Dedicated IPs look like a good deal at $2.99 a month for addresses in the US, UK, Singapore, Canada, Germany, Malta and Australia. Private Internet Access, NordVPN, Astrill and others charge $4 to $5, sometimes more.
Port forwarding is an optional extra at $0.99 a month, or you can add a dedicated IP with port forwarding for $3.49.
There's even DDoS protection, handy for gamers. Okay, it's an extra $3.99 a month, but most providers don't offer it at all.
If you're intrigued, there's a sort-of 7-day trial. You have to pay upfront, but only $1, and if you cancel the account before the week is up, you get that dollar back.
There's support for paying via cryptocurrency if you're looking for maximum anonymity (although cards and PayPal are accepted, too).
If you sign up for a full plan and you're unhappy, there's a 31-day money-back guarantee, with no dubious clauses in the small print to catch you out. If you're unhappy, just send an email and ask for a refund.
Privacy and logging
PureVPN's privacy policy gets off to a good start, with a lengthy list of all the data the service doesn't log: 'We DO NOT keep any record of your browsing activities, connection logs, records of the VPN IPs assigned to you, your original IPs, your connection time, the history of your browsing, the sites you visited, your outgoing traffic, the content or data you accessed, or the DNS queries generated by you.'
The policy also explains that there is some session logging: the day you connected to a specific location, your ISP, the connection length, how many connections you made, and the overall total bandwidth used. But this can't tie your account to a specific internet action, and it's unlikely to compromise your privacy.
The policy goes on to explain that PureVPN employs 'a few tools' in its apps to 'conduct VPN diagnostics and monitor crash reports.'
This kind of crash reporting isn't uncommon, but we expect it to be optional, and that's not the case here. There's no 'Send crash data?' option in Settings – PureVPN sends it regardless (and if you don't read the privacy policy, you'd never even know this was happening).
No logging audit
In 2020 PureVPN announced it had passed a no logging audit by KPMG, which concluded that the service doesn't log a user's origin IP address, a user's assigned VPN IP, the specific time when a user connects to a VPN server, or log a user's activities through its VPN connection.
PureVPN also says it opted for an 'always-on' audit policy, which means KPMG can 'initiate a non-scheduled privacy audit at any time of the year, without any prior notice.' Sure enough, in August 2021, the company reported it had passed a second no logging audit.
These checks appear to be thorough, with PureVPN saying they involve 'the inspection of our complex infrastructure, server configurations, codebase, technical data logs, and global servers', along with 'interviews of our personnel who are involved in server maintenance and database handling.'
The reports haven't been made public, so you can't check out the details for yourself. And they're only attempting to verify the main no logging policy – they don't look for privacy issues in general.
Still, we're not complaining: even with these limitations, there's vastly more reassurance here than you'll get with most VPNs. Hopefully PureVPN will continue with regular audits, and make the full reports available, not just a sentence or two.
Windows app
PureVPN's Windows app interface is plain and very simple, in fact mostly just white space. A status panel displays the recommended location, and tapping on the location list displays more. There's a big On/Off button to connect and disconnect, and some tiny sidebar icons for other app areas (Settings, Help, Account).
The location picker is better than most, with a Recent Locations list, a Favorites system, and a searchable list of countries with ping times to help you spot the fastest.
Clicking an arrow to the right of a country expands it to list any cities. That's a familiar idea, but most VPN apps only display that kind of 'expand me' indicator when a country has multiple locations. PureVPN does it for all countries, so we regularly wasted time expanding a list, only to find it included just one city.
The app displays your current upload and download speeds in a status area. We noticed this worked with WireGuard and IKEv2, but not when we switched to OpenVPN – the speeds were always displayed as zero with the latter. The figures don't matter, but the possibility that the developer 'forgot' to finish this, and PureVPN didn't notice, is more of a worry.
WireGuard connection times were reasonable at 2-4 seconds. OpenVPN could take much longer, sometimes hanging for 30 second or more, and although there's a Cancel button, it didn't always work ('Can't cancel', a tooltip warned, 'critical operation in progress').
After eventually canceling one OpenVPN connection attempt, the app told us we were connected, even though the device was still using its regular internet connection. This only happened once, but it still tells us there's a theoretical possibility that the app could show you as protected, when you're actually not, and that has to be a concern.
The app has relatively few settings. A kill switch blocks your internet connection if the VPN drops, plus there's a choice of WireGuard, IKEv2 and OpenVPN TCP/UDP protocols, and split tunneling allows you to choose which apps use the VPN, and which don't.
Our kill switch test gave mixed results. It worked just fine with OpenVPN and WireGuard, blocking our internet access as soon as the VPN dropped. But it had no effect at all on IKEv2 connections, and our traffic was exposed until the app noticed the problem and reconnected (typically in just a few seconds, fortunately).
A Help button includes a limited and poorly presented FAQ. This has only nine items, answers are basic and outdated (a 'slow speed' answer doesn't list WireGuard as a protocol), and although some of the content can scroll off the bottom of the page, there's no scroll bar to easily bring it back into view.
Fortunately, if the 30 seconds you spend reading the FAQ doesn't tell you anything useful, you can open a browser at PureVPN's live chat page, or submit a ticket from within the app.
Mac app
PureVPN's Mac app has a similar layout to the Windows version, but there are various small differences in how the clients work, which could be annoying if you need to use both.
The Mac sidebar has text names for each panel, for instance; the Windows just has icons. The Mac location list displays a 'P2P' icon next to every torrent-friendly server; the Windows app has a separate P2P filter.
The Mac app displays the total data uploaded and downloaded in the current session; the Windows app displays the current upload and download speeds. And that's just the start.
Still, this is a decent Mac VPN app. It's straightforward to use, connected quickly for us, and has WireGuard support and a kill switch. Sure, it's different to Windows in some areas, but if you only ever use a Mac, you may not care.
Other providers usually take more care to unify their app design across platforms, and their Mac apps can be as (or even more) powerful than their Windows cousins.
Mobile apps
PureVPN's Android app opens with little more than a Connect button, the current location and a menu icon. If that's all you need, then simply tap to launch the VPN and get protected, tap again when you're done, and there's little else to learn.
If you're more demanding, the app location list gives you access to PureVPN's other servers, and Recent and Favorites lists make it easy to find and reconnect to your most common choices.
Worthwhile settings include wide protocol support (WireGuard, OpenVPN, IKEv2), split tunneling, and integration with Android's 'always on' kill switch.
The iOS app looks a little different, with an always-visible left-hand sidebar rather than Android's single menu icon. The location list and basic app operations are much the same, though, and protocol support is similar: WireGuard, OpenVPN, IKEv2 and IPSec.
Although the app mostly worked well, we noticed one annoying issue. Tapping the sidebar option 'Set up on other devices' should display a list of other platforms, but the app hung, leaving us looking at a spinning icon, for over 10 minutes. There's no cancel option, and tapping anywhere else made no difference. We had to close and restart the app for it to become usable (but this problem reoccurred later on when we hit 'Set up on other devices' again).
Both Android and iOS allow you to raise tickets or open live chat from within the app. There are some built-in FAQs, too, although these aren't much use. The iOS FAQ includes 'How can I activate split tunneling?' for instance, but the answer is essentially 'with the tap of a finger once it's available for iOS, but it's not currently there, and we'll let you know if that changes.'
As on the desktop, there are some unexpected differences between platforms. Take the location list. The iOS app can sort locations by ping time; the Android app can't. The Android app displays icons highlighting P2P-friendly and virtual locations (servers not in the country specified); the iOS app doesn't. If you don't use both, you won't care; even if you do use both, you'll figure it out quickly enough. But life would be easier still if the mobile apps were designed to have a more uniform look and feel.
The apps also have their advantages. A Shortcuts feature acts like a Favorites system which can launch an app or website at a particular location, for instance. Add a BBC iPlayer shortcut with the URL 'https://www.bbc.co.uk/iplayer' and the UK location, and it'll appear at the top of the location list. One tap gets you connected to the VPN and opens your browser at the iPlayer site.
'VPN on Demand', a surprise iOS extra, can automatically connect when you enter certain domains in your browser, saving you even more time.
Overall, these are very useable apps, easy to operate, which more than cover the VPN basics, and have decent ratings on their respective app stores (4.0 for Android, 4.2 for iOS).
The top providers usually do a better job of making their mobile apps look and feel the same, though, and PureVPN's offerings can't quite match the best of the competition.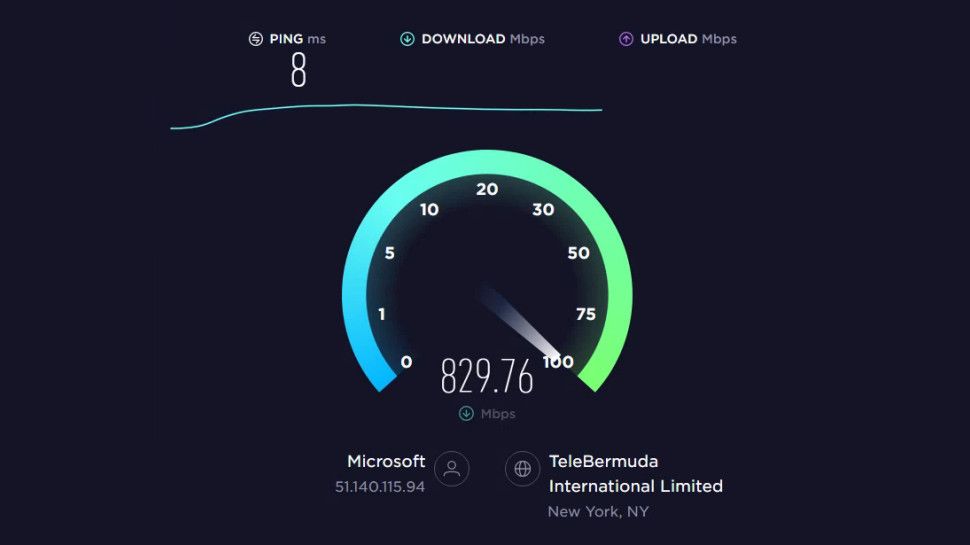 Performance
We measured PureVPN speeds from US and UK locations, using several performance testing sites and services (SpeedTest's website and command line app, TestMy.net, Netflix's Fast.com and more). We checked the download speeds at least five times from each site, then checked again using another protocol, before repeating this all over again in an evening session.
OpenVPN speeds were below-par at 110-120Mbps, but PureVPN's WireGuard connections delivered a capable 630-640Mbps.
We switched to another UK location, this time connecting via a Three 5G broadband router. With PureVPN off, speeds averaged 200Mbps; after turning on PureVPN, speeds were still very reasonable at 150Mbps.
A peak of 640Mbps isn't enough to get PureVPN into our top 10 fastest VPNs (Surfshark and TorGuard both beat 950Mbps in their most recent tests), but it's speedy enough for most devices and internet connections, and outperformed Private Internet Access (510Mbps), ProtonVPN (510Mbps) and Hotspot Shield (375Mbps).
Keep in mind that although we take more than 100 speed measurements of each VPN, you may see very different results depending on your location and setup, so it's worth taking the 7-day trial and running a few speed tests of your own.
Netflix and streaming
Most VPNs claim they let you access geoblocked content from anywhere in the world, and PureVPN is no exception. 'Movies, TV shows or sporting events; PureVPN allows you instant and unrestricted access to your favorite content', the website claims.
The apps don't have specialist streaming locations, so you're left to choose a server in the country you need, connect, and see if your streaming service is accessible.
This worked just fine with Netflix, where PureVPN didn't just allow us to stream US Netflix content – it worked in Australia, Canada, Japan and the UK, too.
Accessing other US platforms was easy, and PureVPN unblocked both Amazon Prime Video and Disney Plus.
The success continued in Australia, as we freely browsed 9Now and 10 play. And the perfect run continued with our final UK tests, with PureVPN unblocking BBC iPlayer, ITV and Channel 4.
That's a great result, and puts PureVPN right up there with the best VPNs for unblocking (ExpressVPN, Hide.me, NordVPN, and Surfshark also unblocked 100% of our test platforms).
Support
Get past the initial hassles and PureVPN has a large support site with a huge number of tutorials and troubleshooting guides. The opening page points you to categories like Setup Guides, Troubleshoot, FAQ, and Account and Billing, for instance, and most of these sections include more content than you'd expect.
The Setup Guide has subsections for 15 platforms, for instance (yes, really), and even some of those individual sections have more content than the entire support site of lesser VPNs.
There's a lot of information here, and some unusual and welcome touches. You don't have to bookmark a particular tutorial to view it later in your browser, for instance – in many cases you can download a PDF for more convenient offline reading.
A Search box should help you find the articles you need, at least in theory. We typed a keyword, pressed Enter, and the site displayed an 'Error 404 - Page Not Found' message. The same thing happened with another keyword, then another.
We eventually figured out the problem. The site expects you to type a keyword and wait a few seconds for a dropdown list of matches. If you choose an option from this, the page appears; if you press Enter before the list appears – maybe you're new to the site, and don't even realize there is a list – you get the error. Easy when you know, but still a clumsy issue we don't recall seeing anywhere else.
Even when we did find suitable tutorials, the content often covered the basics only. There was usually enough information to get by, but we noticed occasional typos, a broken link, and some incorrect details (an explanation of how to use Sort By Ping on Android, an option which didn't exist on our app). The system is not as polished or in-depth as we see with ExpressVPN, NordVPN and the best of the competition.
If the website can't help, you're able to raise a support ticket from within the client. Our test question got a basic but accurate reply in around 30 minutes.
Alternatively, you can use live chat on the website. As we mentioned above, responses can be very basic, even with simple queries. PureVPN couldn't get close to the level of support we'd received from top competitors like ExpressVPN, then, but response times were good, and most replies were enough to solve our immediate issues.
PureVPN review: Final verdict
PureVPN excels at unblocking, has lots of features (and is very busy adding more), and is good value on the longer-term plans. But the kill switch and the range of app usability and other issues prevent this service from competing with the very best VPNs.