Buying a VPN? Here are 8 things to look for
Features
Contributions from
last updated
From privacy levels to pricing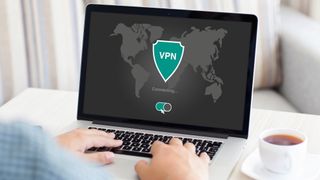 Choosing the best VPN is like shopping for any other service: you've got to weigh up the features on offer – and the ones you're likely to use – against the price of the subscription.
While on the face of it this is no different from pricing and selecting any other subscription product, what makes things more challenging in terms of VPNs is the number of different features – and the fact that if you're just starting out, you may not even be sure exactly what you should be looking for.
Also, it doesn't help that many VPN websites run with very flashy designs, but are often short on the details of the spec and service. By spelling everything out in simple terms, we'll point you in the right direction in terms of getting the best VPN for your needs at an affordable price (or, indeed, the best free VPN when browsing on a budget). As you read through these, it's helpful to have an idea of why you want to use a VPN.
1. Number of servers
Wonder how does a VPN works? A VPN works by creating an encrypted data tunnel between the user and the VPN provider's server. While we think about the VPN as having a single VPN server, the reality is that any VPN will need to have many servers to handle all of this traffic, and to allow many users to connect.
Better VPN services will state how many servers they have. For example, NordVPN says that it has just over 5,500 servers.
In theory, a larger number of servers means that the user should get more bandwidth and therefore faster speeds when connected to the VPN. More servers can mean that there's a greater chance your VPN provider has a server closer to you, which will improved your connection speeds when using their network.
This said, you can't take a provider's claim to have X-thousand servers at face value : if they are renting server space from data hosting companies, then these servers might be physically only in a few locations, even if they offer different IP addresses.
You may not have a problem with this, if you simply want to change your 'geo-location' and IP address with a VPN in order to access services in another country like Netflix USA.
However, if you care about your privacy, remember that by using another provider's servers, your VPN service is trusting them with your data. Make sure you know exactly what you're signing up for by checking the provider's support pages.
2. Location of servers
You've more than likely heard the phrase 'location, location, location' when it comes to real estate, which hammers home the importance of the area in which you buy a house. Well, the location of your VPN server is equally important when it comes to your internet connection.
On the one hand, as you've learned, having a VPN server located nearby can be advantageous for a no-lag, responsive connection, which is very useful when using the best gaming VPNs for activities like online gaming.
Placing a VPN server in another country also lets you access certain "geo-blocked" services, which are restricted or banned in your home country like Netflix or YouTube.
Once again though you must be careful to find out where the servers are actually located. A 'virtual' server with an IP address, say in Canada might actually be running on a physical server based in Hong Kong. This means you won't necessarily get the best speeds out of it.
If the server's physically located in a country with strict Internet censorship, it can also be seized or monitored.
Ideally your VPN provider would have their own physical, dedicated servers for every connection. Since we live in the real world, try at least to find a provider who uses either dedicated or bare metal servers to store sensitive customer information. For instance, ProtonVPN does this for its core servers but uses trusted third-party hosting providers for other VPN servers.
3. Data caps
Internet usage is all based on the transmitting and receiving of data. While many ISPs still have unlimited data plans, it is not so simple when looking at a VPN service. Some VPN plans offer a free tier and a paid tier.
Of those that offer a free plan, the major restriction is that it offers a limited amount of data for the month, in the hope that the user will try the service out, use up the data in less than a month, and therefore decide to make the move to become a paid subscriber.
One VPN, Windscribe, takes this approach with its free tier, but offers a generous 10GB of data for each month – far more than some rivals which might only give you 1GB (or even less).
If you're using the VPN for privacy reasons, remember that the only way that your provider can impose a limit on what you download is if they inspect the data packets moving over your VPN connection. They may not necessarily log more than the number of packets passing through but it's open to abuse.
This is why we don't recommend using "free" VPN providers, as many of them sell customers' data to pay for running costs. There've even been cases of 'free' mobile phone VPN apps containing spyware.
If you sign up with a major paid provider who has a download limit, make sure to check their privacy policy (see below) carefully to see exactly how they monitor your download rate and what they do with that information.
4. Number of connected devices
Once users understand the benefits of a VPN, they generally want to connect multiple devices to it simultaneously. But almost all VPN services have a cap on the amount of devices (PCs, phones or tablets) you can connect, which in some cases is dependent on the exact plan (tier) you subscribe to.
For example, Trust.Zone offers a lower tier that has unlimited data, but limits the user to three simultaneously connected devices. Most VPNs allow up to five connections, but a few – for example Windscribe's paid plan – have no set limits at all.
If you're happy with your VPN provider's other features but have more than the allowed number of devices, check if you can connect via OpenVPN. If you can, then you may be able to establish a connection to your VPN from any of the best VPN routers, provided your hardware supports it.
If properly set up, any device connecting to your router via WiFi will also be using the VPN : as the router only counts as one device, you can connect as many devices as you want to the router without going over your limit.
5. Support for additional devices
Just about every VPN will support a Windows PC with native software, and most major providers also have native clients for Mac, iOS and Android devices. These days, though, we use more devices than ever, and some VPNs facilitate set up on a router to get the service across your entire home network (and all the hardware connected to it).
As well as routers, some providers support Linux, and indeed offer browser extensions for the likes of Chrome and Firefox. Remember that if you choose to install a browser extension offered by your VPN provider, you'll only be using the service whilst using that browser.
For instance, if you were to open up a separate app to download files via P2P, this would still be detected by anyone with access to your ISP's records.
In our test we also discovered that not all browser extensions protect you from DNS leak. This is why we recommend using your provider's 'client' software where possible, so all your traffic is properly encrypted.
VyprVPN has a particularly expansive list of supported devices, including less popular devices such as the Blackphone, QNAP NAS (network attached storage), Anonabox and Boxee box.
So when picking a VPN, be sure to examine the list of devices it supports, and ensure that your requirements in this department are met.
If your VPN provider doesn't offer software for your chosen device, first check if you can just connect to the service via your router (see above). Failing this, check to see if there's a FOSS (free and open source software) alternative for connection to your VPN service such as OpenVPN Connect. As the code's freely available online, it's likely that someone has compiled a version of it for your chosen device.
6. Privacy and logging considerations
Despite the allure and promise of complete anonymity online, the fact is that all VPN services do log and keep some user data for a certain period of time.
They may also have turn this data over following lawful requests by government authorities, as they have no desire to become a 'partner in crime' with someone who is breaking the law.
Different VPNs have different policies on what data they keep. As the user has an account with them, the VPN service at a minimum has login info and an email address. Some VPN services will keep a log of user activities for a given time period, while other services such as ExpressVPN claim to not keep any logs at all.
If you take your privacy seriously, use a unique, disposable e-mail provider such as Temp Mail to create your VPN account. Your password should also be new and unique. You can use a service like Diceware to do this.
If you don't want to leave your payment information on file, consider also using an anonymous payment method like Bitcoin to use the VPN service.
7. Pricing
Pricing is one of the most significant differences between VPN services, with some providers offering free plans, and others being relatively expensive.
Most reputable VPN providers either offer you a 30-day free trial or allow you to pay for one month upfront with a guaranteed refund if you're not happy with the service. We'd always recommend doing this at first to make sure the provider is living up to their promises.
After this you can keep paying monthly but you'll usually save a lot more by buying a subscription one or two years in advance. Some VPNs even offer lifetime subscriptions, such as KeepSolid VPN Unlimited which will give you access for the rest of your days for the price of $150 (£110) – assuming the company doesn't go out of business, of course. Still, with a longer-term commitment, the general rule is you can make some serious savings.
8. Perfect protocols
A good VPN provider will show clearly on its website which specific VPN protocols it supports.
You should care about this because not all protocols are suitable for every purpose. For instance L2TP/IPsec uses advanced encryption techniques to protect your data but can be fairly easily blocked by firewalls, so isn't ideal for bypassing countries that censor the internet like China.
As you discovered earlier, OpenVPN is a popular protocol, mostly because it's open source and has a good reputation for protecting user's privacy. Still it's not nearly as fast as modern protocols like Wireguard.
Some VPN providers even offer their own protocols such as Express VPN's Lightway. NordVPN also use their own protocol called Nordlynx, which itself is based on Wireguard. In both cases though, using these protocols is optional, as you can use OpenVPN instead.
We can't tell you which one's best overall but can say that if your provider doesn't explain clearly what protocols they support, you shouldn't buy. As a bare minimum though, they should support OpenVPN. The protocol has been around since 2001 and is open source, so is well respected.
Don't be afraid to ask questions about how your provider's software authenticates users and encrypts the connection. A reliable provider will be happy to provide this information, as their entire business model is based on their VPN's security.
Remember the gold standard when it comes to protocols and software is open source : if the code is available for examination by security experts, it's much more likely that bugs will be discovered and fixed.
Are you a pro? Subscribe to our newsletter
Sign up to the TechRadar Pro newsletter to get all the top news, opinion, features and guidance your business needs to succeed!
Jonas P. DeMuro is a freelance reviewer covering wireless networking hardware.