The best VPN router in 2023: top routers for Virtual Private Networks
Best
Contributions from
last updated
Find the best VPN router to secure your connections
VERDICT
REASONS TO BUY
REASONS TO AVOID
Quick Menu
1. Best overall
2. Best ExpressVPN
3. Best gaming
4. Best features
5. Best premium
6. Best general use
7. Best enterprise
8. Best premium gaming
9. How to choose
10. How we test
The best VPN router is a critical tool for safeguarding your internet connection and activities in our modern digital age.
Rather than having to manage the standalone virtual private network (VPN) apps on your home network, by installing a VPN directly on the router, the best VPN routers ensure that all devices connected to your network benefit from enhanced privacy and security by default.
Many individuals already utilize some of the best VPN options on the market as part of their online security arsenal, as these services are effective in masking user credentials and location. While the top premium offerings like the best business VPN offer robust protection, even the best free VPN can provide an important layer of security for a home network (albeit with some limitations), and installing one on a VPN router can secure your network even more.
To help you select the best VPN router, we've conducted thorough testing and comparisons. Our review process includes evaluating aspects such as design, connectivity, speed, coverage, and additional features like parental controls. We also scrutinize functionality, firmware quality, and the level of support provided by VPN providers.
Whether you already have the best WiFi router, best mesh WiFi system, or the best secure router without a VPN, anyone can benefit from the best VPN router, and this guide aims to provide comprehensive insights to assist you determining whether you need one, and helps your find the right VPN router for your needs and budget if you do.
The best VPN router in 2023
Why you can trust TechRadar We spend hours testing every product or service we review, so you can be sure you're buying the best. Find out more about how we test.
Below you'll find full write-ups for each of the entries on our best VPN router list. We've tested each one extensively, so you can be sure that our recommendations can be trusted.
The best VPN router overall
Best VPN router overall
Specifications
Connectivity:
1x Gigabit WAN, 4x Gigabit Ethernet, 1x USB 3.1
Features:
Router app, MU-MIMO, Traffic Analyzer, Adaptive QoS, AiProtection Pro, Parental Control
Reasons to buy
+
Strong Wi-Fi 6 performance
+
Simple set-up
+
Good parental controls
Wi-Fi 6 is the cutting-edge technology in networking, with powerful features delivering faster speeds, greater coverage, and the ability to handle even more simultaneous connections. That often means it's expensive, but not here: with the Asus RT-AX58U, you get all the core Wi-Fi 6 functionality and performance for an absolute bargain of a price.
Compare it to the high-end Wi-Fi 6 competition and it doesn't match up everywhere. It's dual, not tri-band. The CPU is triple, rather than quad-core. There's no 2.5Gbps port, and you 'only' get one USB connection. But while this might be a problem for demanding users, the reality is there's more than enough power here for many homes.
That's especially true when it comes to VPNs. There's built-in support for connecting the Asus RT-AX58U to a VPN provider; a built-in VPN server enables securely connecting to your home network while you're on the move; and the comprehensive dashboard gives you many ways to customize the router to suit your exact needs.
Read our full Asus RT-AX58U review.
The best ExpressVPN router
A speedy Wi-Fi 6 router with ExpressVPN built in
Specifications
Speed:
Up to 1,200Mbps (180 Mbps via VPN for multiple simultaneous connections)
Connectivity:
4x Gigabit Ethernet, 1x USB 3.0 (currently unused)
Features:
1.2 GHz 64-bit Quad-Core CPU, 512 MB RAM, 128 MB flash storage, ExpressVPN pre-installed
Reasons to buy
+
Quick and easy setup
+
Speedy Wi-Fi 6-powered performance
+
Connect up to five locations simultaneously
Reasons to avoid
-
VPN features work with ExpressVPN only
Most VPN routers offer a lot of power and flexibility, but can take a while and some technical knowledge to set up. If you're in a hurry, or just prefer an easier life, ExpressVPN's Aircove is refreshingly different: you'll probably have it up and running in under ten minutes, even if you've no VPN expertise at all.
You will need a separate ExpressVPN subscription to connect, but once that's set up, Aircove's well-designed, jargon-free dashboard ensures it's even easier to operate than most VPN apps.
There are welcome bonus features, too. Aircove's groups enable connecting up to five locations simultaneously, for instance, so some devices can use your fastest local server, while your TV connects to your favorite streaming location, and a laptop uses the best server for your work.
Although Aircove excels on the VPN front, there's plenty to like about it as a router, too. Wi-Fi 6 support gives you potential speeds of up to 1,200Mbps, a 1.2 GHz 64-bit Quad-Core CPU has the power to handle dozens of simultaneous connections, there are four gigabit Ethernet ports for nearby devices, and a decent 1,600 square feet coverage to help you reach everything else.
Read our full ExpressVPN Aircove review.
The best VPN router for gaming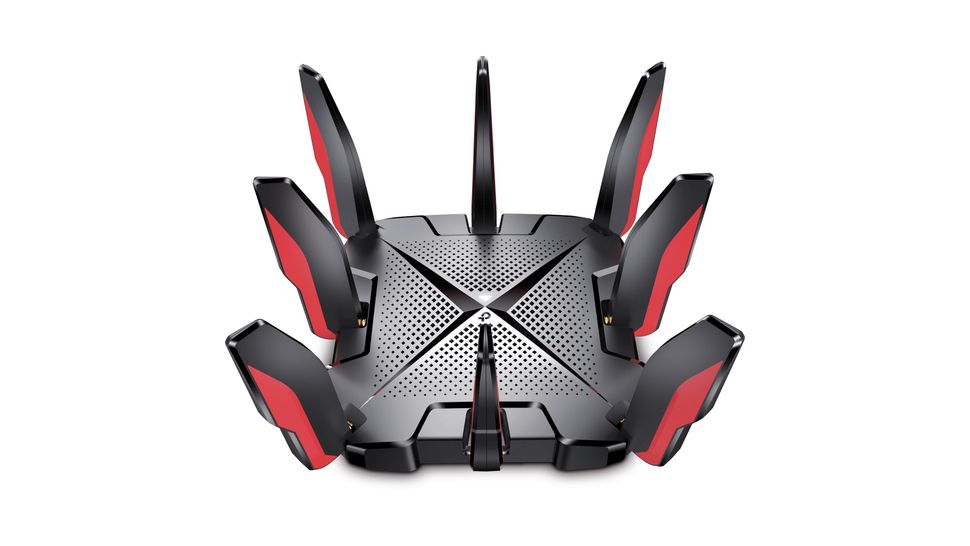 High-speed gaming power (and quality VPN features, too)
Specifications
Speed:
IEEE 802.11ax/ac/n/a 5 GHz, IEEE 802.11ax/n/b/g 2.4 GHz
Connectivity:
1× 2.5 Gbps WAN/LAN, 1× Gigabit WAN/LAN, 3× Gigabit LAN, 1× USB 3.0, 1× USB 2.0
Features:
4.8 Gbps Game Band, Game Accelerator, MU-MIMO
Reasons to buy
+
High-end gaming performance
+
Set up a VPN without changing firmware
+
Built-in VPN server
If the TP-Link Archer GX90's bulk, eight pointy antennas eye-catching black/ red color scheme makes you think this isn't for office users, you'd be right: it's a high-end, high-performance gaming router which comes absolutely stuffed with advanced features and technologies.
We're not just talking Wi-Fi 6, tri-band speeds, for instance. The GX90 can set up a dedicated Gaming Band network with 4.8Gbps speeds all on its own. Connectivity options include 2.5Gbps Ethernet and a couple of USB ports (there are 3x regular Gigabit ports, too), and you can set it up as a mesh network with other TP-Link routers.
On the VPN front, there's no need to use new firmware, because the TP-Link Archer GX90 has built-in support for connecting to VPN providers via OpenVPN, L2TP or PPTP. Need more? No problem: the GX90 also has a built-in VPN server, allowing you to securely access your home network from anywhere in the world.
Read our full TP-Link Archer GX90 review.
The best feature-packed VPN router
A robust VPN router with performance as loud its design
Specifications
Speed:
802.11ac 1734 Mbps down
Connectivity:
5 x Gigabit LAN, 1 x USB 2.0, 1 x USB 3.0
Features:
MU-MIMO, Traffic Analyzer, Adaptive QoS WTFast Gamers Private Network
Reasons to buy
+
Extensive firmware
+
Great speed and coverage
Reasons to avoid
-
Complex firmware
-
Divisive looks
Most routers look dull in the extreme, but the Asus RT-AC86U angled surfaces and red slashes give it just a little more visual appeal. The case has some issues on the ergonomics front - it has to stand up, there's no wall mounting option - but unusual pluses include buttons to handle tasks buried in the firmware (disable the radios, turn off the lights.)
There's plenty to like about what's inside that casing, too. The CPU is 'only' dual core but it's a 1.8GHz model; there are four Gigabit lan ports, and two USB; MU-MIMO technology supports theoretical transfer speed of up to 2,900Mbps, and Asus' 5GHz Quad-Stream system optimizes traffic but the best gaming and streaming performance.
Browse through the comprehensive dashboard and you'll find an array of other options, including the ability to run the router as a VPN client or server. Need more power? No problem, you can install third-party firmware for even great control.
The Asus RT-AC86U may not have quite the leading-edge technologies of other routers in this list, but it's less than half the price of some, yet still offers enough power for many users, and that seems like a great deal to us.
Read our full Asus RT-AC86U review.
The best premium VPN router
A do-everything VPN router for high-end home and business users
Specifications
Speed:
Tri-band Wi-Fi; up to 6600 Mbps
Connectivity:
2.5Gb WAN/LAN, 3x Gigabit Ethernet LAN/WAN; 1x USB 3.2 Gen 1
Features:
Wi-Fi 6, 5.9GHz support, tri-band, VPN client, network segmentation, parental controls
Reasons to buy
+
Many advanced network features
+
Works as a VPN client and server
Reasons to avoid
-
Overkill for basic home Wi-Fi requirements
The Synology RT6600ax may look like another bland, boring, identikit router, but beneath that boxy casing is an exceptional product for business, gaming and other demanding users.
You're after speed, say? Tri-band Wi-Fi delivers up to 6,600Mbps, and our real-world tests revealed excellent performance. Configurability? The router can operate multiple Wi-Fi networks, each with their own custom settings and rules. Security? There's a comprehensive firewall, exceptional content filtering, optional threat and intrusion detection, and a whole lot more.
It's a similar story with the VPN features. Sure, you can set it up to connect to most of the big providers, but that's just the start. There's also a VPN server which gives you remote access to your network, and the SMB-friendly ability to remotely operate PCs and servers.
If your VPN needs are simple, just a little Netflix unblocking occasionally, the Synology RT6600ax is overkill in the extreme. But if you're a power user, an SMB, anyone with more complex requirements, this router offers a phenomenal set of features for a bargain price.
Read our full Synology RT6600ax review.
The best general purpose VPN router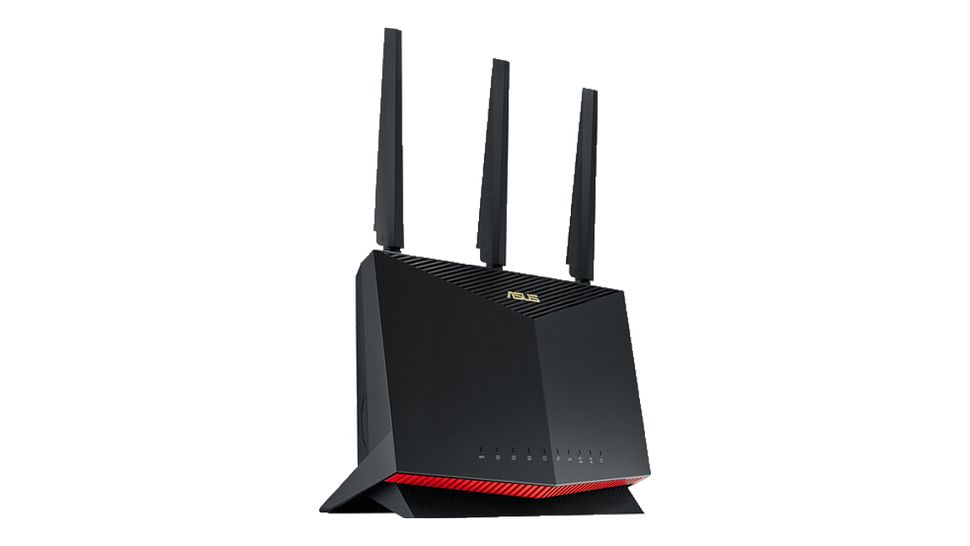 An impressive all-round VPN router
Specifications
Speed:
802.11ax up to 5700 Mbps down
Connectivity:
4 x Gigabit LAN, Gigabit Wan, 2.5G Wan, 2x USB 3.2
Features:
MU-MIMO, Traffic Analyzer, Adaptive QoS, Parental Control, NVIDIA Geforce Now Cloud Gaming Optimization
Reasons to buy
+
Fast Wi-Fi 6 performance
+
Gaming-focused
+
Security features
The Asus RT-AX86U isn't the cheapest router around, but it's good value for what you're getting: Wi-Fi 6 performance, a 2.5Gbps wired port, two USB 3.2 ports, and gaming optimization for GeForce Now to keep your connection running smoothly.
Setup is relatively easy, with a browser-based dashboard offering the most depth and control, while a simpler app is on hand for Android and iOS.
Surprisingly capable extras include built-in malware protection from Trend Micro, while the extensive parental controls go well beyond what you'll see from most of the competition (and Asus doesn't charge you extra for them, either.)
The router held up well in our tests, delivering above-average speeds in even the most difficult-to-reach corners of the office.
And as with other Asus routers, the excellent interface makes it easy to set up and manage a connection to your preferred VPN.
Read our full Asus RT-AX86U review.
The best enterprise VPN router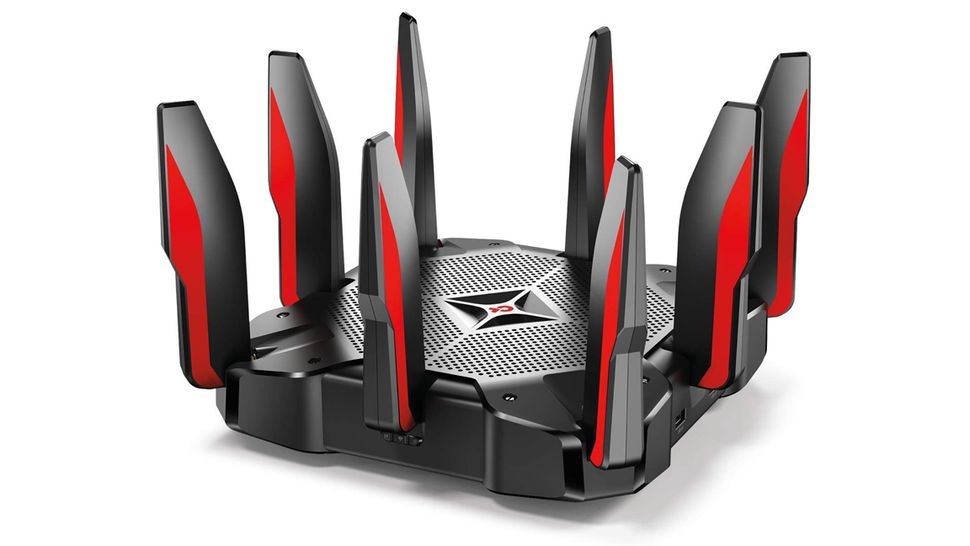 A powerful VPN router for individuals are enterprises
Specifications
Speed:
802.11ac 5GHz down: up to 2,167 Mbps, 2.4GHz down: up to 1,000 Mbps
Connectivity:
4 x LAN, WAN, USB 3.0, USB 2.0
Features:
MU-MIMO, Tri-band Wi-Fi, 8 external antennas, Alexa voice control
Reasons to buy
+
Fast and powerful
+
Alexa and IFTTT support
The TP-Link Archer C5400 v2 has an odd design which somehow manages to look both
distinctive and dull, all at the same time (which although it's not ideal, is quite an achievement, when you think about it.) But if you value functionality over form, don't scroll down just yet, because this router has a great deal to offer.
The eight antennas support four 1,000Mbps streams on the 2.4Ghz band, for instance, while the two 5Ghz channels also have four streams running up to 2,167Mbps. Although the four gigabit Ethernet ports can't handle that kind of bandwidth, TP-Link's support for link aggregation means (if your laptop or NAS supports it) you can use two Ethernet ports as if they were one, doubling throughput: very impressive.
This level of enterprise power normally comes with a degree of complexity, but the TP-Link Archer C5400 v2 does a lot to keep its functions accessible to regular consumers. An app and some very clear setup instructions walk you through the first steps, and TP-Link's Router Skill even allows you to carry out common tasks via simple Alexa commands.
Read our full TP-Link Archer C5400 review.
The best premium VPN router for gaming
An excellent VPN router for gamers
Specifications
Connectivity:
: 1 x Gigabit WAN, 4 x Gigabit LAN, 1 x USB 3.0, 1 x eSATA/USB 2.0
Features:
: Killer Prioritization Engine, Customized Firmware, 1.8GHZ Dual-Core CPU, MU-MIMO
Reasons to buy
+
Great Wi-Fi speed
+
Easy to use firmware
The Linksys WRT32X is an impressive gaming-focused router with a smart prioritization engine which automatically optimizes your gaming traffic, cutting latency and boosting performance.
The hardware is a little more ordinary: dual-band, a dual-core CPU, four gigabit ports, one USB 3.0 port, and one mildly surprising extra in an eSATA USB 2.0 port (handy for a network-attached storage device.)
The firmware is a definite plus, crammed with handy performance tweaks and essential settings. They're well-presented, too, and far easier to access than you'll see with many more business-oriented routers.
But if VPN functionality is top of your priority list, the good news is that you can install open-source firmware to give you extra functionality and connect to most of the best providers. Many VPNs have tutorials to explain exactly what's involved. As an example, check out ExpressVPN's guide here.
Read our full Linksys WRT32X Gaming Router review.
How to choose the best VPN router
When selecting the best VPN router for yourself, start with checking the router's installation process. If you're not familiar with routers, then a simple and swift setup process will be apt for you.
You'll want to consider how many bands the router supports. If you have a mixture of old devices and new ones at your home or office, then it'll help to have multiple bands that cover 2.4Ghz and 5Ghz. This will distribute the internet traffic and ensure faster online speeds for all devices.
Make sure to evaluate the router's speed and connectivity options, along with additional features like parental controls, gaming optimization, and voice control.
Lastly, you'll want to consider the router's design, coverage, and pricing.
How we test the best VPN router
When testing the best VPN routers, we first looked at their design, ease of setup, and connectivity ports. We checked their performance in terms of speed, range, and strength of coverage.
We used Ookla to test the speeds with a file download, and we also tested it against our everyday network usage to give you an idea of its real-world performance.
We checked the routers' additional features, like parental controls, voice control, and the option to install software other than the default one that the router ships with.
We also considered what type of users the routers would be best suited for, and their pricing.
Today's best deals
Are you a pro? Subscribe to our newsletter
Sign up to the TechRadar Pro newsletter to get all the top news, opinion, features and guidance your business needs to succeed!