US-based IPVanish is an appealing VPN provider with a long list of features, including several that you won't often see elsewhere.
IPVanish has a decent-sized network with 40,000+ shared IPs, and 2,000+ servers in 75+ locations.
Some VPNs give you more, but as the company's website explains, IPVanish is 'the world's only Top Tier VPN service provider'. The firm owns and manages its servers rather than renting other people's hardware, giving it far more control over how the network and servers are set up and run.
IPVanish says all servers are P2P-friendly, and sure enough, we were able to download torrents from all five of our test locations.
A wide range of apps covers Windows, Mac, Android, iOS, even Amazon Fire TV, and IPVanish further provides a host of setup guides for routers, Linux, Chromebooks and other platforms.
Feel free to install, configure and set up as many devices as you like – IPVanish has no fixed limits on the number of simultaneous connections you can make. We guess the company might get in touch if you reach 20 and are still going, but that's still a major improvement on the 5 device limit you'll get with many providers.
Protocol support includes the turbocharged WireGuard, OpenVPN and IKEv2. (It's good to see IPVanish has dropped the older and less secure protocols, especially PPTP).
The company has been busy since our last review, and changes since then include new interfaces for the Android, iOS and Windows apps (a Mac update is on the way), a Favorites system for easier connections, easier navigation, privacy tweaks, improved localization (there's now support for English, Spanish, German, Dutch and French) and the ability to contact support direct from the app.
If you need help without waiting it's good to know that 24/7 live chat is available, but even here, IPVanish delivers a little more than we expected. There's 7-day a week phone support (9am – 5pm CT, that's UTC -6), with numbers in the US, UK, Australia, Mexico, Spain and Brazil.
IPVanish pricing
IPVanish pricing for its VPN service starts with monthly billing at $10.99.
A new quarterly plan is only $4.44 a month for the first term, though it doubles to an expensive looking $10 on renewal (TorGuard and TunnelBear ask that for monthly billing).
The annual plan looks good value at $3.33 a month, especially as it also includes VIPRE Advanced Security. But beware, as with the quarterly plan, this is a special introductory deal. Prices jump to $7.50 on renewal.
If you're only looking for the VPN, opting for another provider could cut your costs significantly. Private Internet Access has a 3-year plan that costs just $2.03 for the first 39 months (there's 3 months free), an upfront payment of $79. IPVanish asks $39.99 for year one, $89.99 for years two and three; a total of $220.
IPVanish looks like a much better deal if you'll use the bundled VIPRE Advanced Security. It's a capable security suite which includes antivirus, ransomware protection and a firewall, covers up to 10 devices, and is normally priced at $29 in year one, then $100 a year all on its own.
Beware, though: the package only protects Windows and Mac devices. You'll get better protection, and iOS plus Android support, from providers such as Norton or Bitdefender.
If you decide to sign up, IPVanish accepts payments via card and PayPal, but there's no Bitcoin support.
IPVanish offers a 30-day money-back guarantee, but be sure to check the small print: it's for yearly plans only. Monthly-billed plans aren't eligible.
Privacy
Most IPVanish apps come with a range of privacy-protecting tools. The Windows build includes a kill switch, DNS and even IPv6 leak protection to reduce the chance that your traffic or identity might be exposed online.
Privacy pluses elsewhere include the iOS app's ability to automatically connect when you access public Wi-Fi networks, but ignore others which you feel are safe (home, work, whatever they might be). You can then mostly leave the VPN to turn itself on and off as required, maintaining your privacy at all times.
To confirm that the service really does preserve your anonymity, we used IPLeak, DNS leak test and a number of other leak-detecting sites. None of the tests revealed any issues, with the apps always shielding our identity and traffic.
Logging
IPVanish's privacy policy begins with a clear and reassuring statement: 'IPVanish is a zero-logs VPN service provider, which means that we do not keep a record of any connection, traffic, or activity data in regards to our Services.'
The document lists the data IPVanish collects via the website, its registration and payment procedures. There's nothing harmful or out of the ordinary, and we only saw the details we expected: cookies, website analytics, email address and so on.
IPVanish doesn't just have reassuring words, either. In April 2022 it backed them up with a blog post announcing that Leviathan Security Group had 'audited our technology and independently verified that our no-log VPN service complies with our Privacy Policy. '
The audit was unusually detailed, and included interviews with staff, a range of technical tests, and examination of a production server, documentation, system configurations and more. (The full report is linked from IPVanish blog post, if you're interested.)
It's great to see a provider with the courage to put itself through this level of scrutiny, and we hope it'll encourage other providers to do the same.
We still have one minor but long-standing IPVanish privacy issue. Like many providers, the apps collect and send back anonymous usage data. There's no reason to believe this contains anything harmful, but our concern is that IPVanish has previously done this by default, and without explaining it to users. (We much prefer ExpressVPN's approach, where the apps don't send this data at all unless users specifically allow it).
The good news is this may be changing, at last. The iOS app now opts users out of data collection by default, and it's up to you if you'd like to opt in. That's the most privacy-focused approach, and we hope to see the same change on other platforms soon.
Performance
We measure VPN performance by running several benchmarking services – SpeedTest's website and command line app, SpeedOf.me, nPerf – from both a UK data center and a US residential location (both have 1Gbps connections). We run each benchmark five times with OpenVPN, five times using WireGuard, and we do it all over again several hours later (that's a minimum of 120 tests), then analyze the data to see what's going on.
OpenVPN performance averaged 120Mbps. That's at the bottom end of what we expect – most providers reach 100-400Mbps – but it's still fine for browsing and even the highest resolution streams.
Fortunately, IPVanish apps use WireGuard by default, and switching protocols saw speeds reach a very respectable 620-720Mbps. That's also slower than some (Surfshark and TorGuard recently hit 950Mbps), but significantly faster than others (Private Internet Access and Proton VPN managed 510Mbps), and it should deliver all the performance you need for most online tasks.
Netflix and streaming
IPVanish claims to offer "secure access to all of your favorite streaming sites." That's not always been our experience in previous reviews, but we were keen to see how the service performed this time round.
The VPN provider scored well with US Netflix, getting us access to US-exclusive Netflix content from all three of our test locations.
It was a mixed bag with other libraries: IPVanish unblocked Netflix in the UK and Japan, but failed in Australia and Canada.
The service recovered quickly, getting us into both Amazon Prime Video (good news as it failed in our previous review), and Disney Plus.
IPVanish couldn't quite match that success in Australia, unblocking 9Now but failing with 10 play. But it ended on a high note in the UK, bypassing the VPN defenses for BBC iPlayer, ITV and Channel 4, allowing us to stream whatever we liked.
Nine out of twelve platform tests passed is a decent score, and it could be that IPVanish can access all the platforms you care about. But if not, ExpressVPN, Hide.me, NordVPN, PureVPN and Surfshark all unblocked every one of our test sites in their most recent reviews.
Windows app
IPVanish's revamped Windows app opens with a simple and relatively stripped-back screen. There's no traffic graph, no mention of protocols, no kill switch option, and most of the text has disappeared. Instead there's a world map of IPVanish locations, a Connect button and a sidebar with a handful of icons.
Hit Connect, the app connects you to the nearest server within a few seconds and you're ready to go.
Alternatively, you can pan around the world map and double-click any other location you like. The map works like any other (left-click, hold and drag to pan, or spin the mouse wheel to zoom), and you'll be using it with no issues right away.
The app has an excellent location list, too, crammed with every feature and detail you can imagine. You're able to choose locations by country, city, or even individual servers. Every location displays its ping time and server load, helping you make the best choice. Start typing a city or country name into the search box and the list immediately updates with any hits, or you can use the Favorites system to group commonly-used servers for speedy reconnections later.
Unlike almost all the competition, IPVanish doesn't have a 'Fastest' option on the location list to automatically choose the nearest server. Instead, if you want to connect to your local server, you must click a separate 'Fastest Available' button. It's an odd setup which can be a little confusing.
If you've used a VPN before you'll know that most apps have a single Connect button, and just one glance reveals your protection status. If it displays 'Disconnect', you're protected; 'Connect', you're not. Simple.
Now imagine glancing at the IPVanish app (see the above screenshot). This time you have two buttons, perhaps both set to the 'Fastest Available' location. The leftmost button – perhaps the one you'll see first – could be displaying 'Connect', while the uppermost button is showing 'Disconnect.' Not so simple.
This isn't difficult to figure out – the button top-right is the one that tells you the connection status – and you'll understand the basics within a few moments. But the best interfaces don't require users to figure out their quirks (they don't have quirks in the first place), and we'd like to see IPVanish fix this in the future.
Settings
The Settings box has a decent bunch of options. You can switch protocols between WireGuard, IKEv2, and OpenVPN TCP and UDP (the older and less secure PPTP, L2TP and SSTP have finally been dropped). You're also able to choose an OpenVPN port (1194 or 443). There's both DNS and IPv6 leak protection. You can define which server IPVanish uses when the client starts, repair the IPVanish OpenVPN driver if it's affected by another VPN, and view the OpenVPN logs within the interface to troubleshoot problems.
The client's kill switch isn't enabled by default, so we turned it on and ran a few tests. The results were excellent in every area: whatever tricks we pulled to break the connection, whatever protocol we used, the client warned us immediately with a desktop notification and reconnected if we'd enabled that option in Settings, without ever revealing our real IP.
There is one catch, though – this is the absolute kind of kill switch, where once you've turned it on, you can't access the internet at all unless you're connected to the VPN. This is certainly secure, but it's not always convenient. We prefer the approach taken by most VPNs, where the kill switch kicks in if a VPN connection fails, but close the VPN yourself and you can use the internet as usual.
Mac app
The new-look IPVanish Mac app is on the way, but unfortunately, didn't make it in time for this review.
Although that means we can't provide any definitive views on the upcoming app, looking at the current edition gives us some clues.
Right now the IPVanish Mac app includes all the core features you'd expect, including wide protocol support (WireGuard, OpenVPN, IKEv2, IPSec, L2TP), and a kill switch.
Mac users also get an important feature unavailable on Windows in the ability to automatically connect (or disconnect) when you access untrusted Wi-Fi and Ethernet networks.
We suspect the upcoming Mac release might drop L2TP support, but our guess is that otherwise it'll keep the existing technical features, and maybe add more. We'll update this review with more details once the new app is available.
Android app
The revamped IPVanish Android app opens with its current location highlighted on the stylish new map, and provides a Connect button to speedily get you online.
A navigation bar at the bottom of the screen allows you to switch directly to the Locations, Settings or Help screens.
The mobile apps don't allow you to choose locations from the map, but a tap on the Locations button takes you to a straightforward server list. By default, this shows countries, but you can switch to cities with a tap. There are no latency figures to help you choose, unlike the desktop, but you are able to save your most commonly-used locations as Favorites for easy recall later.
Connection times are fast at around a couple of seconds. The latest app only displays the bare minimum of status information – your new IP address and the time since you connected – but that's enough, and on balance we prefer the simpler look.
If you're not so lucky – maybe it doesn't connect at all – then you're now able to open a live chat support session directly from the Help screen.
The app has more settings and options than most of the competition. There's support for WireGuard, IKEv2 or OpenVPN connections, for instance. You can opt for OpenVPN UDP or TCP connections, optimizing for speed or reliability. There's a wider choice of ports than you'll see with the Windows client (443, 1194 and 8443).
A Scramble option makes it more difficult for networks to detect and block VPN connections. A Split Tunneling feature allows you to select apps you don't want to use IPVanish; great news if some of your apps don't work with VPNs. And although the app doesn't have a kill switch of its own, there is help in setting up the system-level kill switch on Android.
There are some omissions. While the IPVanish Mac and iOS apps (and apps from many other providers) can automatically connect whenever you access an insecure Wi-Fi network, IPVanish doesn't offer that ability on Android. The app more than covers the basics, though, and overall, it works reasonably well.
iOS app
The redesigned IPVanish iOS app looks almost identical to its Android cousin: it sports a straightforward interface, stylish map screen, and you can connect to your nearest server with a tap, or browse for another with the very configurable location list.
The only significant differences are in the Settings pane. There's no OpenVPN support, for instance (although you do get WireGuard, IKEv2 and IPSec), and none of the low-level tweaks Android offers (choice of ports, UDP/TCP or the Scramble feature).
The iOS app has a huge bonus, though, in its On Demand option. By default this protects you by connecting automatically whenever you access an untrusted network. But you can also build allow-lists and deny-lists of networks, so IPVanish knows which connections to protect, and which are safe. You can even compile a list of domains which you'd like IPVanish to automatically protect, so for example you can have the VPN kick in whenever you visit Netflix's website.
The IPVanish iOS app may not have quite as many low-level tweaks as some, but it scores in the areas that matter most: ease of use, a flexible location list, and it is smart enough to know when it should connect (very handy if you forget). Well worth a try.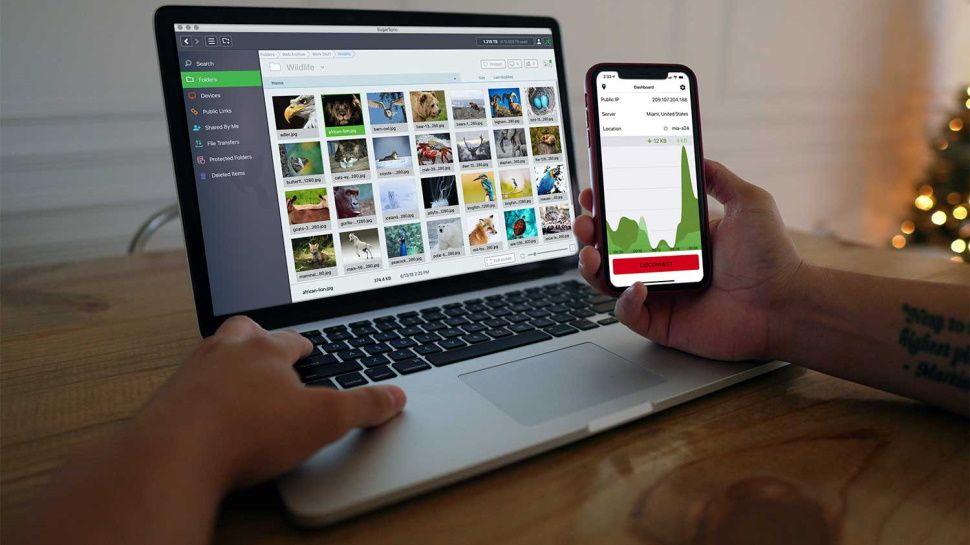 Support
If the VPN isn't working as it should be, the IPVanish Help Center aims to point you in the right direction. A System Status link warns you of any big company-wide problems, support articles are intelligently organized into key categories (Setup, Troubleshooting, Billing, more), and you can search the web knowledgebase for specific keywords.
Although at first it looks like there are lots of articles, many are saying more or less the same thing. IPVanish has 80 troubleshooting 'How to' guides, for instance, but 14 are on 'how to use split tunneling to view…' with different services, platforms, or versions of the app, and 8 are 'how to find diagnostics' on various platforms. The articles you get aren't quite as polished or detailed as you'll typically see with NordVPN or ExpressVPN, and we noticed they didn't all use screenshots from the latest apps, which may be confusing.
Still, there's plenty of useful content to explore. You don't just get one or two generic setup guides, for instance – there are tutorials for Windows, Android, iOS, macOS and Linux, as well as guidance on using the system with Chrome OS and various routers, and related advice for Roku, Chromecast and Kodi.
If you can't find an answer in the knowledgebase, live chat is available on the website.
We posted a test question, asking which of IPVanish's supported protocols we should use. A friendly agent replied within a couple of minutes, got straight to the point (no messing around requesting account details or anything else), asked relevant questions and provided useful and accurate information very quickly.
That's a great performance, and a major improvement on the 'send an email and wait' approach of some other services (although if you're happy to send an email, IPVanish supports that, too).
IPVanish review: Final verdict
IPVanish boasts reliable WireGuard performance, highly configurable apps and speedy live chat support to help keep everything running smoothly. But issues with usability and a scattering of smaller glitches mean IPVanish can't quite match the best VPN providers.