What is QLED? Samsung's quantum dot TV tech explained
Samsung QLED TVs bring drastically improved color and contrast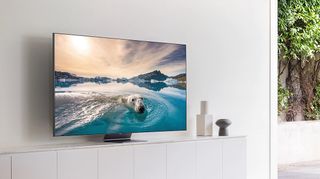 (Image credit: Samsung)
QLED stands for quantum dot light-emitting diode. If you see a new TV with the QLED label, it means it's similar to a regular LED TV, but the main difference is that it has a quantum dot layer built-in. We'll get to what this layer is soon, but the important thing to know is it enhances everything you see on your screen, like the colors and the brightness of images.
Although the QLED layer inside many new TVs is exciting, it isn't a miraculous new kind of TV tech. That means if you're weighing up a few different TV options it's important to be aware we're talking about a difference of degree, rather than kind, from most other TVs you can buy today. A QLED TV isn't necessarily a better TV.
You don't need to learn every TV tech term – there are so many. But QLED is a key one – especially if you're in the market for a new Samsung TV – and you'll come across it again and again in bricks and mortar TV stores, as well as in online retailers, too. In this guide we'll explore QLED TV tech, find out the difference between OLED vs QLED TVs and, importantly, help you to work out whether a QLED TV is right for you.
UPDATE: We're expecting to see a lot of new QLED TVs at the big tech expo CES 2022. So far, Samsung has announced a pack of new TVs, including MicroLED, mini-LED and QLED TV models. Samsung's Neo QLED TV lineup will include a new feature called Shape Adaptive Light Control, which allows the TVs to have better control over blooming and an upgrade to a 14-bit backlight for more luminance points.
QLED in a nutshell
One of the most important points about QLED is it's a panel technology that's used (almost) exclusively for the best Samsung TVs. Confusingly, you will find some TVs with the QLED label from other TV brands like TCL, Hisense and Sharp, but most are sold by Samsung – at least for now.
You'll find this QLED panel tech packed into some of Samsung's latest and greatest 8K TVs, including the Samsung Q800T and the Q950TS. However, most of the QLEDs available on the market today are still 4K TVs.
That's the quick definition of what QLED is and where you can find it. Read on to find out everything else you need to know about QLED technology, including whether this new kind of display tech can truly upgrade your entertainment experience.
What is QLED?
QLED is an acronym that means quantum dot light-emitting diode. This isn't to be confused with OLED, which refers to an organic light-emitting diode, and is a competing display technology that we won't go into detail on here.
But wait, what is a quantum dot light-emitting diode – or QLED – display? And how does it compare to a regular LCD television?
QLED is, for the most part, a Samsung concept that's basically the latest set of enhancements to the same quantum dot technology that the company has been working on for the past few years.
To get technical – and add some confusion – Samsung's range of QLED TVs are not QLED at all. Well, at least not in the way that we understand the term. A 'proper' quantum light-emitting diode element emits its own light – the clue is in the name.
However, Samsung's latest TVs use a separate LCD backlight (often an edge-lit backlight, at that) just like any other LED-LCD TV. So the QLED moniker is more about branding than a truly 'quantum leap' for TV panel technology.
But there's still a lot to get excited about here. QLED TVs do use a metallic quantum dot filter to enhance both the color and contrast of the screen. What this means is the capabilities of HDR and 4K images are significantly boosted compared to other non-quantum dot LCD-LEDs.
QLED TV models also include Samsung's Bixby virtual assistant, as well as an Ambient Mode, which helps them blend into their surroundings a little better.
What is 'Neo QLED'?
In 2021 Samsung changed its QLED branding to 'Neo QLED', to represent substantive changes to its QLED range. The main difference is the introduction of a MiniLED backlight, packing in ten times the usual amount of LEDs for ramped up brightness, wider viewing angles, and reduced blooming – ensuring light is directed only where it's meant to be.
The result? 100% color volume of DCI-P3, plus better local dimming.
When asked about which specs would make the transition to Neo QLED, Dan Schinasi Director of Product Planning at Samsung said "Yes to HDMI 2.1. Yes to 4K at 120Hz. Yes to VRR. Yes to FreeSync Premium … Yes to everything."
You can check out our hands-on reviews of the Samsung Neo QN900 8K QLED, and the Samsung Neo QN800 for a taste of what's new in this year's range – and know that the term covers both 4K and 8K TVs.
What is QD-OLED?
A new report from Korea IT News claims that Samsung could make the move to OLED – or at least a kind of OLED – as soon as next year. Does this mean the brand is doing away with QLED? Not exactly.
The report builds on years of rumors that Samsung was developing a 'QD-OLED' hybrid screen, which would combine an OLED TV panel with the quantum dot technology underpinning Samsung's popular QLED range.
QD-OLED is said to use a self-emissive OLED panel to emit blue light, as well as a quantum dot filter to convert this light into other colors – bypassing the need for a backlight, because the OLED panel acts as its own light sources, but still utilising QLED tech to enhance contrast. The exact effect, or level of picture quality, though, is yet to be seen, but it's expected to allow for higher brightness and even wider color gamuts compared to traditional OLED.
There are no official models or public timelines for Samsung debuting the technology, but the report matches up with what market analysts said last year – with Omdia predicting that mass production for Samsung's QD-OLED sets would start in late 2021, for a 2022 release.
How does a QLED TV work?
All QLED TVs have a quantum dot filter. This is a film of tiny crystal semi-conductor particles that can be precisely controlled for their color output. They replace the red, green and blue color filters that are usually used in old TVs.
This filter now also uses an aluminum compound to help make the dots more efficient (and therefore brighter) and more effective at passing light through, which creates wider and more accurate color.
Samsung says that its QLED TVs use the new filters to display 100% coverage of the DCI/P3 color space (read: much deeper black levels and sparkling HDR), and maintain that performance whatever the brightness.
In fact, they're so bright that Samsung's QLED TVs can manage up to 4000 nits peak brightness on its most premium sets. Considering 1000 nits is needed to produce HDR, that's very bright, and far above the sub-1000 nit levels found on OLED TVs.
New advances in pixel panel structure also means that 2019 models and later are far better for off-axis viewing. For a living room environment, that could be QLED's big selling point.
Is QLED better than LED?
Beyond the 'paradigm shift' hyperbole of Samsung's marketing, it's really important to understand that QLED isn't really anything new at all. In fact, it's really nothing more than the latest – possibly among the last technically possible – tweaks to existing LED-LCD technology that's dominated big screen TVs for the last decade.
QLED's innovations – deeper blacks, better colors and wider viewing angles – tackle three traditional problems of LED and LCD technology, but they're the same problems that are addressed year in, year out by TV makers. Only upcoming reviews will reveal if, in fact, QLED is a significant step forward from traditional LED-LCD screens – but chances are good that we'll see some real improvements in these areas with Samsung's new sets.
Is QLED as good as OLED?
Perhaps a more important comparison is QLED vs OLED. The latter uses pixels that emit their own light, but OLED displays are manufactured only by Samsung's arch-rival LG, and now used by Sony, Philips and Panasonic, too.
There's no doubt that QLED, for now, has an advantage in terms of brightness (so in theory may better handle HDR content – though might just as easily overcook it), but if you're looking for a 'paradigm shift' in picture quality and the next-gen display technology, OLED is still the frontrunner. The latter uses individually lit pixels to achieve better contrast ratio and richer blacks that LED-LCD will never be able to hit, quantum dot filter or no. You can see the best of the bunch in our best OLED TVs roundup too.
Samsung's new Neo QLED range could balance the scales a bit, with improved brightness control and viewing angles, but we'll have to wait until we've tested the sets thoroughly to say for sure.
What happened to SUHD?
QLED and SUHD are essentially the same thing; the new messaging is more about marketing than technology, although the jump from 1000 nits on the top-end SUHD TVs to 1,500 to 2,000 nits on the flagship QLED TVs – back in 2017, when Samsung started using the term – is perhaps more revolutionary than it seems at first.
Put simply, for a buying public still getting to grips with what UHD is, SUHD just proved too confusing, so Samsung has dropped it. (It also probably didn't help that the 'S' in SUHD didn't really mean anything... although we're not convinced that QLED is much clearer.)
How much do QLED TVs cost?
Unlike OLED, which has a starting price of around $1,300 / £1,300 for its cheapest models, QLED caters to a host of price points, starting with the very cheap Q60T series.
The Q60T currently retails at just $540 / £540 for its smallest 43-inch size. Above that, you have the Q70T, Q80T, Q90T, and Q95T – with progressively higher price points for each increase in specification. Above that, of course, you have 8K models, with the UK-only Q700T starting at just £1,999, and the Q800TS, Q900TS, and Q950TS sitting above that. At the very top, you can buy the largest 82-inch / 85-inch sizes of the Q950TS for $12,999 / £11,999 respectively.
Best 4K TV: the Ultra HD TVs worth buying this year
How long do QLED TVs last?
Samsung itself has given a likely time frame for its QLED televisions, saying that you can expect a QLED TV to last you roughly 7-10 years before you start to see some sort of visual degradation – while stressing that that includes the heavier use expected from smart TVs these days.
In this blog post, Samsung says that "On average, based on typical use, consumers should expect their TV's picture quality to remain roughly the same for anywhere from seven to ten years.
"What's interesting to note is that the definition of that term – 'typical use' – has expanded in recent years with the rise of binge-watching video and the development of exciting 'smart TV' functionalities. Now, on a typical day, we may switch on the TV to watch the latest episode of a favorite show, start a gaming session with friends, or manage our home's IoT appliances."
So should I buy a QLED TV?
Samsung's QLED TVs are claimed to be all about the brightest possible, most accurate coloured images pictures, which therefore work with all kinds of content in all kinds of lighting conditions.
To an extent, those claims are true. The developments Samsung has made in recent years in improving QLED panels have made for some incredible high-end televisions, such as last year's Samsung Q95T QLED. And Samsung's been sensible about using QLED as a by-word for premium hardware as well as brilliant picture quality.
That all seems a decent package for the living room, but whether you should buy a QLED TV will ultimately come down to price. You're still paying thousands for a good QLED television, and the longevity of QLED may lie in how successfully Samsung can bring the technology to more mid-sized budgets. For now though, QLED offers a bright picture of what's to come.
Jamie Carter made original contributions to this article.
Sign up to receive daily breaking news, reviews, opinion, analysis, deals and more from the world of tech.
Henry is a freelance technology journalist, and former News & Features Editor for TechRadar, where he specialized in home entertainment gadgets such as TVs, projectors, soundbars, and smart speakers. Other bylines include Edge, T3, iMore, GamesRadar, NBC News, Healthline, and The Times.