The best Samsung TVs aren't always the most expensive models in the lineup. Yes, we're certainly big fans of the Samsung QN900B 8K QLED TV (hence why it's on this list), but it's not going to make sense for every living room and budget.
Instead, we want you to see the whole range of Samsung TVs, from the affordable UHD TVs and entry-level QLED TV models to the massive QLED TV with Mini-LED behemoths that cost more than some sound systems.
When it comes to the world's largest TV manufacturer there's plenty to pick from and the choice can be different for everyone.
Love Samsung TVs but not sure which one to buy? Our guide to the best Samsung TVs can help you find what you're looking for.
Best Samsung TVs
8K might feel a bit like overkill to some, but there's no doubt in our mind that the Samsung QN900B Neo QLED 8K TV is on another level of performance. Samsung's Mini LED-sporting QN900B Neo QLED 8K TV offers stunning picture quality, exceptional color and brightness, terrific sound and outstanding blacks – all in a package that's unmatched in terms of design.
For the uninitiated, Samsung's 'Quantum' Mini LEDs are 1/40th the thickness of a regular LED, meaning thousands of smaller LEDs can be packed together in a much tighter fashion, allowing for far more accurate dimming zones and black levels that are practically indistinguishable from an OLED.
As the LEDs are far smaller, they're able to achieve far more precision and less blooming, so the act of seeing bright areas of the screen unnaturally bleed over into darker spots should be greatly reduced or not evident at all. And because it takes advantage of Samsung's Multi-Intelligence AI upscaling, the QN900A is consistently able to produce images that looked better than their source.
So why did it lose half a star? Samsung's 2022 TV range sees the introduction of its new Smart Hub UI across its top models. It's a totally revamped interface that's anchored by a Google TV-inspired home screen populated by content recommendations from your various streaming subscriptions and apps.
Unfortunately, the change to a full-screen, content-packed home menu brings about some frustration. No longer can you easily adjust settings and change viewing modes on the fly – you now have to completely leave what you're watching or playing when bringing up said home screen, navigate to a sidebar menu, and then scroll down to a separate settings menu to perform actions that were just a few button presses away before.
It's a minor issue, however, and overall this is still the best Samsung TV of 2022.
Read the full Samsung QN900B Neo QLED 8K TV review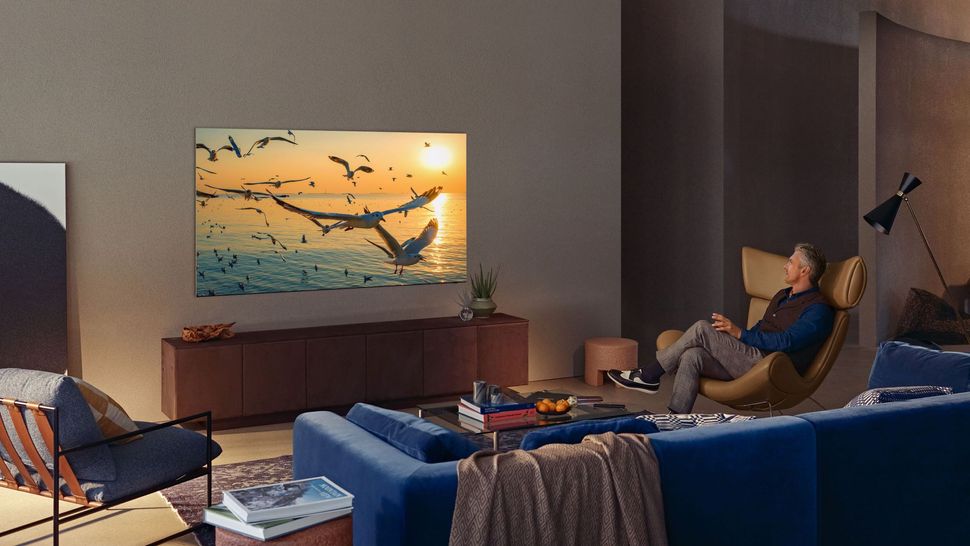 The Samsung QN95A was the company's new flagship Neo QLED 4K TV for 2021, and the first to embrace a Mini LED backlight. Not to be confused with Micro LED, which is a completely different self-emissive display technology, Mini LED uses a newly-developed backlight that's much smaller and more efficient, resulting in a significant increase in dimmable zones and thinner panels.
The results speak for themselves, with superb SDR and HDR images that benefit from deep blacks and brighter highlights, all of which are delivered without blooming or loss of shadow detail. The inclusion of quantum dot technology delivers saturated and nuanced colours, too.
Unlike last year, Samsung is not short-changing its 4K line-up in an effort to push sales of the 8K ranges. So the QN95A boasts an impressive set of features, which is headlined by a well-designed and comprehensive smart platform that includes every major streaming app. There's also a host of cutting-edge gaming features that'll please next-gen console owners.
The QN95A doesn't just look good, it also sounds fantastic thanks to Object Tracking Sound Plus (OTS+), which somehow manages to cram a powerful 4.2.2-channel sound system into the TV's ultra-slim chassis. This is another triumph of industrial design from Samsung, with a minimalist but elegant shape, solid metal stand, and nearly bezel-less screen.
Read the full Samsung QN95A Neo QLED TV review
Ushering in a new era in television technology, Samsung's Mini LED-sporting QN900A Neo QLED 8K TV offers stunning picture quality, exceptional color and brightness, terrific sound and outstanding blacks – all in a package that's unmatched in terms of design.
Samsung's 'Quantum' Mini LEDs are 1/40th the thickness of a regular light-emitting diode, meaning thousands of smaller LEDs can be packed together in a much tighter fashion, allowing for far more accurate dimming zones and black levels that are practically indistinguishable from an OLED to this reviewer's eyes.
Outside of its new lighting technology, the QN900A excels in terms of picture quality, with an astonishing 8K resolution display that does a brilliant job of upscaling 1080p and 4K content thanks to the AI-based 'Neo Quantum Processor 8K'.
It's missing some key components of the new Samsung QN900B, but this is still an exceptional 8K offering well worth your consideration.
Read more: Samsung QN900A Neo QLED 8K TV review
Samsung The Frame (2020) is the most accomplished iteration of Samsung's painting-inspired television we've seen so far. With a bold metal casing, customizable frames, and an Art Mode function that displays classic artworks and photographs, this is the closest any television gets to looking like an actual painting – and when it's wall-mounted your guests really might not tell the difference.
With an Ambient Mode offering more dynamic screensavers, clock faces, and weather or news updates, there's plenty of customization for how much attention you want your Frame TV to get when not in use. The QLED panel and Quantum Processor 4K upgrade doesn't go amiss either, with predictably above-par upscaling and an impactful picture – even if The Frame's brightness is surprisingly dim for a QLED television, and skin tones can occasionally seem a bit off.
But if you want a television that really puts appearances first, and will blend in seamlessly with the decor throughout the day – with a OneConnect box cabling solution to keep things tidy – Samsung The Frame (2020) is an excellent choice for your home.
Keep an eye out for the 2021 iteration, of course, which is even slimmer and comes with far more options for customization.
Read more: Samsung The Frame (2020) review
Samsung The Terrace is the first outdoor TV to come from the world's biggest TV maker, and it's pretty notable for that reason. This isn't just a tick-box weatherproof screen that won't get wrecked if you're watching football in the rain; it's also an acknowledgement from Samsung that people like to use their devices outside of traditional living room arrangements.
Samsung The Terrace is available in only three sizes: 55-inch, 65-inch, and 75-inch. So you won't get a compact little screen to nail into the side of your shed, but for those wanting to install (with some professional help, Samsung recommends) a capable QLED display into your home's back wall, with visibility for more than one person, this is the way to do it.
That said, this isn't an all-weather device, though, and it seems worthwhile using the waterproof cover when not in use, or even trying to keep the screen under a ceiling or awning to give some partial protection from the elements.
Read our hands-on Samsung the Terrace review
Best Samsung TV FAQ
Are Samsung TVs any good?
Considering you've made it this far, we're guessing you had Samsung in mind. Why else would you look for the best Samsung TV?
Samsung holds strong sway with many folks because its TVs are generally more colorful and much brighter than the competition, especially when it comes to its QLED range.
Alongside that, Samsung TVs also offer Samsung's Tizen OS which is one of the best smart TV platforms out there so you get a fairly enjoyable experience as you browse around. Also, its processors typically do a great job with upscaling (turning HD into 4K) and usually perform better than LG TVs when handling scenes with fast motion.
The downside is that Samsung TVs are generally more expensive than those made by some of its rivals and they're not always incredibly long-lived. They also don't support Dolby Vision -- an HDR format that delivers higher brightness and better colors than HDR10.
However, the good often outweighs the bad here and we recommend Samsung screens to folks who have a bit more to spend and are looking for the most picturesque TVs.
Is QLED better than OLED?
With both QLED and OLED vying for your attention, it can be tricky to know what's best for your situation. We've broken down the differences between OLED and QLED but it's also fairly easy to summarise.
Generally, QLED offers better and more brilliant whites. Ultra-bright up to 2,000 nits, QLED (or Quantum-dot Light Emitting Diode) means a very bright image. That can be a downside for some and can lead to less convincing blacks but it's particularly good for gamers.
That's helped by Samsung QLED packing in a technology called HDR10+ that makes colors look super vivid while keeping input lag fairly low too.
How do Samsung TVs compare to other manufacturers?
Thanks to its implementation of QLED, Samsung TVs are known to be some of the brightest, most color-saturated televisions on the planet. With Tizen built-in, they're well-stocked with the latest apps, and most of the mid-range and high-end models have high levels of quality control. However, budget models make some concessions and generally don't look as good as models from TCL or Hisense, but are in line with LG's cheaper TVs.
Admittedly, we feel Sony does a better job overall with motion handling and LG seems to understand how to do upscaling the best of the big three, but Samsung remains competent in all major areas with no real weak spots.
What's the newest Samsung TV?
There are rumors that Samsung will be launching quantum OLED panels in early 2022 but for now, there are a few different options if the newest Samsung TV is most important to you.
There's the Samsung The Frame TV that looks like a significantly slimmer painting. There's also the Samsung The Terrace for outdoor viewing.
Alternatively, there's the 32-inch Q50A QLED screen for users on a budget. It might only have a FHD picture (1920 x 1080) but it bundles in HDR10+ and Samsung's QLED technology.
What's next for the best Samsung TVs?
QD-OLED TVs that were finally revealed at CES 2022.

This is meant to be Samsung's answer to LG's highly acclaimed OLED TVs, with Samsung said to offer this hybrid tech in 55-inch, 65-inch and 70-inch sizes. The battle to win over your home cinema setups is still on, and the battle will be fought throughout 2022.