Samsung has been the top TV manufacturer for the last decade. In 2015, 21% of all LCD-LED screens sold came from Samsung. In 2016, that number grew to 21.6%.
To put Samsung's dominance in perspective, according to those sales numbers, Samsung sells as many TVs as Sony and LG combined.
So, if you're considering purchasing a Samsung TV, you'll be in good company.
But which Samsung TV should you buy? The South Korean manufacturer put out well over a dozen series of TVs for 2017 and has plans to release a half dozen more for 2018, each of which come in a variety of screen sizes.
Sorting out your Samsung UN55MU7000 from your UN55MU6490 can be confusing, time-consuming work. But we're here to help. Whatever it is you're looking for and whatever your budget, we'll help you pick out the best Samsung TV.
Why Samsung over LG or Sony?
OK, so we sort of assumed you had Samsung in mind - I mean, why else shop for the best Samsung TVs, amiright? But maybe you're still in that research phase where you're not quite sure on Samsung, and would like to know why so many other people - reviewers and enthusiasts alike - ride Samsung's hype train.
Samsung holds such strong sway with these folks because its 2017 TVs are more colorful and much brighter than the competition, especially in the QLED range.
Samsung TVs generally do a great job with upscaling - i.e. the process of turning an HD signal into a 4K signal - and do a slightly better job with motion handling than LG. They offer a technology called HDR10+ that makes colors look super vivid, and input lag is generally pretty low, too, which is great for gamers looking to use the TV with the new Xbox One X or PS4 Pro.
The downside is that Samsung TVs are generally more expensive than the competition and aren't always incredibly long-lived. I'm not sure if you know this, but Samsung has a bit of a reputation for creating some … explosive products.
The other problem we've seen is that 2017 Samsung TVs don't support Dolby Vision - a new format of HDR that promises to deliver higher brightness and better colors than HDR10.
All that being said, the good often outweigh the bad however and we here at TechRadar recommend Samsung screens to consumers who have a little bit more to spend and are looking for the most picturesque TVs.
Samsung's naming structure explained
Before we dive into specific models, let's spend a second taking apart Samsung's naming convention. Once you understand how it works, you'll be able to read the obfuscated labels just as well as any electronics employee - which is a huge advantage if you're heading out on Black Friday or Cyber Monday in search of some deals.
We mentioned the Samsung UN55MU7000FXZA up above, so let's use that as an example.
Samsung TV Guide Cheat Sheet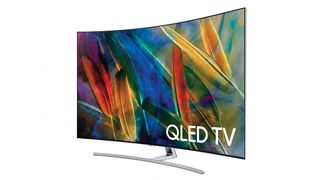 Here's a quick cheat sheet for reading a Samsung label:
Example: Samsung UN55MU7000FXZA
1. UN: Territory that the TV is offered (UN for America, UE for Europe and UA for Asia/Australia)
2. 55: Screen size (this is a 55-inch TV)
3. MU: Indicates what year the TV was made (MU indicates a 2017 model)
4. 7000: The last number is the series (higher is better but also more expensive typically)
It probably goes without saying but Samsung, obviously, is the company that makes the TV. Easy!
The UN signifies that you're talking about the American model of the TV. If you're in the UK, you might be more familiar by seeing a 'UE' before all of the other numbers while Australian or Asian readers might have seen a UA prefix before.
Of course, if you're buying a new QLED TV from Samsung, you'll find QN, QE or QA in this spot instead.
If you buy a TV in one region and move to another, that could present some issues but as long as you buy a TV for your region and you'll be OK.
The number after the UN/UE pr QN/QE prefix is the screen size. A '55' means the TV is 55-inches. A Samsung UN49MU6500 is an American 49-inch TV, while a Samsung UN65MU6300FXZA is an American 65-inch TV.
After the MU and the first two numbers come a second letter pair. This pairing helps indicate which year the TV comes from. An M- or an MU- means the TV is from 2017, as are all of the QLED TVs (the Q9F, Q8C, Q8F, Q7C and Q7F).
If you see KS or KU in the title, the TV was made in 2016. JU and JS TVs were made in 2015. HU was 2014, the F-series from 2013, so on and so forth.
The last four numbers are the series. In 2017, Samsung produces TVs in five main series: the 5-Series, 6-Series, 7-Series, 8-Series, 9-Series, alongside QLED TVs and the more lifestyle-centric The Frame and Serif TVs.
The higher up the series is, the more functionality it has. It's pretty hard to break it down by series, as some larger screen sizes have different feature sets than smaller screen sizes, but the higher series TVs have things like HDR, 4K, higher brightness settings, better motion handling and better operating systems.
The typical rule of thumb is that higher is better, but also generally more expensive, too.
Last but not least you have the FXZA - a letter combination that denotes region (the A stands for America) and, for some odd reason, inventory tracking. This last part largely can be ignored unless you're entering the TVs into a database.
So, what is the best Samsung TV?
If you read the last section and have untold amounts of riches, you'll know that the best Samsung TV of 2017 is the Samsung QN88Q9FAMFXZA - a monstrous 88-inch 4K TV beast that comes in at around $19,999.
If you want the best TV from Samsung in 2017, that's it.
But let's say for a second you don't have $20,000 burning a hole in your pocket and you're looking for something a bit more reasonable. Instead of ranking TVs from best to worst, how about we rank TVs by best performance for their money - that way, you'll save some money while still getting a pretty fantastic screen. It's a compromise, but until all of us have $20,000 to spend on a TV, it seems like the better way to go.
1. Samsung Q7F QLED TV
Samsung's 55-inch Q7F QLED is a thing of beauty
Best value
Great colors and brightness
120Hz TV
Not as bright as the Q9F
The Samsung 55-inch Q7F is the best screen Samsung produced in 2017 - at least, in terms of best performance for the money. The flagship Q9F screen is going to be a bit brighter (offering around 1,800-2,000 nits of peak brightness) but we feel the Q7F is the best blend of power, performance and price.
The specs tell the whole story here: it has Motion 240 (read: a 120Hz panel in Samsung marketing terms), not to mention 4K HDR Elite, 4K Color Drive Elite and 4K Elite Black, three technologies that enable super colorful and bright images. It offers plenty of IO options with four HDMI ports, three USB ports and digital optical-out, plus Samsung's clever One remote that packs in motion controls and a microphone.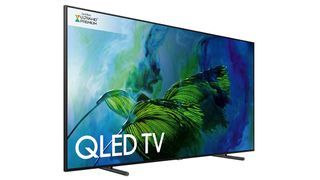 2. Samsung Q9F QLED TV
Samsung's flagship TV set is outstanding ... but a bit overkill
Brightest TV on the market
Great for bright indoor viewing
Unprecedented color levels
Limited viewing angles
At the top of the proverbial castle sits Samsung's flagship Q9F QLED TV. It is the brightest TV Samsung makes and one of the best to watch HDR content on. It might not offer the best value, but on the bright side, the Q9F also sets new HDR-friendly standards for brightness and color response. While its new panel structure and state of the art screen filters enable it to combat ambient light better than any other TV, making it uniquely watchable in a typical day to day living room environment. All said, it is a top-tier television that, as you might expect, is priced like a top-tier television would be.


3. Samsung Q8C QLED TV
Samsung's QLED goes curved with intriguing results
Bright, colorful pictures
Beautiful curved design
Limited viewing angle
Some backlight banding
If you're looking to wow a roomful of friends, there's no better parlor trick than Samsung's Q8C QLED TV. Thanks to the combination of Samsung's new ultra-bright, ultra-colorful QLED technology and some remarkable screen filtering, the Q8C's pictures look amazing, even in a typical bright living room environment. Add to that HDR10+ support and numerous on-board streaming services and you have one of the most scintillating screens in Samsung's repertoire.


4. Samsung MU9000 Series UHD TV
Samsung's 65-inch MU9000 series 4K TV is the upper-mid-tier champ
10-bit panel
Native 120Hz TV
Low input lag
Poor local dimming
Sitting a bit further down the list is Samsung's 9-Series. While the MU9000 doesn't have the same vivid color schemes or sheer luminescent output of the quantum dot panels, the MU9000 helps bring decent picture performance to the masses by significantly scaling back on price. While we can't talk up everything under the hook, the highlights include a 10-bit panel, native 120Hz refresh rate and low input lag - which, again, is great for the gamer in your life.


5. Samsung MU6300 Series UHD TV
Samsung's 6-Series screens boast HDR and 4K but don't break the bank
Best budget Samsung TV
Impressive colors and clarity
4K and HDR at 40-inches!
Not the best for HDR playback
If Samsung's Q9F is a Ferrari, the Q7F a Camaro and the MU9000 a BMW, the MU6300/MU6400 is a Honda. It's affordable and gets around just fine. It might not be the most premium machine on the market - and can certainly stand to learn a few tricks from the higher-tiered competition - but it's hard to complain about a TV that, most of the time, costs only about $599/£509.