Editor's Note: June 2023
Samsung's 2023 TVs are now rolling in. The new Samsung S95C claims the top spot thanks to its fantastic, super bright picture, making it a perfect TV for both movie lovers and gamers.

However, the rest of our list is (so far this year) filled with slightly older models as they often offer better value than the equivalent new models thanks to the big price cuts they've received since launch.

Matt Bolton, Managing Editor – Entertainment
The best Samsung TVs are at the top of the TV pile in terms of build, picture quality, and features. But it's worth bearing in mind the best Samsung TV for you isn't always the most expensive model in the line-up, there's much more to choose from.
For example, we're big fans of the Samsung QN900B 8K QLED TV if you're after stunning 8K pictures and it sits in the third spot in this list and features in our best TVs guide. However, Samsung makes plenty of other TVs. Although the biggest, most high-tech sets are exciting, they're not going to make sense for every living room or budget.
We've reviewed hundreds of TVs over the years from all the key brands, and that means we know how the best Samsung TVs compare to the competition as well as to each other. In our guide you'll find every kind of Samsung TV, from the most affordable 4K TVs to massive mini-LEDs with huge screens, and its new generation of OLED TVs.
If you have your heart set on a particular size but aren't wedded to a brand such as Samsung, take a look at our best 55-inch TVs and best 65-inch TVs guides for some more options from some of TV's biggest names. Otherwise, read on for our picks of the best Samsung TVs to help you find your new favourite, and also check out our hands-on reviews of the company's new for 2023 QN95C 4K and QN900C 8K Neo QLED models, and its S95C OLED to get a preview of what the company will be introducing this year.
The best Samsung TV 2023
The Samsung S95C is a wonderfully bright OLED, which takes the top spot in our best Samsung TVs guide after we awarded it an impressive five out of five stars in our review. It replaces the S95B, which still sits in the fourth spot below, with a whole range of upgrades.
This TV impresses in almost every way. It's sleek and incredibly slim, making it a good choice for wall mounting. Sound quality has had a big step up from its predecessor too. However, what really stands out about the Samsung S95C is the super bright picture. Samsung has bumped up the brightness 40% more than the S95B, making it one of our top picks if you want a Samsung TV and incredibly bright pictures are a priority for you.
During our testing we found the brightness was highly effective at taking HDR video to a new level of drama and realism, unlocking levels of colour volume and purity, even in bright colour areas, we've never seen before on an OLED TV. We highly recommend the Samsung S95C for movie lovers considering the fantastic picture, sharpness, great viewing angles and fantastic upscaling. However, gamers will also be happy with extensive 4K/120Hz support and an ultra fast 9.2ms response time.
Read our full Samsung S95C review
The Samsung BU8500 is designed to offer some up-to-the-minute functionality, discreet looks, and rock-solid build quality at a price that the majority of us won't baulk at. And it absolutely nails that. It's an impressive 4K HDR LED display with good HDR (although as ever with Samsung, no Dolby Vision HDR), three HDMIs, voice control, two remotes and a Tizen smart TV interface with all the streaming apps you might want. It's easily one of the best TVs under £1,000.
This is an exceptionally affordable TV, and while building affordable TVs does mean some compromises, Samsung hasn't cut any important corners here. The Crystal 4K processor does a decent job of upscaling, albeit not to the same degree as the processors in Samsung's best TVs, and the backlighting is accurate with good brightness and contrast. During our testing, we noted that the sound quality isn't brilliant, but you need a soundbar for most TVs these days.
The BU8500 features three HDMI 2.0 inputs including one with eARC for a soundbar. There's compatibility with the ALLM and HGiG aspects of next-gen games console specification, but there's no support for AMD FreeSync, which is a step backwards from 2021's Samsung AU9000.
Samsung has made a very impressive TV for an equally impressive price, and while it's not up there with the firm's very best models it punches way above its price tag. If you're looking for a more affordable 4K TV this should definitely be on your shortlist.
Read the full Samsung BU8500 review
8K is too much TV for many front rooms, but if you have the space and budget there's no doubt that the Samsung QN900B Neo QLED 8K TV takes home entertainment to a whole new level. Samsung's Mini LED-sporting QN900B Neo QLED 8K TV offers stunning picture quality, exceptional color and brightness, terrific sound and outstanding black levels. It looks pretty good when it's switched off too.
The technology inside this TV's display panel is Samsung's 'Quantum' Mini LED. Those LEDs are 1/40th the thickness of a regular LED, meaning thousands of smaller LEDs can be packed together more tightly than in other LED TVs. That means more accurate dimming, enabling the Samsung to deliver black levels that to our eyes are almost indistinguishable to those of an OLED display.
That's because another benefit of smaller LEDs is that they are more precise and less prone to blooming, which is when light goes where you don't want it to go. With this TV, you won't see bright areas of the screen unnaturally bleed over into darker spots. And because it also has Samsung's Multi-Intelligence AI upscaling, the QN900A can deliver images that look much better than their source.
So why did we dock it half a star in our review? The short answer: the software. Samsung's new Smart Hub UI feels like a step backwards, making previously simple adjustments more time-consuming and complex. While the TV itself is spectacular, the Smart Hub isn't. But that's a minor issue, and we still think that this is the best Samsung TV you can buy in 2023 if you're looking for stunning 8K images.
Read the full Samsung QN900B Neo QLED 8K TV review
The Samsung QN95B Neo QLED's design picks up on the so-called Infinity theme of its predecessor, the lauded Samsung QN95A, with a barely-there frame around the screen, and a slim rear that's as flat as the front, creating a striking monolithic effect. During our testing we found all of these design features combine to make the QN95B look suitably premium.
Picture quality is fantastic. Improved processing and backlight controls deliver marked improvements in most picture areas to the already impressive efforts of the QN95A Mini LED debutant, with less blooming, more brightness and better shadow detailing particularly catching the eye. In our Samsung QN95B review we wrote: "With its extreme brightness and vibrant Quantum Dot color system, the QN95B delivers a dazzling demonstration of just how much of a difference HDR can make to picture quality"
This picture quality holds across both gaming and video sources this year. While its sound doesn't excel as much as its pictures do, its Object Tracking Sound technology makes it a perfectly adequate partner for the stellar pictures.
The bad news? Samsung's revamp of its Tizen smart system was a misstep, adding unnecessary complication and some unhelpful design decisions to its clean and engaging predecessor. Overall, though, the picture improvements are so irresistible that a bit of pain on the smarts front and even quite a lot of pain on the wallet front can't detract from its brilliance.
Read the full Samsung QN95B Neo QLED TV review
If you want the brightness of an LED TV with something close to the visual quality of OLED, Samsung has just the TV for you. The QN85B uses a ridiculously bright mini-LED panel to deliver very impressive HDR and great gaming performance, and while it can't match the deepest blacks of an OLED set you might be surprised by just how close it comes.
This is a particularly good option for gamers thanks to HDMI 2.1 support across all of its HDMI ports, and there are six speakers inside to give you reasonable spatial audio if you don't have one of the best soundbars.
The visuals here are very, very good once you move away from Samsung's overly bright and overly processed display presets; we found that Movie mode is almost as accurate as Filmmaker Mode but doesn't require you to sacrifice too much brightness in the name of visual accuracy.
There are the usual Samsung downsides here – the lack of Dolby Vision HDR, the redesigned Tizen Smart TV interface that's slightly more annoying than its predecessor, the choice of a stripped-down solar remote or a really horrible plasticky one that has all the features on it – but this is a very fast, responsive and bright TV that's excellent for watching in daylight, making it a great choice for gaming, sports or just social watching.
Just watch where you put it if you like to watch gloomy movies at night: Samsung's current mini-LEDs seem to be more reflective than its previous QLED TVs, and we've found that if we don't turn off most of the ambient light in our front room we can see the lights' reflections in our mini-LED TV's panel.
Read the full Samsung QN85B review
Samsung The Frame (2020) was the most accomplished iteration of Samsung's painting-inspired television we'd seen when it launched, and it still holds up today – not least because now there are newer versions, the price has dropped considerably.
With a bold metal casing, customizable frames, and an Art Mode function that displays classic artworks and photographs, The Frame is the closest any television gets to looking like an actual painting – and when it's wall-mounted your guests really might not be able to tell the difference.
With an Ambient Mode offering more dynamic screensavers, clock faces, and weather or news updates, there's plenty of customization for how much attention you want your Frame TV to get when not in use. The QLED panel and Quantum Processor 4K upgrade are worthy improvements too, with predictably above-par upscaling and an impactful picture – although while it's generally impressive, the display panel is surprisingly dim for a QLED and skin tones can sometimes seem a little bit off.
But if you want a television that really puts appearances first, and will blend in seamlessly with the decor throughout the day – and that has a OneConnect box cabling solution to keep things tidy – Samsung The Frame (2020) is an excellent choice for your home. Do take a look at newer versions if you want the latest Samsung The Frame has to offer, otherwise we think the 2020 version is excellent value for money.
Read the full Samsung The Frame (2020) review
The Samsung Q60B QLED TV starts from a much cheaper price than Samsung's other QLED sets, but its spec sheet includes Quantum Dot colors, a comprehensive smart system, and so-called Object Tracking Sound technology.
Picture quality starts well, with the Q60B producing more brightness and Quantum Dot-inspired color punch than the vast majority of cheap TV rivals. Its playback of native 4K sources is also impressively crisp most of the time, too – especially welcome on the 55-inch size that we tested for our Samsung Q60B review. It doesn't miss out compared to the best 4K TVs for Ultra HD content.
This is a very cheap TV, however, and that means of course there are going to be compromises. The motion processing isn't as natural as it is on Samsung's more premium sets, and grey scenes are rather flat. Nevertheless, the Samsung Q60B is still one of the best TVs under £1000 due to its winning combination of good picture quality and a super-low price.
Read the full Samsung Q60B review
Best Samsung TV: FAQ
How to choose the best Samsung TV
Why you can trust TechRadar We spend hours testing every product or service we review, so you can be sure you're buying the best. Find out more about how we test.
With so many models to choose from, finding the best Samsung TV for you isn't always easy. But before you dive into the detailed specs of each model, here are a few key things we think you need to consider.
The first is budget. You might be able to bump up the price you can spend a little if you find the perfect TV – or find a great deal in the Black Friday sales – but it's a good idea to set a limit to begin with so you don't fall in love with the unrivalled images and features of a TV that's well above your budget.
Next up: size. It's tempting to always assume bigger is better when it comes to TVs. However, the size of the screen you should buy needs to be dictated by how far away you'll be sitting from it.
Many manufacturers, including Samsung, recommend sitting between 1.5 and 2.5 times the TV's diagonal screen size to find your perfect viewing spot. Get out the tape measure and ensure you have enough space to fit the TV and enough room between the TV and where you plan to sit.
In our best Samsung TV guide above, there are also a range of panel types – like LED and QLED – and HDR capabilities to consider.
Finally, if you're willing to buy a soundbar, you don't need to agonise about audio. However, if you'd like an all-in-one cinema system, consider a TV that delivers great audio as well as a fantastic picture, like the Samsung QN900B Neo QLED 8K.
And do you even need a Samsung TV? There's a lot to love about Samsung's TVs, but it may also be worth your time to take a look at our best LG TV and best Sony TV guides as well.
Are Samsung TVs any good?
Considering you've made it this far, we're guessing you had Samsung in mind. But why else would you look for the best Samsung TV?
You'll find multiple Samsung TVs across our guides. The flagship models are generally class-leading in terms of technology, while the more affordable options don't cut the wrong corners; they deliver excellent value for money. Samsung's Tizen OS is one of the best smart TV platforms too, although some of us feel that the most recent changes to its user interface were a step backwards rather than forwards. But it's still an excellent OS.
The one big downside that applies to all current Samsung TVs is that they don't support Dolby Vision, an HDR format that delivers higher brightness and better colors than HDR10. Samsung TVs support all the other key ones, but it does mean you won't benefit from Dolby Vision content on devices such as the Xbox Series X.
That's a minor niggle, though. The sheer size of Samsung's TV range – and its constant launching of even better models – means that the firm offers multiple high quality models in ever major market sector and at every price point too. If you're looking for good quality without breaking the bank, Samsung TVs definitely get our seal of approval.
Is QLED better than OLED?
With both QLED and OLED vying for your attention, it can be tricky to know what's best for your situation. We've broken down the differences in our OLED and QLED guide. But it's also fairly easy to summarise. QLED use LED backlights to illuminate the screen and OLED's pixels illuminate individually. That means OLED typically offers much better black and grey reproduction than QLED, but QLED is significantly brighter.
Until fairly recently Samsung was sticking firmly with LED technology rather than OLED, so while firms such as LG were building their brands on high performance OLED displays Samsung concentrated instead on its brighter, more responsive and more affordable Quantum Dot LEDs, or QD-LED for short. Samsung has also brought some very impressive mini-LED TVs to market, and its latest flagships are QD-OLED. That means they have the incredible contrast of OLED TVs but the brightness of QD-LED, which for many buyers means they offer the best of both worlds.
If you're buying on a budget, QLED definitely gives you more brightness for your buck than the equivalent OLED – but if you're a fan of old movies and want to see them as the director and cinematographer intended, OLED is a better bet. And if you can't decide? We're pretty impressed by Samsung's mini-LED, and we'll like QD-OLED even more when the prices come down.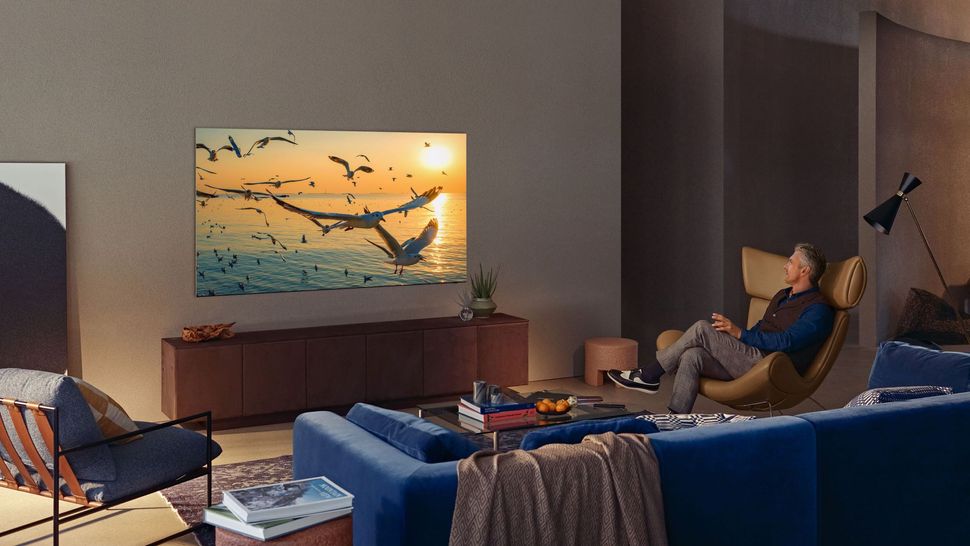 How do Samsung TVs compare to other manufacturers?
Samsung QLED, mini-LED and QD-OLED TVs are known to be some of the brightest, most color-saturated televisions on the planet. With Tizen built-in, they're well-stocked with the latest apps, and most of the mid-range and high-end models have high levels of quality control. However, budget models make some concessions and generally don't look as good as models from TCL or Hisense, but are in line with LG's cheaper TVs.
We feel Sony does a better job overall with motion handling and LG seems to understand how to do upscaling the best of the big three, but Samsung remains competent in all major areas with no real weak spots.
What's the newest Samsung TV?
This answer will become out of date before you've finished reading it: Samsung releases an astonishing number of new models every year. The 2022 flagships for the money-no-object crowd are its 89-inch, 101-inch and 110-inch microLED displays, but our pick of the 2022 models remain the Neo QLED displays. Those models are incredibly bright Quantum Dot mini-LED displays and are available in both 4K and 8K versions.
The fun and unusual Samsung The Frame TV was refreshed in 2022, and as before it becomes a wall-hung work of art when you're not watching anything. There's also the Samsung The Terrace for outdoor viewing.
The big thing for Samsung now is its OLED TVs, and we've got a whole guide on whether you should buy a Samsung OLED TV.
What's next for the best Samsung TVs?
Samsung's adventures with mini-LED, micro-LED and QD-OLED are still relatively new, and we'd expect Samsung to continue making more models with those technologies in the coming year. Samsung's been pushing gaming hard too, with the Xbox cloud gaming app appearing in its newer TVs and a growing number of TVs sporting HDMI 2.1 ports with the key gaming features for the top consoles.
How we test
How we test the best Samsung TVs
TVs don't always deliver in the way manufacturers claim they might be able to, which is why we test every single TV we recommend. However, when it comes to the best Samsung TVs there are many devices to consider, so we have our work cut out.
For starters, we put all of the best Samsung TVs in this list to the test with standard def, 1080p, 4K and even 8K content resolutions to see how they perform.
As we do, we're looking for clarity and exceptional picture quality, we're making a note of brightness levels and the vibrancy of colors on the screen.
To do this, we spend some time fine-tuning the settings, but we're big believers that TVs shouldn't need hours of near-professional tweaking to work. We simply want to ensure that we're calibrating the TVs we test so we get the most from them.
We'll assess the additional features that are built-in, rate how well smart assistants do and make sure that all of the most popular streaming apps work well.
We also spend time assessing the audio quality. Most TVs need an accompanying soundbar or sound system to work well, but some Samsung TVs, like the Samsung QN900B Neo QLED 8K for instance, deliver exceptional built-in sound too.
While considering all of these factors, and many more, we spend serious time with the TV. This ensures we can make personal recommendations based on our experiences of the viewing angles, brightness levels at different times of day and everything else you just can't glean from a spec sheet.
We've tested many TVs over the years, so we know what we're looking for and what separates a solid performance from a stellar one. That means we'll also provide broader context and, where appropriate, suggest other brands you might want to consider alongside the best Samsung TVs.