Like it or not, 8K is coming. IFA 2018 was the proving ground for the technology set to invade your home over the coming years, with all the major players showing off exciting new screens and hi-res tech to dazzle your peepers with. Just one look at the new Samsung Q900R 8K TV and you'll agree – TV is about to change forever.
Yes, we know you're just getting used to 4K – perhaps you're even wondering whether the new level of detail is too much – but 8K images, TVs and perhaps even VR headsets are now only a few months away from hitting cinephiles homes.
We know this because of the bevy of 8K TVs exhibited at CES 2017 in Las Vegas (the annual barometer of the global tech industry), which was followed by concrete launches at IFA 2018. And, in addition, because Japanese state broadcaster NHK plans to send live 8K pictures over the airwaves during the Tokyo 2020 Olympics.
8K TVs will certainly be on sale around the world by then, and by the start of 2019 we're expecting them to be the go-to screen technologies for those that demand the best from their home cinema experiences.
The countdown to 8K TVs for the home has already begun. We must be ready.
What is 8K?
8K is nothing short of the clearest picture you're ever likely to see. It's got four times more pixels than 4K images, measuring 7680x4320 pixels, which equates to a total of 33,177,600 pixels. In a 65-inch screen they are so small you won't even be able to make out the pixel structure. However, many 8K TVs are much larger.
What should we call 8K?
It's called 8K because the images are roughly 8,000 pixels wide, give or take a few hundred, but the specification also comes under the umbrella term Ultra HD, so some people use the term Ultra HD 8K. Others still call it , such as NHK, which invented it back in the year 2000 and .
What is the resolution of 8K?
8K resolution is 7680x4320 pixels, so is also called 4320p – for the same reasons Full HD was called 1080p – though it's more commonly referred to as Ultra HD 8K or just 8K. Since 8K screens have about 33 million pixels in total, that's a 33-megapixel image.
Do all those extra pixels matter?
Absolutely, yes. Full HD 1080p TVs gave you a two-megapixel image, which isn't much compared even to what your smartphone's camera is capable of. 4K ups that to eight megapixels, which still seems underwhelming considering the capabilities of human vision and, again, what smartphone screens can now achieve. So the 33-megapixel image of 8K – the next mathematical step-up from 4K – could at last provide the kind of immersive-ness we've been searching for. Or, at least, that's the theory.
When will 8K TVs go on sale?
Given the announcements at IFA 2018, expect to start seeing 8K TVs trickling slowly into retailers from the end of 2018 , and picking up pace after CES 2019 in January. However, the regional availability, and general sense in even considering buying one of the displays, will likely depend on 8K content.
Is it possible to buy an 8K TV now?
Yes, and you've been able to do so for a little while now already – Sharp sells its 85-inch LV-85001 for US$130,000/UK £106,960/AUS$176,500, but only in Japan. Dell showed-off its UP3218K, a 31.5-inch 8K monitor, at CES 2017, and announced that it would go on sale in March 2017 for US$4,999/UK£4,100/AUS$6,800.
However, it's the screens that will become available in the coming months that should excite the most – the Samsung Q900R 8K TV is already stealing hearts and places on Christmas 2019 wishlists.
Do manufacturers have 8K TVs ready?
Absolutely – and they have had for a few years. At there was a 65-incher from SkyWorth, the 65-inch Chang Hong 65ZHQ3R and 98-inch Hisense LED98NU9800V ULED TV, to name but three. Another 98-incher, the 98ZHQ2R from Chang Hong , appeared to be held in place by something akin to scaffolding, so thick were the supports. "There are no plans to release this because there's no 8K content out there, but you could use it as a PC monitor," said Yuxiao Zhao at Chang Hong Electric to TechRadar at the time.
But that's all changed now – the latest wave of 8K TVs are every bit as thin and home-friendly as what we now expect from our existing 4K TV models.
What about mainstream brand 8K TVs?
Samsung, Toshiba, Sony, LG, Sharp and more brands all have 8K TVs in the pipeline – expect all the major TV manufacturers to have 8K TVs ready for consumer eyes by early 2019.
Does an 8K TV need HDMI 2.1?
Yes –and they all will have the new specification of the HDMI cable, which for the first time allows 8K resolutions to pass through. – announced by the HDMI Forum in January 2017 at the CES – is a major enabler of the forthcoming 8K resolution revolution, making sure TVs accept 8K resolutions at 60 frames per second. However, that's a no-brainer piece of future-proofing, and no guarantee that it means 8K TVs are imminent.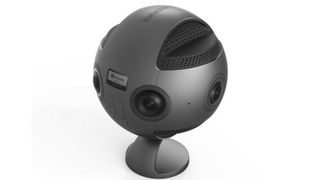 Where will 8K content come from?
There are many sources that will produce 8K content. The first is Hollywood, whose directors have begun to use the new RED Weapon 8K camera (Guardians of the Galaxy Vol. 2 has already been filmed this way in 8K).
Second is the Tokyo Olympics, which means waiting until 2020. However, 8K will only be broadcast by NHK in Japan itself.
Lastly – and perhaps most tellingly – 8K content will come from all of us. 8K capture from 360-degree video cameras is already offered by the GoPro Omni VR and Insta360 Pro, which was launched at CES 2017. "Talk to the VR guys and they're tell you that the higher the resolution and frames rates, the better," says Jeff Park, Director of Marketing at HDMI Licensing, whose new HDMI 2.1 permits 8K image transfer. "VR today looks good but it lacks fidelity … if it was affordable and practical, they would do 8K now," he says. 8K-per-eye VR headsets, anybody? They're surely in the pipeline alongside a wider field of view.
But, in the interim period, it'll be advanced upscaling processors that will take full HD and 4K content and make them ready for the 8K big time, redefining the sharpness possible from existing sources.
It may seem like a stretch to have to buy an 8K TV when 4K TVs are only now beginning to bed-in, but 8K now seems inevitable.
Check out our full guide to 4K if you want to catch up on a more current resolution.