PS5 restock updates: where to buy a PlayStation 5 in December 2023
Deals
Contributions from
last updated
PS5 bundles and restocks are widely available now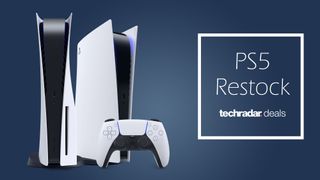 (Image credit: Future)
PS5 restocks and deals aren't slowing down in June, and it's now much easier to come across the console in the US, the UK, and Australia. In addition, we're now seeing more deals alongside the console, occasionally holding some of the best PS5 games alongside the console for a few extra savings.
The PS5 has been out for nearly three years now, and the days of having to wait for console restocks are long behind us. It's been easier to get ahold of a PS5 for a while now, and deals are more common now we are a few years into the lifespan of the console, and we've made your shopping even easier by pulling together all the best deals in one place.
Once you've got your hands on the system in its various form, we're also bringing you all the best SSDs for PS5 as well as the best PS5 controllers, and the best monitors for PS5.
PS5 restocks live now
Where to buy PS5 in the US
For the US, we see consoles fairly regularly at major retailers and it no longer sells out in a matter of minutes at the likes of Amazon and Walmart. In fact, it's been available for weeks now at Walmart and over a month at the official PlayStation Direct store.
Here are the US stores that carry PS5 and Digital Edition consoles regularly. We update this list with all the latest availability and as soon as we get news of an upcoming restock so you can be best prepared to bag a console.
Where to buy PS5 in the UK
For the UK, the PS5 is in stock all the time now. Some retailers do sell out from time to time, but it's always available in at least a dozen stores at one time. Depending on the retailer, the number of consoles in stock or the quality of bundles on offer varies, too, so it's best to shop around.