Want to watch the best Netflix shows in the UK? This list of the 30 best Netflix TV shows will give you an overview of what's the latest and greatest in streaming right now. We update this list every week, and have just added The Office to our selection, which is now available on Netflix UK for the first time in a long time.
Our best Netflix UK shows throws in a whole host of favourites, from long-running dramas like The Crown to smash hit miniseries like The Queen's Gambit. We won't just add anything to this list – we try to keep it balanced with a mix of genres, to reflect the breadth of what Netflix has to offer. Whether you've just picked up a subscription for the best streaming service in the UK, or you've had one for years, there's always something new to watch.
So let's get started. Here are the best Netflix shows in the UK, so you've got plenty to watch in 2021.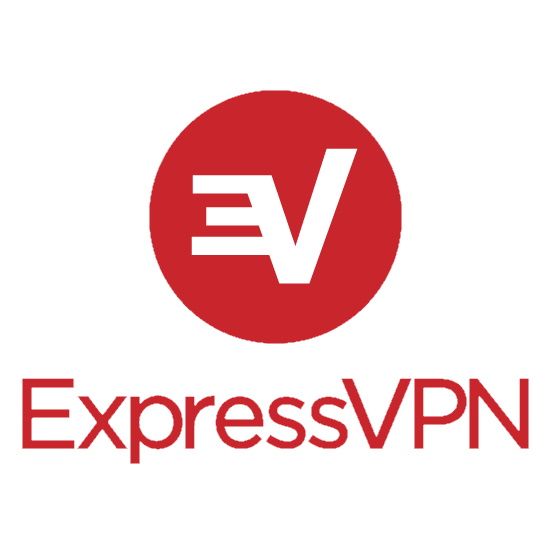 Watch Netflix shows from anywhere with a VPN
No matter what you're trying to watch, using a VPN when you stream away from your home Wi-Fi will ensure that your connection stays secure and anonymous. ExpressVPN is our best-ranked provider - TechRadar readers currently get three months free with an annual plan and you can try it first with a 30-day money-back guarantee.
View Deal
Cobra Kai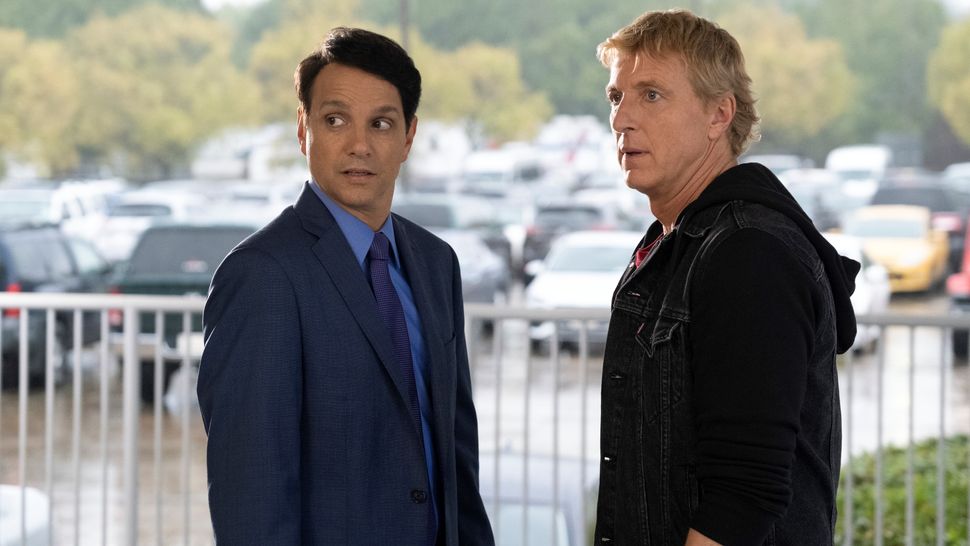 Once a YouTube original, Netflix snapped up the rights to Karate Kid continuation TV show Cobra Kai last year, and turned it into a smash hit. Set 34 years after Johnny Lawrence (William Zabka) was defeated by Danny LaRusso (Ralph Macchio), the former opens the Cobra Kai dojo once more to teach a new generation of kids how to fight. This sparks Johnny and Danny's old rivalry, and the action spins out from there.
If you love Karate Kid, this show is a lot of fun, and both its leads are in surprisingly great condition considering they're each performing fight stunts in their fifties. Season 3 just landed, so you've got plenty to catch up on – it's one of the best new recent Netflix shows. Cobra Kai season 4 has already been confirmed, too.
Seasons on Netflix: 3
The Office
Netflix UK has finally grabbed one of the biggest binge-watching hits ever for your streaming pleasure in 2021. The US version of The Office is built on the bones of the UK original, but it spins off in entirely different directions almost straight away, and is definitely less emotionally challenging to rewatch.
With 20-minute episodes, compelling season-long arcs and memorable characters, you can easily lose an entire weekend to watching The Office on repeat. Later seasons aren't nearly as strong, but you've got well over 100 must-see episodes to watch here. A perfect remedy for 2021's challenges.
Seasons on Netflix: 9
The Ripper
Netflix's latest big true crime series focuses on the Yorkshire Ripper murders, which is a well-known case in the UK, but less so to Netflix's subscriber base beyond that. That leads to Yorkshire being described here like it's some kind of alien planet – and it is a bit trashy in the way that a lot of true crime documentaries are. That said, it does paint a pretty good picture of what '70s Britain was like, and tracking the sequence of events, even if some have argued that the BBC's The Yorkshire Ripper files – which is on iPlayer – is a better pick.
Seasons on Netflix: 1
The Crown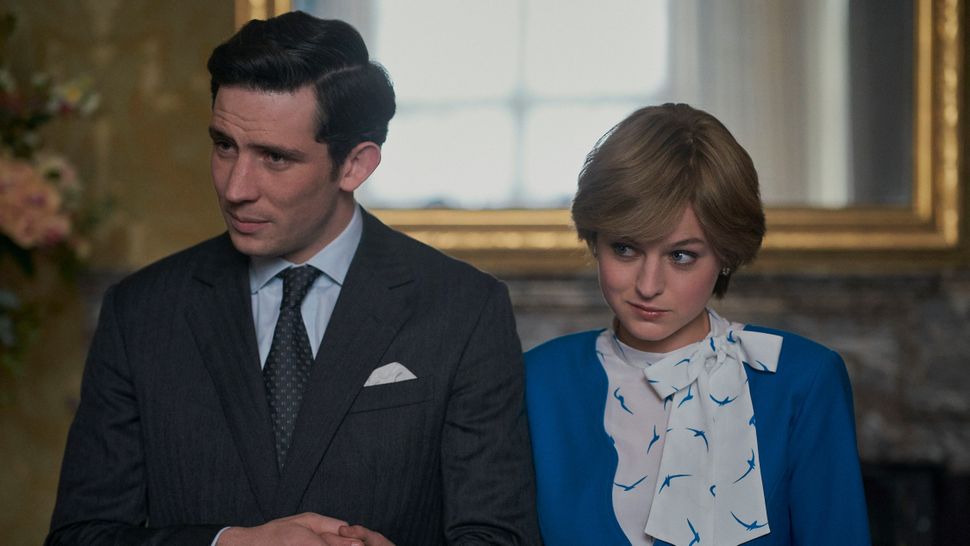 Is The Crown Netflix's crowning glory? It could be, as a sumptuous look at one of the world's most famous families: the Royal family. Charting the early years of the relationship between the Queen (Claire Foy) and Prince Philip (former Doctor Who Matt Smith), the show was written by Peter Morgan and, at £100 million for its first two seasons, is one of the most expensive TV series ever made. Which means there's enough pomp and ceremony to keep those pining for a Downton Abbey replacement happy.
Season 3 recast the Queen as Olivia Colman and Prince Philip as Tobias Menzies, and season 4 focuses on the growing relationship between Prince Charles (Josh O'Connor) and Diana (Emma Corrin). It's as engrossing as ever, and six seasons are planned total, with Imelda Staunton playing the Queen in its final two years.
Seasons on Netflix: 3
Rick and Morty
Rick and Morty's popularity in the UK exploded because it was so easy to access on Netflix, and the entirety of season 4 is now available to stream as of late 2020. It's one of the best Netflix series if you're after an adult animated sitcom with ambitious sci-fi storytelling and a lot of laughs. It's got a lot in common with Futurama, but it's attracted the kind of passionate following that show never had, and 60 more episodes are planned in future, starting with Rick and Morty season 5.
Seasons on Netflix: 4
Star Trek: Discovery
Well, this series went to places we never thought it would. Set before the exploits of the Starship Enterprise, the show features a fair few characters from older Trek projects. But while the original series had shades of light, this is a much darker look at space exploration.
Sonequa Martin-Green is great as the first officer who has a past intrinsically linked to a Star Trek character we know and love – although Discovery is clearly at its best when it's tackling new parts of Trek lore, as the weaker parts of season 2 proved. Star Trek Discovery season 3 is now streaming in full, too, and though the series remains as inconsistent ever, it's well worth watching.
Seasons on Netflix: 3
The Queen's Gambit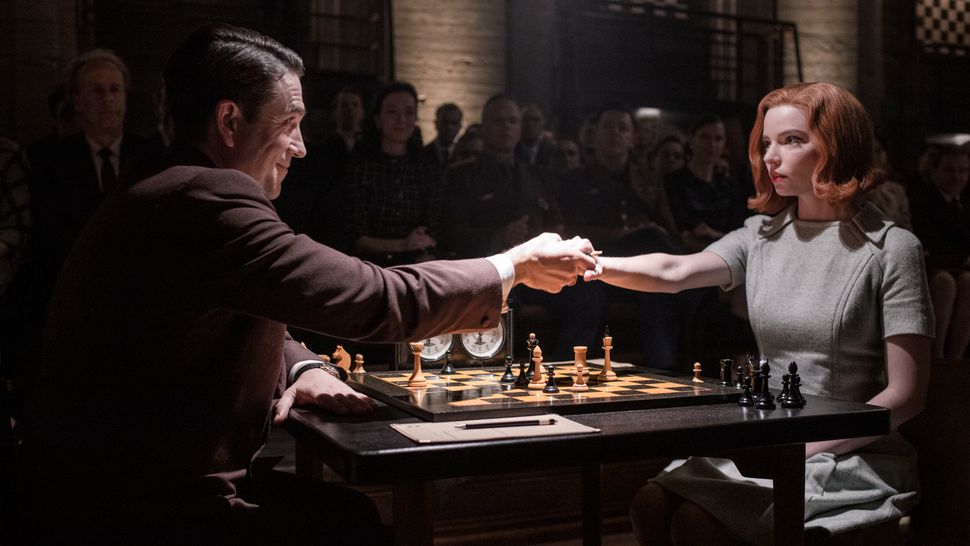 This seven-episode miniseries is the latest great Netflix show – and while the subject of chess might not sound exciting, The Queen's Gambit manages to weave it together with a tale of self-actualization, romance and drug abuse. Anya Taylor-Joy stars as Beth Harmon, an orphan trained to play chess by a talented janitor, before she challenges the very male-dominated chess scene with her skills. Essentially, her talents land her a slightly better life, but not without a price.
Even if you don't really know how to play chess, these competitive scenes are exciting to watch in The Queen's Job, and Taylor-Joy does a great job of bringing to life a character whose exceptional talents hide the fact that she's constantly grappling with addiction. Based on the novel of the same name, this adaptation counts Scott Frank as one of its co-creators, who previously made another of the best Netflix shows – the Western drama Godless.
This is a great Netflix binge watch: seven episodes is just the right number. Well worth watching, and now a genuine smash hit for the streaming service.
Seasons on Netflix: 1
The End of the F***ing World
The End of the F***ing world was first shown to UK audiences on Channel 4, but it properly found its following once it hit Netflix. And we're seriously glad it did. After two midnight-black comedy outings, this once-sleeper hit sees James (Alex Lawther) intend to ramp up his petty animal killing spree by offing something bigger: Alyssa (Jessica Barden).
The show's exaggerated style wears its graphic novel roots on its sleeve while at the same time retaining a subtle, distinctly British irreverence amid all the darkness. The first season is tight and compact, but the killer second season really comes into its own with a rip-roaring pace that doesn't undermine its unique tone. If you've missed it thus far, correct that now: there's nothing else on Netflix quite like it.
Seasons on Netflix: 2
Ratched
Creator Ryan Murphy (Nip/Tuck, American Horror Story) brings another guilty horror pleasure in this One Flew Over the Cuckoo's Nest prequel series (well, kind of). Featuring Sarah Paulson as the titular Nurse Ratched, who comes to work at an experimental psychiatric hospital by bluffing and blackmailing her way in.
If you're expecting a Netflix show with the tone of the classic Jack Nicholson movie, though, this is anything but that. It's a frequently campy affair, sometimes shockingly bloody and darkly funny in places too – well worth watching in these fallow times for new TV shows, particularly as we approach Halloween. The ensemble cast is pretty great, too, including the likes of Vincent D'Onofrio and Sharon Stone.
Seasons on Netflix: 1
Spaced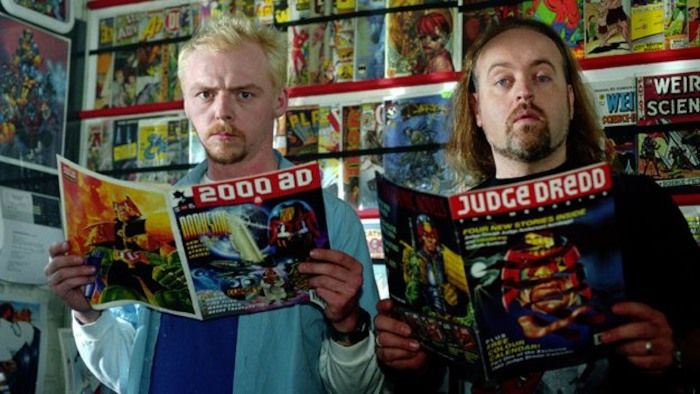 Edgar Wright, Simon Pegg and Jessica Hynes' generation-defining offbeat sitcom is still a terrific watch now. Spaced is about Tim (Pegg) and Daisy (Hynes), who move in together under the false pretence of being a couple to appease the landlord. Really, though, it's about the weird nothingness at the centre of early adulthood – not to mention the show's hilarious ensemble cast, notably Mike (Nick Frost), Tim's best friend. In just two series, it leaves a massive impact – and tons of jokes we're still quoting over 20 years later.
Seasons on Netflix: 2
The Fall
Like many shows from the BBC, The Fall has descended on Netflix to expand its audience. It's still included at no additional cost on Amazon Prime Video, but now the psychological thriller long-listed for Best Drama at the National Television Awards for all three seasons is now available on the rival streamer.
And if the show does enjoy a bigger audience off the back of it, that can only be a good thing. Here, Gillian Andersen is drafted in from the Met Police to catch a twisted serial killer played by Jamie Dornan, but there's much more to this police procedural than meets the eye. It's original, deeply engrossing, and one of the best shows the BBC has produced in years.
Seasons on Netflix: 3
American Crime Story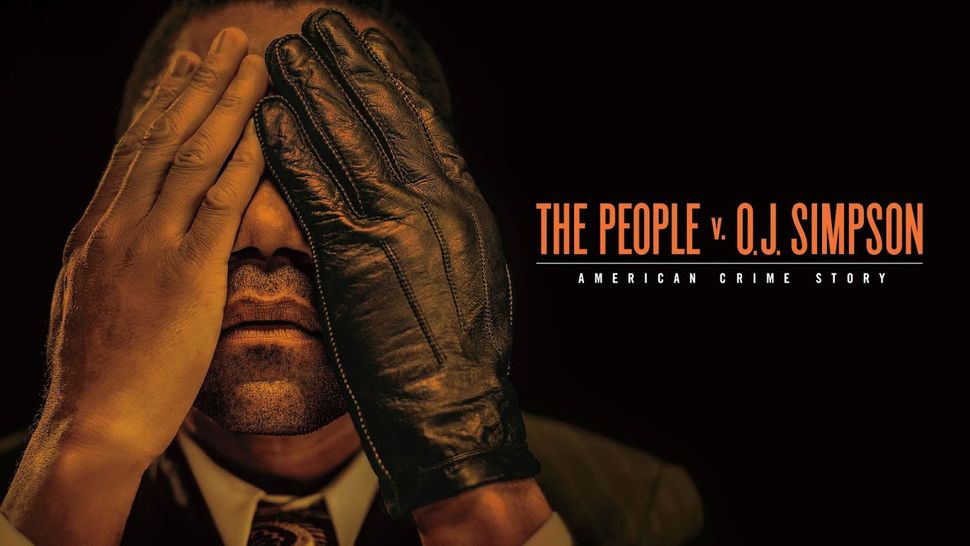 One of the best Netflix crime shows, this Ryan Murphy-produced anthology series takes a different high-profile crime and explores the ins and outs of real events with a healthy slice of what could be argued is revisionist history. The first season, The People vs OJ Simpson, explores the case that created a media circus and divided American opinion back in the mid-'90s, with a stellar ensemble cast and fantastic character writing.
The second is very different in both tone and execution, focusing on the assassination of fashion designer Gianni Versace by spree killer Andrew Cunanan. This series in particular feels like it's filling in a lot of gaps in the real events, and it's a little too fanciful at times given how serious its subject is. It's a beautifully shot series, though, again with a great ensemble, led by Darren Criss as the formless and scary Cunanan.
A third season, about the Clinton/Lewinsky scandal, is in the works.
Seasons on Netflix: 2
The Thick of It
Part of a comedy lineage that later brought us HBO's Veep, and arguably even Succession, The Thick of It is the defining British political comedy of its generation. Essentially about the goings-on of the latter days of Tony Blair's Labour government, and later the Tory/Lib Dem coalition, it's told through the prism of Department of Social Affairs and Citizenship and its various ministers.
That sounds boring as hell, doesn't it? Let's be real here, then: the reason to watch this is the swearing, the all-round terrific writing and for the wonderful backstabbing characters that populate the halls of Westminster. They include foul-mouthed spin doctor Malcolm Tucker (Peter Capaldi), the lazy, apathetic old-school Opposition minister Peter Mannion (Roger Allam), or put-upon chief adviser Glenn Cullen (James Smith).
While the setting of The Thick of It makes it something of a time capsule – the writers couldn't have predicted the extraordinary events that would follow in British politics – this is still a funny and insightful show about a subject matter that's mostly depressing to read about these days. If you don't fancy paying for Netflix, The Thick of It is free to stream on BBC iPlayer.
Seasons on Netflix: 4 (plus two specials)
The Umbrella Academy
Based on the comic books written by My Chemical Romance's Gerard Way and illustrated by Gabriel Bá, The Umbrella Academy is Netflix's own superhero original.
After 43 babies are born to women who showed no signs of pregnancy, seven are adopted by billionaire Sir Reginald Hargreeves, who trains them to save the world using their powers.
After the family becomes estranged, they are reunited once more when their father dies and are forced to come to terms with their past and the danger that lurks in their future.
Fronted by Elliot Page, The Umbrella Academy is flamboyant, dark, and gratifyingly violent: all the ingredients you need for a great superhero series. Season 2 is available now, too, though we won't spoil too much about that one if you've not seen it yet. Fingers crossed they make an Umbrella Academy season 3.
Seasons on Netflix: 2
Fargo
Based on the Coen brothers' movie but not featuring their involvement beyond executive producer credits, the Fargo anthology series retains the tone and eccentric types of characters of the film, but is otherwise completely original.
Three seasons are available to watch now on Netflix, and each is a standalone crime saga involving ordinary people being pushed to do bad things. Fargo's cast is killer, no matter which series you're watching: the first season features Martin Freeman and Billy Bob Thornton, while the second includes Kirsten Dunst, Jesse Plemons and Ted Danson. The third, latest season from 2017 features Ewan McGregor and Mary Elizabeth Winstead.
Fargo season 4 has already aired in the US, though like previous series, we'd expect it to air on Channel 4 before Netflix gets hold of it. This is one of the best Netflix shows if you're after an involving crime drama with a helping of dark comedy.
Seasons on Netflix: 3
New Girl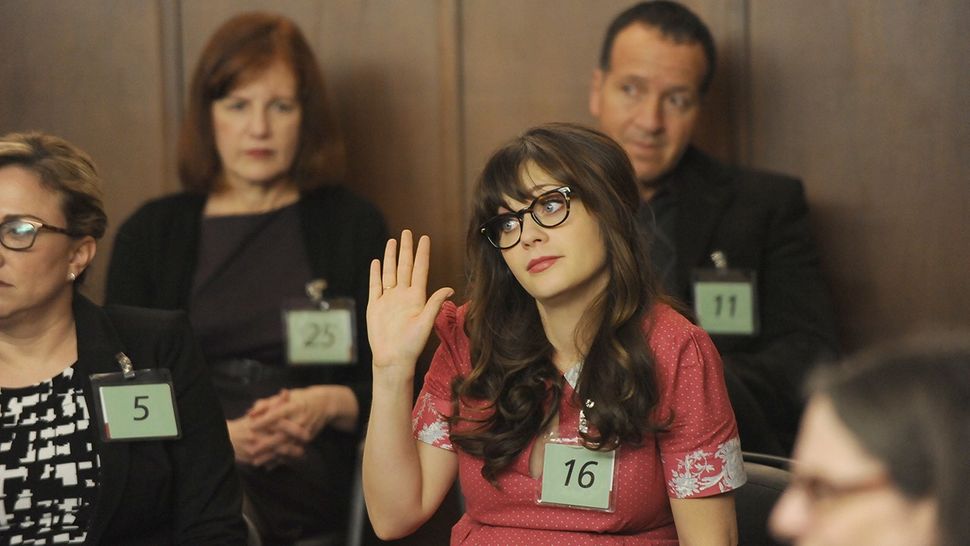 If you've marathoned Friends, Brooklyn Nine Nine and The Big Bang Theory, New Girl is worth adding to your watch list. With a surprisingly prolific 145 episodes, New Girl (at first) is about Jess (Zooey Deschanel), who moves in with three unusual housemates after her boyfriend cheats on her. Those housemates are Nick (Jake Johnson), Schmidt (Max Greenfield) and Winston (Lamorne Morris).
New Girl can get a little repetitive, especially with that many episodes under its belt, but later seasons are mixed up by the return of pilot episode star Coach (Damon Wayans Jr) and the addition of Megan Fox to the cast when Deschanel takes maternity leave. This is one of the best Netflix shows if you just want something light and fun to have on in the background.
Seasons on Netflix: 7
The Sinner
This popular crime series focuses on a different case each season, with Bill Pullman – who's almost interchangeable with Kurt Russell and Jeff Bridges in his appearance these days – playing tortured detective Harry Ambrose.
The first season sees Ambrose looking into the seemingly senseless killing of a stranger by a woman called Cora (Jessica Biel). While the story gets a little preposterous in how it unravels, the performances by Pullman and Biel make this worth checking out.
Subsequent seasons focus on other cases, and feature new ensemble casts. The most recent, third season of The Sinner focuses on Ambrose investigating a car crash where the driver died and a passenger survived, though all is not as it seems.
Seasons on Netflix: 3
Schitt's Creek
The Rose family used to be fabulously wealthy. But, once they lose everything, they have to rough it in a town called Schitt's Creek, a place they once bought for a laugh. This is one of very few sitcoms that gets funnier and better with each series on UK Netflix. Eugene Levy, Catherine O'Hara, and Daniel Levy feature in an impressive cast of characters that experience true, emotional arcs as the show progresses, making Schitt's Creek the perfect next binge for those who've exhausted the likes of Brooklyn Nine-Nine, Always Sunny, and The Good Place. The entire series is now complete on Netflix.
Seasons on Netflix: 6
Archer
Lana. LANNAA! Criminally underrated and under watched, Archer is one of the best comedy animations on Netflix. And with BoJack Horseman and Rick and Morty also available, that's high praise indeed.
The titular Sterling Archer is a handsome but useless secret agent working for his mother, with whom he has a complex relationship. The supporting cast is equally hilarious, generating some curious catchphrases and callbacks, but it's its lavish, part pop art 3D-generated backgrounds that effectively enhance this timeless 60s-ish world as Sterling cavorts and causes chaos in jungles, police departments, and on the moon.
Seasons on Netflix: 10
Black Mirror
Five seasons of Black Mirror are available now. This tech-focused sci-fi anthology show is known for being incredibly dark, though occasional episodes throw some levity in. After two series, the show moved from Channel 4 to Netflix, which came with a big infusion of budget and even Hollywood stars.
Slight repetition begins to set in with later seasons and your mileage for downbeat sci-fi stories might not be at its highest right now, but it's still one of the best Netflix shows, particularly if you like anthology series like Tales of the Unexpected or The Twilight Zone. Check out Bandersnatch, too, an interactive episode containing over two hours of footage.
Seasons on Netflix: 5 (and Bandersnatch)
Better Call Saul
So how do you follow up on one of the biggest shows in history? This is how. Better Call Saul is a prequel masterclass to the famous Breaking Bad, filling in the murky backstory of the garishly-dressed hustler lawyer, Jimmy McGill/Saul Goodman, and gradually crafting characters engrossing, unpredictable, and engaging enough to justify its existence in its own right.
This tale of Jimmy's descent into the criminal, drug-infested circles of Albuquerque takes place eight years before that of Walter White and Jesse Pinkman, and is often slower and less action-packed than Breaking Bad. However, the rewards for sticking with it will be profound as we head into the final chapter: Better Call Saul season 6.
Seasons on Netflix: 5
The Last Dance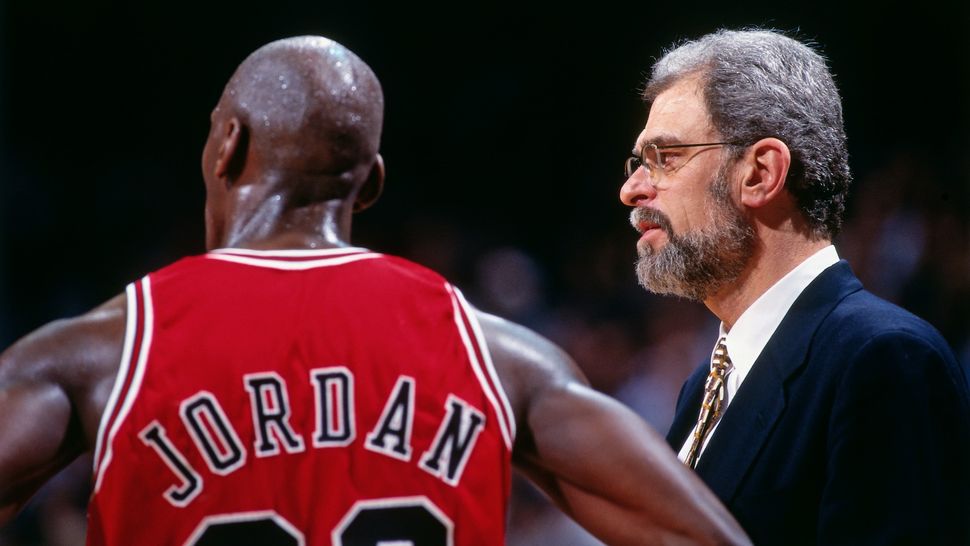 The best thing about The Last Dance, a documentary series following the Chicago Bulls on their historic 97/98 NBA season, is that you don't need to know anything about basketball to watch it. The worst is that it's hard to like the players and staff at its centre.
That said, it's engrossing for basketball fans and complete newcomers alike as it charts the meteoric rise of the one of the best and most famous basketball stars to ever play: Michael Jordan. Whether you're a fan of the game or not, watching the man play is mesmerising, even if he's not much of a charmer behind the scenes.
Seasons on Netflix: 1
Community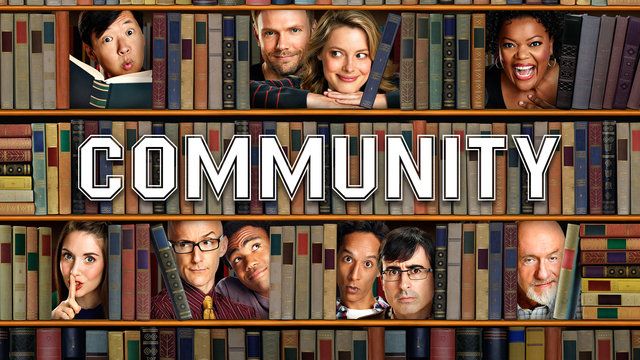 The NBC comedy favourite returns to Netflix UK after an extended absence. This sitcom about a community college study group starts as a more conventional show about its ramshackle educational setting, but reaches the next level when it starts experimenting with pop culture parodies and high-concept episodes.
If you're new to the show, keep watching until season 1's action extravaganza 'Modern Warfare', which firmly establishes Community's identity for later years. Some seasons are fantastic (2, 3 and 5), some are just quite good (1 and 6) and one is worth avoiding entirely (4).
Seasons on Netflix: 6
Tiger King: Murder, Mayhem and Madness
The newest Netflix sensation is a true crime documentary miniseries about the bizarre big cat scene that exists on the fringes in America. Primarily focused on Joe Exotic, the now-incarcerated owner of a big cat zoo in Oklahoma, it explores people's bizarre fascination with exotic animals, and the kinds of characters this scene attracts.
This documentary subtly and cleverly draws parallels between the personalities who collect and exhibit big cats in the US, and why their followers get involved in that business. What starts as a show about an eccentric wannabe celebrity escalates into darker and stranger territory before you know it. You need to watch this.
Seasons on Netflix: 1
Sex Education
Sex Education feels like a beautiful culmination of Netflix's push for progressive and diverse programming. Set in the picturesque British countryside, Sex Education follows the misadventures of the students, faculty and parents of Moordale Secondary School as they navigate the turbulent waters of sexuality. The show has resonated deeply with fans thanks to its balance of heartwarming character work and informative approach to topical issues such as varied sexual identities, gendered power structures, family dynamics and so much more.

Gillian Anderson and Asa Butterfield lead a stellar cast of fresh faces in this unmissable deep dive into the various ways we express ourselves as sexual beings. Sex Education season 3 is on the way.
Seasons on Netflix: 2
The Witcher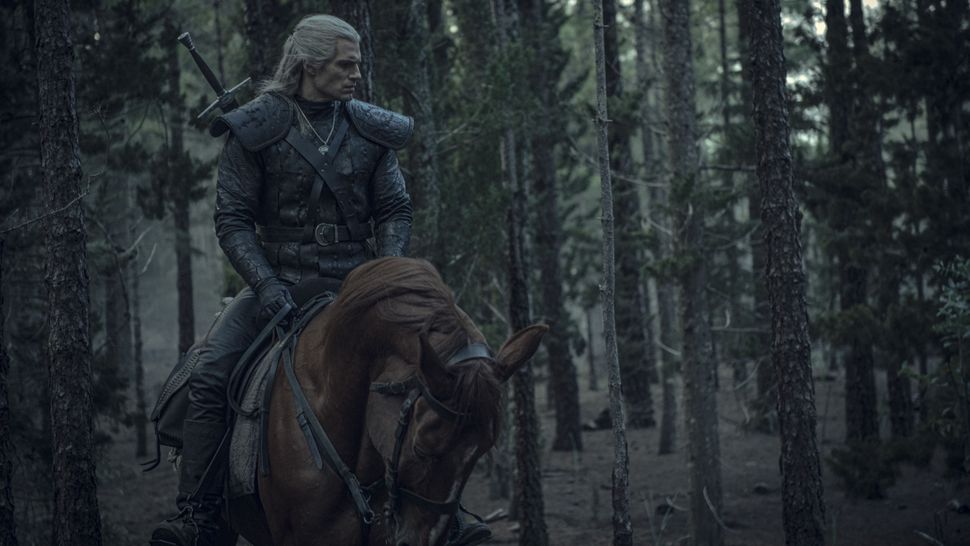 The Witcher is the perfect fantasy drama to watch right now if you're still hurting over the end of Game of Thrones (whether that's because you miss watching it, or because you didn't like the ending). Based on the books by Andrzej Sapkowski, this eight-episode first season introduces us to monster hunter Geralt of Rivia (Henry Cavill), witch Yennefer of Vengerberg (Anya Chalotra) and Princess Cirilla of Cintra (Freya Allan), whose lives are destined to collide in a world at war.
But really, the show's appeal lies in its monster-of-the-week episodes, where Geralt is tasked with slaying a fantasy creature of some kind, usually with a big twist that prevents each kill from being nice and straightforward. This show makes for easy viewing with the perfect star in Cavill and a great ensemble, and it's no surprise that The Witcher season 2 is on the way.
Seasons on Netflix: 1
Top Boy
Top Boy is a gritty story of two drug dealers in East London. If the name sounds familiar, it's because it's the third season of the series, which was cancelled by Channel 4 a whole six years ago. It took time, and the intervention of music superstar Drake, but we're grateful it finally made it back to our screens. Season 4 will arrive in 2020.
Season on Netflix: 3
Stranger Things
Stranger Things is a brilliant homage to '80s pop culture. Leaning heavily on Spielberg, John Carpenter and Stephen King - so much King - the story revolves around a small town, a group of friends, a missing person and a dodgy science lab. Writing anything else would give away the myriad twists in a show that is full of brilliant creepy fun.
Season 4 of Stranger Things is already in the works, following a third season that was arguably the show's best yet.
Seasons on Netflix: 3
When They See Us
Created by Ava DuVernay for Netflix, this hard-hitting drama follows the story of five teens - four African American men and one Hispanic - who were accused of attacking and raping a woman in New York in 1989. It's a gut-wrenching story that shines a light on systemic racism in the US.
Season on Netflix: 1
Queer Eye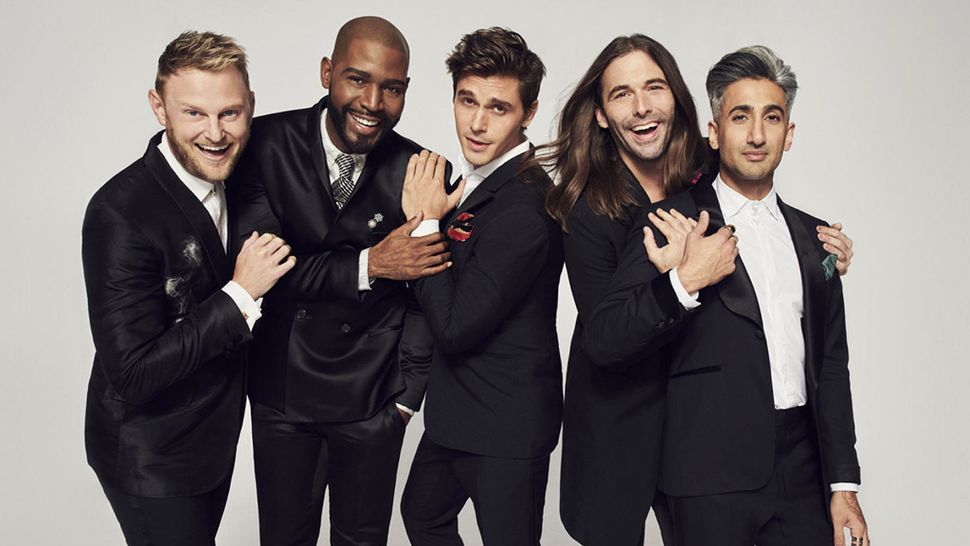 Need a dose of feel-good TV to help cope with today's rocky political landscape? Check out Queer Eye, a show about being the best you with help from five of the coolest dudes on the planet. The show has five seasons on Netflix UK as of 2020 and we're still loving the premise of taking people stuck in a rut and hoisting them so they become the self-respecting, self-loving person we all want to be. Werk.
Seasons on Netflix: 5
Russian Doll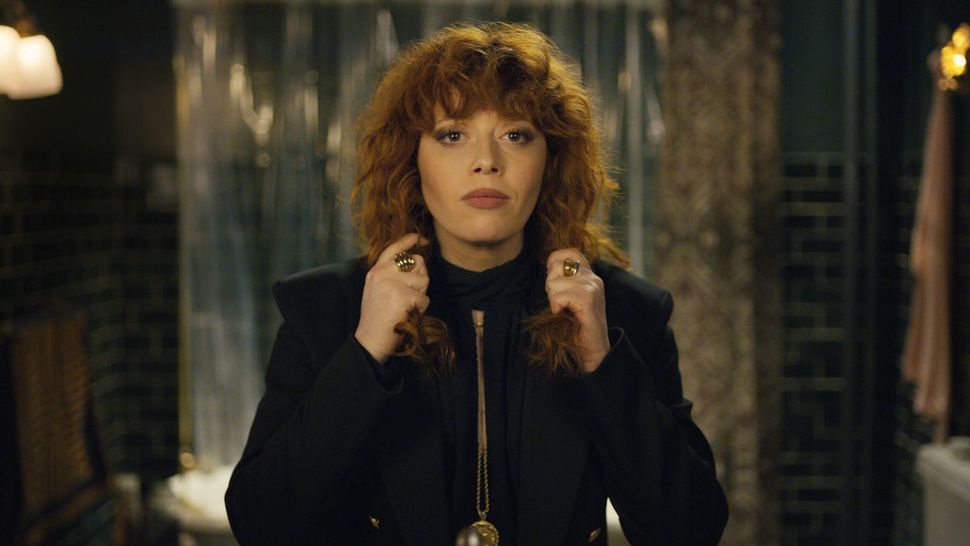 Orange Is The New Black's Natasha Lyonne stars in this dark comedy as Nadia, who keeps dying and reliving her 36th birthday party in a surreal time loop – much like Groundhog Day.
With its cynical and witty examination of living and dying, Russian Doll switches rapidly between laugh-out-loud hilarity and devastating sadness – it's a must-watch, and one of the best Netflix shows to date. A second season is in the works.
Seasons on Netflix: 1
BoJack Horseman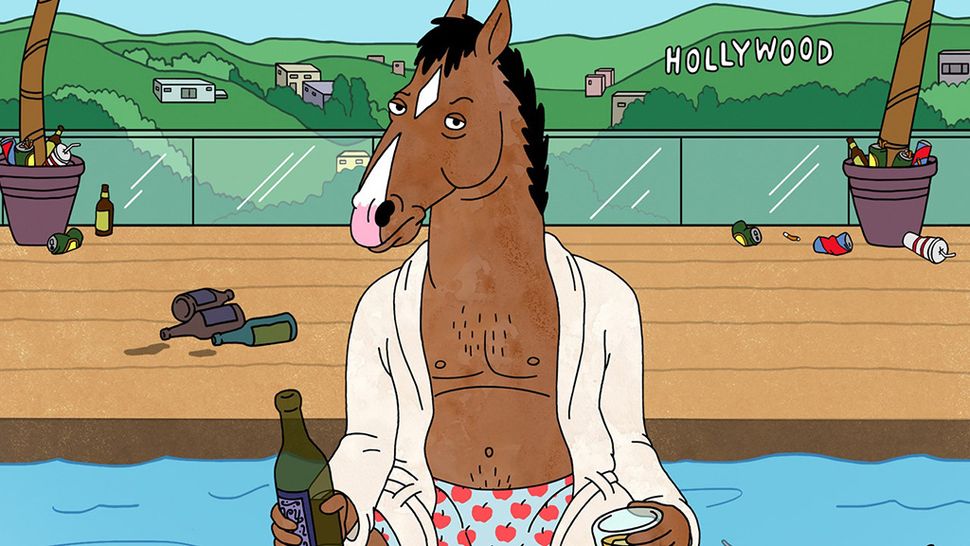 Yes, Bojack Horseman is hilarious. Yes, it's the best thing Will Arnett has done since Arrested Development. And, yes, it should be the next thing you watch if you are into anthropomorphic comedy about a once great TV star who has fallen on hard times. It's all of that, but it's also a pretty accurate portrayal of depression and should be celebrated as such.
For those who are worried it may be too dark for them, fear not - there's loads of slapstick humour, word play, and stunning animation to keep everything balanced. The complete run is now available to stream.
Seasons on Netflix: 6
Breaking Bad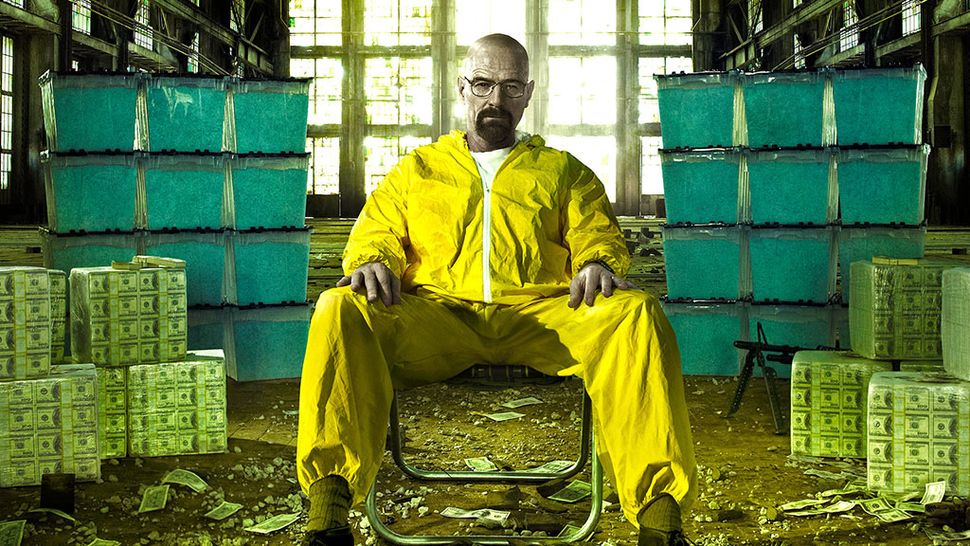 Breaking Bad is must-watch TV and one of the reasons Netflix has risen to the popularity it has in the UK. Picking up the streaming rights to this show was a winning decision, especially when it risked being forgotten by UK broadcasters.
Breaking Bad is ostensibly about a high-school teacher with cancer who goes on to sell meth to pay for his hospital bills. It goes without saying, if you haven't yet spent time with Walter White and Jesse, do so now! But, be warned, the show is as addictive as the stuff Walter is peddling.
Fans of Breaking Bad probably already know that a Breaking Bad movie, called El Camino, has been released on Netflix. Technically not a TV show, we think it's more like a satisfying long final episode than a movie anyway. You'll also want to check out the spin-off Better Call Saul, mentioned above, which Netflix screens exclusively in the UK.
Seasons on Netflix: 5 (and a movie)
The Good Place
Comedy is in a good place right now and, funnily enough, The Good Place is a perfect example of that. Starring Ted Danson and Kristen Bell, this off-the-wall comedy focuses on a recently deceased woman who is sent to a heaven-like utopia called the Good Place completely by accident. In order to stay there she goes to any lengths to hide what a terrible person she was when living.
The fourth season, now complete on Netflix UK, is sadly the last, but it gets a fitting finale, even if the show arguably peaked in its first year. A great cast, clever writing and an original concept make this a must-watch.
Seasons on Netflix: 4
It's Always Sunny in Philadelphia
Initially made on a shoestring budget, It's Always Sunny In Philadelphia's first season had a cult following, a kind of modern version of Seinfeld about an amoral group of friends who run a bar together. Then season 2 brought some big star power, with Danny De Vito joining for a 10-episode run that was extended because he loved it so much.
He's still in the show that's now in its 14th season. The antics of Dennis (Glenn Howerton), Mac (Rob McElhenney, the show's creator), Charlie (Charlie Kelly) and Sweet Dee (Kaitlin Olson) won't be for everyone - at its darkest the show's 'comedy' themes range from nazism to drug abuse - but stick with it and this deliciously depraved classic will reward you.
Its 14th season is now on Netflix UK, and Always Sunny shows no signs of going away.
Seasons on Netflix: 14
Brooklyn Nine-Nine
Following the brilliant but immature NYPD detective Jake Peralta, this Golden Globe-winning series is a laugh-a-minute, with plenty of deadpan jokes, physical comedy, and crackpot characters. The jokes are arguably a little stronger in The Good Place, but hey, it's not a competition.
With around 20 episodes per season Brooklyn Nine-Nine is ideal for binging, and the sixth season is now available to stream on Netflix.
Seasons on Netflix: 6
RuPaul's Drag Race
It's been going strong for 10 years and 11 seasons, but RuPaul's Drag Race is still giving fierce fans a heavy dose of fabulous. For those not already in the know, the elimination-style reality show sees RuPaul go on the hunt for America's next drag superstar - expect lots of glitter, drama, and fun.
Now that the show has been picked up by Netflix, its sister show Untucked is also available to stream. You've got 12 seasons to watch.
Seasons on Netflix: 12
Netflix UK FAQ: quick questions answered
How much does Netflix cost in the UK? There are a few different plans you can choose from in the UK, depending on whether you want to watch in SD, HD, or Ultra HD (4K) – depending on the strength of your internet – and how many separate devices you want to watch on.
Basic: £5.99 per month. With the cheapest membership option, you can watch one one screen at a time in Standard Definition, and download videos to one mobile device.
Standard: £9.99 per month. This membership allows you to watch in HD on two screens at a time and download videos to two mobile devices.
Premium: £13.99 per month. The most expensive subscription allows you to watch in HD and Ultra HD on four screens at a time, and download videos to four mobile devices.
How can I get a free Netflix account? Netflix no longer offers a free trial in the UK.
Can I watch live TV on Netflix? No – you can only watch films and TV series from Netflix's rather extensive library. If you want to watch live TV in the UK, you can try services like Sky's Now TV, BBC iPlayer, or ITV Hub.
Is Amazon Prime better than Netflix? The answer to that question really depends on the shows and movies you want to watch. Check out our roundup of the best Amazon Prime Video TV Shows for an idea of what you can watch on Amazon Prime. You can also read our Amazon Prime review for more information on what the service offers.
Do you get Netflix free with Sky Q? Netflix can be accessed on a Sky Q box, but it doesn't come for free – you'll still need to sign in with a paid-for Netflix subscription. However, if you opt for Sky's Ultimate on Demand package, it will integrate Netflix billing with your Sky bill, while reducing its cost and unlocking Netflix recommendations within the Sky Q interface. If you're paying for both services, it's well worth combining them in this way as a result.