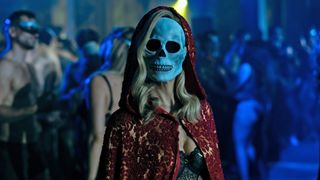 (Image credit: Eike Schroter/Netflix)
Best Netflix series: October 2023 update
Tom Power, senior entertainment reporter
Our October 2023 update sees the addition of The Fall of the House of Usher, Everything Now, and Love is Blind. They've replaced Brooklyn Nine-Nine, Kaleidoscope, and The Haunting Of... franchise in something of a small article refresh.
What are the best Netflix series? We thought you'd never ask. Below, we've rounded up 50 of the best shows to watch on Netflix – and, we don't mean to brag, but our selection will appeal to every kind of viewer.
The world's best streaming service is overstuffed with brilliant and not-so-good TV shows, so choice paralysis is a very real thing to feel when you load up Netflix. However, our entertainment experts have put in the hard yards to come up with 50 fantastic choices to stream right now. You'll even find our options grouped by genre, too, so you can easily navigate to the type of series you regularly enjoy with one mouse click.
From Netflix Originals including Stranger Things and The Lincoln Lawyer, to hugely popular third-party shows like Friends, we're confident you'll find your next favourite TV show in this guide. So, read on for the best Netflix series to watch in October 2023.
Best animated series on Netflix
Arcane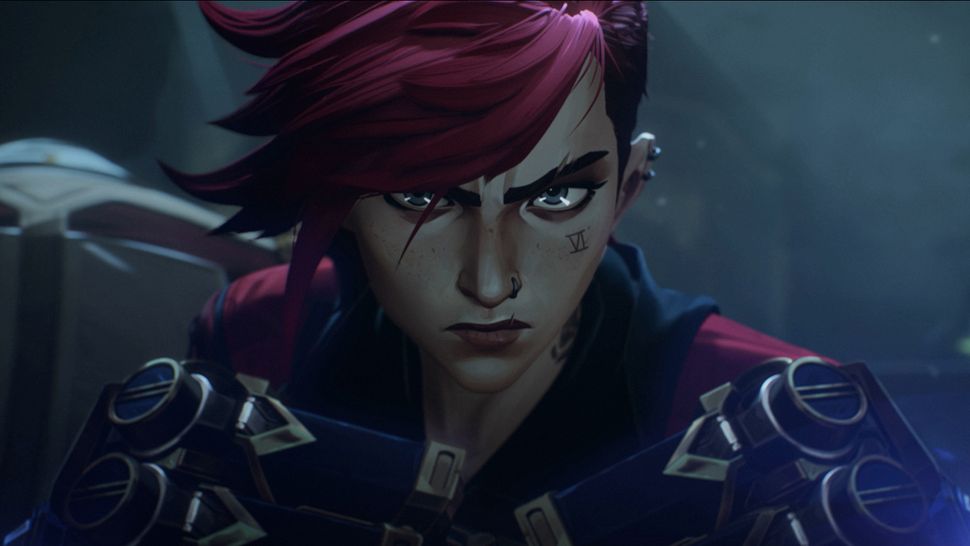 Developed by Riot Games, Arcane is set in the beloved world of League of Legends (LoL). Taking place before the events of the fan-favorite MOBA, Arcane follows Vi, Jinx, Jayce, and other characters as they embark on their respective journeys towards becoming the heroes and villains of Riot's popular multiplayer game.
With its all-star cast, beautifully unique visuals from French studio Fortiche Productions, and a tale that's built on explosive action and heart-breaking narratives, Arcane isn't just a show that services LoL fans. No matter if you're a diehard fan or a relative newcomer to the franchise, it'll wow you in equal measure. And, with Arcane season 2 coming at some point, there will be more awesome story beats and animation for fans to immerse themselves in.
Seasons on Netflix: 1
BoJack Horseman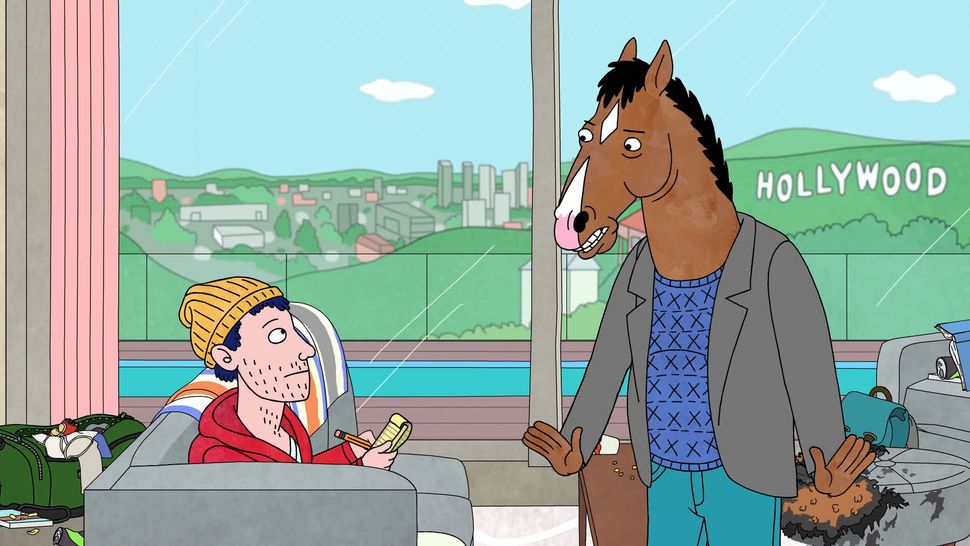 Yes, Bojack Horseman is hilarious. Yes, it's the best thing Will Arnett has done since Arrested Development. And yes, it should be the next thing you watch if you're into anthropomorphic comedy about a former TV star who has fallen on hard times.
Its authentic and sensitive portrayal of depression and other mental illnesses, however, is what sets this apart from traditional animated comedies. For those who are worried it may be too dark for them, fear not – there's loads of slapstick humour, word play, and stunning animation to keep everything balanced.
Seasons on Netflix: 6
Cyberpunk: Edgerunners
Based on CD Projekt Red's Cyberpunk 2077 videogame, Cyberpunk: Edgerunners is an anime spin-off that delivers gratuitous violence, high-octane action, and mature themes in spades. The 10-episode series comes from Studio Trigger, a Tokyo-based studio whose other fan-favorite works include Little Witch Academia, Star Wars: Visions, and Kill la Kill.
Cyberpunk: Edgerunners is a majestic looking show packed with fraught relationships, and frenetic and brutally gory set-pieces. Its thought provoking material also asks what it means to be human in a sci-fi dystopia riddled with immeasurable sociopolitical issues.
Seasons on Netflix: 1
Best comedy series on Netflix
Arrested Development
It's Always Sunny in Philadelphia can't be beaten for longevity in the TV sweepstakes (apart from The Simpsons, anyway), but Arrested Development more than competes for the "funniest but cringiest sitcom show on Netflix" award.
Starring the likes of Jason Bateman, Michael Cera, Will Arnett, and Portia de Rossi, Arrested Development follows the Bluths, a wealthy by dysfunctional family as they navigate the perils of, well, life in hilarious fashion. You'll be crying laughing as you hide behind your couch cushions at the wince-inducing capers the Bluths get embroiled in.
Seasons on Netflix: 5
Beef
This comedy-drama masterpiece stars Steven Yeun (Invincible, The Walking Dead) and Ali Wong (Paper Girls) as Danny and Amy, two strangers who clash during a road rage incident. Rather than settle their feud amicably, the duo crank up the stakes in hilarious, shocking, and tension-fuelled fashion – a dispute that threatens to spiral out of control, and inadvertently pulls their friends and family into the equation.
Beef is one of the best Netflix series in years, with its edgy and adult comedy, wildly amusing set-pieces, and surprisingly moving narrative. Be sure to watch these five vengeful thrillers after you've checked out Beef, too.
Seasons on Netflix: 1
Community
This NBC comedy favourite returned to Netflix in 2020 after an extended absence. It's a sitcom about a community college study group that starts as a more conventional show about its ramshackle educational setting, but reaches the next level when it starts experimenting with pop culture parodies and high-concept episodes.
If you're new to the show, keep watching until season 1's action extravaganza 'Modern Warfare', which firmly establishes Community's identity for later years. Some seasons are fantastic (2, 3 and 5), some are just quite good (1 and 6) and one is worth avoiding entirely (4).
Seasons on Netflix: 6
Everything Now
With Sex Education now over, this new UK comedy-drama hopes to fill the void in your life.
Everything Now stars Sophia Wilde (Talk to Me) as Mia Polanco, a 16-year-old Londoner who rejoins her sixth form after a lengthy hospital stay battling anorexia. Feeling like she's missed out on key events in her teen life, Mia enlists her friends' help to make up for lost time – but soon realizes some things simply can't be rushed through. Vivienne Acheampong and Stephen Fry are among the bigger names who appear.
With heaps of awkward, cringe-inducing comedy and fraught teen drama, it's little wonder Everything Now have drawn comparisons to Sex Education and Heartstopper. A series with a real funny bone and plenty of heart to boot.
Seasons on Netflix: 1
Friends
You've got to admit, having Friends to stream on Netflix is super handy if you're a fan, so it needed to be included on our best Netflix series list.
Set in New York City, this sitcom is about six friends in their twenties, following their various romances, jobs, and evolving relationships. With 10 seasons to get through, there's lots to watch, but the good news is it's relatively consistent throughout – as long as you don't mind the odd dated gag, of which there are plenty. Check out our list of the best Friends episodes if you need suggestions on highlights.
Seasons on Netflix: 10
It's Always Sunny in Philadelphia
Initially made on a shoestring budget, It's Always Sunny In Philadelphia's first season had a cult following, a kind of modern version of Seinfeld about an amoral group of friends who run a bar together. Then season 2 brought some big star power, with Danny De Vito joining for a 10-episode run that was extended because he loved it so much.
The antics of Dennis (Glenn Howerton), Mac (Rob McElhenney, the show's creator), Charlie (Charlie Kelly), and Sweet Dee (Kaitlin Olson) won't be for everyone – at its darkest the show's 'comedy' themes range from nazism to drug abuse – but stick with it and this deliciously depraved classic will reward you.
Seasons on Netflix: 16
Russian Doll
Orange Is The New Black's Natasha Lyonne stars in this dark comedy as Nadia, a wisecracking New Yorker who keeps dying and reliving her 36th birthday party in a surreal Groundhog Day-like time loop.
With its cynical and witty examination of living and dying, Russian Doll switches rapidly between laugh-out-loud hilarity and devastating sadness, all the while exploring such an existential topic through a sci-fi lens. It's a must-watch and one of the best Netflix series to date.
Seasons on Netflix: 2
Schitt's Creek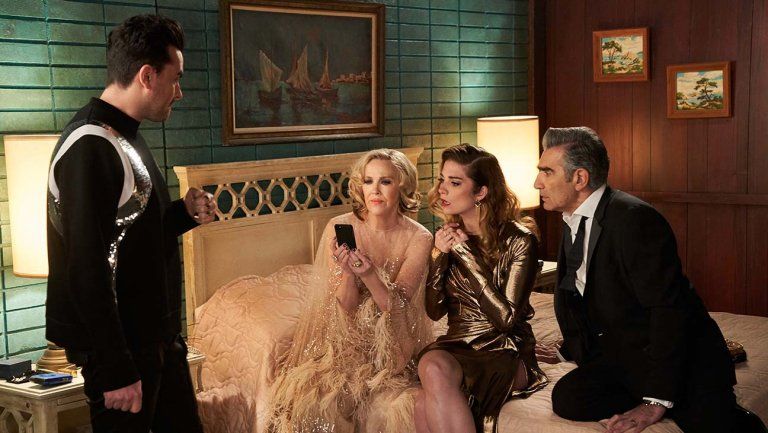 The Rose family used to be fabulously wealthy. But, once they lose everything, they have to rough it in a town called Schitt's Creek, a place they once bought for a laugh.
This is one of very few sitcoms that gets funnier and better with each series. Eugene Levy, Catherine O'Hara, and Daniel Levy feature in an impressive cast of characters that experience true, emotional arcs as the show progresses, making Schitt's Creek the perfect next binge for those who've exhausted the likes of Brooklyn Nine-Nine and The Good Place.
Seasons on Netflix: 6
Sex Education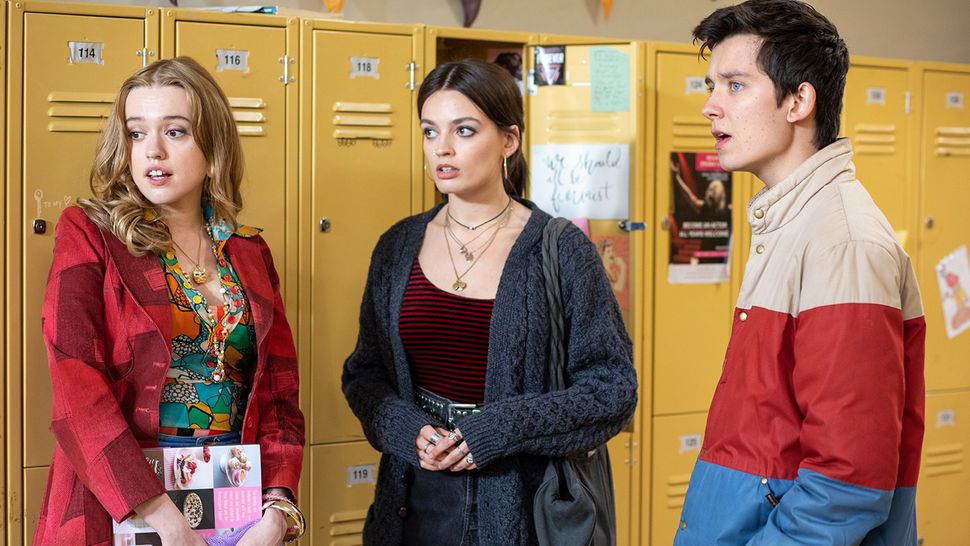 Sex Education feels like a beautiful culmination of Netflix's push for progressive and diverse programming. Set in the picturesque British countryside, it follows the misadventures of the students, faculty, and parents of Moordale Secondary School as they navigate the turbulent waters of sexuality.
The show resonated deeply with fans thanks to its balance of heart-warming character work and informative approach to topical issues such as varied sexual identities, gendered power structures, and family dynamics. Gillian Anderson and Asa Butterfield lead a stellar cast of fresh faces in this unmissable deep dive into the various ways we express ourselves as sexual beings. Sex Education season 4 brought the curtain down one of the best Netflix series in late September.
Seasons on Netflix: 4
The Office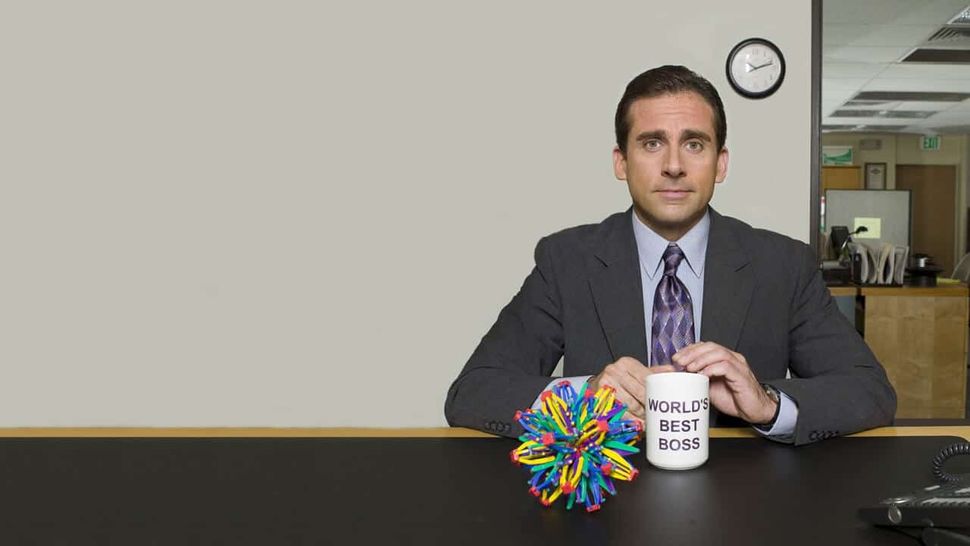 The US version of The Office is built on the bones of the UK original, but it spins off in entirely different directions almost straight away, and is definitely less emotionally challenging to rewatch.
With 20-minute episodes, compelling season-long arcs, and memorable characters, you can easily lose an entire weekend to watching The Office on repeat. Later seasons aren't nearly as strong as the ones starring Steve Carell, but you've got well over 100 must-see episodes to watch here.
Seasons on Netflix: 9
Best crime series on Netflix
Better Call Saul
How do you follow up on one of the biggest shows in recent history? This is how. Better Call Saul is a prequel masterclass to the famous Breaking Bad, filling in the murky backstory of the garishly-dressed hustler lawyer Jimmy McGill/Saul Goodman, and gradually crafting characters engrossing, unpredictable, and engaging enough to justify its existence in its own right.
This tale of Jimmy's descent into the criminal, drug-infested circles of Albuquerque takes place eight years before that of Walter White and Jesse Pinkman, and is often slower and less action-packed than Breaking Bad.
Seasons on Netflix: 6
Breaking Bad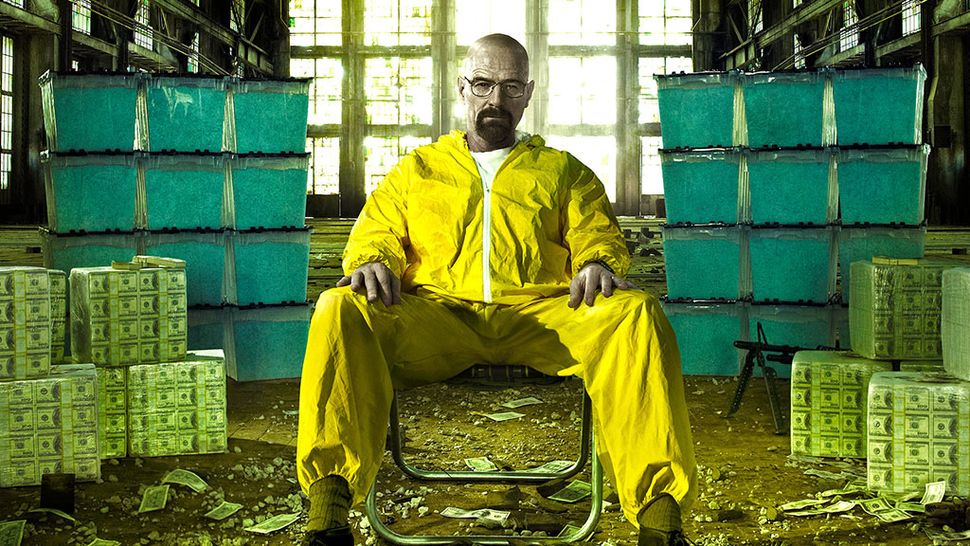 Arguably one of the best shows ever made, Breaking Bad is a stunning piece of work that every TV aficionado should stream at least once in their life.
Following Walter White's journey from insipid chemistry tutor to crystal meth criminal overlord is a fascinating watch in its own right, but it's the show's other major players (and how their arcs are affected by Walter's increasingly unhinged state) that make Breaking Bad an instant classic. You'll fall in love with Jesse Pinkman, have a love-hate relationship with Skyler White, be unsettled by Gus Fring's menacing persona, and wonder what on earth happened to Huell. A spellbinding piece of television that deserves all the plaudits it continues to get.
Seasons on Netflix: 5
Money Heist
Don't let the strangely goofy name put you off. Money Heist, or La Casa del Papel as it's known in Spanish-speaking countries, is a thrilling heist drama about a group of criminals. Brought together by an enigmatic figure called The Professor to rob the Royal Mint of Spain, Money Heist is full of dense characterization, big twists, and career-making performances in an unusual and clever heist show that'll grip you right away.
While it's been a huge hit with Spanish-speaking viewers, Money Heist has found a big audience in English-speaking nations. Whatever you do, make sure you switch the default dub off and listen to the original Spanish audio with subtitles. It'll add to the viewing experience, trust us.
Seasons on Netflix: 3 (divided into five parts)
Ozark
Netflix's Breaking Bad-esque family crime thriller was popular before the pandemic – then the arrival of a new season in 2020 seemed to supercharge interest in the show.
Jason Bateman plays Marty Byrde, a financial advisor who drags his family to the Missouri Ozarks in order to launder hundreds of millions of dollars, and keep a cartel boss off his back. Laura Linney plays his wife Wendy, who arguably develops more than any other character over the course of its twist-heavy run. It's not always an easy viewing experience, but Ozark is a solid prestige drama with a great ensemble cast.
Seasons on Netflix: 4
Best drama series on Netflix
Bridgerton
This bold and sexually-charged Netflix period drama, based on Julia Quinn's romance novels, follows a coterie of young socialites as they navigate a season of balls, betrothals, and betrayals in 1813 London. Oh, and they attempt to outmanoeuvre the mysterious Lady Whistledown, whose 'gossip sheets' are able to make or break a debutante's reputation overnight.
It's largely a blast, with sharp screenwriting, costumes, and backdrops bursting with colour, as well as playful covers of Taylor Swift or Ariana Grande on period-appropriate instruments. Its diverse casting is a relief, too, underlining Bridgerton's willingness to modernise and shake up an often stuffy genre. It's not all smooth sailing, particularly in its troublesome treatment of sexual assault in one unfortunately memorable episode in season 1. Still, is inclusion in our best Netflix series list is a necessity.
Queen Charlotte: A Bridgerton Story, the show's first spin-off, is also available to stream.
Seasons on Netflix: 2 (plus the Queen Charlotte spin-off)
Cobra Kai
Once a YouTube original, Netflix snapped up the rights to Karate Kid continuation TV show Cobra Kai and turned it into a smash hit. Set 34 years after Johnny Lawrence (William Zabka) was defeated by Danny LaRusso (Ralph Macchio), the former opens the Cobra Kai dojo once more to teach a new generation of kids how to fight. This sparks Johnny and Danny's old rivalry, and the action spins out from there.
If you love Karate Kid, this show is a lot of fun, and both its leads are in surprisingly great condition considering they're each performing fight stunts in their fifties. It's truly one of the best Netflix series around, so make the most of it before Cobra Kai season 6 closes it out.
Seasons on Netflix: 5
Dahmer – Monster: The Jeffrey Dahmer Story
Based on true events, Dahmer – Monster: The Jeffrey Dahmer Story is a truly unsettling watch. The shocking crime biopic dramatizes events where infamous serial killer Jeffrey Dahmer gruesomely murdered 17 innocent victims – and got away with doing so for nearly 15 years, despite the increasingly desperate and vociferous pleas of those who knew what he'd done.
Unsurprisingly, it's a very grim and deeply disturbing miniseries. Evan Peters delivers a discomforting performance as Dahmer, with the show's supporting cast equally captivating as the individuals swept up in this macabre tale of human cruelty, dereliction of duty, and broken sociopolitical systems.
Seasons on Netflix: 1
The Lincoln Lawyer
Based on Michael Connolly's 2008 novel series, The Lincoln Lawyer stars Manuel Garcia-Ruffalo as Mickey Haller, a defence attorney (and recovering addict) who picks up legal cases across Los Angeles from the back of his Lincoln Town car.
The show released to little fanfare but became one of the best Netflix shows last year. The Lincoln Lawyer was the second most-watched series on Netflix in three days after its initial release and even held its own against Stranger Things season 4 volume 1 later in May 2022.
Just like its protagonist, The Lincoln Lawyer has become something of an underdog in the streaming world. Given its success, The Lincoln Lawyer season 3 is also on the way.
Seasons on Netflix: 2
Outer Banks
Outer Banks wasn't expected to do much on Netflix when it originally debuted in April 2020. However, the teen mystery drama series has become a major hit for the streaming giant, particularly among 18 to 25 year olds.
It's easy to see why, too. Its attractive cast, intriguing synopsis (and subsequently interesting story arcs and character development), and thrilling action-adventure sensibilities have helped it become a Netflix mainstay. Given its hugely successful third season, a fourth installment has already been greenlit.
Seasons on Netflix: 3
Squid Game
Squid Game is Netflix's biggest TV show ever, breaking all kinds of records that even Stranger Things can't beat. This South Korean drama comes from the mind of director Hwang Dong-hyuk, and follows a group of indebted citizens invited to risk their lives in a mysterious survival game.
Like Bong Joon-ho's Parasite before it, Squid Game plays on the concept of class division as a catalyst for violence, satirizing reality television by having 456 contestants duke it out in a series of child-friendly games with deadly twists. It definitely leans on tropes first established by Battle Royale (which itself inspired The Hunger Games series), but it's nonetheless an original and exhilarating way to while away your evenings.
Squid Game season 2 in currently in development, as is a satirical series (from original creator Hwang Song-hyuk) about its actual development, and Squid Game: The Challenge, a real-world adaptation of the show that's due out in November. So one of the best Netflix series of all-time will return in multiple capacities.
Seasons on Netflix: 1
Suits
This legal drama has absolutely blown up since it debuted on Netflixm in mid-June. In fact, Suits became such a huge hit for Netflix that its success actually infuriated the show's writers. The scribes in question weren't enamoured to see Suits continually break records on Netflix and Peacock during the now-resolved writers strike, either.
Okay, so why has it proved to be so popular? For one, millions of TikTok users have shared clips from Suits since its Netflix debut. It's also down to the fact that Suits is just a really good show, too. The Patrick K Adams and Meghan Markle-fronted TV show has enough courtroom and relationship-based drama to shake a stick at, and we all know legal-centric offerings pull in plenty of viewers for Netflix. In short: stick one of the best Netflix series (from a third party standpoint) on your watchlist.
Seasons on Netflix: 9
The Crown
This wildly popular show charts the British Royal Family's history throughout the late Queen Elizabeth II's seven-decade reign. At £100 million for its first two seasons, it's one of the most expensive TV series ever made, which means there's enough pomp and ceremony to keep those pining for a Downton Abbey replacement happy.
The Crown season 5 saw Elizabeth Debicki and Dominic West take center stage as Diana and Charles – and controversially explores the breakdown on their relationship, as well as the gripping drama surrounding the British Royals. Imelda Staunton will play the late Queen Elizabeth in The Crown season 6, which arrives in two parts in November and December, in one of the best Netflix series we've seen.
Seasons on Netflix: 5
The Queen's Gambit