Best Netflix shows: December 5, 2022 update
Tom Power, entertainment reporter
We've updated this guide to include five more shows worth watching since our December 2 update. Meanwhile, we've listed each TV series under a specific section, depending on whether Netflix developed it in-house or bought the rights/renewed a show after it was dropped by its previous channel or network.
What are the best Netflix shows? It's a question we imagine you ask yourself whenever you're looking for something new to stream.
Luckily for you, we've put in the work to deliver a guide full of fantastic choices. Below, we've compiled a list of the 40 best TV series on Netflix, comprising multiple genres to ensure that every viewer is catered for. No matter what you prefer to watch on one of the world's best streaming services, then, we've got you covered.
From Stranger Things and Seinfeld, to Squid Game and Arcane, you'll find lots of choice in our best Netflix shows article. So, listen up: these are the 40 biggest and newest series to stream as of December 5, 2022.
Best Netflix shows: originals
This section is made up of 30 TV shows that Netflix developed in-house and released exclusively on its streaming platform.
Firefly Lane
Firefly Lane's first season didn't set the world alight from a critical perspective last year, with reviewers labeling it a mediocre drama largely let down by its writing.
But there's something charming and loveable at this Maggie Friedman-created show. Katherine Heigl's Tully and Sarah Chalke's Kate are an immediately relatable duo and the lynchpin that Firefly Lane's success has been based on. They (and the show overall) must be doing something right, too – season 1 catapulting itself to the top of the acclaimed Nielsen TV charts with 2.5 billion minutes streamed in the two weeks following its February 1, 2021 release. If season 2 gets close to matching that figure, Netflix won't care a jot about potentially low scoring reviews.
Seasons on Netflix: 2
Wednesday
Positioned as a pseudo-sequel to the beloved live-action Addams Family movies, Wednesday is a gothic, sinister, and comedy-based sleuth-style show that's been wildly popular among Netflix's fanbase (341 million hours have been streamed (opens in new tab) since its November 23 release).
Jenna Ortega (Scream 5) stars as the titular character, who must use her quirky skillset to solve a murder mystery plot and a secret concerning her own family at Nevermore Academy, all the while trying to fit in with her classmates and deal with the plight of being a teenager. No pressure, then.
Ortega revels in her role as the antisocial but intelligent Wednesday, though some critics have suggested its teen romance and murder mystery fare are slightly formulaic. Still, it's a terrific watch if you're a fan of The Addams Family, dark comedy, or Tim Burton (who directs the series).
Seasons on Netflix: 1
1899
An epic, supernatural horror period drama, 1899 comes from the creators of Dark, a criminally underrated sci-fi mystery thriller that might be one of the best Netflix shows of all-time (depending on who you talk to).
Dark will be given a run for its money with 1899 in the "what the heck is going on!?" stakes, too. It's a spectacularly twisty and turny story, which sees the passengers of a London steamship – the Kerberos – encounter a mysterious ship adrift in the open sea. The plot and character arcs that play out will have you guessing about its wider puzzle right up until its final episode. Don't be surprised if you're hooked after its opening salvo.
Seasons on Netflix: 1
Dead to Me
Billed as a tragicomedy – yep, one of those irksome word mergers – Dead to Me is certainly deserved of its cult status among Netflix's subscriber base.
The show stars Christina Applegate as Jen, a recently widowed estate agent who uses anger and resentment as a an outlet for her grief. Soon, she meets Judy at a support group, with the duo forging a close bond. Unbeknownst to Jen, though, Judy had a major role to play in the death of Jen's fiance. Cue plenty of dark comedic moments that'll have you cringing and laughing in equal measure.
Season 3 marks the end of the road for Dead to Me, but it's nonetheless an interesting series that explores grief (in all its forms) in some humorously uncomfortable ways.
Seasons on Netflix: 3
The Crown
This wildly popular show charts the British Royal Family's history throughout Queen Elizabeth II's seven-decade reign, with Peter Morgan on showrunning duties. At £100 million for its first two seasons, it was one of the most expensive TV series ever made, which means there's enough pomp and ceremony to keep those pining for a Downton Abbey replacement happy.
The Crown season 5 sees Elizabeth Debicki and Dominic West take center stage as Diana and Charles – and controversially explores the breakdown on their relationship, as well as the gripping drama surrounding the British Royals. It's as engrossing as ever and six seasons are planned in total. Imelda Staunton will play the late Queen Elizabeth in the series' final season, as she does in season 5, in one of the best Netflix shows ever made.
Seasons on Netflix: 5
Dahmer – Monster: The Jeffrey Dahmer Story
Based on true events, Monster: The Jeffrey Dahmer Story is a truly unsettling watch that many Netflix subscribers have been shocked by.
The shocking crime biopic dramatizes events where infamous serial killer Jeffrey Dahmer gruesomely murdered 17 innocent victims – and got away with doing so for nearly 15 years, despite the increasingly desperate and vociferous pleas of those who knew what he had done.
Unsurprisingly, it's a very grim and deeply disturbing watch. Evan Peters delivers a discomforting performance as Dahmer, with the show's supporting cast equally captivating as the individuals swept up in this macabre tale of human cruelty, dereliction of duty, and broken sociopolitical systems.
Seasons on Netflix: 1
Cyberpunk: Edgerunners
Based on CD Projekt Red's Cyberpunk 2077 videogame, Edgerunners is an anime spin-off series that delivers gratuitous violence, high-octane action, and mature themes in spades. The 10-episode series comes from Studio Trigger, a Tokyo-based studio whose other fan favorite works include Little Witch Academia, Star Wars: Visions, and Kill la Kill.
Cyberpunk: Edgerunners is a majestic looking show packed with fraught relationships, frenetic and brutally gory set-pieces, and thought provoking material that ask what it means to be human in a sci-fi dystopia riddled with immeasurable sociopolitical issues. Fans of animation, Cyberpunk, or both will want to catch this one as soon as possible.
Seasons on Netflix: 1
The Sandman
The Sandman is a stunning example of how a legendary comic book series – or any reading-based material – should be adapted. Based on Neil Gaiman's iconic dark fantasy works, The Sandman tells the tale of Morpheus (Tom Sturridge), aka Dream/the titular Sandman, one of seven immortal beings called the Endless and ruler of the Dream Dimension, who sets out to retrieve his magical items and restore his kingdom to its former glory after 100 years of captivity on Earth.
The Sandman's story may sound pretty simplistic, but it's so much more than that. It weaves a multi-narrative tapestry full of thrilling drama, captivating characters, fantasy-based horror, and rich thematic resonance. Check out our spoiler-free season 1 review and exclusive chat with its cast and crew for more. After months of deliberation, Netflix has renewed The Sandman for a second season.
Seasons on Netflix: 1
The Umbrella Academy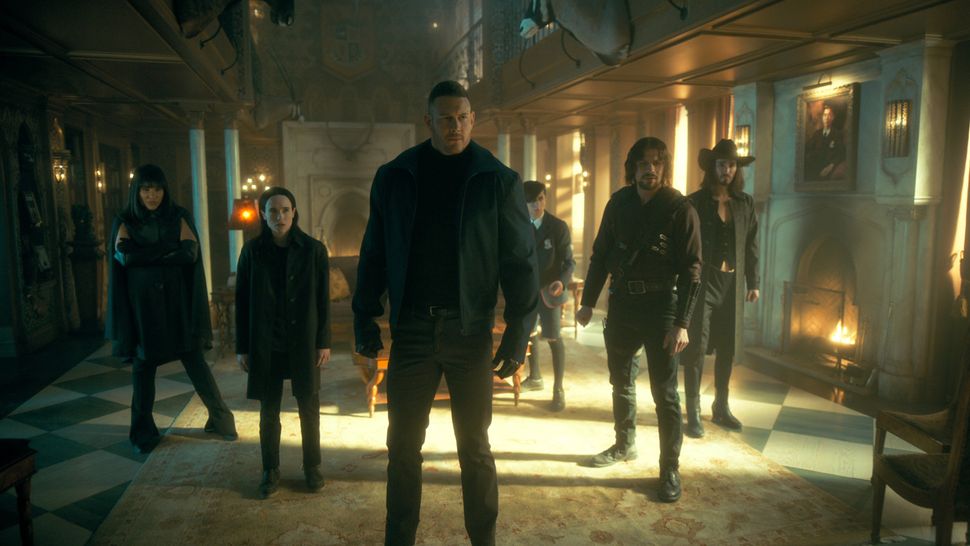 Based on the comic books written by My Chemical Romance's Gerard Way and illustrated by Gabriel Bá, The Umbrella Academy is Netflix's self-developed superhero original. And it's a fantastic watch to boot.
After 43 babies are born to women who showed no signs of pregnancy, seven are adopted by billionaire Sir Reginald Hargreeves, who trains them to save the world using their powers. After the family becomes estranged, they are reunited once more when their father dies, and are forced to come to terms with their past and the danger that lurks in their future.
Starring Elliot Page and an amazing ensemble, The Umbrella Academy is flamboyant, dark, and gratifyingly violent: all the ingredients you need for a great superhero series. Read our spoiler-free review on the show's third season before finding out why one of the best Netflix shows is only returning for one final season.
Seasons on Netflix: 3
Stranger Things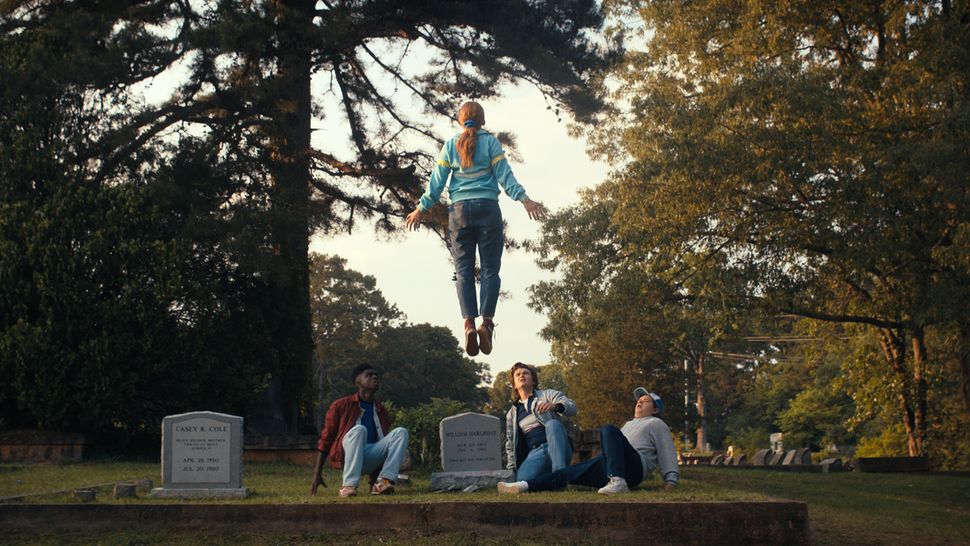 Stranger Things is a brilliant homage to '80s pop culture. Leaning heavily on Spielberg, John Carpenter and Stephen King – so much King, in fact – the story revolves around a small town, a group of friends, a missing person, and a dodgy science lab. Writing anything else would give away the myriad twists in a show that is full of creepy fun, superhero-esque action, thrilling mysteries, and devilishly gruesome horror.
Work on Stranger Things season 5 is underway, with filming rumored to start in May 2023. The title of its first episode has also been revealed and its creators suggesting the final season will be its deadliest yet. It's one of the best Netflix shows ever and, once you're hooked, we're sure you'll agree.
Seasons on Netflix: 4
Love, Death & Robots
Like most (if not all) anthologies, the quality of Adult CG animated anthology Love, Death and Robots varies between episodes. But taken as a larger work, this show has a lot to give. The ideas vary wildly between comedy, horror, action, and drama, with a dark touch at the heart of the series – what happens if a home-cleaning unit starts trying to kill its owner? What happens if a yoghurt tries to secure world domination? Sometimes, an episode is as simple as a woman being on the run from a killer after witnessing a horrible murder.
The episodes are super short, so you'll fire through it in a weekend if you can stomach the good and bad (though mostly bad) things that happen to its eclectic cast of characters. Love, Death and Robots offers some of the best sci-fi thrills on Netflix. And, if you're keen to learn our thoughts on each entry, this handy ranked list of every Love, Death and Robots story should be top of your agenda.
Seasons on Netflix: 3
Heartstopper
Based on Alice Oseman's graphic novel series of the same name, Heartstopper is a romantic coming-of-age tale that's been hailed as one of the best Netflix shows of recent times.
Heartstopper stars Joe Locke as Charlie Spring, a gentle schoolboy who strikes up an unlikely friendship with Kit Connor's rugby-obsessed Nick Nelson. It isn't long before the pair realize that a blossoming romance is developing between them, however, forcing them to confront (and accept) who they are and what they want out of life and a relationship.
It's an empathetic, sweet, relatable, and emotional tale about self-discovery, friendship, teen love, and queerness. Based on its immense popularity, it seems that Heartstopper is worth the hype. Good job that two more seasons are on the way.
Seasons on Netflix: 1
Russian Doll
Orange Is The New Black's Natasha Lyonne stars in this dark comedy as Nadia, a wisecracking New Yorker who keeps dying and reliving her 36th birthday party in a surreal time loop – much like Groundhog Day.
The show's second season sees Nadia and fellow time-traveler Alan (Charlie Barnett) finding themselves able to travel through time, rather than being endlessly trapped in the past experiencing the same day over and over again.
With its cynical and witty examination of living and dying, Russian Doll switches rapidly between laugh-out-loud hilarity and devastating sadness, all the while exploring such an existential topic through a sci-fi lens. It's a must-watch and one of the best Netflix shows to date.
Seasons on Netflix: 2
Bridgerton
This bold and sexually-charged Netflix period drama, based on Julia Quinn's romance novels, follows a coterie of young socialites as they navigate a season of balls, betrothals, and betrayals in 1813 London. Oh, and they attempt to outmanoeuvre the mysterious Lady Whistledown, whose 'gossip sheets' are able to make or break a debutante's reputation overnight.
It's largely a blast, with sharp screenwriting, costumes, and backdrops bursting with colour, as well as playful covers of Taylor Swift or Ariana Grande on period-appropriate instruments. Its diverse casting is a relief, too, underlining Bridgerton's willingness to modernise and shake up an often stuffy genre. It's not all smooth sailing, particularly in its troublesome treatment of sexual assault in one unfortunately memorable episode in season 1. Still, is inclusion in our best Netflix shows list is a necessity.
Seasons on Netflix: 2
Vikings Valhalla
Set 100 years after the events depicted in the joint History Channel-Prime Video series, Vikings Valhalla focuses on the final decades of the Viking era, which will culminate in their final defeat during the Battle of Stamford Bridge in 1066.
Netflix's quasi-sequel doesn't reinvent much of what viewers will have previously seen. But, if you were a fan of Vikings' historical drama, regular clashing of metal, and study of character and sociopolitics, Valhalla is worth checking out. And so is our chat with the show's cast, which contains some intriguing information about how Valhalla differentiates itself from its predecessor. Season 2 arrives on January 11, 2023.
Seasons on Netflix: 1
Formula 1: Drive to Survive
Offering unprecedented behind-the-scenes access, Formula 1: Drive to Survive is a petrolhead's dream. The supercar TV series provides an in-depth peek behind the curtain on the biggest moments and flashpoints in the F1 world, including drive bust-ups and the ongoing race to become the most dominant F1 construction company in the world.
Drive to Survive won't appeal to everyone. But, for those who want even more high-speed action and drama to go alongside F1's yearly Grand Prix circuits, it's a show that shouldn't be missed. Before you start revving those engines, though, check out our thoughts on why sports docuseries should never be scripted.
Seasons on Netflix: 4
Ozark
Netflix's Breaking Bad-esque family crime thriller was popular before the pandemic – then the arrival of a new season in 2020 seemed to supercharge interest in the show. Jason Bateman plays Marty Byrde, a financial advisor who drags his family to the Missouri Ozarks in order to launder hundreds of millions of dollars, and keep a cartel boss off his back. Laura Linney plays his wife, Wendy, who arguably develops more than any other character over the course of its twist-heavy run.
It's not always an easy viewing experience, but Ozark is a solid prestige drama with a great ensemble cast. Season 4, divided into two parts, officially closed out the series.
Seasons on Netflix: 4
The Witcher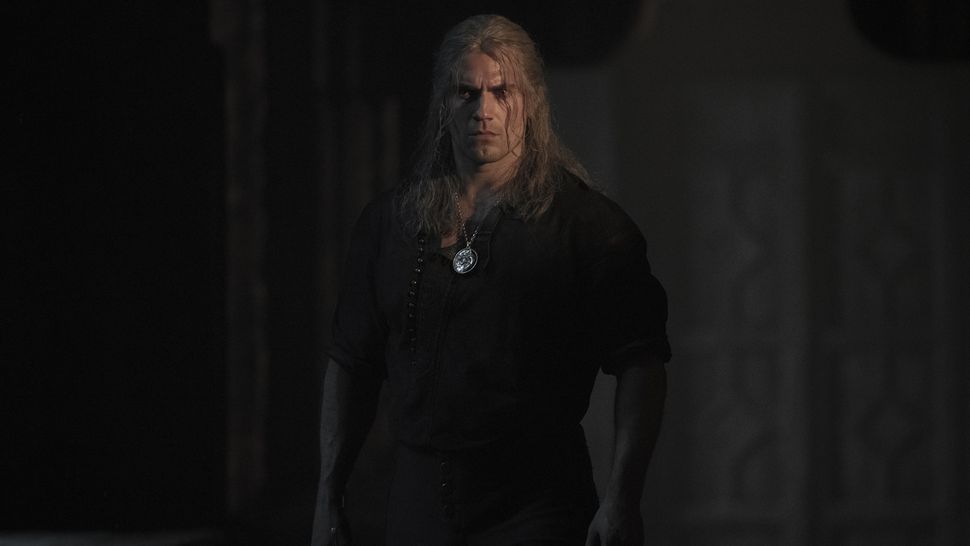 The Witcher is a TV adaptation of Andrzej Sapkowski's best-selling books, which have also been adapted into a series of popular games. Henry Cavill plays monster hunter Geralt of Rivia in a story that spans decades and wars between nations. And with season 2 uniting him with other fan favorite characters from the novels, the show's second outing is even better than the first.
The Witcher doesn't quite feel like 'prestige' TV in the way Game of Thrones tried to be, but that's not necessarily a bad thing. It's an enjoyable, funny, action-packed, and dramatic fantasy series that'll delight Witcher fans and more casual viewers. Season 3 has finished filming and will launch on Netflix in summer 2023, although it'll be Henry Cavill's last appearance – he won't return for The Witcher season 4, which was recently greenlit. Meanwhile, spin-off show Blood Origin arrives this December.
Seasons on Netflix: 2
Arcane
Developed by Riot Games, Arcane is a prequel story set in the beloved world of League of Legends (LoL). Set before the events of the fan favorite MOBA, Arcane follows the likes of Vi (Hailee Steinfeld), Jinx (Ella Purnell) ,and Jayce (Kevin Alejandro) as they embark on their respective journeys towards becoming the heroes and villains of Riot's multiplayer game.
With its all-star cast, beautifully unique visuals from French studio Fortiche Productions, and a tale that's built on explosive action and heart breaking narratives, Arcane isn't just a show that services LoL fans. No matter if you're a diehard fan or a relative newcomer to the franchise, Arcane will wow you in equal measure. And, with a second season on the way, there'll be more awesome animation and story content to come from one of the best Netflix shows ever.
Seasons on Netflix: 1
Squid Game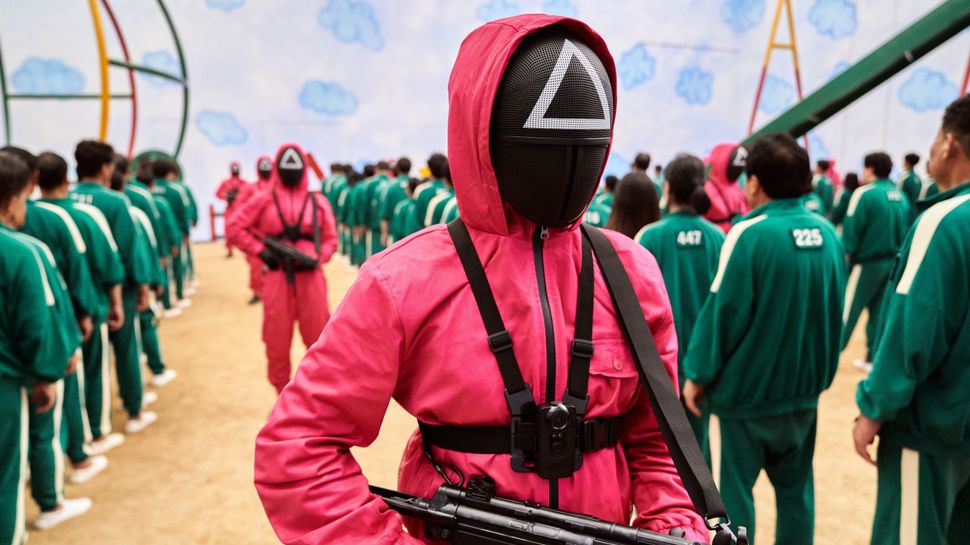 Squid Game is Netflix's biggest TV show ever, breaking all kinds of records that even Stranger Things can't beat. This South Korean drama comes from the mind of director Hwang Dong-hyuk, and follows a group of indebted citizens invited to risk their lives in a mysterious survival game.
Given the excited furore that has erupted around the show, you probably knew that already. Like Bong Joon-ho's Parasite before it, Squid Game plays on the concept of class division as a catalyst for violence, satirizing reality television by having 456 contestants duke it out in a series of child-friendly games with deadly twists. It definitely leans on tropes first established by Battle Royale (which itself inspired The Hunger Games series), but this show is nonetheless an original and exhilarating way to while away your evenings.
A second season in currently in development, as is a satirical series (from original creator Hwang Song-hyuk) about Squid Game's actual development, so one of the best Netflix shows of all-time will return in multiple capacities soon.
Seasons on Netflix: 1
Midnight Mass
Midnight Mass is about a young man (Zach Gilford) who returns to his secluded island home of Crockett to serve a parole sentence. At the same time, a new priest (Hamish Linklater) arrives just as miraculous events start occurring across the island – leading the whole community to embrace religion in an unprecedented fashion. Something dark, however, lurks beneath the surface of this place.
There's a touch of Wicker Man-esque folk horror to this series, which honestly takes a little too long to start getting scary (three episodes, in fact), but it's well worth binging this 7 episode miniseries. Even though some of its discussions around religion are entirely played out, the characterization here is sharp – and Linklater absolutely steals scenes as a new community leader who you don't feel like you can trust.
Seasons on Netflix: 1
Sex Education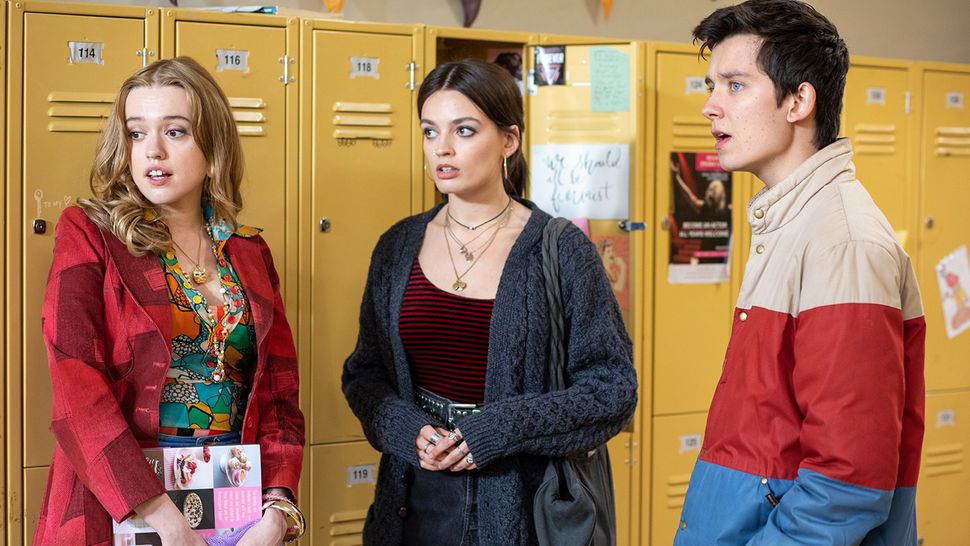 Sex Education feels like a beautiful culmination of Netflix's push for progressive and diverse programming. Set in the picturesque British countryside, Sex Education follows the misadventures of the students, faculty and parents of Moordale Secondary School as they navigate the turbulent waters of sexuality. The show has resonated deeply with fans thanks to its balance of heart warming character work and informative approach to topical issues such as varied sexual identities, gendered power structures, family dynamics, and much more.
Gillian Anderson and Asa Butterfield lead a stellar cast of fresh faces in this unmissable deep dive into the various ways we express ourselves as sexual beings. Season 4 is currently in development, so we'll be seeing more of one of the best Netflix shows again soon.
Seasons on Netflix: 3
Shadow and Bone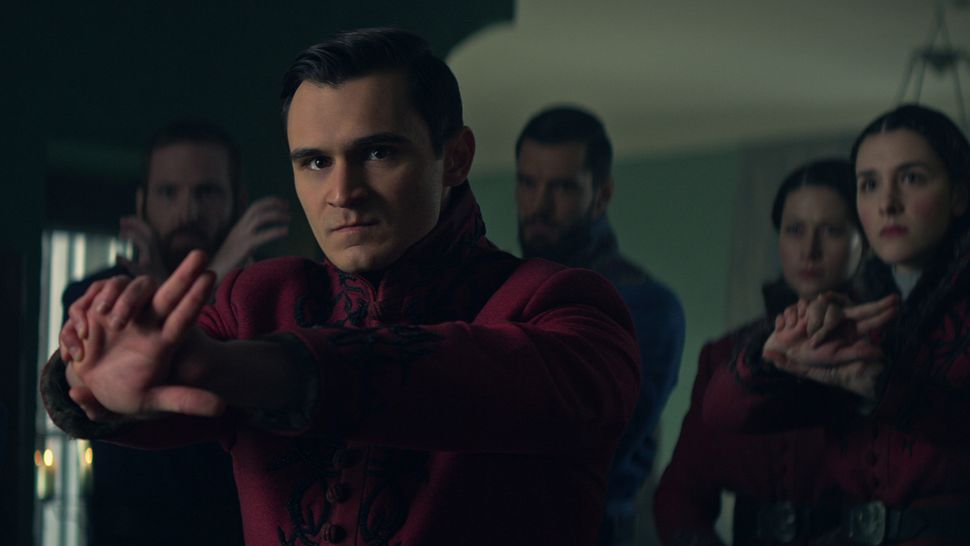 Netflix has enjoyed plenty of success with its fantasy TV offerings in recent times. Shadow and Bone, then, had plenty to live up to in a genre that also contains The Witcher, but it more than holds its own with an adventurous and twisting plot, investable characters and lots of drama.
It can take a couple of episodes to get into Shadow and Bone, and there could have been a bit more in the way of action. Once you're hooked by its story and characters, though, Shadow and Bone is a world you can easily get lost in – and one you'll want to. Filming has wrapped on season 2 of Shadow and Bone, with Netflix revealing a first-look teaser at Tudum 2022.
Seasons on Netflix: 1
The Queen's Gambit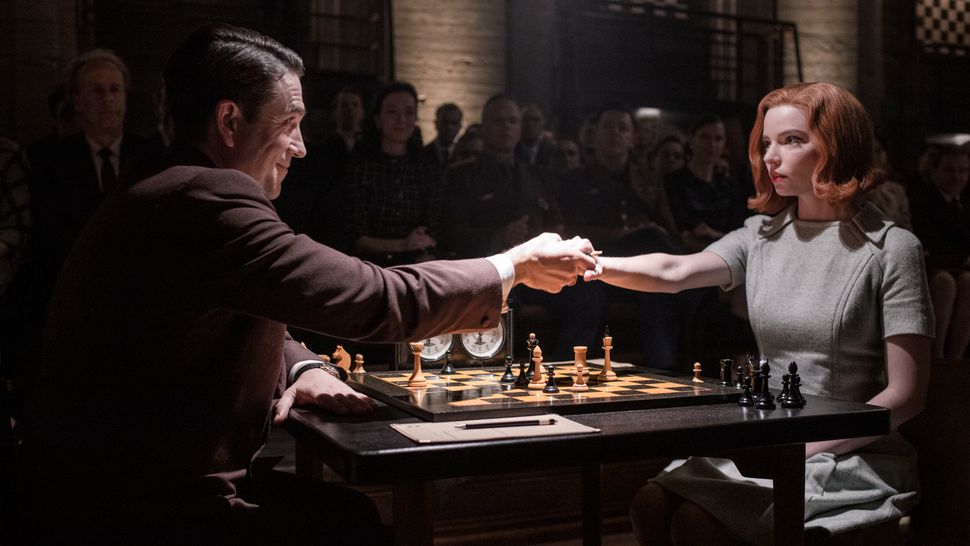 This miniseries is a real treat. While the subject of chess might not sound exciting, The Queen's Gambit manages to weave it together with a tale of self-actualization, romance, and drug abuse. Anya Taylor-Joy stars as Beth Harmon, an orphan trained to play chess by a talented janitor, before she challenges the very male-dominated chess scene with her skills. Essentially, her talents land her a slightly better life, but not without a price.
Even if you don't really know how to play chess, these competitive scenes are exciting to watch, and Taylor-Joy does a great job of bringing to life a character whose exceptional talents hide the fact that she's constantly grappling with addiction.
This is a great Netflix binge watch. Seven episodes is just the right number and it's easily one of the best Netflix shows ever made.
Seasons on Netflix: 1
BoJack Horseman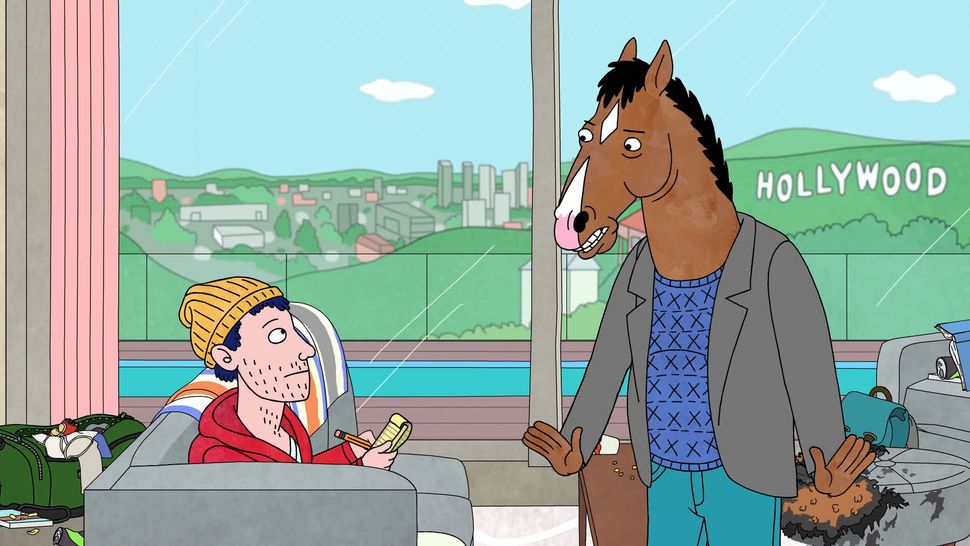 Yes, Bojack Horseman is hilarious. Yes, it's the best thing Will Arnett has done since Arrested Development. And yes, it should be the next thing you watch if you are into anthropomorphic comedy about a once great TV star who has fallen on hard times. It's all of that, but it's also a pretty accurate portrayal of depression and should be celebrated as such.
For those who are worried it may be too dark for them, fear not – there's loads of slapstick humour, word play, and stunning animation to keep everything balanced. The complete run is now available to stream.
Seasons on Netflix: 6
Murderville
Based on a BBC Three TV show called Murder in Successville, Murderville follows Will Arnett's eccentric detective Terry Seattle as he looks to solve a new murder-mystery case in the series' six episodes.
The major twist on the comedy whodunit show is Seattle teams up with a new celebrity in each episode. Aside from a brief rundown about the case that they need to solve, Seattle and his guest star partner have no script to read from, either. In order to solve the crime, then, they must improvise – a situation that bears plenty of comedy fruit for viewers to lose themselves in.
Seasons on Netflix: 1
Human Resources
From the surreal but inventive minds behind popular animated series Big Mouth, Human Resources is a edgy and mature show that lifts the lid on the various creatures that help their human hosts to navigate every day life.
Positioned as a workplace comedy, Human Resources follows numerous races – Hormone Monsters, Shame Wizards, and Depression Kitties to name just three – assigned to human adults as a representation of their feelings. Ironically, though, it's these very same creatures whose own humanity and feelings are tested in humorous and sometimes heart breaking fashion.
With an all-star voice cast including former X-Men actor Hugh Jackman, Harry Potter's David Thewlis, and Saturday Night Live's Aidy Bryant, Human Resources is a brilliant show laced with superb jokes and intriguing commentary on the human condition.
Seasons on Netflix: 1
Sweet Tooth
This post-apocalyptic fantasy series is about a half-human, half-deer boy who travels across the ruined world with a hardened protector – searching for a new life amid the ruins of America. If you're in the mood for something that just about counts as warm family viewing but has an edge, don't miss Sweet Tooth. If you enjoy it, check out Jeff Lemire's wonderful comics that the show is based on afterwards.
It's become a monster hit for Netflix and, unsurprisingly, Sweet Tooth season 2 is on the way.
Seasons on Netflix: 1
The Lincoln Lawyer
Based on Michael Connolly's 2008 novel series, The Lincoln Lawyer stars Manuel Garcia-Ruffalo as Mickey Haller, a defence attorney (and recovering addict) who picks up legal cases across Los Angeles from the back of his Lincoln Town car.
The show released to little fanfare but it's gone on to be one of the best Netflix shows of 2022. The Lincoln Lawyer was the second most-watched series on Netflix in three days after its initial release and even held its own against Stranger Things season 4 volume 1 later in May.
Just like its protagonist, The Lincoln Lawyer has become something of an underdog in the streaming world. No wonder it's been renewed it for a second season and is considered one of the best Netflix series around.
Seasons on Netflix: 1
Mindhunter
David Fincher is no stranger to Netflix, since he directed the first ever episode of House of Cards, but Mindhunter is Fincher going ... well, full Fincher. It's based on John Douglas' book of the same name and charts the life of an FBI profiler whose job it is to track serial killers. It's set in the '70s and, later, the early '80s, and sees its trifecta of lead characters interviewing famous serial killers in often tense encounters.
Fincher is extremely hands-on, too, directing four episodes of season one and three of season two. Unfortunately, season 3 is on "indefinite hold".
Seasons on Netflix: 2
Best Netflix series: non-originals
This 10-strong section comprises two types of TV series. The first of those are third-party offerings Netflix has a licensing agreement for, such as Friends,
The other batch are shows Netflix renewed – if a show was canceled by another studio – like Manifest, or ones it picked up the rights for, including Cobra Kai and You. The latter are technically considered Netflix originals now but, seeing as they debuted on another channel or network, we've added them to this part of our guide.
Manifest
After its cancellation on NBC, Netflix picked up the rings to this cult classic supernatural series so fans (and the cast) could get plot and character closure in a fourth and final season.
After their flight experiences some brief but significant turbulence, the passengers on board Montego Air Flight 828 land in New York to find five and a half years have shockingly passed – with their family, friends, and the media presuming them dead.
Given its parallels to another supernatural-style show in Lost, it's unsurprising why Manifest has accrued a devout following since its September 2018 debut. It's full of compelling twists and turns, with Manifest's major players trying to get to the bottom of the mystery behind their disappearances. Season 4 part 1 – comprises 10 episodes – is available now, while part 2 arrives at a later date.
Seasons on Netflix: 1 (currently, season 4 is the only one Netflix has the rights for)
Cobra Kai
Once a YouTube original, Netflix snapped up the rights to Karate Kid continuation TV show Cobra Kai and turned it into a smash hit. Set 34 years after Johnny Lawrence (William Zabka) was defeated by Danny LaRusso (Ralph Macchio), the former opens the Cobra Kai dojo once more to teach a new generation of kids how to fight. This sparks Johnny and Danny's old rivalry, and the action spins out from there.
If you love Karate Kid, this show is a lot of fun, and both its leads are in surprisingly great condition considering they're each performing fight stunts in their fifties. The show's fifth season is available now and, as one of the best Netflix shows around, you won't want to miss it.
Seasons on Netflix: 5
Peaky Blinders
Loosely based on the real-life Peaky Blinders gang that menacingly patrolled the UK's streets in the late 19th and early 20th century, the show largely follows the exploits of Tommy Shelby (Cillian Murphy), the ambitious and cunning leader of the Shelby family.
The series charts the rise and fall of the Shelbys as they navigate the changing landscape at home and abroad, trying to stay one step ahead of the authorities while simultaneously tackling global issues including the prohibition era and the rise of fascism in the 1930s. Expect a rip-roaring finale to one of the best British shows of recent years. A movie is thought to be in its pre-production phase, so we won't be saying goodbye to Tommy and the gang just yet.
Seasons on Netflix: 6
Better Call Saul
How do you follow up on one of the biggest shows in history? This is how. Better Call Saul is a prequel masterclass to the famous Breaking Bad, filling in the murky backstory of the garishly-dressed hustler lawyer, Jimmy McGill/Saul Goodman, and gradually crafting characters engrossing, unpredictable, and engaging enough to justify its existence in its own right.
This tale of Jimmy's descent into the criminal, drug-infested circles of Albuquerque takes place eight years before that of Walter White and Jesse Pinkman, and is often slower and less action-packed than Breaking Bad. All six seasons are available now, so catch it while it's still a hot topic of conversation among your peers.
Seasons on Netflix: 6
You
You tells the story of Joe Goldberg, a New York bookstore manager who becomes infatuated with aspiring writer Guinevere Beck. What ensues is a toxic behavioral journey where Goldberg removes any obstacle in his way in his pursuit of Beck – a chase that winds up turning Goldberg into a city-jumping, identity-changing individual who constantly tries to escape his past, only to find himself falling into old habits.
Just know that this knotty, twist-heavy and sometimes outrageous show is perfect if you're in the right frame of mind for it. Somehow, despite focusing on a character that's so toxic on paper, it manages to keep you engaged with every beat – no wonder Netflix renewed it for a fourth season, which was announced to be coming in two parts at Tudum 2022.
Seasons on Netflix: 3
Seinfeld
Seinfeld is a show about friends Jerry, Elaine, George, and Kramer, and the various preposterous social situations and awkward encounters that make up their lives. Famously known as a sitcom about nothing, it goes against the feel-good underpinning of its '90s contemporaries and insists its characters never learn any lessons.
That means it's still wickedly funny years later. The first two seasons of Seinfeld are a bumpy ride, but from season 4 onwards there's never a bad episode. Check out our best Seinfeld episodes for recommendations on our favorites. The only disappointment about streaming the show on Netflix is the fact it streams solely in widescreen – but for most people that won't make a big difference.
Seasons on Netflix: 9
Money Heist
Don't let the strangely goofy name put you off. Money Heist, or La Casa del Papel as it's known in Spanish-speaking countries, is a thrilling heist drama about a group of criminals. Brought together by an enigmatic figure called The Professor to rob the Royal Mint of Spain, Money Heist is full of dense characterization, big twists, and career-making performances in an unusual and clever heist show that'll grip you right away.
While it's been a huge hit with Spanish-speaking viewers, Money Heist has found a big audience in English-speaking nations, too. Whatever you do, though, make sure you switch the default dub off and listen to the original Spanish audio with subtitles. It'll add to the viewing experience, trust us.
Seasons on Netflix: 3 (divided into five parts)
Community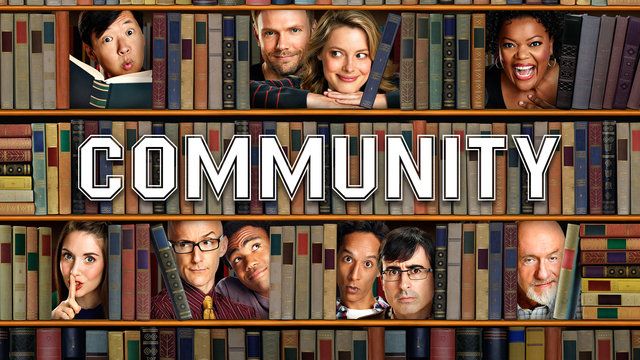 The NBC comedy favourite returned to Netflix UK in 2020 after an extended absence. This sitcom about a community college study group starts as a more conventional show about its ramshackle educational setting, but reaches the next level when it starts experimenting with pop culture parodies and high-concept episodes.
If you're new to the show, keep watching until season 1's action extravaganza 'Modern Warfare', which firmly establishes Community's identity for later years. Some seasons are fantastic (2, 3 and 5), some are just quite good (1 and 6) and one is worth avoiding entirely (4).
Seasons on Netflix: 6
Top Boy
Executively produced by Canadian Grammy-winning artist Drake, Top Boy is a gritty and grounded crime drama about gangs vying for control of London's streets in the show's fictional and escalating drug war. It's an at-times harrowing watch, but one that feels necessary as it shines a spotlight on the drugs trade in London and how similar criminal empires exist across the globe.
Currently, Netflix only has the rights to the two seasons it's developed, so you'll have to look elsewhere for the two seasons that previously (and exclusively) aired on Channel 4 in the UK. A third and final season has been announced, so get caught up on seasons 1 and 2 ahead of its last outing.
Seasons on Netflix: 2
The IT Crowd
Looking for a sitcom stuffed full of quintessential British humor? Look no further than The IT Crowd.
The four season extravaganza, which aired between 2006 and 2010 on UK TV network Channel 4, is packed with brilliant jokes and sequences that have been immortalized in gifs and memes in the 12 years that have followed. Seen that gif of a fire extinguisher on fire? It's from The IT Crowd. Or the one where someone shouts "I made a mistake!"? Yep, that's from The IT Crowd, too. If you're a fan of geeky, computer-based jokes and are looking for a show you can binge in an entire weekend – there are only 24 episodes of 30 minutes apiece, plus an hour long special to watch – this'll tide you over and then some.
Seasons on Netflix: 4 (plus that 60-minute special)