The best Apple TV Plus shows September 2023: Ted Lasso, Severance, Silo, and more
Features
Contributions from
last updated
Here are the best Apple TV Plus shows, from For All Mankind and The Morning Show to Ted Lasso and Silo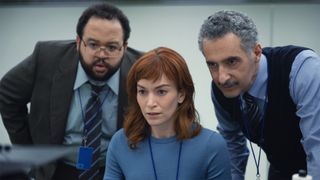 (Image credit: Apple TV Plus)
Being good enough to feature in a list of the best Apple TV Plus shows is almost a seal of quality in itself. Apple's streaming service tends to prioritize quality over quantity, so the bar for entry is high – across an impressive range of genres.
From the award-winning, heartwarming soccer comedy of Ted Lasso, to the unique, office-based drama of Severance and the premium sci-fi of Silo and Foundation, the best Apple TV Plus shows have a habit of attracting A-list talent. Recent comedy series Shrinking even attracted Indiana Jones himself, Harrison Ford, to the small screen.
So while the Apple TV Plus back catalogue isn't quite as vast as that of Disney Plus, and doesn't possess the seemingly limitless options of Netflix and Prime Video, the tech giant's TV platform has assembled an impressive raft of brilliant shows.
In other words, whatever kind of series you're looking to binge next, there's a good chance you'll find it among our pick of the best Apple TV Plus shows. Read on to find out what's waiting for you on one of the best streaming services out there. You can also check out our guide to the best Apple TV Plus movies.
Best Apple TV Plus shows
Severance
One of Apple TV Plus's most curious originals, Severance centers on a mysterious biotech firm that offers its employees an ingenious solution to humanity's perennial search for work/life balance: a medical procedure that completely separates memories of your home and professional existences.
Starring Adam Scott as a cog in the machine who begins to question the whole process, the show's intriguing blend of workplace satire, existential crisis and psychological conspiracies is undoubtedly something of a slow burn. But, as we explain in our Severance season one review, sticking with its inherently unsettling Charlie Kaufman-esque vibes brings the reward of a brilliantly tense finale which genuinely leaves you wanting more.
It's good news, then, that the hotly anticipated Severance season 2 went into production in October 2022. We're optimistic it'll confirm this workplace comedy-drama's status as one of the best Apple TV Plus shows available.
Silo
Possibly the most talked about new Apple TV Plus show of 2023, Silo is dystopian sci-fi delivered with all the style and storytelling prowess we've come to expect from the streamer. Speed writer Graham Yost gets more mileage out of trapping people in an enclosed space in this adaptation of Hugh Howey's book series, about a community living in a vast underground bunker.
Mission: Impossible's Rebecca Ferguson plays an engineer who starts to ask questions about the silo's origins and what happened up above, while powerful forces try to keep its history under wraps. What follows is 10 episodes of smart, tense storytelling enclosed in spectacular brutalist sets. A second season has been given the green light, though as Ferguson told TechRadar in July, it may take some time to make it to the screen.
Ted Lasso
Sure, its impossibly optimistic view of the world takes as much suspension of disbelief as Apple TV Plus's sci-fi fantasies. But at a time when the entire universe appears to be going to pot, then such a resolutely feelgood show is what so many of us desperately needed. Ted Lasso has deservedly cleaned up at the Emmys and Golden Globes thanks to its heart-warming depiction of life for in the English Premier League, and the fish-out-of-water American coach who unexpectedly finds himself in charge of a middling soccer team.
Jason Sudeikis is brilliantly endearing as the thick-moustachioed, biscuit-baking lead, but each loveable character – most notably Brett Goldstein's Roy Keane-esque hardman, Roy Kent – is perfectly cast. And even though season 2 and season 3 couldn't quite live up to the all-round brilliance of Ted's first year in the dugout, this is undoubtedly one of the big winners on Apple TV Plus.
For All Mankind
Much as Prime Video's The Man in the High Castle asks, 'What if the Germans won the war?,' For All Mankind imagines an alternate timeline where the Soviet Union made it to the moon before America.
Co-created by Ronald D. Moore (Battlestar Galactica), the Saturn Award-winning series mixes real-life figures such as Neil Armstrong and Ronald Reagan with fictional astronauts to build a handsomely-recreated vision of the 1960s and early '80s– and in subsequent seasons, the '80s and '90s. But the personal drama, particularly the stories which put the women front and centre, are often just as gripping as its exploration of the global space race. In fact, we believe For All Mankind has the right stuff to be your next TV binge.
Bad Sisters
Sharon Horgan (Catastrophe) is the co-creator and star of this pitch-black comedy-drama. Inspired by the Flemish series Clan, it tells the story of four Irish sisters (played by Eva Birthistle, Normal People's Sarah Greene and Behind Her Eyes' Eve Hewson) who despise their brother-in-law John-Paul (Claes Bang) so much that they come up with a succession of plans to kill him, protecting their sister Grace (Anne-Marie Duff) in the process.
The plot unfolds in two parallel timelines: one leading up to John-Paul's demise, the other following a pair of insurance agents who suspect foul play. The results are compelling, darkly funny, and packed with unexpected twists and turns. You can read our full Bad Sisters review here.
Shrinking
Shrinking stars Jason Segel as grieving therapist Jimmy Laird, who is spiralling from the death of his wife in a car crash. Jimmy begins to shake up the advice he gives to his patients by telling them what he really thinks, breaking all the rules – and changing lives in the process. The emotionally-driven comedy (created by Segel, along with Ted Lasso's Brett Goldstein and Bill Lawrence) also stars the legendary Harrison Ford as Dr Paul Rhodes, a fellow therapist who is battling Parkinson's disease.
The series was mostly well-received, with critics praising its exploration of radical honesty. Some are calling it heartwarming, others over-earnest, but either way we believe it's one of the best Apple TV Plus shows.
The Morning Show
Boasting a star-studded cast and an ever-twisting storyline which leans fully into the #MeToo movement, The Morning Show makes the seemingly cosy world of breakfast TV appear as cutthroat as the Mafia. Jennifer Aniston delivers a career-best performance as the long-time anchor whose world is turned upside down by Reese Witherspoon's upstart reporter (think Election's Tracy Flick two decades later), and a sexual misconduct scandal which achieves the seemingly impossible: making you loathe Steve Carell.
Although its second season falls into the Aaron Sorkin/The West Wing trap of tackling too many hot button issues, its first year – especially its gripping finale – more than justified its status as Apple TV Plus's original flagship show.
Foundation
Loosely based on sci-fi legend Isaac Asimov's books of the same name, this ambitious drama centers on a group of exiles who set out to establish a new society to overthrow the ruling Galactic Empire and ensure the survival of humanity. Foundation may well be Apple TV+'s most spectacular looking original – the majority of filming took place amid the volcanic landscapes of the Canary Islands rather than the usual green screens. Its cinematic scope is matched by magnetic performances from Jared Harris as a mathematician turned Nostradamus-like rebel leader, while Lee Pace plays a succession of ruthless cloned Emperors.
With a storyline that stretches out over centuries, it can be a challenging watch, but Foundation's immersive, intelligent script (featuring moral dilemmas and even the odd mathematics montage) ensures it's worth sticking with the drama. New episodes are currently debuting every Friday – read our season 2 premiere review.
Slow Horses
Although set in the world of espionage, Slow Horses often has more in common with the workplace drudgery of The Office than the glitz and glamour of the James Bond movies. Its admin department setting is even called Slough House.
Adapted from Mick Herron's 2010 novel, this darkly comic espionage tale stars the scenery-chewing Gary Oldman as a misanthropic boss forced to take Jack Lowden's disgraced agent under his grimy, pencil-pushing wing. But his team of misfits, aka the slow horses of the title, do eventually find themselves in more high-octane situations when the new recruit uncovers a right-wing nationalist conspiracy that may well incriminate his former colleagues.
Two seasons are currently available on Apple TV Plus, and a third is on the way.
Shining Girls
An eight-parter adapted from Lauren Beukes' novel, the always very-watchable Elisabeth Moss (The Handmaid's Tale) tops the bill here as Kirby Mazrachi, a Chicago newspaper archivist. She wanted to be a journalist, but that had to be shelved after surviving a brutal attack that has left her in a constantly shifting reality.
Then, one day, she learns that a recent murder is linked to her assault. On the hunt for answers, she teams up with veteran reporter Dan Velazquez (played by Narcos' main man Wagner Moura) to understand her ever-changing present and confront her past.
Trippy and gripping with a great supporting cast, including Jamie Bell and Amy Brenneman, this is another top-notch entry in our list of the best Apple TV Plus shows.
Mythic Quest
Between racking up the umpteenth season of It's Always Sunny in Philadelphia and randomly buying a (then) non-league Welsh football team with Ryan Reynolds, Rob McElhenney has also found the time to co-create and star in another smartly-written comedy. Set at a video game studio responsible for a World of Warcraft-esque MMORPG, Mythic Quest is more sincere and less nihilistic than The Gang's exploits. But it's equally hilarious and, as proven by the episode filmed using 40 iPhones, and the standalone tale charting the life-cycle of an indie game, it's just as willing to think outside the box.
Servant
You never quite know what you're going to get with M. Night Shyamalan –masterclass in Hitchcockian suspense or an exercise in self-indulgent nonsense? Luckily, his showrunner stint on Servant has steered more towards the former. The deliciously creepy horror sees a wealthy couple attempt to overcome the loss of their child via a reborn doll, only for this crutch to take on a life of its own when a mysterious young nanny enters the picture.
Lauren Ambrose is nothing short of phenomenal as the reporter mother in the midst of a psychological breakdown. But the sumptuous food porn shots ensure you'll be just as famished as you are frightened.
High Desert
First the bad news: Apple TV Plus cancelled High Desert just six weeks after the show's debut, as star Patricia Arquette confirmed in an Instagram post. There is some good news, however, because all eight episodes are available on the streamer, and this unconventional detective drama is well worth a watch.
Arquette plays Peggy Newman, a Palm Springs resident whose life is turned upside down by a drug raid on a party in her home. A decade later, down on her luck and under threat of losing her home, she becomes a private investigator to make ends meet – and that's where the fun begins. With its mix of weird characters and unusual cases, it's an idiosyncratic ride, all held together by a powerhouse performance from the ever-brilliant Arquette.
Platonic
Rose Byrne and Seth Rogen reunite with their Neighbors (Bad Neighbours if you live in the UK) director Nicholas Stoller for this defiantly un-romantic comedy. Created by Stoller with his real-life wife Francesca Delbanco (Friends from College), it tells the story of two college BFFs (Byrne's Sylvia and Rogen's Will) who reconnect after his divorce – and remain just good friends.
The premise may have echoes of classic movie When Harry Met Sally, but Platonic has enough new ideas to keep things feeling fresh. The (platonic) chemistry between the two leads is impressive, while many 30-/40-something viewers will relate to their efforts to revisit things they enjoyed in their youth before real-life got in the way.
Hello Tomorrow!
You could look at Hello Tomorrow! as a comedic companion piece to For All Mankind – though we'll add the caveat that it's nowhere near as good as Ronald D Moore's alternative history of the space race. Set in what looks like the 1950s – at least it would, if it weren't for all the robots and the hovercars – it's the retro-futuristic tale of ambitious Jack Billings and his efforts to sell timeshares on the moon.
Billy Crudup, who's also a regular in Apple TV Plus's The Morning Show, delivers a charming performance as Jack, and the show captures the spirit of a time when many people believed a personal jetpack existed in their near future. The premise is ultimately better than the execution, however, with some critics regarding it as a triumph of style over substance.
Five Days at Memorial
Centered on real-life events during Hurricane Katrina, Five Days at Memorial takes place at a hospital in New Orleans, which is left without power for five days in the aftermath of the earth-shattering storm in 2005. The eight-part series is based on the non-fiction book Five Days at Memorial: Life and Death in a Storm-Ravaged Hospital, written by Sheri Fink in 2013. It tracks the hospital staff's impossible choices as they tried to give care to patients in an unthinkable situation – and the criminal investigation that followed.
It's a heart-wrenching story, and the series has been widely praised by audience and critics alike. The attention to detail is remarkable, immersing you in the action and keeping you emotionally invested throughout. We thoroughly recommend this dramatic series.
Echo 3
Based on award-winning Israeli series When Heroes Fly, Echo 3 comes from Mark Boal, the Oscar-winning writer of The Hurt Locker and Zero Dark Thirty. It's the tale of Amber Chesborough, a brilliant young scientist who goes missing in South America and whose brother and husband set out to find her. Both men have military experience, dark thoughts and cupboards positively rattling with skeletons, and their attempts to find Amber deliver a tense, taut action drama with plenty of on-screen thrills.
Echo 3 has really divided the critics. Film bible Empire reckons it's "a deeply grown-up thriller" while the Guardian says it's all a bit gung-ho; RogerEbert.com says it's "thrilling, subversive action entertainment" while Stuff.co.nz says it's in too much of a hurry to set up the next action set-piece. If you've enjoyed shows such as Narcos: Mexico or films such as Sicario, though, we think you'll love this too.
Surface
Gugu Mbatha-Raw leads this chilling psychological drama, which has enjoyed good reviews. She plays Sophie Ellis, a young woman who is left with no memory at all after a traumatic head injury she suffers from what she's told was a failed suicide attempt.
Naturally, things turn out to be more complicated than that, and, as Sophie investigates, her life, which she was told was pretty much perfect, turns out to be anything but...
Black Bird
Taron Egerton (who also headlined Tetris, one of the best Apple TV Plus movies) and the late Ray Liotta star in this gripping drama from the pen of crime maestro Dennis Lehane.
Egerton plays James Keene, a drug dealer who is given the chance to win his freedom if he enters a maximum-security prison for the criminally insane to solicit a confession from a suspected serial killer. The alleged killer, Paul Walter Hauser's Larry Hall, is regarded by local police as a fantasist, and there's every chance his conviction will be thrown out on appeal, meaning Keane has to work fast.
Dark as the blackest cup of coffee and with a score from Scottish doom rockers Mogwai, Black Bird is a tough watch at times, but very compelling.
The Essex Serpent
Homeland's Claire Danes and Marvel Cinematic Universe key man Tom Hiddleston lead this lavish adaptation of Sarah Perry's bestselling novel.
The six-parter follows Danes' Cora Seaborne, a widowed woman whose fascination with natural history draws her to a rural Essex village after sightings of a mysterious serpent. There she meets Hiddleston's Will Ransome, a vicar who is struggling to keep his agitated congregation from descending into hysteria. As the narrative progresses, the characters' lives, motives, wants, desires, and fears all become intertwined and a series of complex love stories, both romantic and otherwise, begin to play out.
We loved this show and you can read our full The Essex Serpent review here.
Pachinko
Min Jin's bestselling novel is adapted in this sweeping eight-part series, which has won rave reviews and already been renewed for a second season.
The series is a sweeping saga and it follows four generations of a Korean immigrant family and the decisions they make as they seek a better life for themselves and for generations to come. Tearjerking, poignant and skilfully plotted, Pachinko may be a slowburn, but it's one of the best Apple TV Plus shows and well worth sticking with.
The Afterparty
Having co-directed some of the most entertaining animated films of recent years with The Lego Movie and Cloudy with a Chance of Meatballs – not to mention producing Spider-Man: Into the Spider-Verse and its sequel – Christopher Miller left his regular collaborator Phil Lord behind for this live-action (well, largely) murder mystery set around a high school reunion.
Dave Franco's intensely smug Bieber-esque pop star is the victim, Tiffany Haddish plays the ballsy detective investigating his death, while suspects include Sam Richardson's escape room designer and Jamie Demetriou's entirely forgotten loner. As you'd expect, The Afterparty is chock-full of inspired pop culture references (particularly the spoof Hall and Oates biopic) and zips along with far more wit and verve than Kenneth Branagh's Poirot whodunnits.
Season 2 began on Apple TV Plus on July 12.
Trying
Following in the footsteps of Motherland, Breeders and Better Things, Apple TV Plus jumped aboard the 'parenting is hard' sitcom bandwagon with the effortlessly charming Trying. The difference here is that Rafe Spall and Esther Smith's central characters aren't actually parents yet.
Yes, the platform's other London-based comedy focuses on the trials and tribulations of the adoption process, something which the pair are guided through by The Crown's Imelda Staunton as a brilliantly eccentric social worker. Spall and Smith have a naturally endearing chemistry which leaves you fully emotionally invested in their journey, but the show's playful sense of humor ensures you're never too far away from a pithy one-liner either.
See
While our list of the best Apple TV Plus shows is lacking an equivalent of Game of Thrones, this epic drama is arguably the most obvious candidate. See takes place in a dystopian future where mankind has been forced to adapt to a complete loss of vision. But when two twin girls are born fully-sighted, this dark world starts reassessing everything it thought it knew.
Aquaman's Jason Momoa brings the necessary brawn as the heroic tribe warrior who must protect his all-seeing adopted daughters – the sheer brutality on display means See definitely isn't for the faint-hearted – while Alfre Woodard provides the brains as his wisely foster mother. The inspired casting of Guardians of the Galaxy's Dave Bautista only makes the show's second season even more of a gorehound's dream come true.
Suspicion
Perhaps the most suspicious thing about this remake of Israeli hit False Flag is how the actress most prominently displayed in all the show's promos has about ten minutes' screentime. Nevertheless, what it lacks in Uma Thurman it makes up for in enjoyably ridiculous twists and turns.
Giving its largely British cast much more to do, Suspicion focuses on five different suspects in the abduction of a media mogul's son, stoking the kind of palpable paranoia that was a mainstay of '90s espionage thrillers. Like many shows in the peak TV era, it's several episodes too long but ignore all the holes in logic and there's still plenty to enjoy.
Schmigadoon!
If you're more of a Brigadoon person than a Hamilton one, then this affectionate homage to the Golden Age of musicals should be right up your street. Schmigadoon! stars Keegan-Michael Key and Cecily Strong as a quarrelsome couple who become trapped in an all-singing, all-dancing town, and can't leave until they've rediscovered what it means to be in love – whether that's with each other or with one of its numerous quirky inhabitants.
Oscar winner Ariana DeBose and Broadway regulars Kristen Chenoweth and Aaron Tveit all help elevate the ambitiously-staged numbers, while Alan Cumming, Fred Armisen and Martin Short in a brief cameo as a leprechaun add to the self-knowing fun.
The Shrink Next Door
Who knew that the impossibly likeable Paul Rudd had it in him? Playing against type, the ageless actor constantly sparks fury in The Shrink Next Door as the real-life therapist who essentially scammed his most gullible client for the best part of 30 years.
Will Ferrell also shines by subverting his usual persona, imbuing said victim with a melancholy and vulnerability far removed from his signature man-child schtick. Also featuring a scene-stealing supporting turn from Wandavision MVP Kathryn Hahn, The Shrink Next Door is not just one of the best Apple TV Plus shows – it's that rare podcast adaptation that builds on, rather than detracts from, its source material.
Invasion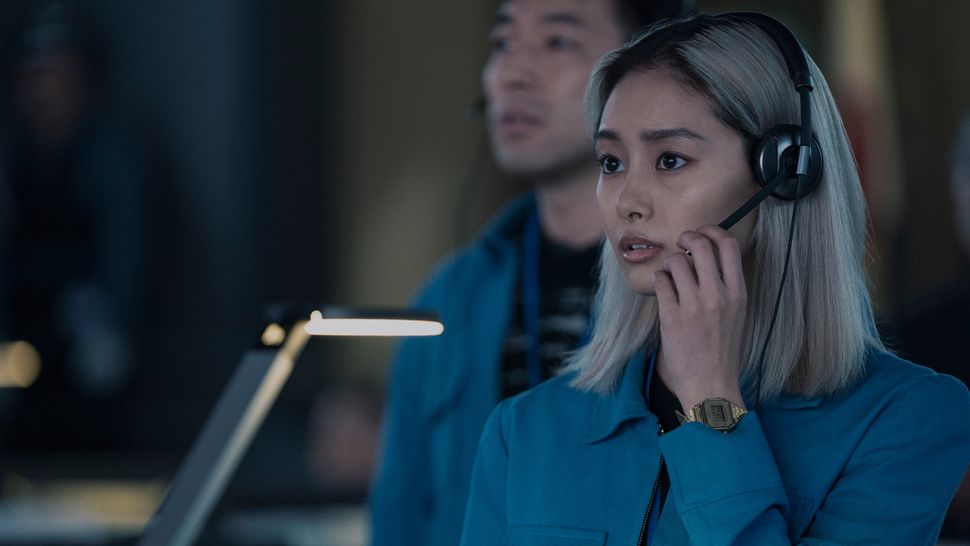 An alien invasion drama which makes you wait until halfway through its first season for even a glimpse of extra-terrestrial life, this Sam Neill-starring sci-fi certainly isn't averse to the tease. Thankfully, the very human stories that precede it are strong enough to sustain interest until the big reveal. Crossing the globe to explore five very different human reactions to the looming threat, Invasion cleverly builds both a sense of dread and emotional investment, ensuring that – in contrast to the cardboard cut-out characters of most apocalyptic tales – you actually care when all hell does eventually break loose.
The Mosquito Coast
One of the most commercially and critically underwhelming entries in Harrison Ford's career, The Mosquito Coast didn't initially seem like the most obvious candidate for a reboot. Nonetheless, this new adaptation (co-written by Luther creator Neil Cross) turns its family-on-the-run premise into one of the best Apple TV Plus shows.
Justin Theroux, whose real life uncle Paul wrote the original 1981 source novel, is as magnetic as ever as the radical inventor who suddenly finds himself as the U.S. government's Most Wanted. Meanwhile, the stunning shots of the Mexican landscape, adrenaline-charged action scenes and sharp commentary on immigration, capitalism and the American Dream ensure this is a thriller with equal substance and style.
Physical
Fully leaning into the era when Jane Fonda's aerobics videos were all the rage, '80s-set pitch-black dramedy Physical again proves Rose Byrne is one of her generation's most unsung comic talents. The Australian star fully commands attention in and out of spandex as a deeply insecure mother who reinvents herself as an exercise guru – albeit one who loathes her clients almost as much as she does herself.
Indeed, Byrne's Sheila Rubin isn't exactly the most likeable of protagonists – her internal monologues are astonishingly caustic. But it's refreshing to see a woman allowed to play the antihero in a novel spin on the bored suburban housewife narrative.
1971: The Year That Music Changed Everything
Having documented the lives of Ayrton Senna, Amy Winehouse and Diego Maradona in compelling fashion, director Asif Kapadia tackled an entire year of music for this exhaustive eight-part series. The Oscar winner makes a strong case for 1971 as the most important period in pop history, using a fascinating mix of voiceovers and archive footage to cover everything from the rise of the Laurel Canyon movement to the release of The Rolling Stones' seminal Sticky Fingers. But Kapadia also draws upon The Stanford Prison Experiment, groundbreaking reality show An American Family and the Manson murders to paint a wider picture of a game-changing era.
If you want more Apple TV content, see our list of the best Apple TV movies.
Sign up to receive daily breaking news, reviews, opinion, analysis, deals and more from the world of tech.