It can be a tall order working out what the best Prime Video shows are. With so much content available to watch on Amazon's streaming platform, you may be at a loss to decide what's worth your time.
That's where we come in. Below, we'll run you through the 20 best Prime Video shows for US audiences, with TV series comprising every genre. We've included shows made in-house by Amazon, as well as those licensed to the streaming giant by third-party production companies. No matter what you're interested in watching, then, there'll be something that'll intrigue you in our best Prime Video shows article.
Before we dive into the meat of this article, let's take a look at the latest addition to it. Perhaps unsurprisingly, the newest entry on our best Prime Videos shows list is The Boys, which returned for its third season on June 3. Four episodes have been released so far, so we're already halfway through the R-rated satirical superhero show's latest round of episodes. We think it's the best season in the show's history so far, too, so you'll want to catch up ASAP if you haven't checked it out just yet.
If you're not fussed on another superhero production, fret not. There are 19 other options for you to choose from in our best Prime Video shows list, including The Wheel of Time and The Wilds. Like we said, we cater for all audiences here at TechRadar.
You may want to check out the latest news regarding Prime Video before you read on. If you do, find out why Amazon's Lord of the Rings isn't looking to copy Peter Jackson's iconic trilogy, or read about Amazon's decision to save a Paramount-produced show from cancellation.
Ready to move on? Great, here are the 20 best Prime Video shows as of June 10, 2022.
The Boys
The Boys is based on a simple premise: What if superheroes sucked? Like, really, really sucked? What if they were egotistical, selfish, corrupt and downright, well, unheroic? That's the crux of Amazon's live-action adaptation of Garth Ennis and Darick Robertson's R-rated comic series.
Now sure, many of those questions have been explored in other media, but Amazon's over-the-top series does it with visual panache, dollops of humor, plenty of gore and ultraviolence, and some tender moments. The first season showed plenty of promise, the second delivered on it, and the third went above and beyond its predecessors. We suggested as much in our spoiler-free review, so go and read it for more details on why that's the case.
We've got plenty of exclusive coverage concerning The Boys season 3, too. Read our in-depth chat with its showrunner and the main cast, or find out more about that cameo in the third season's opening episode. Alternatively, learn about showrunner Eric Kripke's favorite scene from this latest eight-episode run.
Oh, and while you're here, you may be interested in checking out The Boys' first spin-off series, aka Diabolical. Read our review first and then get the lowdown on its development in our exclusive chat with showrunner Simon Racioppa.
Seasons on Prime Video: 3
Night Sky
Arriving on Prime Video to almost zero fanfare is Night Sky, the latest in Amazon's long line of customarily trippy sci-fi series.
Sissy Spacek and J.K. Simmons play Irene and Franklin York, a seemingly ordinary couple whose unsuspecting house harbours a secret: head into the shed in their back yard, and there's a portal to a far away planet. The pair have successfully kept this secret hidden for close to a decade, but the arrival of an inquisitive young man (and a number of nosy neighbors and the police) risks putting an end to their space-hopping ways.
Newcomers Holden Miller and Daniel C. Connolly helm this eight-episode show, which looks as unique and intriguing as Amazon's similarly twisty sci-fi thriller, Encounter. Oh, and Night Sky has become the first TV show to be beamed into space (according to IGN (opens in new tab)), so maybe some aliens will be checking it out as and when new episodes drop.
Critical reception seems to be fairly positive so far (that is, if your opinions are shaped by Rotten Tomatoes (opens in new tab)), so it sounds like Night Sky is worth watching.
Seasons on Prime Video: 1
The Kids in the Hall
27 years after the fifth and final season of the comedy sketch show aired, The Kids in the Hall has been resurrected by Amazon Studios for its streaming service.
The Emmy-nominated Canadian sketch troupe are back for rip-roaring comedy capers filled with mature and R-rated content, so this is one that's definitely (and ironically) not for the kids. Still, adults and teens should get a kick out of what's on offer from Dave Foley and company.
Amazon's The Kids in the Hall offering only comprises eight episodes – the original series' instalments had 20 or more entries – but we wouldn't be surprised if longer seasons are commissioned in the future. That is, if the show is a hit with audiences of today. To help ensure it is, The Kids in the Hall features guest appearances from the likes of Keenan Thompson, Jay Baruchel, Eddie Izzard, Catherine O'Hara, and many more comedians.
Reviews have (so far) been universally positive for this one, with the show landing a 100% rating on review aggregator website Rotten Tomatoes (opens in new tab) among critics. So it's worth binge watching over a weekend if you're a fan of adult-oriented comedy.
Seasons on Prime Video: 1
The Wilds
The Wilds returns for a second run on Prime Video after a critically-acclaimed first season landed in December 2020.
The show's premise is a familiar and simple one: what if William Golding's Lord of the Flies featured teenage girls instead of a group of boys? Throw in a Lost-style plane crash on a deserted island, plus a helping of Mean Girls, and The Wilds is a series that will certainly scratch an itch or two.
All of the girls survive, but find themselves stranded on a desert island and forced to work together to build new lives and establish a way of living on the island. What they don't know, though, is that they are actually part of a social experiment. The group's varying personalities lead to some expected-but-enjoyable clashes and, whilst The Wilds doesn't subvert the genres that it pulls from, there are a couple of intriguing twists and turns on route to its cliff hanger ending.
After watching the experiment unfold in the first season, the show ended on a bombshell with the reveal of the "Twilight of Adam", another island populated by male castaways. And that's what we'll be getting stuck into this new run of episodes in one of the best Prime Video shows around.
Seasons on Prime Video: 2
Undone
From the acclaimed minds of BoJack Horseman creators Kate Purdy and Raphael Bob-Waksberg, Undone is a beautifully animated comedy-drama series that weaves multiple genres and themes together with stunning and emotive effect.
Rosa Salazar (Brand New Cherry Flavor) stars as Alma, a Texas-based millennial who's struggling to find purpose in her life. That is, until she's involved in a near-fatal car accident and finds out she has a new relationship with time itself. Infused with the ability to travel back (or forward) in time, Alma begins to develop her newfound abilities to get to the bottom of the death of her father Jacob (Better Call Saul's Bob Odenkirk). At least, that's the plan – providing her loved ones don't interfere and try to make out that her new powers are linked to the family's history of mental health.
The show's melding of rotoscoping animation – delivered to beautiful effect by Tornante Studios – and live-action motion-capture really sets it apart from likeminded animated offerings. Meanwhile, Undone's exploration of relationships, mental health, and themes surrounding altering the past are expertly and sensitively handled, which you'd expect from Purdy and Bob-Waksberg.
If season 1 was all about introducing us to the mind-bending concepts that Undone brings to the table, its second outing is even more surreal and shocking. Even bigger family secrets emerge as Alma traverses the multiverse and branching timelines, and its finale all but ensures that a third season will be on the way. You know, if Amazon greenlights one. Stick this one your watch list immediately.
Seasons on Prime Video: 2
Outer Range
Billed as a sci-fi mystery thriller, Outer Range stars Josh Brolin (Avengers: Infinity War, Dune) as Royal Abbott, a Wyoming-based rancher fighting to keep his land out of the hands of a rival herder.
When a mysterious black hole suddenly appears on the Abbott estate, Royal uses the earth-bound void to his advantage – including disposing of a body of one of his rival's sons following a tragic accident. But, when a drifter called Autumn (Imogen Poots) catches Royal in the act, the head of the Abbott family must fight for his family, maintain the secret, and keep Autumn – who seems to have supernatural ties to the black hole – on side as his foes (and the police) close in around him.
Critical reception has been largely positive, with reviewers praising Outer Range as a "cosmic cowboy mystery (opens in new tab)" and "the best new show of 2022 (opens in new tab)". The whole series is available to stream right now and, despite its often muddled and weirdly paced plot, in our opinion, it deserves to be part of our best Prime Video shows article.
Seasons on Prime Video: 1
Upload
Set 15 years in the future, Upload tells the tale of Nathan Brown (Robbie Amell), a 27-year-old computer programmer who's mysteriously murdered and uploaded to a 'virtual afterlife' location called Lake View. As he adjusts to his new life, Nathan finds himself romantically drawn to his customer service angel Nora Antony (Andy Allo), despite Nathan still technically being involved with living girlfriend Ingrid Kannerman (Allegra Edwards).
It isn't long, too, before Nathan and Nora begin to unravel the mystery behind his death. As the pair head down the rabbit hole, their lives become entwined in an elaborate game of cat and mouse as Nathan tries to find out who's responsible for his murder.
If that all sounds a bit dramatic and bleak, don't fret: Upload is one of the funnier Prime Video shows out there. With the creator of The Office US – Greg Daniels – at the helm, Upload is an endearing TV series that straddles multiple genres including comedy, drama, whodunnit, and horror. It also offers an intriguing look into the real world's technological-based future, metaverse and all. Speaking of which, check out our chat with Daniels and Upload's cast concerning season 2, and how it leans even further into the metaverse's potential arrival.
Amazon Studios has renewed the show for a third season (opens in new tab), so there's no better time to check this one out.
Seasons on Prime Video: 2
Dexter
Set in Miami, this crime drama series follows forensic technician Dexter Morgan (Michael C. Hall), who leads a double life as a vigilante serial killer. By day, he works for the Miami Metro Police Department but, once the sun goes down, Dexter hunts down murderers who, in his eyes, didn't get the punishment they deserved from the US justice system.
The original show ran for eight seasons – they're all currently available to stream on Prime Video – and received plenty of acclaim and awards for its compelling and superbly crafted horror-esque crime-drama tale. The show struggled to recapture its best form post-season four but, early on at least, Dexter was one of the best shows of the mid-2000s.
A 10-part limited series called Dexter: New Blood ran on Showtime from November 7, 2021 to January 9, 2022, too. There's no word on whether it'll come to Prime Video in the future, though.
Seasons on Prime Video: 8
The Marvelous Mrs Maisel
The latest series from Amy Sherman-Palladino (Gilmore Girls, Bunheads) The Marvelous Mrs Maisel tells the story of '50s housewife Miriam 'Midge' Maisel as she attempts to become the best female stand-up comic in the US.
After her husband confesses he's been having an affair, 'Midge' drunkenly gets on stage at a comedy club and discovers that she's utterly hilarious. In a time when women aren't encouraged to be publicly funny, Midge pursues her new-found comedic talent in the male-dominated stand up comedy world. But, unbeknownst to 'Midge', the journey is far from a straightforward one.
The multi-award winning period comedy-drama's first two seasons drew plenty of critical acclaim. But, while season 3 was still pretty good, it didn't live up to the expectations set by its predecessors. The show's fourth season was a return to form for the series, so catch it while you can – season 5 is set to be its last instalment in one of the best Prime Video shows ever made.
Seasons on Prime Video: 4
Reacher
Nearly six years on from Tom Cruise's somewhat unsuccessful stint as the ex-military operative on the big screen, Amazon Studios brings Lee Child's iconic novel series to life for television.
Alan Ritchson (Titans) stars as the titular character – aka Jack Reacher – in the show's first season, which is based on Killing Floor, the first book in Child's long-running crime thriller book series.
A drifter owning few possessions following his departure from the armed forces, Reacher arrives in Margrave, Georgia at the exact moment that the small US town is reeling from its first major crime in 20 years. Somehow, Reacher is wrongly framed for the crime and, following his arrest, agrees to help the authorities get the bottom of the case in exchange for his freedom. Given his army expertise and his hulking frame, it seems that those responsible picked the wrong guy to pin the crime on.
Reviews have been largely positive for this one, with many praising Ritchson's turn as Reacher and showrunner Nick Santora's faithful retelling of Child's first novel. In our view, it's definitely one to check out if you're a fan of action and mystery thrillers. And, given it was the first Prime Video show ever to top Nielsen's streaming charts, it's no surprise that a second season has been commissioned.
Seasons on Prime Video: 1
The Legend of Vox Machina
Set in the fictional Exandrian kingdom of Tal'Dorei, The Legend of Vox Machina tells the story of a band of mercenary misfits hired to eradicate an unnamed evil entity that's plagued the realm. It isn't long before the seven-strong group, though, realize that they've become embroiled in a battle against a far more sinister and potentially world-threatening enemy.
Unsurprisingly, Prime Video's adaptation of Critical Role's beloved D&D webseries retains plenty of what made the original show such a hit. It's hilarious, action-packed, emotional, and full of twists and turns. It's also pretty grisly and horror-esque on occasion, so those who like gruesome content will get a kick out of it.
The original Critical Role cast return to voice their characters, while there's a slew of famous actors who also cameo. Best of all, episodes are only 25 to 30 minutes in length, meaning that those long sessions filled with convoluted D&D terminology, has been removed to make for a freer, tighter narrative throughout. Season 2 has already been greenlit, so one of the best Prime Video shows of the year will be back on our screens soon.
Seasons on Prime Video: 1
The Wheel of Time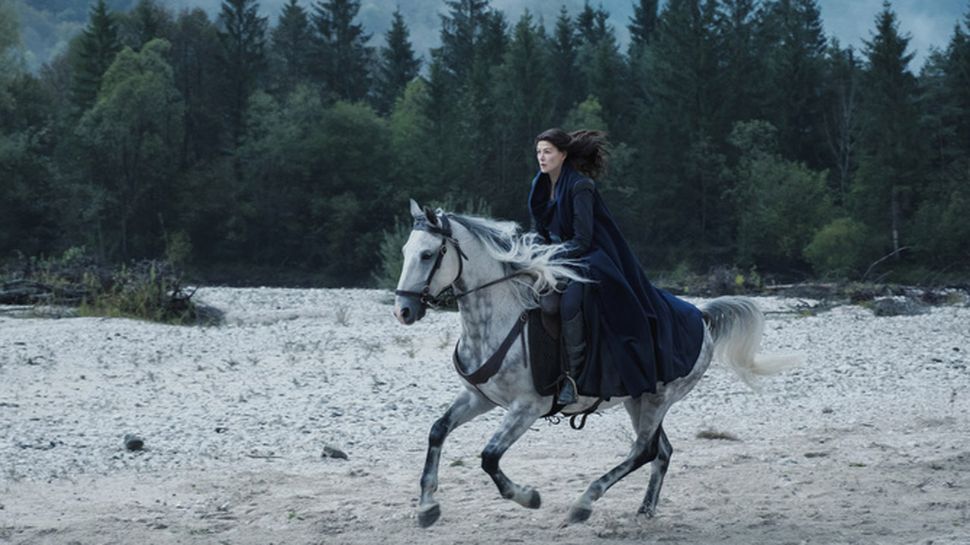 Based on Robert Jordan's beloved book series, The Wheel of Time is a fantasy show that blends the best of Game of Thrones, The Witcher and Lord of the Rings.
Rosamund Pike (I Care A Lot, Gone Girl) plays Moiraine, a powerful sorceress whose quest to find the Dragon Reborn – a prophesised champion who can defeat the Dark One – leads her to the small village known as the Two Rivers. When Moiraine and her Warder companion Lan Mandragoran (Daniel Henney) are forced to rescue five of the village's young adults from the Dark One's forces, they realize that one of this quintet is the so-called Dragon Reborn. Cue an epic quest to work out who this ancient warrior is, and whether they'll be able to save the world from the Dark One.
Expect plenty of drama, R-rated violence (it's not family friendly), a dashing of humor, and plenty of fantastical elements that'll wow and shock you. If that's intrigued you, check out our chat with the series' showrunner and cast for more. Season 2 is currently in production, so one of the best Prime Video shows will return to Amazon's streaming service in the near future.
Seasons on Prime Video: 1
Invincible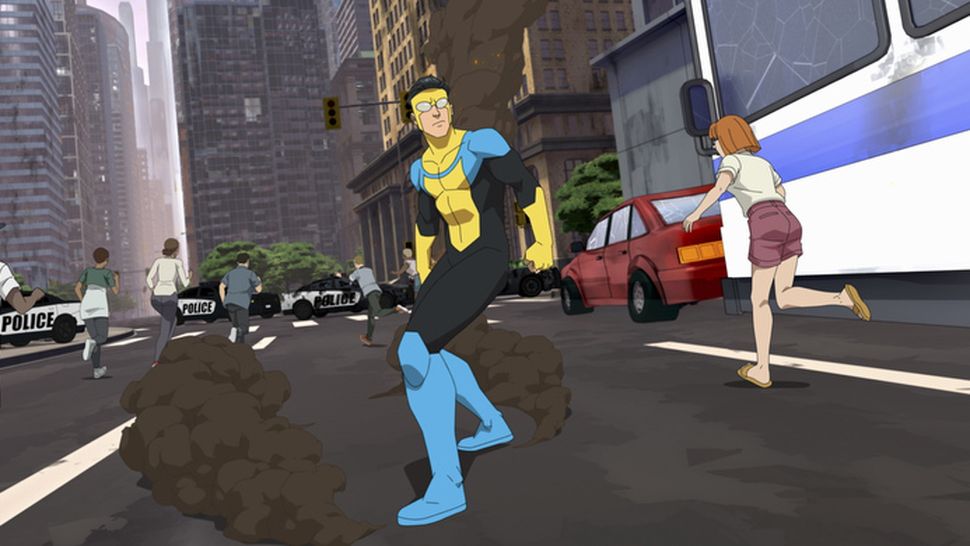 Amazon's animated adaptation of Robert Kirkman's superhero comic series isn't for the faint of heart. Sure, it may not be a live-action production like The Boys, but Invincible is full of blood, gore, violence and other adult content.
Invincible tells the story of Mark Grayson (Steven Yeun), a seemingly normal teenager - expect for the fact that his dad Nolan (J.K. Simmons) is the world's most powerful superhero. Soon after his 17th birthday, Mark develops abilities of his own and begins to train under his father's tutelage. It isn't long, though, before Mark realizes that his dad's legacy isn't what it appears to be.
It's a slow burn to begin with – well, apart from a specific scene in episode 1 that shocked viewers who haven't read the comics before. Its subversion of superhero tropes, emotional story beats, and ensemble cast will keep your attention until things really start to pick up from episode 4 – by which point you should be fully hooked. Be sure to check out our chat with Kirkman and some of the show's cast if you want the lowdown on season 1's development.
Invincible season 2, as well as a third instalment, is currently in development. That won't come as a major surprise to you once you've seen it, too, as it's one of the best Prime Video shows of all-time.
Seasons on Prime Video: 1
Small Axe
Traversing the boundaries between film and TV, Small Axe is a set of feature-length stories centred around West Indian people living in London from the '60s to the '80s.
Directed by Steve McQueen, the first starred Letitia Wright as the so-called Mangrove 9 faced trial following the harassment of a black-owned restaurant by racist police officers, with another featuring John Boyega training to be the first black police officer in the London MET. None of them, especially Lover's Rock, are to be missed due to their harrowing depictions of racial segregation in the UK that, in some instances, still exists today.
Another McQueen show – Uprising – is also available to stream on Prime Video. If Small Axe was an eye-opening experience for you, Uprising will hit similarly hard.
Seasons on Prime Video: 1
Tales from the Loop
Inspired by the extraordinary paintings of Simon Stålenhag, Tales from the Loop is a thoughtful sci-fi anthology about a town living atop The Loop, a mysterious machine that materialises the impossible. The first season takes a tour of the town's citizens, gradually giving us a sense of what life is like in this strange environment.
It's certainly approaches the genre differently, so check out our interview with showrunner Nathaniel Halpern for more on what it's about. Most importantly, it's exactly the kind of hopeful television we need more of, so it rightfully takes its place on our best Prime Video shows list.
Seasons on Prime Video: 1
The Expanse
Arguably the best science-fiction show since Battlestar Galatica, The Expanse is based on the series of novels by James S. A. Corey, the pen name of authors Daniel Abraham and Ty Franck.
It's set in a future where humans have colonised most of the solar system, but there are big divisions between the occupants of Earth, Mars and 'Belters', who reside on space stations beyond the asteroid belt. It's full of politics, heart-wrenching emotional stories and some of the most breath-taking scenes of outer space we've ever seen.
If you're a fan of sci-fi, you'll love this. The series' sixth and final season is currently available on Prime Video, so hop to it: there's plenty of catching up to do.
Seasons on Prime Video: 6
Good Omens
Good Omens came out of nowhere and swept us off our feet. Based on the book by Terry Pratchett and Neil Gaiman, Good Omens is an addictive, bonkers yet heart-warming tale about good and evil, friendship, demons, angels and a future-gazing witch. It also doesn't hurt that it's pretty British (in a good way) and has an all-star cast.
The series can be binged in one weekend, or one sitting if you can't face waiting a whole night for the final few episodes. For the bibliophiles out there, the TV series brings a few fresh characters and twists to the story, but is also faithful enough to the book to give those who have been fans for nearly thirty years a real treat.
Season 2 has just wrapped filming (opens in new tab), so hopefully it'll return to Prime Video soon. Best catch up on one of the best Prime Video shows to emerge in recent years, then.
Seasons on Prime Video: 1
Star Trek
There's a lot of Star Trek on Prime Video, if you're in the mood to watch hundreds of episodes set in that universe. The original series is available, as are later entries The Next Generation, Deep Space Nine, Voyager and Enterprise.
Star Trek: Picard season 1 is also available as part of an Amazon Prime package that includes Paramount Plus, while its second season arrived in March. Additionally, the animated Star Trek: Lower Decks series will return with a third season later this year, and Star Trek: Discovery season 4 is available to stream now.
Seasons on Prime Video: 3 of The Original Series (and many spin-offs)
Fleabag
Phoebe Waller-Bridge has created two of the best TV shows of the modern age in Killing Eve and Fleabag. The latter is her self-starring comedy drama, adapted from a stage show, and it's a hilarious but sometimes painful portrait of a damaged person trying to keep it together.
The supporting cast, which includes Andrew Scott's 'hot priest' in season 2, helps make this one of the best shows around full stop. With six half-hour episodes per season, you could binge it in just a few days.
Seasons on Prime Video: 2
The Grand Tour
Having departed the BBC years ago and struck up a deal with Amazon Studios, petrolheads Jeremy Clarkson, Richard Hammond and James May have found similar levels of success on the streamer with The Grand Tour: an excuse to send the trio around the world, partaking in various challenges and sniping at each other for hours on end.
If you enjoy watching middle aged men burn rubber in the middle of the desert, like a scene out of Mad Max: Fury Road, then this is for you.
Seasons on Prime: 4