New movies 2023: the most exciting films coming to theaters this year
News
Contributions from
last updated
These are the new movies to get excited by this year, from Expend4bles to The Color Purple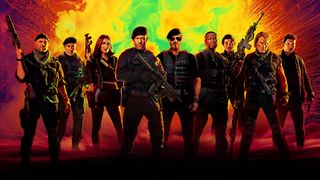 (Image credit: Lionsgate)
Welcome to TechRadar's new movies hub. In this guide, you'll find a list of the most anticipated new films of the year, with many of 2023's forthcoming theatrical releases expected to give you more than your fair share of entertainment.
With late September soon set to give way to October, there are lots of terrifying and spooky new movies on the way. If that film genre isn't your idea of a goodtime, though, you can look forward to 2023's final superhero movies, courtesy of Marvel and DC, and a plethora of fantasy-based, action-packed, dramatic, and indie-positioned flicks before 2024 arrives.
The world's best streaming services are bringing out a ton of new movies before the year ends, too. Our new Netflix movies, new Max movies, new Prime Video movies, and new Disney Plus movies guides have more information on what's coming to those platforms soon. In the meantime, read on to find out about all of the new movies coming to a cinema near you.
New movies: September 2023
Expend4bles
Release date: September 22
Nearly a decade after their last mission, the gang's getting back together for a fourth round of extremely muscular, 80s-influenced action. Jason Statham, Sylvester Stallone, Dolph Lundgren, and Randy Couture reprise their roles from earlier adventures, and this time out they'll be joined by new recruits 50 Cent, Megan Fox, Tony Jaa, Andy Garcia and, as the lead villain, The Raid's Iko Uwais.
The team's latest operation was filed under 'top secret' but, with the film out now in theaters, fans will finally learn what its plot entails. Well, as long as they haven't been put off by the scathing reviews. Expend4bles has been absolutely roasted, with the action flick currently sitting at a head-holding 15% critics score on Rotten Tomatoes. It seems, then, that not even its hard R rating can it from being a complete dud.
Dogman
Release date: September 27
Any movie centered around man's best friend is sure to capture audiences' hearts. Dogman, which comes from Luc Besson (Taken, Lucy), then, is sure to win over viewers very soon, despite previous controversies surrounding the director.
We've little to go on from a narrative standpoint – the movie's brief plot synopsis simply reads: "The incredible story of a child, bruised by life, who will find his salvation through the love of his dogs". But, based on the theatrical, semi-horror, and drama-laced trailer above, we can expect another surreal and riveting film from Besson.
The Creator
Release date: September 29
Have you ever wanted an epic dystopian sci-fi movie that blends The Terminator, Star Wars, and The Last of Us together? The Creator is the film you've been waiting for if so.
Gareth Edwards (Godzilla, Star Wars: Rogue One) is back with another thrilling big screen adventure, which this time stars John David Washington (Tenet) as a soldier fighting an artificial intelligence (AI) uprising on a neofuturistic Earth. However, when Washington's Joshua locates the apparent world-ending weapon that threatens humanity's existence – that being a humanoid child (played by newcomer Madeleine Yuna Voyles), Joshua's mission becomes much more complex as he chooses to protect the girl at all costs instead.
With shades of Blade Runner, Avatar: The Way of Water, and The Mandalorian in its multi-genre makeup, The Creator could be the surprise hit of the year.
Saw X
Release date: September 29
Jigsaw is back to make us feel nauseous once more with his variety of mutilating gadgets and traps in Saw X, the next entry in the gruesome horror film franchise. And, given how poorly received Spiral, one of Saw's spin-offs, was received in 2021, we're hoping Saw X will get the money-spinning series back on track.
A prequel movie set between the first and second movies, Saw X find John Kramer (Tobin Bell) – the series' primary villain – travel to Mexico to undergo experimental treatment on his life-threatening cancer. Upon realizing the endeavor is a medical scam, though, John becomes an anti-hero of sorts, turning the tables on the criminals in the only way he knows how.
Pete Goldfinger (Piranha 3D) and Josh Stolberg (Spiral) are on script duties, while Kevin Greutert (Jigsaw, Umma) is in the director's chair. Be sure to read our Saw movies in order and best Saw movies guides while we wait for this one to land in theaters.
New movies: October 2023
The Exorcist: Believer
Release date: October 6
50 years after The Exorcist changed the horror movie game (and terrified and shocked audiences in the process), a direct sequel to the William Friedkin-directed original – one which disregards the four films that followed – is gearing up to spook us all. Even better, it's arriving a week earlier than anticipated, with The Exorcist: Believer now landing on October 6 in the US and the UK (Australian viewers have to wait until October 12).
Helmed by David Gordon Green, who recently brought the Halloween movie series back from the dead, The Exorcist: Believer brings Ellen Burstyn's Chris MacNeill back into the fold to tackle a new terrifying supernatural threat.
So, what's Believer about? When two schoolgirls Angela and Katherine go missing before surprisingly return three days later, the children's parents think their worries are over. However, when the amnesia-stricken girls exhibit possession-like tendencies and unleash a new evil on the town, Victor Fielding (Leslie Odom Jr), Angela's father, seeks out Chris' help to save Katherine and his child from whatever haunts them.
Foe
Release date: October 20
Directed by Garth Davis (Lion, Mary Magdelene), this sci-fi psychological movie, which will also be available on Prime Video on launch day, might make for a pleasing diversion of October's terrifying line-up of horror films.
Foe stars Paul Mescal and Saoirse Ronan as Junior and Henrietta, a married couple who live on a secluded farm on a world not unlike our own. But, when a mysterious stranger (Aaron Pierre) rocks up at their home with a startling proposal, the loved-up pair find their quiet life thrown into disarray.
Co-written by Davis and Iain Reid – the latter also penned the novel the film is based on – Foe might be worth watching for its talented cast alone.
Killers of the Flower Moon
Release date: October 20
Based on David Grann's award-winning book of the same name, Killers of the Flower Moon is acclaimed director Martin Scorsese's next attempt at ending his Academy Award drought.
And, based on its first teaser, it seems to be a shoo-in for the 2024 Oscars. With an *ahem* killer cast including Leonardo Di Caprio, Robert De Niro, Lily Gladstone, Brendan Fraser, Jesse Plemons, and John Lithgow, plus its stunning Western period crime drama setting, Killers of the Flower Moon has catapulted itself to the top of our new movies wish list.
Set during the 1920s, it'll follow the investigation centered on the Oklahoma Murders, which saw multiple members of the oil-rich Osage Nation tribe brutally killed in unexpected circumstances. Co-produced by Apple Studios, it'll eventually arrive on Apple TV Plus after its wider theatrical release, which will now begin two weeks later than planned.
Trolls Band Together
Release date: October 20
Families shouldn't worry about being left out of the movie picture in October. A new Trolls film – Trolls Band Together – promises to deliver a colorful, upbeat kids-positioned flick for adults and children alike to enjoy.
Here's the official logline from Universal Pictures: "After two films of true friendship and relentless flirting, Poppy (Anna Kendrick) and Branch (Justin Timberlake) are now officially, finally, a couple. As they grow closer, Poppy discovers that Branch has a secret past. He was once part of her favorite boyband phenomenon, BroZone, with his four brothers. When Branch's bro Floyd [one of BroZone's members] is kidnapped for his musical talents by a pair of nefarious pop-star villains, Branch and Poppy embark on a harrowing and emotional journey to reunite the other brothers and rescue Floyd from a fate even worse than pop-culture obscurity."
Expect more slapstick humor and tug-of-the-heartstrings subplots from this one. The first N*Sync song (ask your parents, little ones) in over 20 years leads its soundtrack, too!
Five Nights at Freddy's
Release date: October 27
After years spent in development hell, the Five Nights at Freddy's (FNAF) movie is ready to terrify a whole new generation and give you endless stage fright (pun totally intended).
Based on Scott Cawthon's hugely popular indie horror videogame series of the same name, the FNAF movie follows a troubled security guard named Mike Schmidt (The Hunger Games' Josh Hutcherson) as he starts his new night-based job at Freddy Fazbear's Pizzeria. Unbeknownst to Mike, though, the restaurant's cuddly animatronic animals come to life after hours – and they'll stop at nothing to shove anyone they find into a similar animatronic suit with life-ending consequences. In short: all Mike has to do is survive and unravel the horrifying secrets within the pizza parlor's walls.
The franchise's diehard fanbase responded well to the movie's first teaser, albeit with one major criticism of what's been shown so far. Watch the official trailer below before one of the spookiest sleeper hits of 2023 arrives.
New movies: November 2023
The Marvels
Release date: November 10
A direct sequel to a movie and two of the best Disney Plus shows, the MCU's third big screen outing of 2023 brings together Captain Marvel's Carol Danvers (Brie Larson), Ms Marvel's Kamala Khan (Iman Vellani) and WandaVision's Monica Rambeau (Teyonah Parris).
We already saw Danvers and Khan inexplicably switching places in the Ms Marvel finale. And, with The Marvels' first trailer landing in mid-April – it's giving us the team up vibes of 2012's Avengers – the film's trio of heroes will have to learn to work together in order to thwart another universe-spanning evil masterplan from those pesky Kree individuals. You can watch its official trailer above, too.
Samuel L. Jackson reprises his role as near-ubiquitous overseer Nick Fury – and, after the Fury-led Secret Invasion ended in July, we have some idea of how The Marvels will tie into the unpopular Disney Plus series.
Elsewhere, Fresh Meat and Velvet Buzzsaw star Zawe Ashton plays the antagonistic Kree warlord Dar-Benn, while Goose – the cute cat/flerken sidekick who cost Fury an eye – is also set to return. One of 2023's final new movies to really be excited about, in our opinion.
The Hunger Games: The Ballad of Songbirds and Snakes
Release date: November 17
This first return to Panem since 2015's Mockingjay: Part 2 is a prequel film set during future-president Coriolanus Snow's early days in the Capitol.
At this stage, Snow's still a long way from the dictator played by Donald Sutherland in The Hunger Games' previous movies. With his family's status diminished in a post-war Panem, Snow reluctantly agrees to mentor Lucy Gray Baird, a new tribute from District 12 (Katniss' future home). He sees something in her, however, that might help him improve his status in the Capitol – and we all know how that's going to turn out in the end…
Billy the Kid's Tom Blyth and West Side Story's Rachel Zegler play Snow and Baird alongside the sort of stellar cast that's become a franchise hallmark – Jason Schwartzmann, Peter Dinklage, and Viola Davis are also on board. The Ballad of Songbirds and Snakes is also based on Hunger Games creator Suzanne Collins' novel of the same name, and will be the fourth film in the series directed by Francis Lawrence. In other words, you've got to hope the odds are very much in its favour.
Saltburn
Release date: November 17
Emerald Fennell's third feature film looks like another superb offering from the Promising Young Woman and Careful How You Go director.
Saltburn stars Barry Keoghan (Eternals, The Batman) as Oxford University student Oliver Quick, who struggles to find his place at the acclaimed British institution. However, when Oliver crosses paths with the confident, charming, and aristocratic Felix Catton (Jacob Elordi), he finds himself being invited to Catton's sparwling family estate over the summer. No spoilers, but it's a time Oliver's unlikely to forget for all the right (and wrong) reasons. Rosamund Pike, Richard E Grant, and Carey Mulligan are also among its stellar cast.
Wish
Release date: November 22
It's hard to believe Disney celebrates its 100th year in 2023 – and the world-renowned entertainment company is going all-out to commemorate a century of wowing viewers across the world.
Just weeks after The Walt Disney Company officially celebrates that landmark birthday on October 16, it'll release Wish, a brand-new animated film that combines the studio's award-winning and influential 2D and 3D art styles into a new kind of family friendly flick.
Ariana DeBose (West Side Story) voices Asha, who travels to Rosas, the kingdom of wishes, to have her wish granted by its magical ruler King Magnifico (Chris Pine). When her request isn't approved, Asha makes a wish so powerful that it's answered by a cosmic force, known simply as Star. Along with Asha's pet goat Valentino, the duo embark on a quest to save Asha's kingdom from a looming darkness, which King Magnificio may have a hand in ushering in.
Napoleon
Release date: November 22
Over 20 years since they last collaborated in Gladiator, Joaquin Phoenix and acclaimed director Ridley Scott have reteamed to craft a stunning cinematic experience that focuses on the legendary French military commander, political leader, and king.
Per Sony Pictures' story synopsis, Napoleon "is a spectacle-filled action epic that details the checkered rise and fall of the iconic French Emperor Napoleon Bonaparte, played by Oscar-winner Joaquin Phoenix. Against a stunning backdrop of large-scale filmmaking orchestrated by legendary director Ridley Scott, the film captures Bonaparte's relentless journey to power through the prism of his addictive, volatile relationship with his one true love, Josephine, showcasing his visionary military and political tactics against some of the most dynamic practical battle sequences ever filmed."
We don't know about you, but we'd be amazed if Scott, Phoenix, and Napoleon aren't up for multiple awards in early 2024. Based on its first trailer, it just seems like a given, even at this early stage.
New movies: December 2023
The Bikeriders
Release date: December 1
Austin Butler (Elvis) and Tom Hardy (Venom, The Dark Knight Rises) are joining a motorcycle club in December in The Bikeriders, a ferocious, petrol-fuelled drama that's sure to be in with a shout during the 2024 Oscars season.
Jodie Comer (Free Guy, Killing Eve) stars as Kathy, a seemingly timid woman who meets and ends up marrying Butler's Benny, a member of a fictional and fearsome '60s era biker gang called the Vandals. The Bikeriders recounts Kathy's time with the Vandals, her attempts to 'fix' Benny and put him on the straight and narrow, and the pair's history with the gang's strong but increasingly ruthless leader Johnny (Hardy). Get ready to settle in for explosive drama, bike-centric action, and likely top-tier performances from the film's leading trio.
Wonka
Release date: December 15
In Hollywood, it turns out even chocolatiers have backstories. This Charlie and the Chocolate Factory prequel goes beyond the Roald Dahl source material to imagine what Willy Wonka got up to before he went into business manufacturing everlasting gobstoppers and Whipple-scrumptious fudgemallow delights.
Dune star Timothée Chalamet dons the top hat as a younger version of a character previously played by Gene Wilder and Johnny Depp, and has described the movie as "so sincere, it's so joyous". And while that could easily be PR fluff, we actually believe him.
It's been directed by Paul King, the man who turned both Paddington movies into instant, heart-warming classics. Intriguingly, the movie's also a musical that features songs written by The Divine Comedy's Neil Hannon. We think it'll be one of the best new movies to debut around Christmas for some time – and, based on its first teaser, we're even more confident of that assessment.
Aquaman and the Lost Kingdom
Release date: December 20 (December 26 in Australia and December 29 in the UK)
Despite Aquaman 2 having been originally scheduled to hit theaters on December 16, 2022, it's now due to wash up in December 2023. Going by the less internet-friendly title of Aquaman and the Lost Kingdom, this superhero sequel will continue the underwater adventures of Jason Momoa's DC superhero.
It'll reunite the Game of Thrones actor with original co-stars Amber Heard, Yahya Abdul-Mateen II, Nicole Kidman, and Patrick Wilson, although the level of Heard's involvement reportedly remains up in the air. It'll see the titular character forced to "forge an uneasy alliance with an unlikely ally to protect Atlantis, and the world, from irreversible devastation", too.
Aquaman 2's first teaser was released on September 10, although it wasn't your typical DCEU trailer and that posed a big problem. Its official trailer arrived four days later (watch it above) and features even more VFX-heavy underwater sequences, the return of Aquaman's Black Manta, and plenty of frenetic action and razor-sharp quips.
All of Us Strangers
Release date: December 22 (January 26 in the UK, TBC in Australia)
Andrew Haigh's first feature film for six years is due out in US cinemas before the end of the year. And, based on its trailer and awards season release date positioning, it could stake a claim for 2024's biggest movie-based prizes.
All of Us Strangers stars Adam (Sherlock and Fleabag's Andrew Scott), whose mysterious encounter with neigbor Harry (Aftersun and Normal People's Paul Mescal) disrupts the flow of his everyday life. As the duo's relationship begins to blossom, Adam struggles to let go of his past, and strangely begins seeing visions of his deceased parents in the childhood home he left three decades ago. A romantic fantasy-thriller with two excellent leads that might cause an upset or two on the awards circuit early next year.
The Color Purple
Release date: December 25 (January 25, 2024 in the UK and Australia)
Alice Walker's Pulitzer Prize-winning novel is getting a big screen glow up – following its early 21st century stage musical adaptation – in time for the 2023 US Holiday season.
The Color Purple tells the tale of Celie Harris Johnson (played here by Fantasia Barrino) and the extraordinary, albeit at-times horrifyingly abusive journey she goes on in the early 1900s. Halle Bailey, Taraji P. Henson, Danielle Brooks, Colman Domingo, Corey Hawkins, and H.E.R. are among its starry cast.
Blitz Bazawule (Black Is King, The Burial of Kojo) directs from a screenplay penned by Marcus Gardley (Maid, The Chi). Oprah Winfrey and Steven Spielberg are part of the movie's world-famous producing team, too.
Sign up to receive daily breaking news, reviews, opinion, analysis, deals and more from the world of tech.
Senior Entertainment Reporter
As TechRadar's senior entertainment reporter, Tom covers all of the latest movies, TV shows, and streaming service news that you need to know about. You'll regularly find him writing about the Marvel Cinematic Universe, Star Wars, Netflix, Prime Video, Disney Plus, and many other topics of interest.
An NCTJ-accredited journalist, Tom also writes reviews, analytical articles, opinion pieces, and interview-led features on the biggest franchises, actors, directors and other industry leaders. You may see his quotes pop up in the odd official Marvel Studios video, too, such as this Moon Knight TV spot.
Away from work, Tom can be found checking out the latest video games, immersing himself in his favorite sporting pastime of football, reading the many unread books on his shelf, staying fit at the gym, and petting every dog he comes across.

Got a scoop, interesting story, or an intriguing angle on the latest news in entertainment? Feel free to drop him a line.