Welcome to our new Netflix movies guide. Here, you'll find all of the latest and biggest films to debut on the world's best streaming service, with multiple genres catered for. That way, no matter what kind of movie you enjoy watching, you'll find something entertaining to stream. Be sure to check in with us weekly, too, for new additions to this article.
Recently, we've added Luther: The Fallen Sun, The Magician's Elephant, We Have a Ghost, and The Strays to our burgeoning new Netflix films list. This article is packed with some seriously big hitters that have debuted on Netflix in recent months, too, including recent Oscar winner Guillermo del Toro's Pinocchio, Glass Onion: A Knives Out Mystery, and The Pale Blue Eye.
It's worth noting that this guide only contains new Netflix movies that have arrived since December 2022. If you're searching for a more comprehensive article on Netflix films, read our best Netflix movies list.
New Netflix movies: March 2023
The Magician's Elephant
Release date: March 17, 2023
This heart-warming, family-friendly tale doesn't immediately stand out from the pack. After all, its official trailer (see above) depicts it as a fairly average film. But The Magician's Elephant is a wonderful watch. Sure, it contains familiar themes about family and destiny, and its plot is pretty basic at times. Children, though, will love it and adults are sure to get a kick out of its beautiful animation (it's that, or they'll be pleased that it'll keep the kids quiet for a bit).
Based on the Kate DiCamillo's novel of the same name, it stars Noah Jupe as Peter, a boy searching for his long lost sister. A chance encounter with a fortune teller puts Peter on a collision course with a magician who, well, owns an elephant, with the latter pair seemingly holding the key to Peter locating his sibling.
Luther: The Fallen Sun
Release date: March 10, 2023
Luther: The Fallen Sun transforms the hit BBC crime drama series into a franchise capable of telling thrilling tales in the movie medium. Or, rather, that was the goal from its cast and crew. Unfortunately, Luther's metamorphosis into a big-budget theatrical offering leaves a lot to be desired, with its janky plot, rushed pacing (especially early on), and lack of captivating villain (Andy Serkis does his best with what he's given, though) ensuring The Fallen Sun is nothing more than an average watch.
Still, Luther fans are sure to enjoy what's on offer. With the disgraced detective (Idris Elba) locked up for the various illegal acts he committed in the TV show, Serkis' antagonistic David Robey has free reign to carry out his serial killer masterplan. That's until Luther unceremoniously breaks himself out of jail, however, and reluctantly teams up with Inspector Odette Raine (Cynthia Erivo) to put an end to Robey's murderous ways.
New Netflix movies: February 2023 and beyond
We Have a Ghost
Release date: February 24, 2023
Despite its evident star-powered cast – Marvel actor Anthony Mackie and Stranger Things' David Harbour among them – We Have A Ghost doesn't live up to its spookily lofty heights.
The supernatural comedy, which is based on Geoff Manugh's short story 'Ernest', sees Frank Presley (Mackie) and his family move into their new home, only to find it's haunted by a spirit called Ernest (Harbour). Rather than being scared, though, the Presleys begin recording Ernest for a new YouTube channel, turning him and them into overnight sensations. It isn't long, though, before the authorities become involved. Uh-oh.
We Have a Ghost should have been a knock-out for Netflix, but it doesn't wrangle its talented cast and its plot into a meaningful film. Sure, there are some humorous moments and plenty of sentiment within but, like many new Netflix movies before it, We Have a Ghost struggles to make a compelling argument to make it worth recommending.
The Strays
Release date: February 17, 2023
Essentially, The Strays is Netflix's take on Jordan Peele's winning formula for crafting unsettling horror-infused thrillers. Surprisingly, it does a pretty good job of emulating Peele's directorial catalog of work, too, albeit it's a suspense-filled film with a somewhat frustrating ending.
This Nathaniel Martello-White flick tells the story of Neve (Ashley Madekwe), a biracial upper-class woman who leads an idyllic life with her loving family and holds down a well-paying job as a deputy head teacher at a prestigious private school. However, Neve's life is upended when elements from her troubled pass resurface and threaten to undermine everything she's built for herself.
If you're a fan of Get Out, Nope, and Us, The Strays is worth streaming. More casual viewers might not be as enthralled as Peele's established fanbase or psychological thriller devotees, though.
True Spirit
Release date: February 3, 2023
Feel like an uplifting (but sugary sweet) family adventure? True Spirit will fit the bill. The fact it's based on a true story helps the film out immensely, and it's an impressive story that critics have dubbed "an empowering tribute to a magnificent achievement."
At just 16-years old, Jessica Watson began a quest to become the youngest person to complete a non-stop solo sail around the globe. And though this isn't going to be one of our favourites, it'll be great for family movie night. Teagan Croft, Anna Paquin, and Cliff Curtis all star.
You People
Release date: January 27, 2023
You People is centered around a new couple and their families, who find themselves examining modern love and family dynamics amidst clashing cultures, societal expectations, and generational differences. Jonah Hill (also a producer), Eddie Murphy, and Julia Louis-Dreyfus all star.
Critics have called You People "brilliantly hilarious, pertinent and wickedly smart", but there has also been criticism of its portrayal of racial tensions. Ultimately, it's a movie that doesn't fully commit to its positioning as a rom-com, nor its introspective take on interracial dating.
The Pale Blue Eye
Release date: January 6, 2023
Christian Bale dons an older (and slightly less high-tech) detective get-up in new Netflix movie The Pale Blue Eye.
Based on the novel of the same name by Louis Bayard, this 1830s-set crime thriller stars Bale as Augustus Landor, a veteran clue-hunter who enlists the help of a young Edgar Allen Poe (Harry Melling) to solve a series of murders at the United States Military Academy. Gillian Anderson, Lucy Boynton, Toby Jones, and Charlotte Gainsbourg also feature.
With such a well-known cast, you'd imagine great things. However, it had a somewhat lukewarm response upon release, with some critics bashing it for being too methodically paced. That said, others enjoyed the carefully constructed plot, and many of the cast's performances, so we'll leave it to you to decide how you feel.
White Noise
Release date: December 30, 2022
Director Noah Baumbach returns to Netflix before 2022 ended with White Noise, his first feature film since 2019's Marriage Story.
An adaptation of Don DeLillo's satirical novel of the same name, White Noise stars Adam Driver as Jack Gladney, a college professor whose suburban life is upended when a nearby chemical leak forces him and his family to evacuate. Greta Gerwig, Don Cheadle, André 3000, Alessandro Nivola, and Jodie Turner-Smith also star.
White Noise was been near-universally praised by critics for being an "engrossing, cerebral black comedy" – and we'd be hard pressed to disagree. It occasionally struggles to properly adapt the source material it's based on, but Baumbach's latest does plenty right in other areas – namely, with its humor, the timeliness of its apocalyptic-style narrative, and stupendous performances from Driver and company.
Glass Onion: A Knives Out Mystery
Release date: December 23, 2022
The sequel to 2019's critically-acclaimed whodunit Knives Out, Glass Onion: A Knives Out Mystery is another murder mystery-style offering from Rian Johnson, which sees Daniel Craig reprises his role as famous detective Benoit Blanc.
This time, Blanc is brought to the private island of tech billionaire, Miles Bron (Edward Norton), who is hosting said murder mystery at his mansion. Of course, the party doesn't go as planned when one of the guests is murdered for real – but who was responsible?
It's a sizzling movie, with numerous twists and turns that'll leave you guessing until its final, climactic sense. Admittedly, Glass Onion doesn't hit the heights of its predecessor, but that didn't stop it from becoming one of Netflix's most-streamed movies of last year.
Bardo, False Chronicle of a Handful of Truths
Release date: December 16, 2022
Directed by Alejandro G. Iñárritu (The Revenant, Birdman), Bardo follows Silverio – a renowned Mexican journalist and documentary maker who journeys to his homeland to connect with his Mexican identity.
According to the film's official synopsis, Silverio grapples with universal yet intimate questions about identity, success, mortality, the history of Mexico, and the deeply emotional familial bonds he shares with his wife and children. Indeed, what it means to be human in these very peculiar times.
In our view, it's an intriguing movie about cultural identity, which is both visually astonishing and wonderfully immersive. Some critics didn't enjoy it as much as we did, however, with its self-indulgent tones and two-hour 39 minute runtime making it a lengthy watc.
Lady Chatterley's Lover
Release date: December 2, 2022
A word of warning: Lady Chatterley's Lover is steamy. Like, really steamy. It's a story that always has been and always will be – and Netflix's adaptation of D. H. Lawrence's novel of the same name is no exception to that rule.
This time around, young British stars Emma Corrin (The Crown) and Jack O'Connell (Unbroken) step into the well-worn shoes of Lady Constance Reid and gamekeeper Oliver Mellors, respectively – two characters from very different worlds who engage in a risky extramarital affair.
Before arriving on Netflix, Lady Chatterley's Lover enjoyed a brief theatrical run and was near-unanimously praised by critics for its authentic and moving portrait of forbidden love. In fact, it was one of the best-reviewed new Netflix movies of 2022 – a refreshing turn of pace for the streaming giant, whose offerings over the past 12 months have largely been met with mixed to fairly positive (rather than outright positive) reviews.
New Netflix movies: what's coming in 2023?
Interested in learning about what other new Netflix movies are coming later this year? Below, we've picked out some of the most eagerly anticipated films that are set to launch on the platform in 2023. So, what are you waiting for? Dive in!
Murder Mystery 2
Release date: March 31
Not much is known about Murder Mystery 2, other than the fact that it's a sequel to Netflix's 2019 comedy about a couple whose vacation is turned upside down when their framed for a billionaire's murder. Jennifer Aniston and Adam Sandler are both set to reprise their roles from the first flick, so we're expect more wise-cracking whodunit action from this one.
The Mother
Release date: May 12
Cue generic Netflix thriller plot: in The Mother, a deadly female assassin (Jennifer Lopez) comes out of hiding to protect the daughter she gave up years before, while on the run from dangerous men. A bit of a change of pace for Lopez after glitzy 2022 romcom Marry Me, then. This one was scheduled to release last year, but has since been delayed until May 2023.
Extraction 2
Release date: June 16
As its name suggests, Extraction 2 is a direct sequel to Sam Hargrave's 2020 Netflix original movie, and will see Chris Hemsworth's seemingly indestructible hero – Tyler Rake – returning for another high-stakes and invariably globe-trotting special ops mission. Not much is known about the film's premise beyond Netflix's similar-sounding official synopsis, but the streamer has shared a behind-the-scenes teaser (see above).
They Cloned Tyrone
Release date: July 21
Not too much is known about They Cloned Tyrone, but its synopsis reads as follows: "A series of eerie events thrusts an unlikely trio (Jamie Foxx, John Boyega, and Teyonah Parris) onto the trail of a nefarious government conspiracy in this pulpy mystery caper." By the sounds of things, then, this new Netflix movie – from first time director Juel Taylor – has more than a few tricks up its sleeve. Its cast looks pretty great, too.
Heart of Stone
Release date: August 11
With her time as Wonder Woman seemingly coming to an end in the DC Extended Universe (DCEU), Gal Gadot needs a new headline-making film franchise to lead.
Luckily for Gadot, Heart of Stone could be that movie series. Positioned as Mission: Impossible-style franchise, this action thriller stars Gadot as Rachel Stone, a CIA agent who "is the only woman standing between her powerful, global peace-keeping organization and the loss of its most valuable – and dangerous – asset".
Unsurprisingly, little else is known about this one, but we know it'll co-star Jamie Dornan (50 Shades of Grey), Matthias Schweighofer (Army of the Dead), Alia Bhatt (RRR), and Sophie Okonedo (The Wheel of Time). Peaky Blinders and Misfits director Tom Harper helms this entry in our new Netflix movies guide.
Chicken Run: Dawn of the Nugget
Release date: November 10
Having pulled off a death-defying escape from Tweedy's farm, Ginger has finally found her dream – a peaceful island sanctuary for the whole flock, far from the dangers of the human world in Chicken Run: Dawn of the Nugget. When she and Rocky hatch a little girl called Molly, Ginger's happy ending seems complete. But back on the mainland, the whole of chicken-kind faces a new and terrible threat. This long-awaited sequel is being helmed by Flushed Away director Sam Fell.
Rebel Moon
Release date: December 22
Army of the Dead director Zack Snyder is returning to Netflix this year with Rebel Moon, an epic space opera reportedly inspired by both Star Wars and Akira Kurosawa's Seven Samurai. The film's official synopsis reads as follows: "A peaceful colony on the edge of the galaxy is threatened by the armies of a tyrannical regent named Balisarius. The desperate civilians dispatch Kora, a young woman who has a mysterious past to seek out warriors from nearby planets to help them challenge the regent."
Sofia Boutella, Charlie Hunnam, Ray Fisher, Djimon Hounsou, Jena Malone, Corey Stoll, Ed Skrein, and Anthony Hopkins are all confirmed to star, which we expect will enjoy a limited theatrical release before it lands on Netflix.
Maestro
Release date: TBA (2023 confirmed)
Produced by Todd Phillips, Martin Scorsese, Steven Spielberg and leading man Bradley Cooper (who also directs the film), Maestro centers on the life and legacy of West Side Story composer Leonard Bernstein. Judging by the prosthetics used to transform Cooper into the much older Bernstein, we expect this entry in our new Netflix movies list to be a shoo-in for next year's Best Makeup and Hairstyling Oscar (release date depending).
The Mothership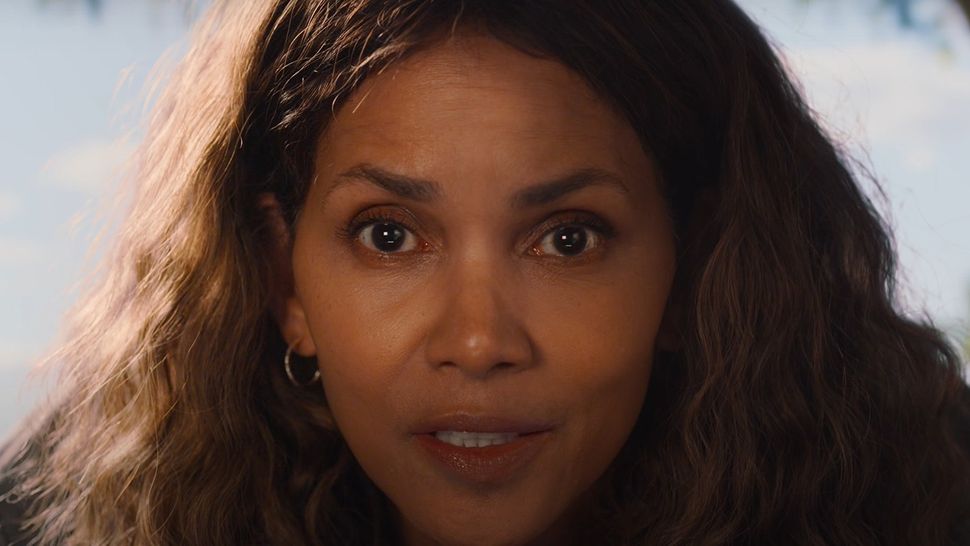 Release date: TBA (2023 confirmed)
The Mothership is a sci-fi adventure that follows Sara Morse (Halle Berry) one year after her husband (Omari Hardwick) mysteriously vanishes from their rural farm. When she discovers a strange, extraterrestrial object underneath their home, Sara and her kids embark on a race to find their husband, father, and – most importantly – the truth. Sounds ominous.
For more Netflix-based coverage, read our best Netflix movies, best Netflix shows, and best Netflix documentaries guides.