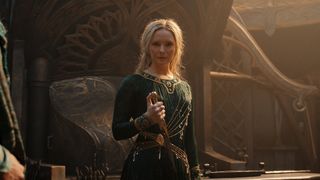 (Image credit: Prime Video)
The Rings of Power season 2: key information
- No release date announced yet
- Filming reportedly completed before strikes began
- Key cast set to return
- New cast members revealed
- Leaks reveal character identities and some plot details
- Series might start following Tolkien's lore more closely
- Expected to be darker than its predecessor
- Plans for season 3 already in the pipeline
It could be a while before The Rings of Power season 2 debuts on Prime Video. The next entry in Amazon's Lord of the Rings prequel series was in full production until the writers and actors strikes. It's unclear, though, if filming was completed before Hollywood was brought to a standstill by the industrial action. In short: don't expect an official release date any time soon.
While we wait for one of the best Prime Video shows to return to our screens, though, there's plenty for you to read about The Rings of Power's second season. In this guide, we've rounded up everything worth knowing about its next installment. That includes a possible launch date, cast list, potential story beats, the show's future on Prime Video, and more.
Full disclosure before we begin: major spoilers follow for The Rings of Power season 1. Additionally, potential spoilers are discussed for The Rings of Power 2.
The Rings of Power season 2 release date: what we know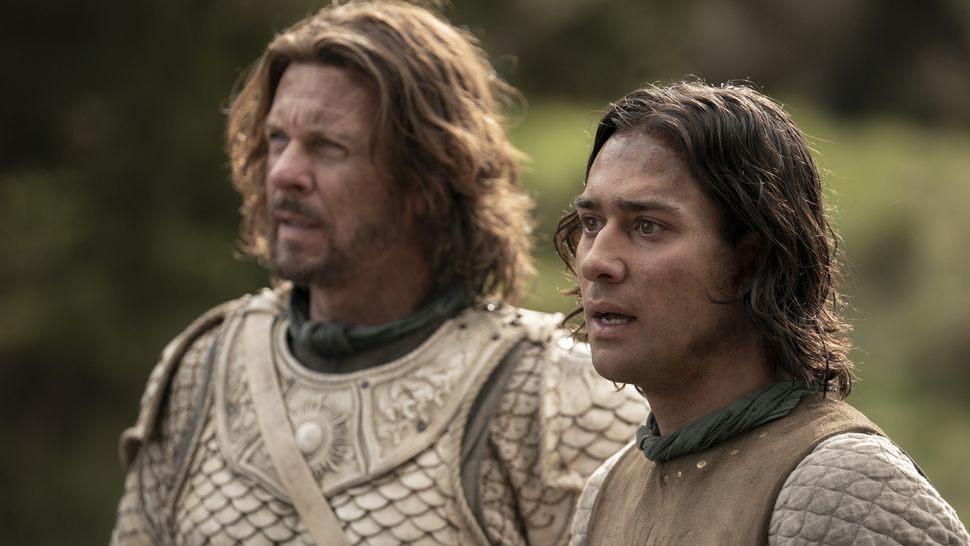 Season 2 doesn't have a release date yet. However, filming reportedly wrapped on the show's next entry in late May, which means it'll be some way along on its post-production phase by now. That's despite the writers strike, which began in early May and threatened the end of its shooting schedule. Given The Rings of Power season 2 was filmed in the UK, though, it wasn't fully affected by the writers strike, hence why production could continue at the time.
So, when might it launch on Prime Video? Amazon Studios co-head Jennifer Salke told Esquire everyone wants to get season 2 "out into the world as soon as we can". However, Vernon Sanders, Salke's fellow co-head, also told Collider that fans shouldn't expect it before 2024.
In the meantime, Amazon's other expensive high fantasy series – The Wheel of Time season 2 – arrives on September 1, so you'll have some fantasy genre fare to enjoy. If that doesn't interest you, The Making of The Rings of Power – a documentary detailing season 1's production – is available to stream on Prime Video now instead.
The Rings of Power season 2 cast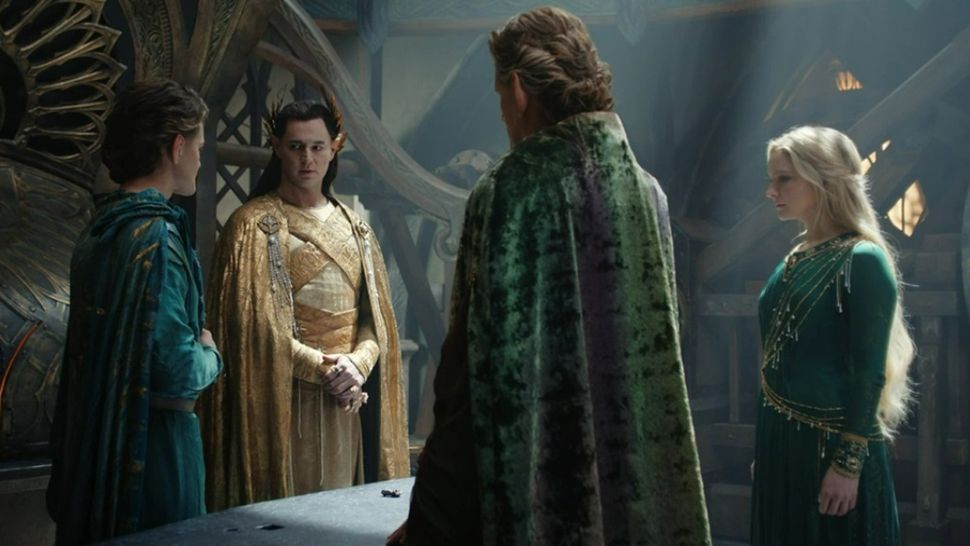 Spoilers follow for The Rings of Power season 1. Potential season 2 cast spoilers are also discussed.
Here's who we expect to return in The Rings of Power season 2:
Morfydd Clark as Galadriel
Charlie Vickers as Sauron
Robert Aramayo as Elrond
Benjamin Walker as High King Gil-galad
Charles Edwards as Celebrimbor
Ismael Cruz Córdova as Arondir
Nazain Boniadi as Bronwyn
Tyroe Muhafidin as Theo
Cynthia Addai-Robinson as Queen Regent Míriel
Lloyd Owen as Elendil
Maxim Baldry as Isildur
Ema Horvath as Eärien
Trystan Gravelle as Pharazôn
Leon Wadham as Kemen
Owain Arthur as Prince Durin IV
Sophia Nomvete as Princess Disa
Markella Kavenagh as Eleanor 'Nori' Brandyfoot
Dylan Smith as Largo Brandyfoot
Sara Zwangobani as Marigold Brandyfoot
Megan Richards and Poppy Proudfellow
Daniel Weyman as The Stranger
In a somewhat surprising twist, The Rings of Power season 1 finale revealed Halbrand is actually Sauron. Whenever we see Vickers from now on, he'll be portraying The Lord of the Rings' iconic villain.
Meanwhile, Lenny Henry's Sadoc Burrows and The Mystics won't be back. Sadoc died in episode 8 after he was fatally injured him during a battle between The Stranger, Harfoots, and The Mystics – the latter being destroyed by The Stranger during the same fight.
We expect to see Alex Tarrant's Valandil, Geoff Morrell's Waldreg, Peter Mullan as King Durin III, Maxine Cunliffe as Vilma, and Thusitha Jayasundera as Malva next season, although Vilma and Malva's appearances depend on whether the Harfoot community returns (more on this later). Elsewhere, The Rings of Power season 2 has dropped a big name star, with Joseph Mawle, who played Adar, being replaced by Sam Hazeldine (Peaky Blinders).
Meanwhile, 17 other actors have officially joined the cast. Six were announced in the Mawle departure press release, eight more were forged in the fires of Mount Doom (metaphorically speaking) and, more recently, James Bond, Star Wars, and Harry Potter stars were added to the show's ranks:
William Chubb (The Sandman)
Kevin Eldon (Game of Thrones)
Will Keen (His Dark Materials)
Selina Lo (Hellraiser)
Calum Lynch (Bridgerton, Derry Girls)
Stuart Bowman (Alex Rider)
Gavi Singh Chera (The Lazarus Project)
Oliver Alvin-Wilson (Lovesick)
Ben Daniels (Jupiter's Legacy)
Yasen "Zates" Atour (Young Wallander)
Gabriel Akuwudike (1917)
Nia Towle (Persuasion)
Nicholas Woodeson (Rome)
Amelia Kenworthy (in her first major acting role)
Ciaran Hinds (Harry Potter, Treason)
Rory Kinnear (James Bond)
Tanya Moodie (Star Wars: The Rise of Skywalker)
One character confirmed to debut in season 2 is Cirdan the Shipwright. In Tolkien's source material, Cirdan was Lord of the Falathrim in the First Age and owned one of the titular rings – Narya – before passing it onto Gandalf. Benjamin Walker, who plays High King Gil-galad, has teased (via Nerdist) that Cirdan will have an "important influence" on his character.
Cirdan isn't the only elf who could feature. In episode 7, Galadriel mentioned Celeborn, the elf she's wedded to. Galadriel presumes he's dead, but Tolkien fans know he's still alive. The duo eventually reunite before they make the city of Lothlórien their permanent home.
Speaking at a press event, which TechRadar attended co-showrunner Patrick McKay refused to confirm Celeborn will appear, but did tease: "We know there are things that the two of them do together in terms of progeny that they will issue, realms they will found, all kinds of things. So it would be very hard to believe that she would never see him again. But let's see."
Elsewhere, Charles Edwards, who plays Celebrimbor, wants to see a deep-cut dwarf character, aka the dwarf known as Narvi, make their live-action debut in The Rings of Power season 2. And it seems he'll get his wish, with The Fellowship of Fans (TFoF) suggesting we'll see Celebrimbor and Narvi create the Doors of Durin in a flashback sequence. Per the same fansite, Kevin Eldon will portray Narvi.
The cast and creators of #TheRingsOfPower came together at the @PrimeVideo FYC event in LA. Morfydd Clark confirmed Galadriel will wear one of the previously forged Elven rings and that additional rings will be forged in season two! pic.twitter.com/CP2rFKXeTOMay 8, 2023
According to TFoF, newcomer Jamie Bisping has been cast as someone called Viran (it's unclear if this is a codename), and that William Cubb and Nichola Woodseon are on board as a Númenórean high priest called Lord Belzagar and a Pelargir character named Diarmid (again, no word on whether this is his actual name), too. The Witcher fansite Redanian Intelligence suggests Celesta Dodwell (Atlanta) has been cast in an unknown role, and that Nia Towle's unnamed individual teams up with Isildur.
Finally, with the first Rings of Power being crafted in episode 8, we'll see the other 17 forged in The Rings of Power season 2 (see the tweet above for confirmation). Characters like Khamûl the Easterling – one of the nine Ringwraiths – could make their live-action debut, then.
The Rings of Power season 2 plot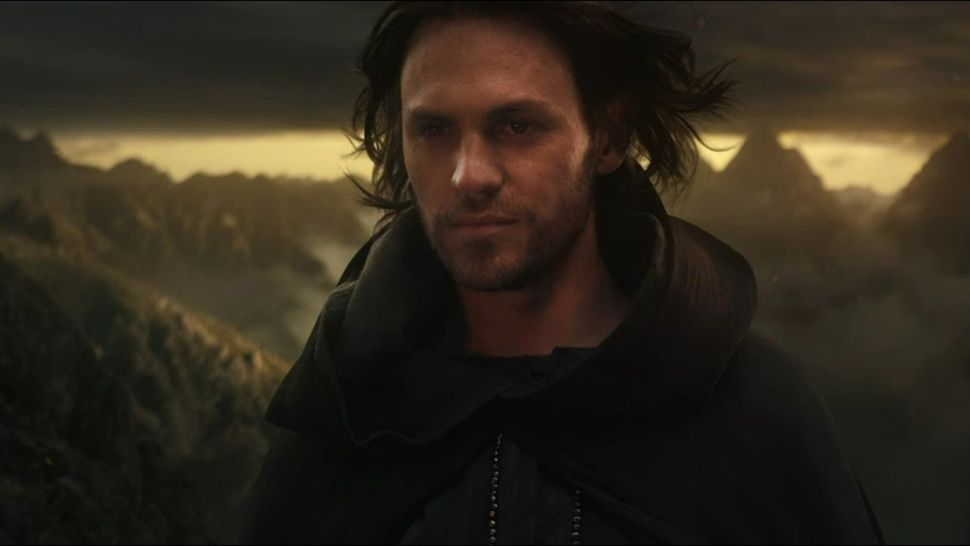 Little is known about The Rings of Power season 2's plot. However, based on cast and crew quotes, plus what happened in the season 1 finale and in J.R.R. Tolkien's source material, we can speculate on certain elements.
Now that Halbrand has been revealed as Sauron – Vickers told TechRadar he didn't know he was playing Sauron until filming the third episode – Middle-earth's iconic antagonist will take center stage.
For starters, he's arrived in Mordor to make it his base of operations. Given Adar and his followers already inhabit this realm, it'll be fascinating to see if they become allies or not. Vickers told TechRadar that he'd be excited to explore the pair's frosty relationship further, adding: "I really love that dynamic. These characters have a long history, so I'd be keen to explore that further and even build on it."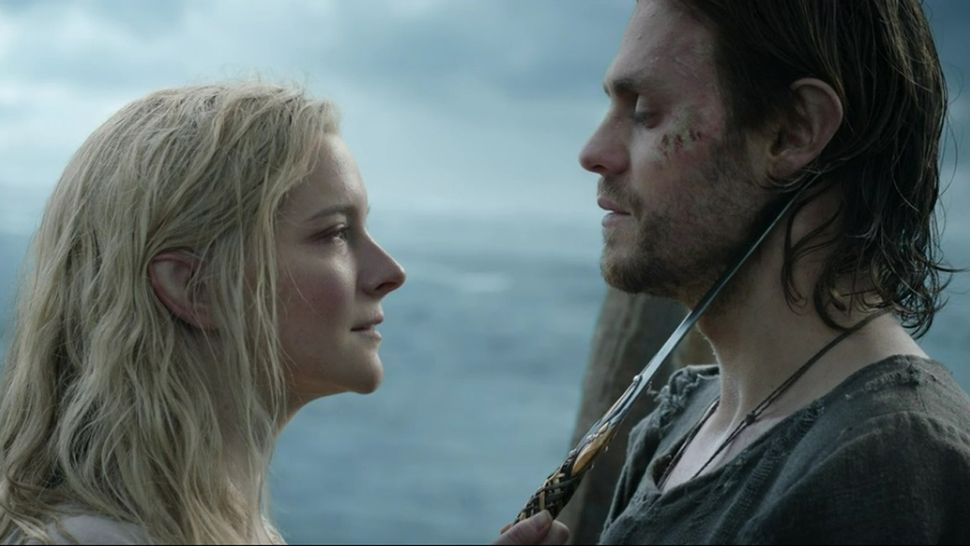 As for Sauron and Galadriel potentially crossing paths again, Clark exclusively told TechRadar: "I've always been obsessed with the mirror of Galadriel bit from The Lord of the Rings films. She can't let go until she's rejected this completely because she feels temptation in that. But only the tiniest amount because of how dreadful she knows it would be. So it would be interesting to see how she'd handle a reunion."
"I think the crux of their relationship is there's no peace in being alone," Vickers added. "Sauron eventually believes his peace will only come as a king and Galadriel is the one who's drawn that back out of him in season 1. You can view him as being repentant or manipulating her in that sense. He knows she's incredibly useful and can get him to meet the right people and be in the right circles to make these connections. Now that he's deceived her, and now that she's not told the elves about him, it would be fascinating to see how they would react to each other if they met again."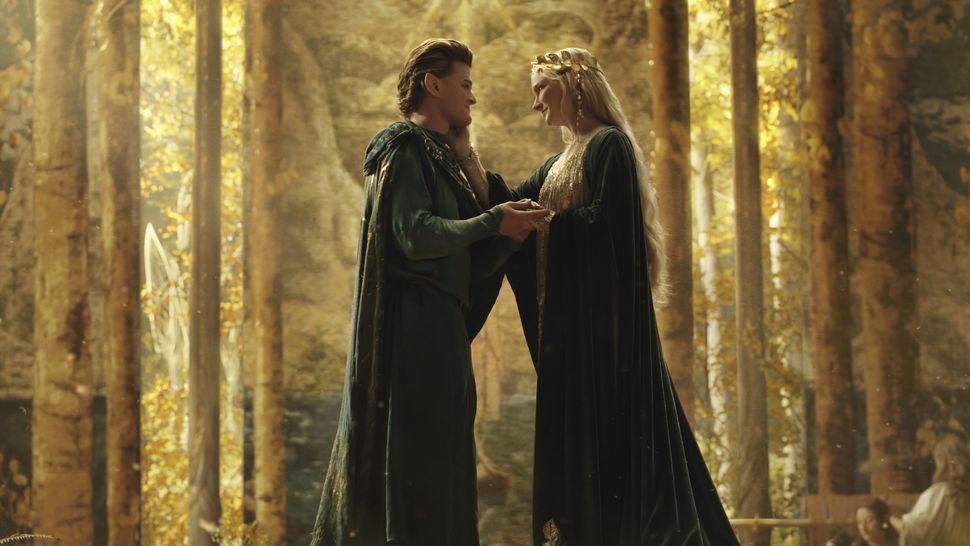 Not telling the elves about Sauron will cause problems for Galadriel. Elrond already knows she's lied to him, with the elven scholar discovering the Southlands' royal lineage scroll, which Galadriel used to work out who Halbrand was, in the season 1 finale.
"I don't think she's going to necessarily feel she made the right decision [not telling Elrond about Sauron]," Clark exclusively told TechRadar. "The elves will get things wrong and there are consequences to that. This is a big one and I think Galadriel will realize she's made a reckless and dangerous error."
Revealing what she's most looking forward to in season 2, Clark added: "Spending more time with the elves, whatever state those relationships are in, and just coming back to Galadriel's elvish-ness. We know she's going to become reclusive and secretive, and starting to turn into the Lady of Lothlórien. I'm excited to see what makes her decide to back away from what we've seen her throw herself into."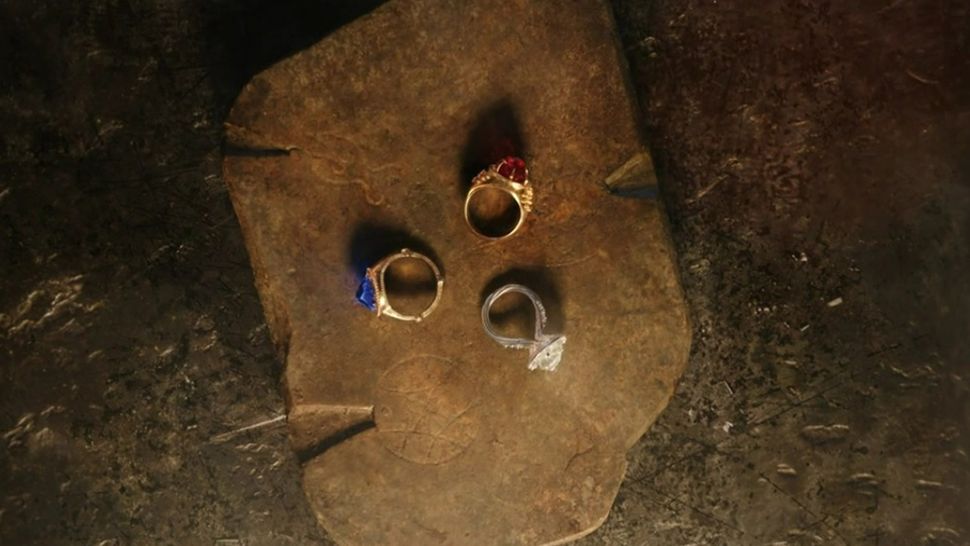 As for the rings, there are 17 more to be created, including the One Ring. Will we see the Dark Lord craft his own ring next time out? Vickers wouldn't say, but he told TechRadar that Sauron "has a plan". Take that as a yes, then.
Regarding their creation, Tolkien's source material reveals the rings for the dwarves and men (seven and nine respectively) were created alongside the elven ones. This doesn't happen in the show, which played pretty loose with some Tolkien lore in season 1.
Given Sauron can't return to Eregion, he needs to craft the other rings if he hopes to enslave the dwarven lords and kings of men. That's unless Sauron disguises himself as Annatar – like he does in Tolkien's works – and tricks Celebrimbor into fashioning the other rings. It would be weird if Celebrimbor is deceived again, though, hence why we think Sauron will need to craft them on his own.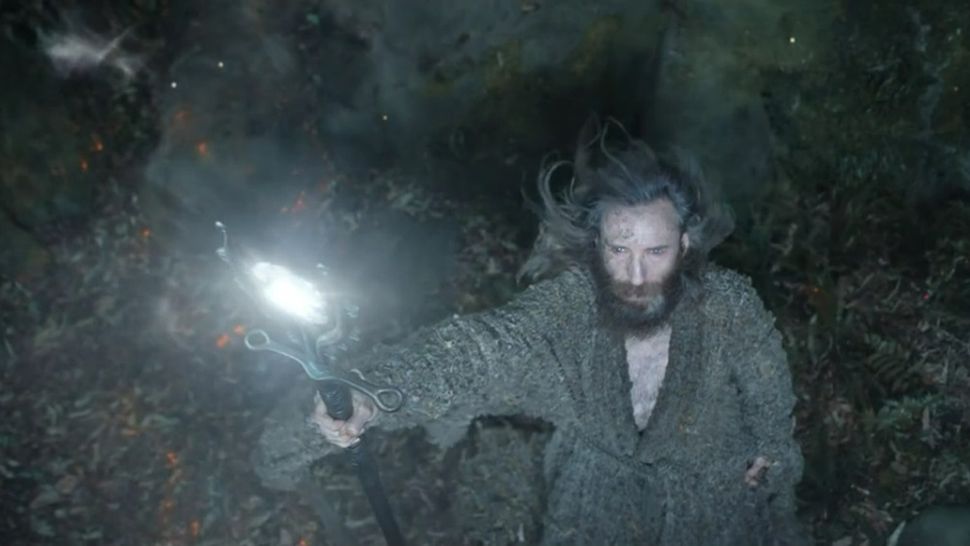 Another big question concerns The Stranger. We know he's one of the Istari, aka one of the five wizards sent to Middle-earth by the Valar (Middle-earth's gods, essentially) to aid its races in the fight against Sauron. We don't know which one, but the season 1 finale teased his real identity (unless it's a misdirect). Funnily enough, none of the cast found out that The Stranger was a wizard until the final throes of filming, either.
Read our Rings of Power season 1 recaps
The Stranger and Nori are heading off to Rhûn in Middle-earth's far eastern regions to find out what his name is, more about his past, and how to channel his powers properly. Will they run into Khamûl or the two Blue Wizards (providing The Stranger isn't one of that duo)? Here's hoping.
There are other storylines that The Rings of Power season 2 needs to pick up, beginning with the fate of the Southlanders. Episode 7 confirmed the Southlands is the region that becomes Mordor after The Rings of Power episode 6's explosive ending. Additionally, Bronwyn revealed the remaining Southlanders would resettle in Pelargir, a city on the banks of the river Anduin that becomes Gondor's main port in the Third Age.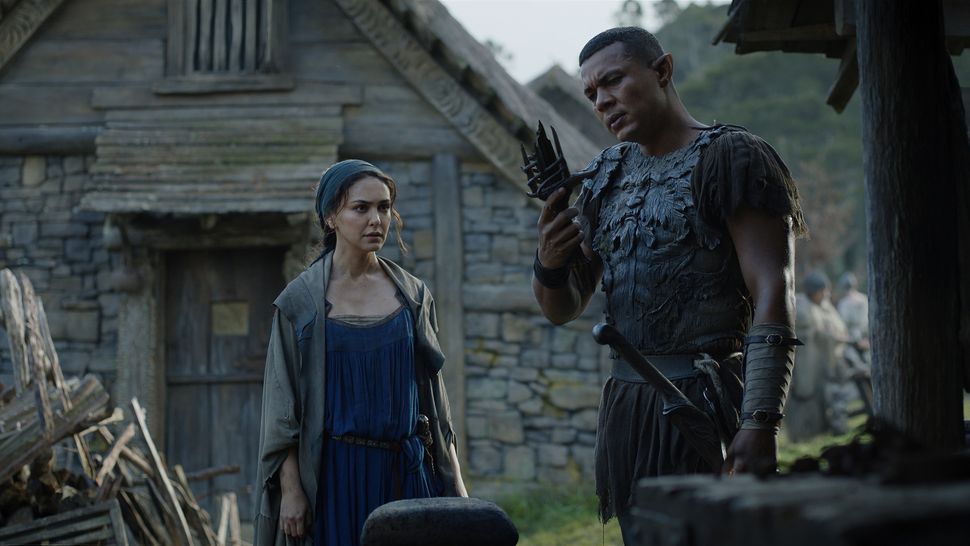 It's unlikely season 1 will mark the end of the Southlanders' time in the show. Also, in the source material, Pelargir becomes a haven for the Faithful – Númenóreans who are friendly with the elves – during the island kingdom's moral decline in the Second Age. If events play out like they do in Tolkien's works, we'll see Elendil and company reunite with Arondir, Bronwyn, and Theo.
As for the Harfoots (minus Nori), they're headed in a different direction to The Stranger and Nori. Speaking during a press screening, which TechRadar attended, McKay confirmed we'll be reunited with the Harfoots at some point and even teased their involvement in Hobbiton's founding.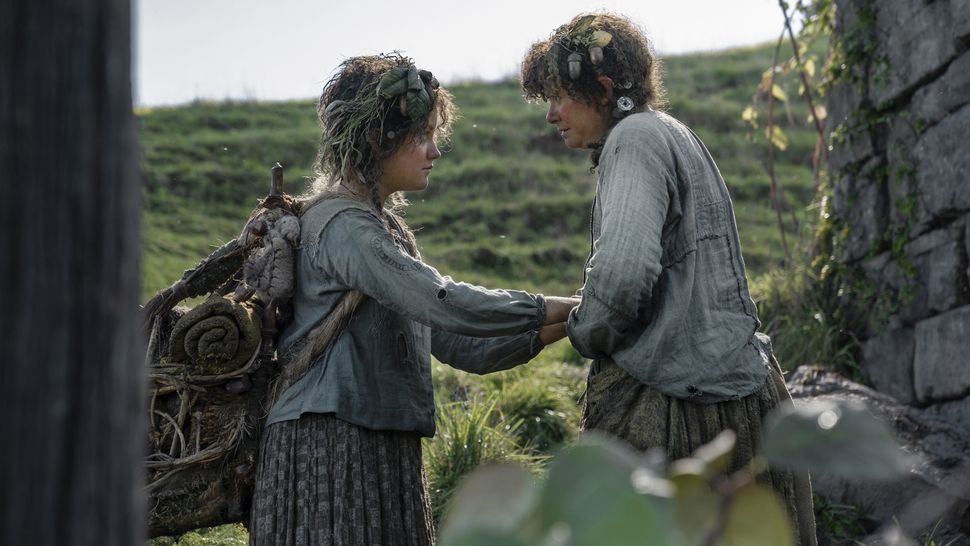 Over in Khazad-dûm, we need a resolution to King Durin III and Prince Durin IV's familial issues. The former stripped his son of his titles during the fallout over the mining of mithril, but we think they'll make amends and Durin III will agree to join the fight against Sauron. Based on Tolkien's source material, King Durin sends an army of dwarven warriors to try and save Eregion from destruction during the War of the Elves and Sauron. So it would make sense for him to see the error of his ways, and that dwarves and elves need to work together to combat the threat of the Dark Lord.
The battle for Eregion could also see Gil-galad's warrior side come out. Benjamin Walker told Nerdist that Gil-galad's spear – Aeglos – will see some action and that he'll become more of a war general in season 2. Fingers crossed we do, Benjamin.
The two Durins will also need to set their differences aside to deal with a prominent Balrog – aka Durin's Bane – in episode 7. Asked by TechRadar if we'll see Durin's Bane again soon, McKay simply teased: "Season 2, sir. Stay tuned."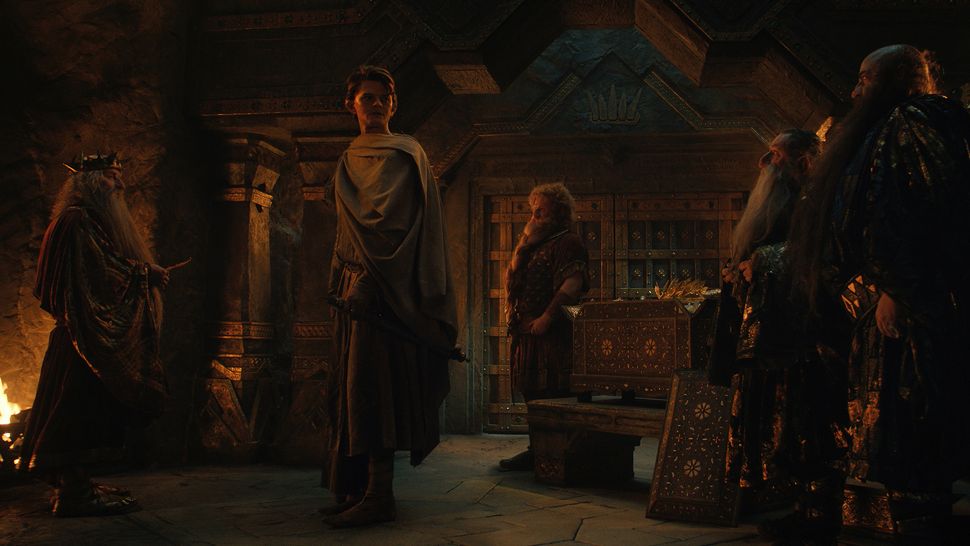 Then there's the upheaval Númenor will be afflicted with. King Palantir is dead, meaning Queen Regent Míriel should be crowned the island realm's next ruler. With Míriel blinded in episode 7, though, and based on what we know of Númenor's history, Pharazôn will make a play for the throne. That, alongside Sauron's potential return to Númenor – we don't know this will be tackled yet – will ultimately lead to the kingdom's downfall.
And what of Númenor's favorite dysfunctional family, i.e. Elendil, Isildur, and Eärien? The former will be grieving for his son – although, we know Isildur is alive, given the role he plays in Sauron's defeat in the Second Age – while still carrying out his Númenorean duties. Meanwhile, Eärien discovered the palantír in the season 1 finale. Will she use it to see into Númenor's future? Her decision to do so or not could have big implications on the kingdom, herself, and her family.
All of that said, fans will be relieved to hear The Rings of Power season 2 will follow Tolkien's materials much more closely. Co-showrunner JD Payne told The Hollywood Reporter: "Season two has a canonical story. There may well be viewers who are like, 'This is the story we were hoping to get in season one!' In season two, we're giving it to them". Speaking on the official Rings of Power podcast, Payne added: "[In] season 2 there is a lot more canon that we are interested in adapting and bringing to life".
That extends to some major battles in Tolkien's legendary works, with Sanders telling Deadline: "You will see bigger battles in season two including some iconic moments from the appendices and the books". According to Isildur actor Maxim Baldry (via Variety): "There's a lot more action", so color us excited for more battles akin to those seen in season 1's latter half.
The Rings of Power season 2 trailer: is there one?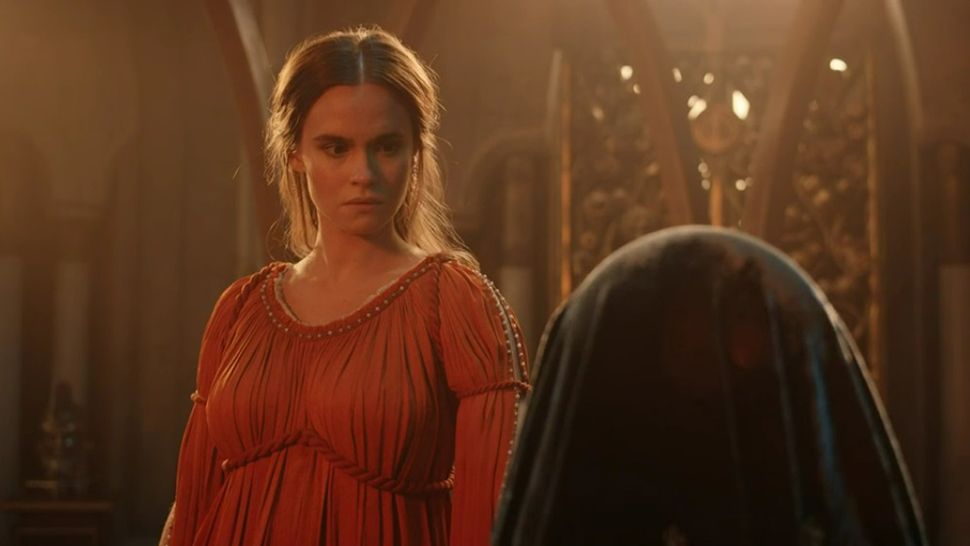 Nope. Once one is released (whenever that'll be), we'll let you know.
Will The Rings of Power get more seasons?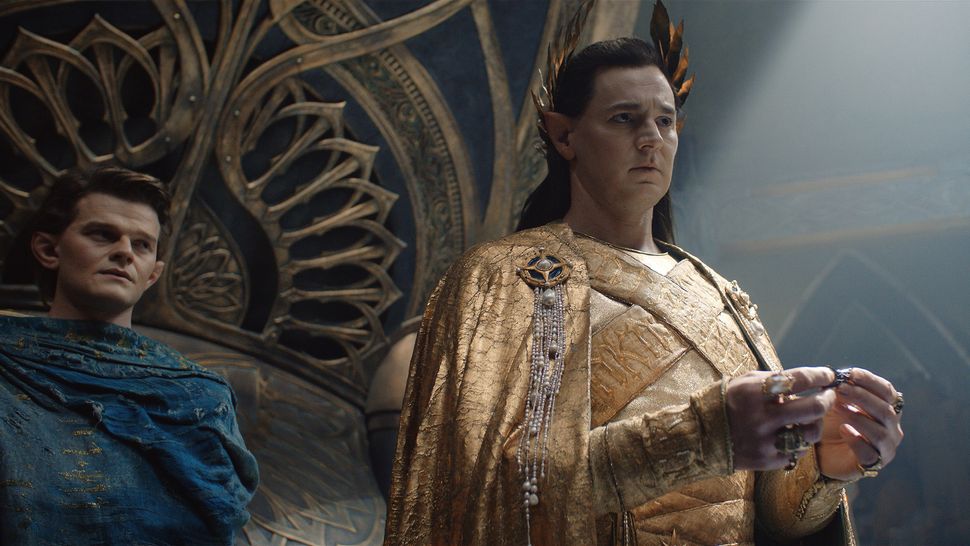 Season 2 won't be The Rings of Power's final installment. Payne and McKay have planned for five seasons, which is already mapped out. Amazon has only greenlit two seasons but Amazon Studios co-head Vernon Sanders revealed (via Deadline) that talks had taken place about a third season. We were supposed to hear something official earlier this year but, given the strikes, nothing has been announced.
How Embracer Group's acquisition of The Lord of the Rings IP affects season 3 and other seasons – executive producer Lindsey Weber is unsure how it'll impact the series – is also unclear. Additionally, the announcement that Warner Bros. Discovery is making new Lord of the Rings films (per The Guardian), including its forthcoming War of the Rohirrim animated flick, will muddy the waters further.
For what it's worth, The Rings of Power reached the number one spot in Nielsen's TV rankings in September 2022. Meanwhile, its two-episode premiere was also streamed by 25 million viewers in its first 24 hours, making it the most-watched Prime Video show ever. In short: don't expect The Rings of Power season 2 (or even the third season) to be the final entry.
For more Prime Video TV content, read up on everything worth knowing about Invincible season 2, check out the best Prime Video movies, or read about all of the new Prime Video movies that have joined the platform recently.
Sign up to receive daily breaking news, reviews, opinion, analysis, deals and more from the world of tech.
Senior Entertainment Reporter
As TechRadar's senior entertainment reporter, Tom covers all of the latest movies, TV shows, and streaming service news that you need to know about. You'll regularly find him writing about the Marvel Cinematic Universe, Star Wars, Netflix, Prime Video, Disney Plus, and many other topics of interest.
An NCTJ-accredited journalist, Tom also writes reviews, analytical articles, opinion pieces, and interview-led features on the biggest franchises, actors, directors and other industry leaders. You may see his quotes pop up in the odd official Marvel Studios video, too, such as this Moon Knight TV spot.
Away from work, Tom can be found checking out the latest video games, immersing himself in his favorite sporting pastime of football, reading the many unread books on his shelf, staying fit at the gym, and petting every dog he comes across.

Got a scoop, interesting story, or an intriguing angle on the latest news in entertainment? Feel free to drop him a line.