Loving I'm a Virgo on Prime Video? Here are 6 more bumper coming-of-age comedies
From gross-out laughs to biting satire, you'll love to watch these teenage comedies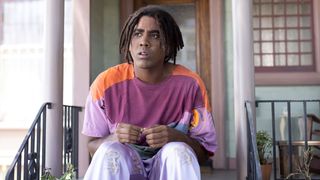 (Image credit: Amazon)
The reviews are flooding in already, and I'm A Virgo – which started streaming on Prime Video on Friday, 23 June – is shaping up to be a big hit new TV series filled with surprisingly surreal satire.
The show is a hugely entertaining coming of age comedy, featuring Boots Riley. It is whimsical, weird and often very funny, with The New York Times calling it a larger-than-life achievement. Meanwhile, Deadline says it's a "throwback to Amazon's early streaming years... a revitalizing return to originality both for the platform and the franchise-heavy small screen itself".
It's very binge-worthy and is likely to join our best Prime Video series list for the month, but what can you watch on Prime Video to scratch that coming of age comedy itch when it's over? We have some ideas.
1. Superbad
Superbad is one of the funnier coming of age movies out there, and on the surface it's nothing new. The plot typical plot of two teens getting wasted and trying to get laid has been the stuff of movies for as long as there have been teenagers and cinema. But Superbad is smarter than that, and it's as much about the end of teenage innocence as it is about toilet humour and vulgar verbal sparring.
2. The Inbetweeners
This cult British sitcom (the US remake is best avoided) is the kind of show you'll watch from behind your fingers. It's an unflinching portrait of how horrible teenage schoolboys can be when unsupervised and incredibly cringe-worthy. As with Superbad, it's smarter than other similar shows, a kind of Freaks and Geeks set in suburban England. On the subject of which...
3. Freaks and Geeks
This 80s-set sitcom follows a group of misfits through their schooldays and has a whopping 100% on Rotten Tomatoes. It's from the same mind as Superbad, so there's a lot of similarities here. But while it quickly became a cult classic, a combination of bad scheduling and arguments between NBC and the show creators led to its cancelation after just 12 episodes – six short of the 18 planned. If you imagine Stranger Things without the body count and demons you'll know what to expect.
4. Daria
Brainy, sardonic Daria Morgendorffer tries to fly under the radar at Lawndale High School, and she's doing a pretty good job of it. This animated satire of teenage life has more teeth than most, and despite being a spin-off from Beavis and Butthead this is a fiercely feminist affair that never speaks down to the viewers. It's also devastatingly funny. Daria is a classic.
5. High School
We may have saved the best till last. High School's Tegan and Sara share their names with the famous musical duo Tegan and Sara, because they're the same people. This show is based on the pair's best-selling memoir, and while it's funny, it's a more serious affair than some of the other shows we've described here. The only generic thing about it is the forgettable title; the show itself is smart, features great performances and has a killer soundtrack to boot.
6. Welcome to Flatch
This mockumentary focuses on young cousins and best friends Kelly Mallet and Lloyd "Shrub" Mallet, who live in a small Midwest town. Director Paul Feig has a lot of fun with the pair, whose lives revolve primarily around wasting time and avoiding their high school nemesis Nadine. Kelly (played by Holmes) steals the show, according to Variety, which says she brings "a loose energy to her punchier scenes as well as a lowkey sadness to those that underline how much Kelly craves not just attention, but basic validation, from those who've never cared".
Unlike the rest of the TV shows on this list, Welcome to Flatch is not streaming on Prime Video but the full 14-episode first series is there to rent or buy. If you want more to stream, though, check out these new Prime Video movies.
Get daily insight, inspiration and deals in your inbox
Get the hottest deals available in your inbox plus news, reviews, opinion, analysis and more from the TechRadar team.
Contributor
Writer, broadcaster, musician and kitchen gadget obsessive Carrie Marshall (Twitter) has been writing about tech since 1998, contributing sage advice and odd opinions to all kinds of magazines and websites as well as writing more than a dozen books. Her memoir, Carrie Kills A Man, is on sale now. She is the singer in Glaswegian rock band HAVR.