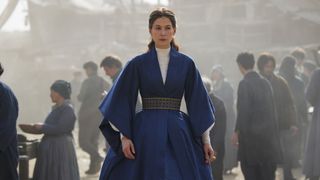 (Image credit: Jan Thijs/Amazon Studios)
Amazon's adaptation of The Wheel of Time book series had no right to be as good as it was when its first season debuted in November 2021. Back then, we called it "your next fantasy show obsession" and, judging by the acclaim it gleaned post-release, the high fantasy series deserved the title we bestowed upon it.
However, numerous fantasy series, including Amazon's big-budget Lord of the Rings prequel – The Rings of Power – have laid claim to that honor in the near-two-year gap since. Which begs the question: does The Wheel of Time season 2 have the clout to regain the TV fantasy genre summit?
Yes and no. The Wheel of Time's second outing on Prime Video is a more self-assured offering than its forebear that does justice to Robert Jordan's novels and includes original material to enthrall established fans. Yet, like the show's first season, it's troubled by egregious plot pacing and other stumbling blocks that accentuate its deficiencies.
Divide and conquer
Season 2 opens with its protagonists scattered to the wind. Rand (Josha Stradowski), aka the Dragon Reborn, has gone into hiding after faking his death to keep his friends – and the wider world – safe. Moiraine (Rosamund Pike) struggles to overcome the trauma of being cut off from the One Power by the Dark One (Fares Fares), putting a strain on her relationship with long-time companion and protector Lan (Daniel Henney).
Elsewhere, Nynaeve (Zoe Robins) and Egwene (Madeleine Madden) attempt to harness the One Power by training at the Aes Sedai stronghold known as the White Tower. Mat (Donal Finn) has also found sanctuary here, but his experience with the corrupted ruby-hilted dagger keeps him apart from the pair. As for Perrin (Marcus Rutherford), he travels with the Shienaran to track down the stolen Horn of Valere.
Splitting up the series' heroes initially injects The Wheel of Time season 2 with fresh impetus. Like The Lord of the Rings, another iconic fantasy franchise that separates its central characters for the sake of the plot, it's a move that largely emboldens The Wheel of Time's TV adaptation. Its expansion from a singular narrative into multiple adjacent storylines allows for a grander, sweeping exploration of the Randlands – the fan name given to the franchise's world – and deeper, more potent character development.
The thread weaving season 2's various storylines together is Fares' primary villain, who graces the screen with charming malevolence and fiendish poise at regular intervals. The Dark One was used sparingly throughout the first season, so it's satisfying to see him take on a more prominent role in the show's sophomore outing. And he's not alone, either, with the Seanchan (more on these later) and his 13-strong Forsaken – essentially, The Dark One's most trusted lieutenants – proving to be formidable and eerie presences across season 2's opening trio of entries.
Here be dragons
So what of The Wheel of Time 2's multiple narratives? Of the quintet, Rand's should be the most interesting from a thematic standpoint. He's the latest reincarnation of the Dragon, who possesses the ability to save or destroy the world. Grappling with that responsibility, his powerful abilities and forces wishing to do him harm should make for an exciting watch, right?
Not exactly. Although it borrows some necessary plot points from The Great Hunt and The Dragon Reborn, aka the second and third novels in Jordan's 14-strong book series, Rand's journey is a marked departure from what plays out on the page. Here, our reluctant hero is paired up with the mysterious Selene (Natasha O'Keeffe), who is integral to The Wheel of Time's plot. However, it's a partnership that feels hastily arranged and lacking in believable chemistry.
In fact, Rand's storyline is achingly short of excitement and, subsequently, comes off as cumbersome. It's only when Rand interacted with another important character – no spoilers, don't worry – that I felt invested in his narrative. The duo's fascinating verbal jousting adds a shadowy flavor and thematic depth to events, temporarily lifting the tedious atmosphere. It's a shame, then, that this dynamic isn't utilized more in season 2's opening trio of episodes.
But the Rand-centric plot is far from the most experimental in season 2. That award belongs to Moiraine and Lan's narrative, comprising unique material written solely for The Wheel of Time's next entry. The pair are present in The Great Hunt and The Dragon Reborn, so long-time fans may wonder why a completely new storyline has been penned for this season. With the show diverging from its source material, new content had to be written to ensure the duo's presence in its second season. As showrunner Rafe Judkins put it: "You can't sideline Rosamund and Daniel in a season of television."
Pleasingly, it's an original tale that contextually works, albeit with one vexing snag (which I'll get to). The quiet resignation, indignity, and heartbreak Moiraine feels over her severance from the One Power is palpable, even if how she deals with the distressing incident is irksome. Indeed, the decision to emotionally close herself off from Lan reshapes the entire dynamic, reducing his role as guardian-in-chief to a demeaning errand boy. It's a painful shift that allows resentment and mistrust to fester between the pair, simmering under the surface before erupting in devastatingly dramatic fashion.
Like Rand's arc, the Moiraine-Lan story is burdened with clunky plot pacing and bothersome plot points. Lan's well-intentioned but persistent attempts to reconnect with Moiraine become tiresome very quickly. It's a subplot that due to the non-stop advice given by supporting characters including the enigmatic Verin (Meera Syal), stubbornly refuses to go away. With so much screen time devoted to this singularly irritating storyline, there's little room to explore more engrossing material, such as Moiraine and Verin's entertaining verbal sparring, and Moiraine and Lan's frantic last stand-esque battle against some Fades. It's this wider world building, plus character interactions and skirmishes, that would've made this particular act more exhilirating than it is.
Searching for a purpose
Speaking of combat, Perrin's arc is the most action-heavy in this season's first three episodes, and that's down to the Seanchan's involvement.
Sharing chief villain duty with The Dark One here, the formidable seafaring empire wastes no time demonstrating its might. Their introduction in episode 2's final minutes is brutal, frenzied and merciless; Perrin and the Shienaran standing no chance as they try to stave off the Seanchan's blitzkrieg-style attack. Events in episode 3 further underline their tyranny and that The Wheel of Time's second season will be as gratuitously violent as its predecessor.
There's more to Perrin's journey than the satisfyingly callous introduction of the Seanchan, though. The widowed blacksmith's story is one of the more evenly paced season 2 narratives; its location hopping providing forward momentum. Perrin's burgeoning father-son-style rapport with wolfbrother Elyas (Gary Beadle), and his initial refusal to accept his own mystical abilities, also inserts some subtle humor and much-needed paternal drama into the fray. Coupled with his embroilment with the Seanchan, Perrin's arc spins an absorbing yarn that, unlike the above storylines, doesn't drag or stray too far from its source material.
Nynaeve and Egwene's season 2 narrative is also driven by their respective arcs in The Great Hunt and The Dragon Reborn.
Well, in parts, anyway. It fleshes out the pair's arcs with varying degrees of success, with a greater emphasis is placed on Nynaeve's story. Whether it's the jealousy-laced drama between Nynaeve and Egwene over the former's effortless ability to channel, or the devilish Liandrin's (Kate Fleetwood) manipulative influence on her, Nynaeve is put through the emotional wringer. Nowhere is this more evident than her fast-tracking through Acceptance, an emotionally torturous trial novices must pass in order to continue their training. Forced to progress through three brutal dreamscape situations to complete the test, Robins brilliantly captures the anguish and grief of being subjected to such an ethically questionable assessment.
The problem with leaning so heavily into Nynaeve's tutelage is that Egwene feels sidelined. Sure, she gets the odd moment to shine, and her fledgling friendship with Elayne Trakand (Ceara Coveney), a fellow novice who happens to be the heir to the Kingdom of Andor's throne, starts to balance out her screen time with each passing episode. Still, I can't help but feel Egwene's arc and character development deserved more in season 2's early entries. If nothing else, her scenes with Elayne bode well for the future, with the pair's contrasting upbringings – coupled with the charming elegance, youthful naivety, and blunt honesty Coveney pleasingly brings to Elayne – adding spice to proceedings.
Season 2's Mat-fronted plot suffers from similar issues. Finn, who's replaced Barney Harris as the fan-favorite character, claims we'll see an "exciting" and "clear continuation" of Mat's evolution in the show's next chapter. That might be true in later episodes but, as of the first three, Mat's story feels bolted on and slightly superfluous in the context of season 2's other arcs.
That's not to say his inclusion is totally unnecessary. Finn does a stellar job of capturing Mat's psychological trauma from season 1, and his imprisonment in Tar Valon speaks to the second season's wider thematic examination of loneliness and alienation in its high fantasy setting. His amusing tit-for-tats with Liandrin bring levity to The Wheel of Time's serious tonality, too, while his serendipitous encounter with Min Farshaw (Kae Alexander) – another slight plot deviation from the novels – sets up a potentially delightful, yet agenda driven, dynamic in future episodes. Still, considering how involved he is in The Wheel of Time's sweeping story in the book series, his arc in the show's latest entry is off to a slightly underwhelming start.
My verdict
The Wheel of Time season 2's opening episodes get it off to a mostly good start. Its expansive and multi-pronged narrative approach will garner favor with viewers looking for an upgrade on its forebear. That said, the liberties it takes with Jordan's beloved books to fashion new storylines and character interactions don't always bear fruit.
Fans of the TV adaptation will be unaware of these creative divergences and still be entertained by one of the best Prime Video shows' latest chapter. The Wheel of Time devotees should enjoy the new plot-based additions, too, but those previously mentioned creative departures and pacing issues may aggravate portions of the fanbase.
So far, The Wheel of Time season 2 is captivating enough to hold my interest for the foreseeable future. Like The Witcher season 3 on Netflix, however, it needs to do more moving forward if it's to hold onto the epic fantasy tag we bestowed upon it when its season 2 trailer was released. With five more episodes (and a third season) to come, it's got to do so, but The Wheel of Time needs to overcome its glaring faults if it wishes to be a true contender for the 'best fantasy show' crown.
The Wheel of Time season 2's first three episodes launch exclusively on Prime Video on Friday, September 1. New episodes air weekly.
Get daily insight, inspiration and deals in your inbox
Get the hottest deals available in your inbox plus news, reviews, opinion, analysis and more from the TechRadar team.
Senior Entertainment Reporter
As TechRadar's senior entertainment reporter, Tom covers all of the latest movies, TV shows, and streaming service news that you need to know about. You'll regularly find him writing about the Marvel Cinematic Universe, Star Wars, Netflix, Prime Video, Disney Plus, and many other topics of interest.
An NCTJ-accredited journalist, Tom also writes reviews, analytical articles, opinion pieces, and interview-led features on the biggest franchises, actors, directors and other industry leaders. You may see his quotes pop up in the odd official Marvel Studios video, too, such as this Moon Knight TV spot.
Away from work, Tom can be found checking out the latest video games, immersing himself in his favorite sporting pastime of football, reading the many unread books on his shelf, staying fit at the gym, and petting every dog he comes across.

Got a scoop, interesting story, or an intriguing angle on the latest news in entertainment? Feel free to drop him a line.