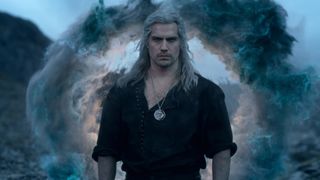 (Image credit: Netflix)
The Witcher finds itself at a tantalizing crossroads ahead of its third season's debut. The popular Netflix fantasy series will lose lead actor Henry Cavill, who has played Geralt of Rivia since the show's beginning, once this season ends. Meanwhile, reactions to the franchise's last two installments – The Witcher season 2 and prequel spin-off The Witcher: Blood Origin – have been decidedly mixed.
The pressure on The Witcher season 3, then, is two-fold: give Cavill a worthy send-off and put the Netflix show on a firm footing that promises an exciting future for the high-fantasy franchise.
Based on its five-episode-strong first volume, which launches on June 29, The Witcher season 3 only sticks one of those landings. It gives Cavill's Geralt a grander, more expansive, and emotional arc befitting the titular character in Andrezj Sapkowski's book series. There are other exciting and suspense-fuelled story beats – especially ones pulled right from Sapkowski's novels – that'll please long time Witcher fans. However, The Witcher season 3 also suffers from the same glaring errors that plagued its predecessors, which hinder its pacing and regularly frustrated me.
Band on the run
The Witcher season 3 opens with Geralt and Yennefer (Anya Chalotra) attempting to keep Ciri (Freya Allen) safe from those who wish to use her abilities for nefarious purposes. The trio has spent months constantly relocating to keep Ciri from prying eyes. Inevitably, though, they're discovered, leading the group to find somewhere new to lay low.
Growing tired of always being on the move, the trio agrees to seek refuge at Aretuza, the magic-protected fortress where Yennefer trained to be a mage. Unbeknownst to them, however, Aretuza has become a viper's nest of political backstabbing, corruption, dark magic, and deceit. The battle for Ciri and her Elven Blood-based powers has begun and, if the group is to survive, they'll have to fully put their wayward trust in one another.
Instantly, The Witcher benefits from this newly formed surrogate family. Season 2 provided the briefest of glimpses into how the trio's personalities, worldviews, and abilities would work in tandem and/or clash if they were thrust together for the long haul. And, with the season 2 finale revealing that Geralt, Yennefer, and Ciri would be spending more time in each other's company, I found it satisfying to watch them unite and emotionally connect in new ways.
The burgeoning maternal bond between Yennefer (now wiser than before but still seeking redemption for her mistakes) and Ciri brings its own slice of familial drama and levity to the fore. Allen's Ciri, too, assumes an expanded role as her importance to the TV show's story grows. Hers is a character evolution wrought with inner turmoil, though, as the weight of expectation over her world-saving (or world-ending) abilities begins to take its emotional toll.
Geralt and Ciri's father-daughter connection also receives a flourish of light-heartedness and education-based intimacy – welcome relationship upgrades to their archetypal protector-protégé bond. The latter imbues Geralt with a vulnerability I've not witnessed before and gives Cavill scope to reshape Geralt as a three-dimensional character. He's no longer a one-tone, gruff, unsympathetic monster killer but a caring, tough father figure with more fascinating edges to his persona.
There remains, though, a simmering level of tension between the trio, particularly between Geralt and Yennefer. Ciri's idealistic and rebellious nature also threatens to undermine the pair's attempts to keep her safe and puts a strain on her burgeoning relationship with Yennefer. These stresses add a pleasing level of dramatic anticipation to the group's dynamics and ensure that, when said frustrations erupt and ignite verbal confrontations, they're fiery and tempestuous.
It's annoying, then, that season 3 splits the party up after its opening episode, even though their separation is necessitated by the plot. It also makes things interesting from a buddy cop perspective, with Yennefer and Ciri departing for Aretuza, while Geralt reunites with Jaskier (Joey Batey) – who assumes a more morally complex role this season, even if his reasons for doing so are well-intentioned – to undertake an important side mission. Their reunification later in the season might make this particular criticism of mine seem superfluous, too.
Still, their reunion at the end of season 2, and subsequent travels here, ring slightly hollow when they're broken up. The Witcher thrives when its core cast are collaborating, ribbing, and fighting alongside (or with) each other. I've waited a long time to see Geralt and company share the screen for prolonged periods, so it's a grave disappointment to see it end so suddenly.
The Wild Hunt
With the race to capture Ciri in full flow, The Witcher season 3 should have plenty of traction, intriguing and politically charged subplots, and warring factions to use and expand upon.
Unfortunately, The Witcher's latest season feels pretty listless from a narrative standpoint, with the show flitting between nations, characters, and storylines with alarming regularity. That's necessary to keep viewers engaged in its multiple plot lines, but it leaves little room to fully establish new characters, including Prince Radovid of Redania (Hugh Skinner), and world regions, such as Shaerrawedd.
It also means vital individuals and their respective kingdoms, such as Emperor Emhyr (Bart Edwards) of Nilfgaard, and Sijmund Dijkstra (Graham McTavish) and Philippa Eilhart (Cassie Clare) of Redania, aren't utilized to their full potential. These are key players in season 3's plot and the series' wider narrative, yet their inclusions and side stories don't feel engaging or interesting enough until volume 1's thrilling final episode (more on this later). As I noted in my review of The Witcher: Blood Origin, Netflix's live-action Witcher-Verse has the air of a lite version of Game of Thrones, with its political machinations and character betrayals lacking the suspense and emotion-laden gravitas of HBO's TV phenomenon.
The Witcher season 3 suffers from similarly thin characterizations and sloppy writing. Most of its humor fails to strike a chord, while its penchant for plot armor – Geralt saving Ciri from the spectral Wild Hunt in episode 3, for instance – is frustratingly obvious in its utilization. Throw in wholly superfluous subplots, like Fringilla's (Mimi Ndiweni) Nilfgaardian prison escape, and there's some extraneous plot padding to wade through, too.
Actions and consequences
That said, there are benefits to The Witcher season 3's multiple storylines, character evolutions, and thematic threads.
The Witcher's latest batch of episodes follow the book it's based on – The Time of Contempt – more closely than its predecessors did with their source material. Story and character arcs – ones I can't comment on as they're major spoilers – are ripped right out of the novel's pages and executed effectively in live-action. The addition of important lore, such as Geralt teaching Ciri about the Roses of Aelirenn, also helps to further flesh out the universe and cement Ciri's growing significance to the overarching story. Viewers who previously bristled at Netflix's creative deviations from Sapkowski's works are sure to be appeased by these course corrections.
Superficial though the politicking in season 3 is, it's intriguing to see the Continent's chess piece-styled factions move into position before they make their play for Ciri. The fractious, uneasy alliances between kingdoms, and even between characters in each realm, make for engrossing viewing. Often, I wasn't always acutely aware of who I should believe or side with. Diehard Witcher fans who know Sapkowski's books inside out, however, won't have the wool so easily pulled over their eyes.
All of this political and self-serving campaigning builds towards a truly captivating fifth episode, a grandiose spectacle that's easily the season's best entry so far (three more episodes are coming in volume 2 on July 27). No spoilers, but what transpires is a delicately poised situation (one that positions Geralt as a fish out of water in amusing and suspense-filled fashion) that slowly ratchets up the tension in surprising ways.
Even more unexpectedly, episode 5 employs season 1's nonlinear storytelling approach, which was criticized for confusing audiences. Here, though, it's a pleasing creative diversion from the linear plot that The Witcher told in season 2 and season 3's first four entries. Its innovatively structured outline lets scenes play out from multiple perspectives, steadily filling in the obligatory gaps and building suspense before its (and volume 1's) climactic ending.
The Witcher season 3's action doesn't take a backseat to its drama or fantasy, mind you. Its physical set-pieces are as frenetic, bloody, and brutal as expected, with intricate and relentless swordplay offering welcome and gratuitously violent breaks from the slow-burning diplomatic and partisan plot threads. If there's a criticism about its action sequences, though, it's that the monster-based battles are lacking in spectacle and appear shoehorned in as mere plot devices.
My verdict
The Witcher season 3 volume 1 is a classic catch-22 situation that Netflix needs to solve in volume 2 and/or season 4. On one side, it's a riveting, high-fantasy series that finally does right by the beloved source material it's based on. On the other hand, its stubborn refusal to fix its obtrusive problems, including lazy writing, weird tonal shifts, and careless scene editing, will continue to hold it back. If The Witcher doesn't overcome them, its position as one of the best Netflix shows will be under threat.
There's enough to like here – satisfying improvements to character arcs, endeavoring to follow Sapkowski's books more closely, and lore and world-building, to name just three. But a show of The Witcher's scale, scope, and caliber needs to aim much higher than just "doing enough". The Witcher season 3 volume 1 suggests the show has enough magic left to be able to survive without Cavill's Geralt (Liam Hemsworth takes over from Cavill from season 4 onwards). Fail to right its wrongs in The Witcher season 3 volume 2 or its successor, though, and showrunner Lauren Hissrich and company will have more fan concerns to deal with than just Cavill's shock departure.
The Witcher season 3 volume 1 is available to stream exclusively on Netflix now. Season 3 volume 2 arrives on Thursday, July 27.
Sign up for Black Friday email alerts!
Get the hottest deals available in your inbox plus news, reviews, opinion, analysis and more from the TechRadar team.
Senior Entertainment Reporter
As TechRadar's senior entertainment reporter, Tom covers all of the latest movies, TV shows, and streaming service news that you need to know about. You'll regularly find him writing about the Marvel Cinematic Universe, Star Wars, Netflix, Prime Video, Disney Plus, and many other topics of interest.
An NCTJ-accredited journalist, Tom also writes reviews, analytical articles, opinion pieces, and interview-led features on the biggest franchises, actors, directors and other industry leaders. You may see his quotes pop up in the odd official Marvel Studios video, too, such as this Moon Knight TV spot.
Away from work, Tom can be found checking out the latest video games, immersing himself in his favorite sporting pastime of football, reading the many unread books on his shelf, staying fit at the gym, and petting every dog he comes across.

Got a scoop, interesting story, or an intriguing angle on the latest news in entertainment? Feel free to drop him a line.