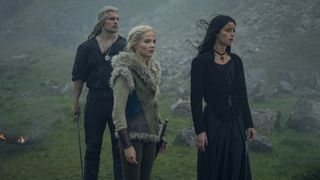 (Image credit: Susie Allnutt/Netflix)
The Witcher season 3 volume 2: key information
- Releasing on July 27
- Picks up straight after volume 1's final episode
- Final three entries that'll star Henry Cavill as Geralt
- Liam Hemsworth will take over as the titular character in season 4
- Fourth season already in development
- Multiple spin-offs reportedly in the works
The Witcher season 3 volume 2's release will be a sad day for fans of the hit Netflix series. With Henry Cavill leaving the fantasy show once the third season ends, the final three episodes – all of which air on July 27 – will mark his final appearances as Geralt of Rivia. We suggest you have a box of tissues at the ready.
Despite Cavill's impending departure, The Witcher isn't going anywhere. One of the best Netflix shows will return for a fourth season at least, while there are reports of multiple spin-off projects being in development, too. Netflix isn't about to call time on one of its most popular (although, its dwindling viewing figures suggest otherwise) TV shows any time soon, then.
With season 3 volume 2's launch right around the corner, we imagine you'll want a recap of what's gone down so far. First, check out our review of The Witcher season 3 volume 1 and our Witcher season 3 cast feature. Then, read on for more details about volume 2's release date, cast and plot details, trailers, and the show's future.
Full spoilers follow for The Witcher season 2, season 3 volume 1, and spin-off show The Witcher: Blood Origin on the world's best streaming service. Potential spoilers for Andrzej Sapkowski's fantasy book series, which Netflix's adaptation is based on, are also discussed.
The Witcher season 3 volume 2 release date
The Witcher season 3 volume 2's release date was revealed in April alongside its predecessor's. Volume 1, which contains five episodes, launched on June 29. Volume 2 will arrive on Thursday, July 27, and it'll comprise the final trio of episodes. Here are the episode titles and runtimes:
Episode 6 – Everybody Has a Plan 'til They Get Punched in the Face (48 minutes)
Episode 7 – Out of the Fire, Into the Frying Pan (52 minutes)
Episode 8 – The Cost of Chaos (65 minutes)
The Witcher season 3 volume 2 trailer
Netflix has released two trailers for The Witcher season 3 volume 2 in a bid to drum up interest in its final installments. The first, which you can view above, teases a heart breaking end for Cavill's Geralt as he bids to keep Ciri safe from those who wish to use her powers for nefarious means.
The second, which is viewable below, contains some new footage for fans to speculate on. At this stage, it might be best waiting for the show to return, rather than spoil anything for yourself. But hey, if your curiosity gets the better of you, we won't judge you:
The Witcher season 3 cast
Here's The Witcher season 3's confirmed cast, who are also set to feature in its final few episodes:
Henry Cavill as Geralt of Rivia
Anya Chalotra as Yennefer of Vengerberg
Freya Allen as Princess Cirilla of Cintra
Joey Batey as Jaskier
Myanna Buring as Tissaia de Vries
Eamon Farren as Cahir
Mimî M. Khayisa as Fringilla Vigo
Royce Pierreson as Istredd
Anna Shaffer as Triss Merigold
Mahesh Jadu as Vilgefortz
Mecia Simson as Francesca Findabair
Tom Canton as Filavandrel
Graham McTavish as Sigismund Dijkstra
Cassie Clare as Philippa Eilhart
Hugh Skinner as Prince Radovid
Wilson Mbomio as Dara
Lars Mikkelsen as Stregobor
Terence Maynard as Artorius Vigo
Therica Wilson-Read as Sabrina
Safiyya Ingar as Keira
Rochelle Rose as Margarita
Michalina Olszanska as Marti
Jeremy Crawford as Yarpen
Bart Edwards as Duny/Emperor Emhyr, aka The White Flame of Nilfgaard
Aisha Fabienne Ross as Lydia
Christelle Elwin as Mistle
Meng'er Zhang as Milva
Sam Woolf as Rience
Every character (apart from Yarpen the dwarf, who hasn't featured in either trailer for season 3 volume 2) will play significant roles in the final three episodes. They've all been shown in one or both of the teasers, and we know most of them are present at Aretuza following episode 5's shock ending. Expect all of them to have big says in the future of the Continent in volume 2.
Potential cast spoilers for The Witcher season 3 volume 2 follow.
God forbid meeting your partner's parents for the first time and it's Geralt! pic.twitter.com/kJ1Kd6K6tyJuly 23, 2023
There are a couple of actors who haven't been confirmed by Netflix, or who haven't turned up in either of volume 2's trailers, but who are believed to have fairly significant roles in the final three episodes.
For one, Witcher fansite Redanian Intelligence claims The Rings of Power season 1's Fabian McCallum is playing Kayleigh, a member of a teenage misfit gang known as the Rats. We saw another member of the Rats (well, we think they're one, anyway) in season 3 episode 3, so there's previous form for this outfit appearing in The Witcher's TV adaptation. Without spoiling too much for those who haven't read Sapkowski's novels, the Rats encounter one of The Witcher series' most important characters, so expect a crossing of the paths between them and this character before season 3 ends.
Elsewhere, Redanian Intelligence also suggests Hiftu Quasem (Killing Eve) has joined the cast as iconic character Falka. Fans of Sapkowski's books know of Falka's importance moving forward, but we'll refrain from saying anything else as we'll be entering major spoiler territory if we do.
Lastly, we think two Blood Origin actors – Minnie Driver and Samuel Blenkin – could appear in the main show. Driver's Seanchai is a shape-shifting time traveler who met Jaskier in the spin-off series, so she may reunite with him before season 3 ends.
Additionally, Blenkin's Avallac'h was revealed as the individual Ciri spots in that doorway in the first season. Avallac'h appears in the final two books but, given Netflix's live-action adaptation has played loose and fast with the novels, he could be shoehorned into The Witcher season 3' final episodes, especially if any multiverse shenanigans go down in episodes 6, 7, and 8.
The Witcher season 3 plot
Full spoilers follow for The Witcher season 3 volume 1 and the novels.
As season 3 episode 5 revealed, Geralt and Yennefer have determined that it's Vilgefortz, not Stregobor, who is the real mastermind behind events unfolding at Aretuza and across the Continent. That includes what could happen to Ciri if she falls into the wrong hands, too, whether that be with Vilgefortz himself or Emperor Emhyr, aka Nilfgaard's leader and Ciri's blood father. In short: Geralt and Yennefer (plus their allies) will have to do all they can to keep Ciri safe.
Of course, that's easier said than done – and fans of the books know it.
For starters, Redanian Intelligence confirms the thrilling battle between Geralt and Vilgefortz, which takes place in The Time of Contempt novel, will be part of season 3. That'll come as no surprise to some readers, as this frenetic and bloody fight is one of two major events (per Redanian Intelligence) that'll play out in the third season. The first of those was the ball that Geralt and every other powerful being attended in season 3 episode 5. The other? The Thanedd Coup, which sees mages loyal to Nilfgaard and the North clash in a bloody battle that costs many lives. Expect the latter to be the main plot point that plays out in episode 6.
Meanwhile, Redanian Intelligence also claims Ciri will be involved in two other moments pulled straight from the books. The first involved Wyverns, which already played out in season 3 episode 3. The second sees her lost in the Korath Desert, which should form part of episodes 7 and/or 8, depending on how the sixth episode ends. Long time fans will know all about the importance of this latter sequence and, per Collider, this will form an entire episode in season 3 – the first to feature Ciri as the main protagonist. Based on the second teaser for volume 2, this is when we might see Ciri truly tap into her elven powers and become the formidable individual she's expected to become.
As for smaller but no less significant storylines, we should expect a resolution to Jaskier and Prince Radovid's romance. The pair gave into temptation in episode 5 and slept with each other, and we suspect this won't be the last time we see them share some screen time. In fact, we suspect Jaskier will have some stern words for Radovid for luring him away from watching over Ciri.
Then there's what'll happen in Redania itself, depending on whether Dijsktra and Philippa get out of Aretuza alive and return to the king (potentially empty handed). Meanwhile, we'll need to see if Geralt gets revenge on Rience for the latter killing Codringher and Fenn, learn what happened to Teryn (aka the girl who was brainwashed into thinking she was Ciri), and find out more about the Great Hunt and their ties to Ciri and her powers.
Oh, and then there's the small matter of determining how Cavill's Geralt will actually transform (if that's the case) into Hemsworth's version of the character. The Witcher producer Tomek Baginski previously told Yahoo that "there's a plan" in place to aid this transition, before further teasing it may have something to do with The Witcher's multiverse. However it happens, it won't be long before we find out for sure.
The Witcher season 3: future seasons and spin-offs
Netflix renewed The Witcher for a fourth season in October 2022. Speaking to Deadline in May, casting director Sophie Holland revealed that the cast and crew "are just about to start filming", before also appearing to confirm a fifth season has been greenlit. However, the actors strike, which began on July 13, means production will be delayed until a resolution is reached.
Previously, Hissrich told Collider she's mapped out a seven-season arc. However, it's unclear how the ongoing Writers Guild of America (WGA) strike, as well as the aforementioned actors strike, will impact season 4's development, or indeed any future seasons.
Regardless, the show will be moving forward without Henry Cavill. The Witcher season 3 volume 2 marks his end as Geralt, with Liam Hemsworth taking over from season 4 onwards. No reason has been given for Cavill's departure, but Redanian Intelligence suggests he didn't agree with creative deviations from Sapkowski's source material. Speaking exclusively to TechRadar, Hissrich said she "fully understands" fans' frustrations over Cavill leaving, before elaborating to EW that Cavill's Geralt will get a "heroic send off".
Spin-off wise, The Witcher: Blood Origin prequel series covered the story of the first Witcher's creation and finally introduced audiences to key character Avallac'h. Blood Origin also followed events leading up to and during the Conjunction of the Spheres, the cataclysm that results in the collision of multiple universes and their human, elven, and monstrous races. Minnie Driver, who played the time-traveling Seanchai in Blood Origin, wants her character to cross over into the main series and hang out with Geralt.
There are other spin-offs reportedly in development, including a family-friendly animated series and a second anime movie. Redanian Intelligence hints that a spin-off involving other Witchers could be in the works, while another of the website's articles suggests a show centered on the Rats is coming. Dolph Lundgren recently joined The Rats' cast, according to South African outlet Aftonbladet.
For more Witcher-based content, check out these five bloody fantasy shows while we wait for its third season. Alternatively, find out how to read The Witcher books in order.
Sign up for Black Friday email alerts!
Get the hottest deals available in your inbox plus news, reviews, opinion, analysis and more from the TechRadar team.
Senior Entertainment Reporter
As TechRadar's senior entertainment reporter, Tom covers all of the latest movies, TV shows, and streaming service news that you need to know about. You'll regularly find him writing about the Marvel Cinematic Universe, Star Wars, Netflix, Prime Video, Disney Plus, and many other topics of interest.
An NCTJ-accredited journalist, Tom also writes reviews, analytical articles, opinion pieces, and interview-led features on the biggest franchises, actors, directors and other industry leaders. You may see his quotes pop up in the odd official Marvel Studios video, too, such as this Moon Knight TV spot.
Away from work, Tom can be found checking out the latest video games, immersing himself in his favorite sporting pastime of football, reading the many unread books on his shelf, staying fit at the gym, and petting every dog he comes across.

Got a scoop, interesting story, or an intriguing angle on the latest news in entertainment? Feel free to drop him a line.