The Boys season 3: release date, trailer, cast and more
News
Contributions from
published
The Boys season 3 has been released!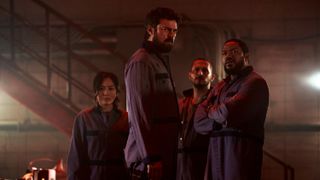 (Image credit: Amazon Studios)
The Boys season 3: key information
- Launched exclusively on Prime Video in June 2022
- Episode titles reportedly revealed
- Main cast are all returning
- Supernatural's Jensen Ackles among new cast members
- Key season 2 cast member not set to return
- Official trailer teases numerous civil wars
- Stories from Diabolical spin-off series are officially canon in TV universe
Who's ready for The Boys season 3? If you're here, you should be. The hit R-rated superhero series has finally returned to our screens and we couldn't be happier.
Yes, The Boys season 3's first three episodes have landed on Prime Video. And, if you're been waiting for our thoughts on it, you should read our spoiler-free review as soon as possible.
If you're wanting to learn more about the popular Prime Video show before you watch it, we've compiled all the important information you need to know about below. So you don't have to embark on a Google search quest to see what's what. We're nice like that.
So what will you be able to learn about in our hub on The Boys season 3? You'll find more news on its all-star cast, the show's future, this season's episode titles, and what its trailers tease about its plot. For starters, though, read our in-depth chat with showrunner Eric Kripke and the show's main cast on the subplots, themes, and action on show in The Boys season 3.
Already checked that out? Find out which newcomer was shocked to learn about the graphic novel series' most controversial storyline, aka Herogasm. Alternatively, check out which iconic DC superhero that The Boys' showrunner Eric Kripke wants to parody next. Or learn about which season 3 scene Kripke is most excited for fans to see.
It goes without saying, but major spoilers follow for The Boys seasons 1 and 2. Additionally, we speculate on which of the comic series' storylines will form part of The Boys season 3. If you're wanting to go into the upcoming season with no prior knowledge of what may occur, you'll want to skip the plot section, just in case.
The Boys season 3 release date
The Boys season 3 release date: June 3
The Boys season 3 launched exclusively on Prime Video on June 3, 2022.
The season's first three episodes arrived on that date, with subsequent episodes releasing weekly after that. Check out the tweet below for an official rundown of each episode's launch date:
More dates for ya to put in a planner, carve into your wall, however you remember something important:June 3 - Episodes 301-303June 10 - Episode 304June 17 - Episode 305June 24 - HerogasmJuly 1 - Episode 307July 8 - Season 3 finale pic.twitter.com/Tj3bdiFwMHJanuary 7, 2022
Do you want to know what the first six episodes are titled, too? Check out our official rundown on the name of each season 3 entry:
Episode one – Payback
Episode two – The Only Man in the Sky
Episode three – Barbary Coast
Episode four – Glorious Five Year Plan
Episode five – The Last Time to Look on This World of Lies
Episode six – Herogasm
All of the above have ties to the storylines in the comics – you can read more via this Reddit post if you really want to spoil things for you ahead of time.
The Boys season 3 finale will arrive on July 8, which might be just in time for any Independence Day-style episode that the show's creative team might have cooked up. We have no insider information on The Boys season 3's plot, but it would be fun if The Boys' third season gave us an explosive finale at a fireworks-laden time of year.
The Boys season 3 trailer
The Boys season 3 trailer: check out the official trailer
Amazon Studios released the official trailer for The Boys season 3 on May 16. And, if you thought the first teaser was ridiculously pleasing – you can view that further down this page – you'll love what's on offer in this one.
The video opens with Homelander regurgitating the same PR spiel to numerous media outlets. Every time he repeats the same scripted lines, though, he looks increasingly maniacal. So it shouldn't be long before we see him go completely off the rails, which is what the trailer ends up showing.
Homelander's descent into madness isn't the only shocking moments within, though. We get a first proper look at Jensen Ackles' Soldier Boy, as well as Payback – the superhero team he leads – in action during the Vietnam War. Turns out, they're just as horrible as The Seven. Go figure.
Meanwhile, things quickly spiral out of control for The Boys, too. Billy is clearly lost without a mission to conduct, so when he's handed the chance to go toe-to-toe with The Seven and company – by way of Temp V, a new experimental serum – he takes it. We imagine that there'll be plenty of infighting about the ethical conundrums that come with injecting this knock-off substance, with Mother's Milk and Hughie at the forefront of those concerns.
It seems that infighting/civil wars are the overarching theme in The Boys season 3. The Boys, The Seven, Payback... they'll all be at it as new battle lines are drawn. Expect plenty of gory twists and turns throughout the season's eight-episode run.
If you missed its reveal in mid-March, check out the season's first teaser right now:
And here's a very first sneak peak at The Boys season 3, which was released in early January:
Finally, with Amazon Studios ramping up its marketing campaign for The Boys season 3, character recap videos have started appearing online. Check out the ones that have been released so far:
The Boys season 3 cast
The Boys season 3 cast: who's returning and who's new?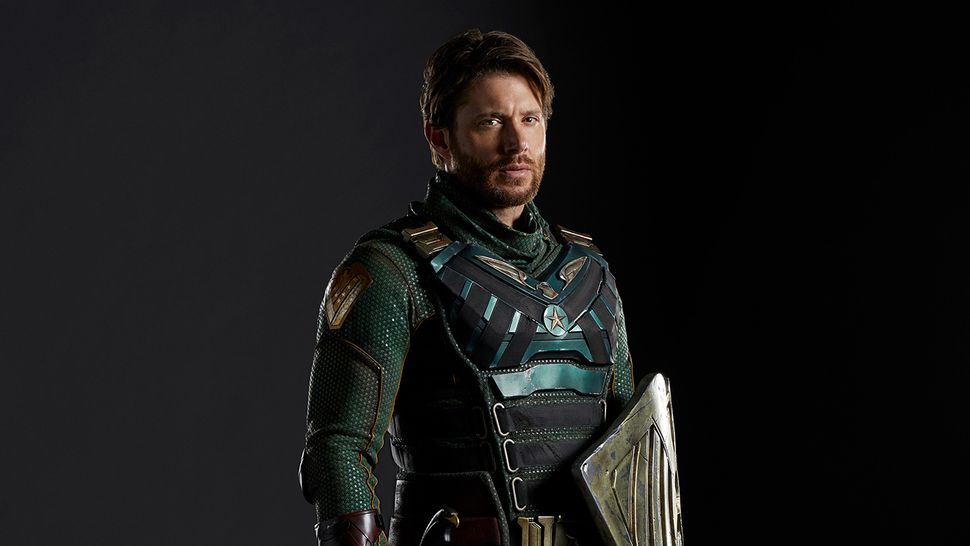 Here's the full cast list for The Boys season 3:
Karl Urban as William 'Billy' Butcher
Jack Quaid as Hugh 'Hughie' Campbell Jr.
Antony Starr as John/Homelander
Erin Moriarty as Annie January/Starlight
Dominique McElligott as Maggie Shaw/Queen Maeve
Jessie T. Usher as Reggie Franklin/A-Train
Chase Crawford as Kevin Moskowitz/The Deep
Laz Alonso as Mother's Milk
Tomer Capon as Frenchie
Karan Fukuhara as Kimiko Miyashiro/The Female
Nathan Mitchell as Black Noir
Colby Minifie as Ashley Barrett
Claudia Doumit as Victoria 'Vic' Neuman
Jensen Ackles as Soldier Boy
Laurie Holden as Crimson Countess
Sean Patrick Flanery as Gunpowder
Nick Wechsler as Blue Hawk
Miles Gaston Villeneuva as Supersonic
Cameron Crovetti as Ryan Butcher
Giancarlo Esposito as Vought CEO Stan Edgar
Laila Robins as Grace Mallory
Cameron Crovetti as Ryan Butcher
Katia Winter as Little Nina
Justiin Davies as young Stan Edgar
Kristen Booth as Tessa, one of the TNT Twins
Jack Doolan as Tommy, one of the TNT Twins
The biggest season 3 casting news is that Supernatural's Jensen Ackles has been hired to portray Soldier Boy, the first ever Vought-manufactured superhero. We'll dive into what Soldier Boy's arrival could mean for the show's other characters later on.
In addition to Ackles' Soldier Boy, Laurie Holden (The Walking Dead) Sean Patrick Flanery (Dead Zone), Nick Wechsler (Dynasty) and Miles Gaston Villanueva (Nancy Drew) have joined the show as Crimson Countess, Gunpowder, Blue Hawk and Supersonic.
THE BOYS SEASON 2 RECAPS
Remind yourself of the story so far with our recaps of The Boys season 2 episode 1, The Boys season 2 episode 2, The Boys season 2 episode 3, The Boys season 2 episode 4, The Boys season 2 episode 5, The Boys season 2 episode 6, The Boys season 2 episode 7 and The Boys season 2 episode 8.
Of the above, only Crimson Countess and Gunpowder have appeared in the comics. Both could be described as villains – though such things are relative in The Boys universe – with Crimson Countess a riff on WandaVision's Scarlet Witch, and Gunpowder a weapons expert. Interestingly, Gunpowder briefly appeared in a TV interview in The Boys season 1, though he was played by a different actor.
Deadline had reported that Katia Winter (Blood & Treasure) has been cast as Little Nina. In the graphic novels, Little Nina is a Russian mob boss who has a penchant for sex toys. Now that we've seen the first five episodes, we can confirm that Winter will appear as Little Nina in the show
Deadline also claims that Frances Turner (The Man in the High Castle) will portray Monique, the wife of Mother's Milk in season 3. Kristen Booth (The Hot Zone: Anthrax) and Jack Doolan (Marcella) will also appear as Supe siblings Tessa and Tommy, aka the TNT Twins. The pair can be seen on the most recent poster for The Boys, so expect them to feature in some capacity. Additionally, Comicbook.com reports that Justiin Davies (The Equalizer) will play a younger version of Stan Edgar in The Boy season 3. Like Winter, all of the above feature in The Boys season 3's first five episodes, so these castings are all legitimate.
Civil war, but it ain't civil. pic.twitter.com/5D2JLrn4oyMay 16, 2022
One actor who may not be back for more is Aya Cash, who played Stormfront in season 2. Speaking to Metacritic, Cash said: "The Boys comes out on June 3 and I'll be watching with the rest of you guys, unfortunately. That's my update." Of course, Cash could be trying to throw us off the scent of her making a cameo appearance, but it doesn't seem that way to us.
Finally, could season 3 be the final time that we see Starr, well, star as Homelander? Per Variety, the actor was recently arrested in Spain for reportedly assaulting a young chef. The Boys cast member has since received a 12-month suspended prison sentence and a fine, but it's unclear if he'll remain in the role post-season 3.
The Boys season 3 plot
The Boys season 3 plot: what can we expect?
Spoilers follow for The Boys season 2 and the graphic novels.
Here's the official synopsis: "It's been a year of calm. Homelander's subdued. Butcher works for the government, supervised by Hughie of all people. But both men itch to turn this peace and quiet into blood and bone. So when The Boys learn of a mysterious Anti-Supe weapon, it sends them crashing into the Seven, starting a war, and chasing the legend of the first Superhero: Soldier Boy."
That's not much to go on. But, based on what we've seen in the trailers (we aren't spoiling the episodes we've seen, don't worry), we can speculate on what will go down.
For starters, it looks like the show will finally explore a key component of the comic series' plot – i.e. The Boys dosing themselves up with Compound V to level the playing field with The Seven, Payback, and other Supes.
Well, Billy will be taking Compound V – or a variation on it called Temp V, which provides any wielder with superpowers for 24 hours. Judging by the footage, it seems he'll get lazer eyes to go alongside the superhuman strength he acquires in the comics, too. Regardless, Queen Maeve must be truly desperate (about bumping Homelander off, that is) to give Billy some doses of the stuff.
So it looks like Billy is going to take the fight to Homelander. In the first teaser, we see the leader of the Seven looking very concerned (is that a bruise on his right cheekbone?). So maybe Billy's doled out some punishment on Homelander, and now the latter realizes he's got a worthy adversary who could end up doing significant damage to him – or, even worse, kill him outright.
That doesn't mean that Homelander will be a pushover in The Boys season 3. The official trailer confirms that he's slowly going insane, vowing to show the world "the real me" after years spent toeing the Vought party line. The Boys and Homelander's fellow Supes should be very concerned, then.
Needed a thread to give ya a Deep-er experience. pic.twitter.com/IXdwt3fJZQMarch 13, 2022
There are plenty of other season 2 plot threads that the show needs to pick up or bring to a close.
With Stormfront unlikely to return, Congresswoman Victoria Neuman seems to fit the bill as the next big bad. That is, if you discount Billy's potentially villainous turn, Homelander's homicidal tendencies, and the arrival of Soldier Boy. As Antony Starr, who plays Homelander, tells Vanity Fair: "When you get a bunch of apex predators in a room together, it tends not to go well for two of them."
Anyway, Neuman was outed as the Supe who explodes heads in season 2's final scene, so Neuman may have an antagonistic role to play moving forward. We suspect, though, that she'll simply be a background villain, who pulls the strings from the shadows.
Either way, that means things could get bad for Hughie. In the season 2 finale, The Boys temporarily disbanded, with Hughie now working for Neuman. We don't know how long it'll be before Hughie realizes that his new boss is as bad as Homelander, or what Neuman's master plan is. However, The Boys are sure to reunite when things start going south again, so it shouldn't be long before they do so.
June 3rd, it's time to level the playing field. #TheBoysTV pic.twitter.com/yzHPqiByvQMarch 10, 2022
Meanwhile, Soldier Boy is primed to cause some chaos, and his graphic novel backstory hints at some really mature content that's likely to appear in the TV adaptation. In the comics, there are two versions of Soldier Boy, but the show will introduce the first generation's version as confirmed by showrunner Eric Kripke.
Soldier Boy is a Supe who becomes a US icon during World War II, but his backstory isn't as honorable as the general public think. He ends up killing his fellow Supes and US soldiers during one specific mission. Lieutenant Greg Mallory, whose gender has been changed for the TV show, kills Soldier Boy in the comics as recompense. However, given that this Soldier Boy is alive and well in the TV universe, his backstory and character arc need to be altered.
Based on the official trailer, it seems that his abilities have been tweaked as well. In the final scene, we see Soldier Boy unleash a powerful blast from his chest (in the direction of The Boys maybe?), so he'll be a more powerful adversary for anyone to overcome. Could he be the guinea pig for Vought's latest experiment? It might explain why he emerges from a test chamber looking pretty bedraggled. It's that, or he's been in cryostasis for decades and has only been released because The Seven needs a new leader. You know, what with Homelander going rogue.
The arrival of Soldier Boy also ushers in the the introduction of Payback. Dubbed the "second most popular superhero team" behind The Seven, Payback are the team led by (in the comics at least) the second iteration of Soldier Boy. Stormfront is also a member of this unit, so her live-action counterpart already has ties to the TV show's version of Soldier Boy.
Season 3's first episode is titled 'Payback', which might be a subtle tease about how Homelander plans to exact revenge on certain individuals, but it's might hint at Payback's arrival. The trailer suggests that we'll see Soldier Boy and Payback in action during the Vietnam War, so expect this storyline to form a key part of the season 3 premiere. As showrunner Eric Kripke told Deadline in June 2021: "A big element of the comics actually are flashbacks to World War II and Vietnam. I always really loved it because you got to see how the superhero phenomenon didn't just affect the present, but how it affected parts of the past as well."
Actual photo of me reacting during our first production meeting for the #Herogasm episode.#TheBoys #TheBoysTV @TheBoysTV @PrimeVideo @SPTV #SPNFamily pic.twitter.com/YdCHVj9rAUApril 14, 2021
Soldier Boy's appearance will also introduce one of the graphic novels' most shocking storylines: Herogasm, which sees Vought's superhero line-up travel to a remote tropical island to engage in a massive, secret company-organized orgy.
At the time of publication, Herogasm was considered to be the most controversial moment in the entire series. Even so, we expect it to be as R-rated and sexualized (with a modern update for today's audience, mind you) when the Herogasm storyline arrives as part of episode 6.
Kripke has teased Herogasm's sequence, saying that filming it was the "craziest dailies" that he'd ever seen. Speaking to Vanity Fair, Kripke doesn't think that anything else that he films (for the TV adaptation) will ever top it.
Meanwhile, Ackles told TechRadar that he had no idea what he was in for when he was told about Herogasm, saying: "One day he [Ackles' friend] said to me 'Oh, I see you guys are going to tackle Herogasm in this season'. And I'm like 'What's that?', and then he told... and I'm like 'Oh, s**t'. I immediately put a call in, saying 'Hey, uh, just checking in here to ask about something!' So yeah, we really do tackle it, but it's not a verbatim depiction of what's on show in the comics. But it's certainly stuff I can't unsee."
Um. So. I've just seen dailies that are, by a mile, the craziest fucking dailies I've ever seen in my career. Or maybe anyone's career. #YouAreNotFuckingReady#TheBoys #TheBoysTV @TheBoysTV @VoughtIntl @PrimeVideo @SPTV #SPNFamily pic.twitter.com/pMUuYkUnuQJune 16, 2021
Herogasm won't be only surreal moment we'll see in The Boys season 3. Speaking to Entertainment Weekly (EW) at SXSW, Chace Crawford, who plays The Deep, joked that he may never be hired to star in another production again, based on what his character gets up to it in season 3.
"I can't give too much away, it's weird," Crawford said before Ackles interjected: "I remember reading that stuff [in the script] and you sent me a text message. And I have to go find it, but I think it was something like, 'I don't know how I'm gonna be able to work after this'", to which Crawford replied: "I think I did send that [text]."
The duo's comments have been backed up by Karen Fukuhara and Tomer Capone, too. The pair recently spoke to EW about that dance number we saw in The Boys season 3 teaser trailer; Capone saying that "Dancing With the Stars ain't got s*** on us". If nothing else, it'll be a pleasing diversion from the violence and sex that the rest of the season will be built around.
Speaking of violence, we should expect the bloodiest instalment in the series yet. Laz Alonso, who plays Mother's Milk, told Den of Geek: "I do remember, during episode 3, hearing the head of the makeup department talking to one of her girlfriends about ordering more blood. (She said) that they had already gone through more blood by episode 3 than they had through the entire season 2."
Elaborating further on the gruesome action sequences, Alonso told Vanity Fair: "More than any other season, we were practising choreography for days and weeks. There was so much action. Everyone put their bodies on the line this season."
There are other less important plot points that need some form of resolution, too.
Compound V – the substance that gives people superpowers – isn't being publicly released anymore. It'll be interesting to see if this is the first and last time that it'll be offered out, or if it'll still fall into the wrong hands and lead to the emergence of new supervillains.
Here's Jensen with a reminder that Herogasm is gonna come hard and fast. Exactly three months before your eyeballs are never the same. pic.twitter.com/i7zV2muz0QMarch 24, 2022
Additionally, there's bound to be more infighting among The Seven. A-Train and Starlight have been readmitted to the team, but The Deep hasn't. Homelander is still a member, so no doubt he'll be gunning for Starlight. Add in the fact that Black Noir is in a vegetative state after suffering a peanut allergy in season 2 (although it looks like he's recovered by the start of season 3), and Queen Maeve's presence in The Seven, and things could get ugly fast.
Speaking of politics, Kripke hasn't been shy in saying that season 3 will focus on how The Boys reflects present day (and historical) America, among other themes.
"In the third season, we got interested in the history of the Vought universe and its fractured reflection of the United States," he told The Hollywood Reporter. "It's like how people say that there are "good old days" and that somehow there's some sort of past that we need to be great again and return to.
"Make America great again for who exactly? [In] Soldier Boy... we're able to delve into issues as disparate as toxic masculinity and racism and some of the wars we've been through. We've been able to explore not just the here and now but the past – and that's exciting."
The Boys season 3: webseries
The Boys season 3: YouTube miniseries bridges the gap between seasons 2 and 3
Tiding fans over until The Boys season 3's arrival, a YouTube tie-in series covered the wider Boys universe in more general terms.
'Seven on 7' with Cameron Coleman was a news-style episodic miniseries that bridges the gap between seasons 2 and 3. Starring Matthew Edison as the titular news anchor, it was broadcast on the fictional Vought News channel and detailed the latest news surrounding the world's greatest superhero group, as well as secondary Supes and other important characters.
Speaking to The Wrap, Kripke said 'Seven on 7' is "all real, canon stuff", so it'll contain interesting snippets for fans to keep abreast of ahead of season 3. Cameron will also cameo in the show's third season, as revealed by the official trailer.
Check out all seven episodes of Seven on 7 below:
The Boys season 3: the future
The Boys season 3: how many seasons will there be?
Kripke has revealed that he's planned for five seasons. However, he also teased the prospect of more instalments in October 2020:
Q: @TheBoysTV @therealKripke #AskTheBoys how many more seasons of the boys do you guys have planned?- @JDG0919A: pic.twitter.com/gRG6ppZN4iOctober 12, 2020
It's unsurprising, seeing as Supernatural – the show that made Kripke's name – was originally supposed to run for five seasons, but ended up making it to 15. Kripke may decide, then, that The Boys needs more time to wrap up its story. There are 72 issues of Ennis and Robertson's comics and, while the TV show has gone in its own direction story wise, there's enough plot left to tell for at least three or four seasons.
For now, Kripke would only divulge which legendary DC superhero he wants to satirize next, telling TechRadar: "The one we haven't figured out yet is Batman – he remains a character we still need to touch on. And we should, because he's basically a capitalist nightmare who was oppressing lower classes of criminals just to advance his family's wealth, so you'd think we should get into that! Actually, I think I'm going to get into that right now."
Meanwhile, the show's cast are in the dark about whether it'll get another instalment. Speaking to TechRadar before The Boys season 3's release, Nathan Mitchell (who plays Black Noir) said: "We're very hopeful that we get a four season. But I think that all depends on how this season is perceived and what people with more power to decide. So, you know, fingers crossed."
Assuming audiences continue to watch The Boys, though, Amazon is sure to keep renewing its biggest TV show for as long as possible. In other words, you can bet on The Boys running for a number of seasons yet.
Regardless of how the main series runs for, The Boys universe is here to stay. The Boys Presents: Diabolical, an animated anthology spin-off series, has already released on Prime Video. And, based on a tweet from Kripke, some of its standalone tales are actually canon in the TV adaptation:
People are asking, so here's the eps of #Diabolical we consider canon with #TheBoysTV series. Watch #TheBoysPresentsDiabolical NOW STREAMING on @PrimeVideo!! NOW NOW NOW! @TheBoysTV @SPTV #TheBoys #TheBoysDiabolical @Sraxs @thelonelyisland @aishatyler @Sethrogen @evandgoldberg pic.twitter.com/ye69Wk2OI8March 6, 2022
We're also getting an unnamed live-action, Hunger Games-style TV show that'll follow a bunch of college age Supes as they look to graduate from the only Supe-oriented school in the US. Per Deadline, the show's lead actors had departed the project, but EW has now confirmed that production has begun on the college-focused spin-off with new leads in place.
It seems, then, that The Boys is here for the long haul. Even if the mainline show only gets another two seasons, we don't expect it to end until 2024 or 2025 at the earliest. We have plenty of other Prime Video content to tide us over until then, but we'd be delighted if The Boys runs for as long as possible. We can't imagine a world without Billy, Hughie and company right now. Over to you, Amazon.
Sign up to receive daily breaking news, reviews, opinion, analysis, deals and more from the world of tech.
Senior Entertainment Reporter
As TechRadar's senior entertainment reporter, Tom covers all of the latest movies, TV shows, and streaming service news that you need to know about. You'll regularly find him writing about the Marvel Cinematic Universe, Star Wars, Netflix, Prime Video, Disney Plus, and many other topics of interest.
An NCTJ-accredited journalist, Tom also writes reviews, analytical articles, opinion pieces, and interview-led features on the biggest franchises, actors, directors and other industry leaders. You may see his quotes pop up in the odd official Marvel Studios video, too, such as this Moon Knight TV spot.
Away from work, Tom can be found checking out the latest video games, immersing himself in his favorite sporting pastime of football, reading the many unread books on his shelf, staying fit at the gym, and petting every dog he comes across.

Got a scoop, interesting story, or an intriguing angle on the latest news in entertainment? Feel free to drop him a line.