Welcome to TechRadar's ultimate guide to the best Prime Movies you can watch right now on Amazon's streaming platform.
Below you'll find all of the best films that you can stream on Prime Video – and they're all free if you already have an Amazon Prime subscription. There are lots of movies on Amazon Prime, which is why it's no surprise that Prime Video is one of the best streaming services. But we've done the hard work for you and have selected 25 movies covering all genres, from cerebral science-fiction to heart-wrenching drama, as well as some feel-good movies for the whole family.
If you're looking for movies that have only recently been added, take a look at our new Prime Video movies guide, bringing you only the newest films to join the streaming service. Looking for a boxset? Check out our best Prime Video shows guide, which brings you the best TV shows on the platform instead. But if movies are what you're after, read on to enjoy our top picks of the best Prime Video movies for June 2023.
Best Prime Video movies: 25 top picks to watch right now
Why you can trust TechRadar We spend hours testing every product or service we review, so you can be sure you're buying the best. Find out more about how we test.
12 Years a Slave
12 Years a Slave is an incredibly powerful, wonderfully told and hard-hitting movie that's not an easy watch, but an essential one. It's based on the 1853 slave memoir of the same name about Solomon Northup, an African American man who was kidnapped and sold into slavery.
In the film, Chiwetel Ejiofor gives an extraordinary performance as Solomon Northup, showing the strength of his character and the daily nightmare he must face at the hands of conmen and plantation owners. Other standout performances include Lupita Nyong'o as Patsey, an enslaved woman, and Michael Fassbender as the cruel and sadistic Edwin Epps.
!2 Years a Slave is critically acclaimed, winning all sorts of awards when it came out in 2013. If you're looking for a drama based on real events with best-in-class acting and a tragic but compelling story, we highly recommend it.
Arrival
Based on a short story by the brilliant science-fiction author Ted Chiang, Arrival is a fresh take on the classic aliens visit Earth genre. It's about a linguist called Louise Banks (played by Amy Adams) and a physicist called Ian Donnelly (played by Jeremy Renner) who are asked to help make contact with aliens who have positioned twelve spacecraft around the globe.
We don't want to give too much away because it's such a wondrous story to watch unfold. But don't expect the flashy action scenes you'd find with the likes of Independence Day. Instead, this is a sci-fi movie with heart that we guarantee you'll be thinking about long after the credits roll. If you're a fan of movies about space and meditative, cerebral stories then you're going to love it.
Three Thousand Years of Longing
If you're looking for a dose of rich and, at times, sensual fantasy then we've got you. Three Thousand Years of Longing is a visually-stunning movie from acclaimed director George Miller (Mad Max, Babe and Happy Feet).
Three Thousands Years of Longing is about a professor, played by Tilda Swinton, who finds an antique bottle on a trip to Istanbul and discovers a djinn (a spirit), played by Idris Elba, inside of it. The djinn offers to grant the professor three wishes but also tells her three stories about his past, explaining he wound up trapped inside a bottle.
His tales whisk us back thousands of years to royal romances, heart-breaking schemes, murder and lust. Three Thousands Years of Longing is the perfect film to watch if you're seeking some fantastical escapism and romance that isn't twee but epic in its intensity.
She Said
If you enjoy movies based on true stories, especially dramas about journalistic integrity and the toxicity of the film industry, then She Said is a must-watch.
She Said is based on the real events that took place in 2017 when New York Times reporters Megan Twohey, played by Carey Mulligan, and Zoe Kazan, played by Jodi Kantor, began the investigation that exposed Harvey Weinstein's abuse and sexual misconduct.
Although it's not an easy watch, She Said is a powerful story with fantastic acting from Kazan and Mulligan throughout. It's chilling to see just how close they came to not being able to tell the important stories that ended up convicting Weinstein and igniting the #MeToo movement that followed.
Dallas Buyers Club
Dallas Buyers Club is a 2013 movie that's based on the life of Ron Woodroof, a US man diagnosed with AIDS in the 1980s. Matthew McConaughey stars as Woodruff and the film follows his story of dealing with the stigma of AIDS and navigating the heart-breaking challenges of accessing treatment.
Woodroof ended up smuggling unapproved drugs into Texas and not only taking them himself, but distributing them to other people in need, that's why the movie is called Dallas Buyers Club.
As you might expect, this is a tough watch. But it's an incredibly powerful story about healthcare, connection and adversity. Matthew McConaughey is compelling in everything he stars in, but his transformation into Woodroof is completely phenomenal, compassionate and persuasive. It's no wonder critics said at the time it's a career-best performance.
True Grit
True Grit is a 2010 American Western film directed, written, produced, and edited by Joel Coen and Ethan Coen. Also known as the Coen Brothers, they're famous for popular movies like Fargo, The Big Lebowski and No Country For Old Men.
True Grit follows the story of a 14-year-old girl (played by Hailee Steinfeld) who hires Rooster Cogburn, a drunk and trigger-happy lawman (Jeff Bridges) to track down an outlaw named Tom Chaney (Josh Brolin) who murdered her dad. They're joined by a Texas Ranger (Matt Damon) who is also tracking Chaney because he killed a State Senator. The three embark on a dangerous adventure, delivering a modern take on the Western genre that doesn't feel quite as eccentric as other Coen brothers films – which works incredibly well here.
Whiplash
We'd describe Whiplash as a psychological drama meets thriller, but it doesn't wow you with car chases or cerebral twists and turns to keep you hooked. Instead, it explores the abusive and intense relationship between talented drummer Andrew (played by Miles Teller) and his instructor Terence Fletcher (played by J.K. Simmons)
You couldn't walk down the street without someone telling you to watch Whiplash upon its initial release in 2014, and it's easy to see why. Not only is the story compelling and the acting brilliant, the editing is equally fantastic, especially in some of the heart-stopping drumming scenes. Watch it if you like music, stories about complex relationships, and can handle a lot of wince-inducing and tense moments.
Gangs of Lagos
Gangs of Lagos tells the tale of Obalola and the lives of his friends, Gift and Ify, as they grow up on the busy and chaotic streets of Isale Eko, a neighbourhood in Lagos, Nigeria.
A film centered on family, friendship and betrayal, while also exploring the impact of violence and politically-affiliated gang culture in Nigeria, Gangs of Lagos isn't an easy Sunday afternoon watch – especially when you consider that it's based on true stories from Isale Eko. It's also the first Amazon movie to be mad in Africa; the pioneering flick being the first of many international projects that should arrive on Prime Video throughout 2023.
Nope
Nope is a scary sci-fi movie that'll leave you thinking about UFOs long after the credits have rolled. Jordan Peele (Get Out, Us) writes, directs, and produces Nope, while the fantastic Daniel Kaluuya and Keke Palmer are the movie's leads. They play horse-wrangling siblings who are determined to capture video evidence of a UFO but, as you might expect, get much more than they bargained for.
Nope is a must-watch for anyone who loves a good, tense, and cerebral film. Although the story centers on a UFO – a trite and generic plot point, we're sure you'll agree – it's unlike any other extraterrestrial-style movie you've seen. That's a huge testament to Peele's innovative storytelling talent, as well as the performance of Kaluuya and Palmer. Read our Nope review for more on what we liked about it.
Top Gun: Maverick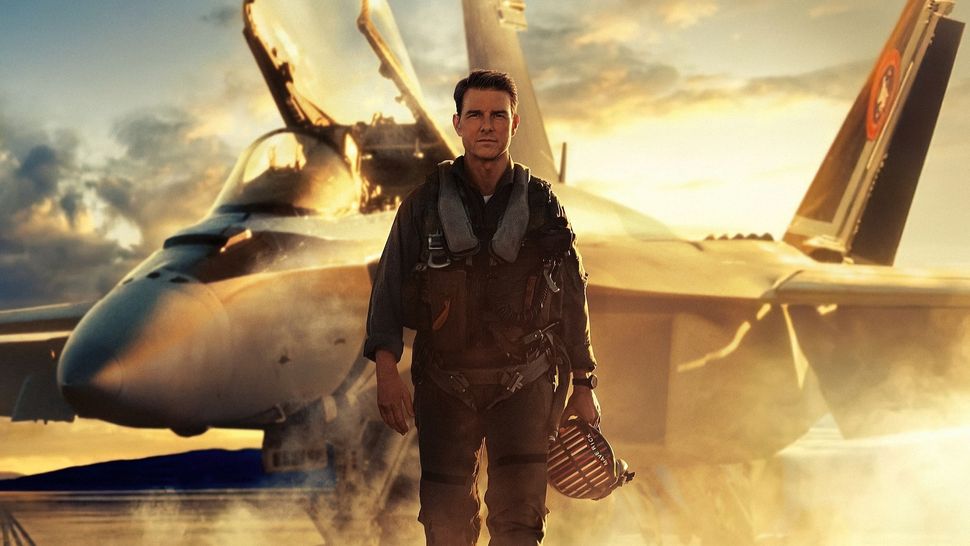 It was Q2 2022 when Top Gun: Maverick landed in theaters and wowed many with its box office performance. Now, the Oscar nominee has finally arrived in your home thanks to Prime Video (it's also available on Paramount Plus).
You'll want to check it out, too. Maverick is an action-packed, fast-paced movie with impressive special effects, top-class performances and top-tier set-pieces that'll leave your jaw on the floor. Its story is a little formulaic at times, but it's nonetheless well worth a watch.
If you loved the original Top Gun movie you'll love this one, too. It's just as fun, exciting, and edge-of-your-seat tense as the first. You won't be able to take your eyes off Tom Cruise's electric performance as Captain Pete "Maverick" Mitchell and, as mentioned, there are top performances from its younger stars, too, especially Miles Teller as Lieutenant Bradley "Rooster" Bradshaw. Read our exclusive chats with director Joseph Kosinki about the mind-boggling number of cameras used on set and how the film got the green light in the most Tom Cruise way possible.
Palm Springs
There have been plenty of phenomenal time loop movies over the years, including Source Code and Edge of Tomorrow. But for a take that's less edgy sci-fi and has more of the humor, charm, and romcom threads, Palm Springs should be your next port of call.
Two strangers called Nyles (Andy Samberg) and Sarah (Cristin Milioti) meet at a wedding and find they're the only ones living the day over and over. According to reports, the creators were heavily inspired by Groundhog Day, but wanted a fresh take on the time loop trope, which is why the movie begins with Nyles already in the loop. Samberg fans or those of a quirky, sci-fi disposition will love this. US viewers can also catch it on Hulu.
Good Will Hunting
Considered one of the greatest movies of all-time, Good Will Hunting is a drama with a stellar cast, including Matt Damon, Robin Williams, Ben Affleck, and Minnie Driver.
It's about a man called Will Hunting (played by Damon), who's a janitor at MIT. He also just so happens to be a genius and – in a now infamous scene – solves a complex mathematical problem that's left on a blackboard as a challenge for graduate students. It's a deeply emotional movie with fantastic acting, top writing, and a lot of heart, with the late Williams particularly delivering a powerhouse of a performance. Get the tissues ready.
Devotion
Devotion tells the tale of an African American fighter pilot in the Korean war, who has suffered unspoken racial injustices during his time in the US military. Isolated from his white colleagues, Jesse Brown (Jonathan Majors) finds it hard to trust anyone – until he meets Glenn Powell (Tom Hudner). Together, they make heroic sacrifices that result in them becoming two of the most celebrated pilots in history.
Based on the novel of the same name, Devotion is full of thrilling aviation and deep racial tension, which it navigates very well. It's been well-received by critics and audience alike, bringing in a terrific 82% on Rotten Tomatoes. You can rent or buy it on Prime Video, or see it on the Paramount Plus channel (see how to get a Paramount Plus free trial here).
Good Luck to You, Leo Grande
Emma Thompson stars in this taboo-busting story of a retired teacher wanting to reignite her sex life post-marriage. Nancy Stokes (Thompson) hires young, charming and skillful sex worker Leo Grande (Daryl McCormack) to give her the adventure she craves – and the two discover an unexpected connection.
Written by Katy Brand, Good Luck to You, Leo Grande has been praised for its sex-positive approach and electric script. Unfortunately, it's only available in the UK on Prime Video, but US viewers can stream it on Hulu.
Sound of Metal
Riz Ahmed shines in the lead role of Sound of Metal, a thoughtful and provocative movie about grief, addiction, and identity. He plays Ruben, a metal drummer who begins to experience hearing loss. He's told to eliminate loud noises, but continues to perform, worrying that his career, relationship, and life as he knows it could soon be over.
Sound of Metal is a challenging watch at times, but one of the best Prime Video movies as it's also deeply moving and introspective. You'll need to be in a certain mood to watch it, but when you do, you'll be blown away. A crowd-pleasing flick that was nominated for numerous Academy Awards in 2019, winning in the Best Sound and Best Film Editing categories. Easily one of the best Prime Video movies around.
The Big Sick
Here's a cool fact about The Big Sick: it's written by writer, producer, and podcast host Emily V. Gordon, plus actor, comedian and screenwriter Kumail Nanjiani (the duo are married), and is inspired by their real-life relationship. It's a story about an interracial couple, played by Nanjiani and Zoe Kazan, who have to deal with cultural differences when Emily becomes seriously ill.
It's a funny and heartfelt movie, and feels fresher and smarter than a lot of more recent rom-coms. Critics and cinephiles agreed, too, with it being chosen by American Film Institute as one of the top 10 films of the year when it came out in 2017. It was also nominated for an Academy Award for Best Original Screenplay.
One Night in Miami
One Night in Miami comes from Regina King, who makes her directorial debut. The story is based on a 2013 stage play of the same name – written by filmmaker and playwright Kemp Powers – which itself is inspired by a real meeting that took place in February 1964 at the Hampton House in Miami.
During that supposed event, Malcolm X (Kingsley Ben-Adir), Muhammad Ali (Eli Goree), Jim Brown (Aldis Hodge), and Sam Cooke (Leslie Odom Jr) gathered to celebrate Ali's title win against Sonny Liston. Events unfold over the course of a single night as the legendary quartet talk about power, race, discussing their roles in the Civil Rights Movement, and the culture of the era. It's one of the best Prime Video movies around and, when it was first released, was nominated for several Academy Awards.
Manchester by the Sea
Manchester by the Sea is a heavy movie. It's about a depressed and grief-stricken man who needs to care for his teen nephew after his brother dies. Understandably, then, it focuses on themes of guilt, responsibility, and families.
It's masterfully told and beautifully acted by Casey Affleck and Michelle Williams in the lead roles. The film received critical acclaim, winning Academy Awards for Best Actor for Affleck and Best Original Screenplay, and was considered one of the best films of 2016 by most critics.
The Vast of Night
The Vast of Night is a 2019 sci-fi mystery set in 1950s New Mexico. It's loosely based on real events, including the Kecksburg UFO incident – an unidentified fireball being spotted in the sky – and the Foss Lake disappearances, which saw a group of teens and adults mysteriously go missing.
The film follows young switchboard operator Fay Crocker (played by Sierra McCormick) and radio DJ Everett Sloan (Jake Horowitz) who discover an audio frequency that they think could be extra terrestrial. It's an engrossing thriller that's lo-fi and yet shows a lot of film-making skill.
Honey Boy
Honey Boy is loosely based on actor Shia LaBeouf's childhood and his relationship with his father – the title of the movie coming from his nickname as a kid. LaBeouf wrote the screenplay and also stars in it but, rather than play himself, he portrays his father. It follows the troubled relationship between 12-year-old Otis, who is finding some success as a TV star, and his abusive father, who signs himself up as Otis' guardian.
LaBeouf allegedly wrote the script as a form of therapy when he was in rehab. For that reason, it's a difficult watch and feels very raw. Strangely, though, it's oddly therapeutic for the viewer, too. At its core, this is a movie about a man's struggles to understand himself and forgive himself, as well as his past trauma.
Licorice Pizza
Licorice Pizza is a US comedy-drama written and directed by Paul Thomas Anderson, a filmmaker famous for movies like Boogie Nights, Magnolia, and There Will Be Blood.
It's follows the development of a young couple's relationship in the early '70s, played by the exceptionally talented Alana Haim and Cooper Hoffman. With its laidback and meandering charm, there's a kind of dreaminess to the movie at times. Equally, though its plot doesn't unfold in a conventional way. And, although it's a comedy, it's heartfelt with unexpected action and tension, too. One of the best Prime Video movies available today.
Suspiria
This Amazon Original is a supernatural horror inspired by Dario Argento's classic 1977 Italian film of the same name. It stars Dakota Johnson as an American woman who enrols at a prestigious dance academy in Berlin but, unfortunately for her, it's run by a coven of witches. Tilda Swinton bizarrely but convincingly co-stars in three roles.
Not for the faint-hearted, you can expect weirdness, gruesome scenes, and lots of deliciously disconcerting atmosphere from this one. Unlike the original film, which used exaggerated colors, it has a bleak and bare palette. Suspiria wasn't a box office hit but, if you like odd, atmospheric movies, it's a great choice.
Creed
Creed may be a Rocky spin-off movie, but it's taken on a life of its own.
This first movie is about Adonis Johnson (Michael B Jordan) who is trained by Rocky Balboa (Sylvester Stallone) so he can become a professional boxer like his father, the late Apollo Creed. As Adonis climbs the ranks of the boxing world, he must also confront his own demons and fight for his legacy, with Rocky by his side.
Creed is an emotional story that's bound to appeal to new fans and those who loved the original Rocky franchise. When you're done, check out Creed II, which is also available via Prime Video. Creed 3 is the latest movie and is available on Prime Video, but not for free. Be sure to read our guide to how to watch the Rocky movies in order, too, if you need to catch up on some of the best Prime Video movies.
Everything Everywhere All At Once
Everything Everywhere All At Once is a brilliant and bonkers movie that's won multiple awards on the 2023 circuit.
It tells the tale of Evelyn (played by the wonderful Michelle Yeoh), who discovers she's connected to multiple alternate universes and could be the key to defeating a dark and unknowable cosmic threat. Ke Huy Quan, Jamie Lee Curtis, and Stephanie Hsu also deliver terrific performances as the movie's supporting cast.
Everything Everywhere All At Once is a mind-bending, genre-defying adventure big on action, comedy and, heart. And, after its multi-award winning performance at this year's Academy Awards – read our piece on the 2023 Oscars biggest winners and losers – it's one you simply can't afford to miss.
Mad Max: Fury Road
The fourth instalment in the Mad Max movie franchise, Mad Max: Fury Road is set in a post-apocalyptic wasteland where life is brutal and water is scarce.
The titular Max (Tom Hardy) is captured by the crazy tyrant, Immortan Joe (Hugh Keays-Byrne), but it isn't long before Max joins forces with a group of women, who are also trying to escape Joe's clutches – the group being led by Imperator Furiosa (Charlize Theron), a strong and fearless character trying to find her homeland.
It's been eight years since Fury Road debuted in theaters, but its visuals are striking imagery are as stunning now as they were back then. The tense battle scenes between Joe's army and the rebels are executed perfectly, too, with incredible stunts, high-octane action, and incredible stakes throughout. Oh, and who doesn't want to see a heavy metal guitarist playing a fire-breathing electric guitar while standing on the cockpit of a kitted out truck?