Severance season 2: everything we know so far
News
Contributions from
last updated
Like Lumon's employees, we can't wait for Severance season 2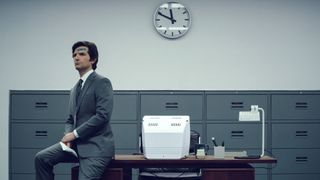 (Image credit: Apple TV Plus)
Key information
- Filming began in October 2022 but was brought to a standstill in May 2023 by the Hollywood writers strike
- Now that the writers strike is over, work can continue on the scripts
- No release date announced yet
- Main cast all expected to return, along with eight new additions including Gwendoline Christie, Alia Shawkat and John Noble
- Plot expected to pick up straight after season 1 finale
- No word on whether a third season will be greenlit
Severance season 2 is one of the most hotly anticipated shows on Apple TV Plus, especially now that the mega-hit Ted Lasso has come to an end. The first run of episodes was popular with critics and viewers alike, so we can't wait to find out what creator Dan Erickson, executive producer/director Ben Stiller and the rest of the creative team have come up with for the show's sophomore outing.
Plot details are currently thin on the ground, though it's certain we'll be heading back to the sinister Lumon Industries. In this bizarre office environment, employees undergo a medical procedure that keeps their home and professional lives entirely separate – think of it as an extreme way of achieving that elusive work/life balance.
First time out, Severance established itself as a show that could tie together complex, conflicted characters in a bleak office satire. It's a series that grew in scope and ambition with every creeping episode building up to one of the best end-of-season cliffhangers in recent memory. In fact, it's arguably the best Apple TV show to date, which is why Severance season 2 is right at the top of our must-see list.
Unfortunately, it looks like we may have to wait a bit longer than originally expected. Even though this second run of episodes was greenlit back in April 2022, with production kicking off in October, the subsequent Hollywood writers' strike put the shoot on hiatus for several months. But as we wait for the show's return, here's everything we know about Severance season 2, from new cast members to speculation about a release date and what the plot has in store. It's time to get back to work...
Severance season 2 release date: what we know so far
Filming on Severance season 2 began in October 2022 and was originally slated to wrap in May 2023.
Every time you find yourself here, it's because you chose to come back.#Severance Season 2 filming has started. pic.twitter.com/4AgEFHEgV9October 31, 2022
But things haven't quite panned out as Apple TV Plus might have planned, leading to production delays that seem certain to impact the Severance season 2 release date in a big way.
Firstly, rumors emerged in April 2023 of behind-the-scenes tensions (reported by TVLine) slowing down production. However, executive producer/regular director Ben Stiller was quick to reassure the world there was nothing to worry about.
"No one's going to the break room," he said on X (formerly Twitter) (via TVLine). "We're on the same really slow schedule we've always been on. Same target air date we've always had. Love our fans and each other, and we are all just working to make the show as good as possible."
That was before the Writers Guild of America (WGA) went on strike in May 2023, bringing work on major Hollywood TV series to a standstill for several months – Severance was among the high-profile shows that shut down production.
Following the announcement that an agreement with the Alliance of Motion Picture and Television Producers was reached on September 27, the strike is over and work can continue on Severance scripts – though the show is extremely unlikely to go back in front of the cameras until Hollywood's ongoing actors strike is resolved.
Following all that upheaval – and the inevitable lengthy post-production process – it seems likely that we'll have to wait until 2024 for a Severance season 2 release date. That'll be a whole two years after the show made its debut in February 2022.
Severance season 2 cast
These are the season 1 stars we expect to return in the Severance season 2 cast:
Adam Scott as Mark S / Mark Scout
Zach Cherry as Dylan G / Dylan George
Britt Lower as Helly R / Helena Egan
John Tuturro as Irving Bailiff
Patricia Arquette as Harmony Cobel
Tramell Tillman as Seth Milchick
Christopher Walken as Burt Goodman
Dichen Lachman as Ms. Casey
Jen Tullock as Devon Hale
Michael Chernus as Ricken Hale
There were also plenty of recurring and guest characters in Severance's first season, so we might see some of those individuals return for its next outing. However, Apple is yet to confirm which of those might be back, or whether new actors have been hired to play new characters.
As revealed in the The Hollywood Reporter (THR), there will be at least eight new faces, joining the Severance season 2 cast in yet-to-be revealed roles:
Gwendoline Christie (The Sandman, Game of Thrones, Wednesday)
Bob Balaban (Gosford Park, The Grand Budapest Hotel)
Robby Benson (Beauty and the Beast)
Stefano Carannante (Miribilia)
John Noble (Fringe, The Lord of the Rings: The Return of the King)
Ólafur Darri Ólafsson (The Tourist, Trapped)
Alia Shawkat (Arrested Development, Search Party, The Old Man)
Merritt Wever (Nurse Jackie, New Girl)
"I'm like geeking out about all of [the new cast]," star Britt Lower told the Hollywood Reporter at the 2023 Golden Globes. "They're really dynamite."
Ben Stiller had previously suggested to THR that he had many actors in mind for potential season 2 roles, saying: "For me there are a lot, people like Christopher Guest [This is Spinal Tap, Best in Show] I kind of imagine, 'Wow that would be amazing if someday he might be a part of the show.' It's fun when you have a show like this where it allows for people to maybe come in for an episode or two but also fit into the world of Severance."
Creator Dan Erickson suggests he wants Severance's cast to go full A-list celebrity, though, joking with THR that "If Barack Obama is [there at the 2022 Emmys], I'm going to see if he wants a role on this show. I think he'd be really good, he'd bring some gravitas."
Severance season 2 plot
Major spoilers for Severance season 1 follow.
So, what's going on in Severance? The show is set at Lumon Industries, a shadowy corporate organization (founded by so-called visionary Kier Eagan back in 1865) that has figured out a way to split a person's psyche into two: an 'innie' who works on Lumon premises, and an 'outie' who never has to work a day in their life.
The downside, of course, is that the 'innie' doing all the work experiences a never-ending nine-to-five loop where they never leave the office, and are doomed to complete obtuse and meaningless tasks on repeat for eternity. Unsurprisingly, it doesn't take long for some employees to take issue with such a soul-destroying, Kafkaesque experiment.
Mark S (Adam Scott) initially joins Lumon to escape the crippling grief of losing his wife in a car accident, allowing himself to disassociate from his 'outside' psyche for most of the week. But he becomes more curious about the workings of the company after his friend and manager Petey (Yul Vazquez) stops showing up to work unexpectedly. Then a new recruit, Helly R (Britt Lower), seems determined to escape the office. Cue plenty of manipulation by their shadowy employers, a surprisingly violent disco, and unexplained baby goats in the workplace,
Season 1 ended on a big cliffhanger, when rebellious innies Mark, Helly and Irv (John Turturro) successfully activated their work psyches 'remotely', allowing their personas to exist briefly in the outside world.
We expect Severance season 2 to pick up the moment its predecessor ended, when the remote activation was interrupted by the employees' supervisor, Seth Milchick (Tramell Tillman). That left Dylan (Zach Cherry) caught red-handed in the Lumon control room; Irving knocking on the front door of office sweetheart Burt (Christopher Walken); Helly (whose outie is the daughter of Lumon's boss) on stage at a Lumon gala, having just outed the company's sinister practices; and Mark in his sister's home, where he's just realized his late wife is alive after all, and working as Lumon employee Ms Casey (Dichen Lachman).
That's a lot going on at once, and all these outies are about to find themselves very confused after an hour of their innies taking control. The question is, how much impact did they have in that brief adventure in the outside world? And will anyone believe their stories about Lumon's inner sanctum?
We expect Severance season 2 will focus more on the world outside of Lumon Industries, with Helly's gala outburst and Mark's discoveries having leaked some company secrets to the public. But it wouldn't be Severance without, well, severance, and we're sure to see the cast making frequent switches between their 'innies' and 'outies', especially if they need to further investigate Lumon's labyrinthine office corridors, which are sure to contain plenty of secrets we're yet to unearth. Those baby goats could just be the start...
Cast and crew are, unsurprisingly, remaining tight lipped, to the extent you wonder whether their on-set and outside world selves might have been severed like their alter-egos in the show. Adam Scott even divulged on The Tonight Show Starring Jimmy Fallon that, "We have secret scripts and have to use like code words when we're on email. It's so secret it's crazy and it feels ridiculous. It's also great because people wanna know [what's going to happen]."
We have, however, had a few very minor teases about Severance season 2. "There is an expanding world that I think is sort of teased and in a way is owed by the way we ended season one where we did suddenly get some glimpses of Helly's life on the outside and Dylan's life on the outside, and Irving's life on the outside," the show's creator, Dan Erickson, told Gold Derby. "I don't want to get into how much time we're going to be spending in those various arenas, but we know that they have stuff going on the outside that we haven't seen that we haven't really explored yet, and of course, inside the company it's a vast company and there's plenty of stuff that we haven't seen yet.
"It's expanding on both sides and that's both the fun and the challenge," he continued. "How do you make it bigger and how do you take a broader view of it and include some new elements that weren't there before but still keep it feeling like it's centered in the same world, on the same story that you were doing before?"
Ben Stiller expressed similar sentiments to Variety : "I think that the biggest thing is how to maintain all those things in terms of the feeling of the show, while at the same time expanding the world since the end of the last episode. We've brought Mark and Irving and Helly to the surface, and I think those are storylines that people are going to be interested in. So, it's going to be figuring out that balance."
Oh, and expect there to be a reveal of sorts concerning those goats in season 1. Asked if there was any significance to their appearance at San Diego Comic-Con (per Time magazine), Erickson simply replied: "Yeah."
Severance season 2 trailer
There's no official Severance season 2 trailer yet, but we did get a very, very brief teaser during Apple's September 2022 iPhone 14 event.
The footage only shows Helly disembarking from a subway train, either on her way home or to her Lumon office, so it doesn't really give anything away about the show's second season. Still, it's a fun little Easter egg-style clip, and shows how much Apple is leaning on another of its flagship shows (like Ted Lasso before it) to drive subscribers towards its streaming service.
Once an official trailer drops, we'll update this section.
Will we get more seasons of Severance?
Are more installments coming after Severance season 2? It seems likely. Severance is one of the best TV shows to have landed on Apple's streaming platform since its launch in 2019, and the company won't want to sleep on a certified hit. It holds a 97% certified "fresh" rating on Rotten Tomatoes, and was a big part of the conversation during awards season, with several wins and even more nominations.
Also, it feels like there's much more story to tell, with so many mysteries to unravel that it seems unlikely they'll squeeze everything into two seasons – especially as the show, like Ted Lasso before it, has been a major hit for Apple TV Plus. Besides, Ben Stiller hinted that Severance may have legs to continue in a statement released when season 2 was confirmed. "It has always been a multi-season story and I'm really happy we get to continue it," he said. "I'm grateful to our partners at Apple TV Plus who have been behind it the whole way. Praise Kier!"
If there is a Severance season 3, however, don't expect to see it before 2025...
For more Apple TV Plus-based coverage, check out the best Apple TV Plus movies, how much a subscription costs, or our review of Apple TV Plus as a streaming service.
Sign up to receive daily breaking news, reviews, opinion, analysis, deals and more from the world of tech.
Henry is a freelance technology journalist, and former News & Features Editor for TechRadar, where he specialized in home entertainment gadgets such as TVs, projectors, soundbars, and smart speakers. Other bylines include Edge, T3, iMore, GamesRadar, NBC News, Healthline, and The Times.