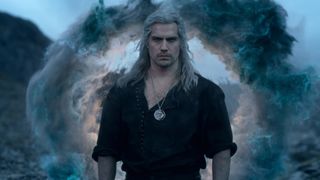 (Image credit: Netflix)
Full spoilers for The Witcher season 3 follow. You've been warned.
The Witcher season 3 has drawn to a close on Netflix. And, if you're like us, you might have some burning questions you need answering.
We weren't enamored with the first half of the fantasy show's latest installment – read our review of The Witcher season 3 volume 1 for more on why – so we were very happy The Witcher season 3 volume 2 makes up for the glaring errors in volume 1. There are thrills and bloody spills galore in the final three episodes of The Witcher's latest season, oh, and the small matter that its final episode is lead actor Henry Cavill's swansong. Cavill isn't returning as Geralt of Rivia for The Witcher season 4 (Liam Hemsworth will replace him next time out), so this is truly his last hurrah.
So, do we discover how Cavill's Geralt transforms into Hemsworth's take on the character before season 3 ends? Are there any post-credit scenes that tease what's to come in the fourth season or potential spin-offs? We try to answer those pressing questions and more in this article.
This is your final warning: major spoilers for The Witcher season 3 follow. Don't read on unless you've watched volume 2's trio of episodes.
Does Geralt die in The Witcher season 3?
No. Before volume 2 was released, The Witcher season 3 part 2 trailer had teased a heart-breaking end for Geralt, which might have meant his death. However, he lives to tell the tale, despite everyone's favorite brooding monster slayer taking a severe beating from turncoat mage Vilgefortz.
In the season's sixth episode, the duo fight on a beach near Aretuza. Vilgefortz wants to kidnap Ciri and reunite her with her father, Emperor Emhyr of Nilfgaard, so Emhyr and Ciri can rule the Continent. Geralt, as he has done for two seasons, wants to keep Ciri safe and teach her to use her powers for good.
Unfortunately for Geralt, he's no match for his opponent. Vilgefortz almost kills Geralt, a broken back and right leg being among numerous life-threatening injuries he sustains during the battle. Given how episode 6 ends, it would appear that Geralt won't survive his wounds.
Geralt is rescued by Triss Merigold, who takes him to Brokilon Forest to be healed by the dryads, however, they're unable to help him. It takes a visit from Yennefer (more on her later) and her chaos magic to nurse Geralt back to health, so he can begin searching for Ciri, who has been taken to Nilfgaard by Vilgefortz – or so it seems.
So no, Geralt doesn't die in The Witcher's third season. Considering Hemsworth is set to replace Cavill as the titular character from season 4 onwards, it wouldn't make sense if Geralt died.
Does Liam Hemsworth's Geralt appear in The Witcher season 3?
Again, no. Hemsworth's Geralt won't make his debut until season 4, after Cavill's given a "heroic send-off", according to showrunner Lauren Hissrich (per Entertainment Weekly), in the third season's finale.
Cavill's farewell wasn't as heroic as we expected, though. Okay, he kills a bunch of Nilfgaardian soldiers, but we thought his final battle would be far more meaningful than it was. It makes sense to allow Cavill to ride off into the sunset, rather than replace him with Hemsworth in a scene reminiscent of Doctor Who's regeneration sequences.
It's still unclear how Netflix will explain Cavill's Geralt turning into Hemsworth's iteration. The Witcher producer Tomek Baginski has teased a "meta" way in which this will be handled (via Yahoo). Right now, though, we're unsure how the transformation (if indeed that's how it happens) will occur.
Who is fake Ciri? And why is she in Nilfgaard?
That'll be Teryn, the half-elven girl that Geralt rescued from the Flesh Monster at Vuilpanne in episode 2.
In episode 3, we learned that Teryn had been kidnapped and subjected to magic-based mind control tests to make her believe she was the real Ciri. At the time, we all thought it was Stregobor who had abducted her (and numerous other young women) and experimented on them to "turn" them into Ciri. Now, we know it was Vilgefortz. If he was unable to track down the real Ciri, Teryn or another brainwashed girl would be his backup plan – i.e. Vilgefortz would take them to Nilfgaard instead and convince Emhyr that Teryn (or another vessel) was his one, true daughter.
As we learn in the season 3 finale, Vilgefortz is forced to use his contingency plan. He couldn't find the real Ciri after their brief encounter in episode 6. That isn't surprising, mind you, when you consider that Ciri teleported to the Korath Desert after she used Aretuza's monolith to escape Vilgefortz (and inadvertently disfigure him in the process).
It's unclear how long it'll take Emhyr to realize he's been duped (if he hasn't already) by Vilgefortz. But, given Geralt and his druid friend Anika almost freed Teryn from Vilgefortz's mind control spell, Teryn might end up giving the game away early in season 4 anyway. As for the real Ciri...
Where is the real Ciri in The Witcher season 3's finale?
She's been rescued by the Rats, a Geso-dwelling gang of young misfits who steal from the wealthy for their own material gains.
As we witnessed in episode 7, Ciri was found by a group of criminals called trappers after her ordeal in the Korath Desert. The trappers were set to turn her over to Nilfgaard for a handsome reward, but the Rats – coming to rescue one of their own, Kayleigh, who had been captured by a gang called the Nissir – save Ciri, too.
Interestingly, Ciri has crossed paths with one of the Rats before. In episode 3, she has a run-in with Mistle – the Rats' apparent leader – in Gors Velen, when the latter tries to rob Ciri after her encounter with a Wyvern.
We're not sure if Ciri will stay with the Rats (like she does in Andrezj Sapkowski's Witcher book series) in season 4. A Witcher fansite called Redanian Intelligence has regularly suggested that a Rats spin-off show is in development at Netflix. It's possible this project could bridge the gap between seasons 3 and 4, with Ciri joining the Rats for a few episodes before departing for pastures new. Alternatively, the Rats' spin-off could be a prequel – in the same vein as The Witcher: Blood Origin – that expands The Witcher's universe before season 4 arrives.
What's Yennefer up to at Aretuza?
She's building a replacement for the Brotherhood of Sorcerers in the wake of the Thanedd Coup.
After grieving for Tissaia, who commits suicide over the coup, Yennefer and her fellow female mages, including Triss and Sabrina, set up the Lodge of Sorceresses. This is a new secret organization of all-female magic wielders, who aim to preserve magic and only use it for the good of the Continent.
In Sapkowski's novels, it's Philippa Eilhart who founds the group. In Netflix's adaptation, though, she's busy killing King Vizimir of Redania, so she and Sigismund Dijkstra can install Prince Radovid as a new puppet king. Instead, it's Yennefer who sets the Lodge up, thus ushering in a new era in The Witcher universe.
What Witcher books will influence season 4's plot?
There are a number of Sapkowski's works that The Witcher season 4 could draw inspiration from.
Season 3 is largely pulled from The Time of Contempt, the fifth novel in the Witcher's book series. However, volume 2 also dipped into Baptism of Fire (the sixth novel), and it's likely the show's fourth season will be primarily influenced by that book.
It's also possible that The Tower of the Swallow, i.e. book seven, could be adapted in some instances, particularly if The Witcher season 4 also follows Ciri's adventures with the Rats. That depends on whether the Rats' reported spin-off show is a prequel series or not. If it isn't, this TV show could follow events in The Tower of the Swallow instead.
So, when will The Witcher season 4 be released? Nobody knows. The writers' strike, coupled with the actors' strike, means production has stalled on the show's next entry. Until resolutions are found between all parties, season 4 won't start filming.
For more Witcher-based coverage, read our season 3 cast feature. Alternatively, see which other TV series join The Witcher in our best Netflix shows list.
Get daily insight, inspiration and deals in your inbox
Get the hottest deals available in your inbox plus news, reviews, opinion, analysis and more from the TechRadar team.
Senior Entertainment Reporter
As TechRadar's senior entertainment reporter, Tom covers all of the latest movies, TV shows, and streaming service news that you need to know about. You'll regularly find him writing about the Marvel Cinematic Universe, Star Wars, Netflix, Prime Video, Disney Plus, and many other topics of interest.
An NCTJ-accredited journalist, Tom also writes reviews, analytical articles, opinion pieces, and interview-led features on the biggest franchises, actors, directors and other industry leaders. You may see his quotes pop up in the odd official Marvel Studios video, too, such as this Moon Knight TV spot.
Away from work, Tom can be found checking out the latest video games, immersing himself in his favorite sporting pastime of football, reading the many unread books on his shelf, staying fit at the gym, and petting every dog he comes across.

Got a scoop, interesting story, or an intriguing angle on the latest news in entertainment? Feel free to drop him a line.