The Haunting of Bly Manor: release date, trailer, cast and what we know
The Haunting of Hill House season 2 release date is in October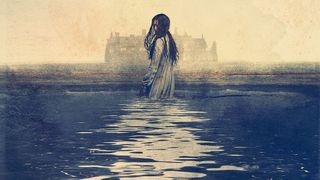 (Image credit: Netflix)
The Haunting of Hill House season 2 is coming, but everything is going to look very different: we're done with the Crain family, as we're set to visit a spooky new setting: Bly Manor. And, despite the issues posed by the global health crisis, it's coming on October 9, 2020. We also have a teaser trailer and a good idea of the cast we'll be seeing in terrified action.
The first season was inspired by Shirley Jackson's 1959 Gothic novel of the same name, and it turned out to be one of the strongest new horror offerings when it crept onto Netflix in 2018. Next we're headed to the chilling world of Henry James' iconic work, The Turn of the Screw. So we already know the foundations of the story, but there's still plenty left to be uncovered.
Here we're breaking down the latest details on The Haunting of Bly Manor release date, the latest trailer, and the cast details we know so far. We'll also list what you need to know about the previous Turn of the Screw adaptations, to help you prepare for more unsettling psychological scares.
The Haunting of Bly Manor release date: October 2020
Netflix has confirmed that The Haunting of Bly Manor will release on October 9, 2020.
The Haunting of Bly Manor trailer
The first trailer for The Haunting of Hill House season, or The Haunting of Bly Manor as it's officially known, has been released. Check it out below:
The Haunting of Hill House season 2 cast sees some familiar faces
Despite the fresh setting and characters, Victoria Pedretti and Henry Thomas return in new roles. However, in terms of new faces, Rahul Kohli (iZombie, Supergirl) stars as the chef on the manor estate. There are also a few other cast members in currently unknown roles, such as Oliver Jackson-Cohen, Kate Siegel, and Tahirah Sharif. Here are the key Haunting of Bly Manor cast members we know so far:
Henry Thomas: Henry Wingrave
Victoria Pedretti: Dani Clayton
Benjamin Evan Ainsworth: Miles
Amelie Bea Smith: Flora
Rahul Kohli: Owen
Amelia Eve: Jamie
T'Nia Miller: Mrs. Grose
Flanagan won't be directing The Haunting of Hill House season 2, though: It will be shared by up-and-coming horror directors, Yolanda Ramke, Ben Howling, Ciarán Foy, Liam Gavin, and Axelle Carolyn, Flanagan revealed on Twitter. That said, he did say he'd still be "collaborating" with the new talents.
The Haunting of Bly Manor story turns the screw
The Haunting of Hill House season 2 is based on Henry James' 1898 novel, The Turn of the Screw, which sees a governess look after two children in a large house on a remote estate. To drum up hype around the new season, the image of a newspaper advert was posted on the Bly Manor Twitter account looking for a "live-in nanny" for "two perfectly splendid children," tying in with the plot of the famous text that inspires season 2.
Like Shirley Jackson's novel for the first season, The Turning of the Screw is a slim novella, so there'll have to be plenty of additions if season 2 stretches to another ten episodes. However, as Flanagan said to EW, season 1 was always "more of a remix than an adaptation." For example, we know that this latest adaptation will be set in the 1980s.
So The Haunting of Bly Manor should entrance and surprise even James experts. "For Henry James fans, it's going to be pretty wild, and for people who aren't familiar with his work, it's going to be unbelievably scary," Flanagan told Birth.Movies.Death. Not only that, but it'll be "much scarier than season 1."
But what happened to the Crains? "The story of the Crain family is done," Flanagan told Entertainment Weekly. He also said that while there are other possible stories that could be pursued surrounding the family, "I felt like the Crains have been through enough [...] the show is about haunted places and haunted people, and there's no shortage of either."
What The Haunting of Bly Manor can learn from other Turn of the Screw adaptations
The best-respected Turning of the Screw adaptation is The Innocents (1961), which stars Deborah Kerr and Michael Redgrave. The horror classic builds its horror and tension gradually, which is something a Netflix show's length can leverage. It was also subtle and nuanced: each viewing yields different conclusions, if you can bear to watch multiple times.
Then there's The Others, which released in 2001. Starring Nicole Kidman and James Bentley, this Alejandro Amenabar-directed flick proved a strong update on a classic. Like The Innocents, it left plenty of questions unanswered; if Bly Manor achieves that, fans of a horror binge will be excitedly puzzling them out together on forums and message boards long after release.
2020's The Turning - starring Stranger Things' Finn Wolfhard - was less successful. Plagued by production problems, this take on Screw suffered from a complicated, muddled plot and an ending that felt abrupt and unearned, rather than subtle. In short, learning from its cinematic predecessors, Bly Manor should tease out chilling ideas slowly, ensure the plot is subtle and mysterious, and not be like this year's The Turning.
The best horror show on Netflix
Even as a loose adaptation, The Haunting of Hill House had the weight of the one of the most important Gothic texts on it shoulders, but it delivered. Its intricate storytelling and use of multiple timeframes didn't just deliver expertly choreographed scares, but also managed to be a thoughtful meditation on the madness of family. The pressure of adapting The Turn of The Screw will arguably bring greater pressure, but Flanagan and his cast have already proved up to the task.
Sign up to receive daily breaking news, reviews, opinion, analysis, deals and more from the world of tech.
Harry Shepherd is a Guides Editor for PC Gamer at Future. He is a writer and editor with more than two years experience specialising in SEO and guides.