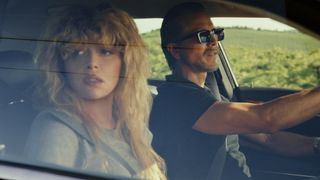 (Image credit: Peacock)
It's no secret that Peacock is the black sheep of the streaming family. While the likes of Netflix and Disney Plus possess extensive and excellent back catalogs, Peacock's lack of top-tier originals has seen audiences shun it in favor of its more popular cousins.
Now, though, NBC Universal's streamer has a truly fantastic TV show to rival its peers: Poker Face. The brainchild of Rian Johnson (Knives Out, Star Wars), Poker Face is an sensationally good comedy detective series that'll do more than fill the Knives Out-shaped void in your life. In fact, I'd go as far to say it's the best Peacock show of all-time – and one that'll convince you to finally sign up for the service. Make sure you know how to watch Poker Face from anywhere in the world.
The truth is out there
Poker Face stars Natasha Lyonne (Russian Doll) as Charlie Cale, a drifter who possesses the seemingly supernatural ability to detect lies. Or, in Cale's catchphrase-like terms, when a person "bullshits" her.
When Charlie becomes inadvertently involved in the death of a casino owner, she's forced to go on the run to evade the casino's head of security-cum-hitman Cliff LeGrand (Benjamin Bratt). Along the way, Charlie becomes embroiled in case-of-the-week style murder mysteries, enabling her to regularly put her innate ability to good use, albeit reluctantly.
Given Johnson's involvement – Poker Face marks his first foray in television – there are striking parallels between Charlie and Knives Out's Benoit Blanc. The duo are sleuth extraordinaires, but aren't as emotionally disconnected as, say, Sherlock Holmes. Instead, it's their 'everyman' personas – complete with their comically bumbling ability to become entangled in murder-based escapades – that make Charlie and Blanc likeable, entertaining individuals.
It's here, though, where the similarities end. Where Knives Out and its successor – Glass Onion – are positioned as Agatha Christie-inspired whodunits, Poker Face operates as a 'howcatchem'. It's a term colloquially attributed to Columbo-like shows and movies, where viewers see the murder take place, learn the culprit's identity, and then watch as the detective puts the puzzle pieces together. Think of it as an inverted Knives Out and you'll *ahem* deduce what I mean.
Unlike Columbo, Charlie isn't your typical investigator. She's essentially a walking lie detector, not a qualified detective, which isn't much use when it comes to solving elaborate murders. Even so, Charlie's sheer determination to unearth the truth (with the aid of some excellent supporting characters, but more on them later) and ability to perceive people's lies make her incredibly effective at a job she'd be tailormade for.
Part of Poker Face's terrific appeal is its capacity to involve its audience in its mysteries, too.
Yes, we see how each murderer carries out their crime, so we're already one step ahead of Charlie in knowing who the culprit is. However, eagle-eyed viewers can spot the signs that point towards the killer's motives, their careless discarding of evidence, and other puzzle pieces Charlie must discover to solve the mystery. It makes for an enjoyable, participatory watch-along, especially when some seemingly important clues end up being red herrings.
There were a couple of occasions where I thought I'd solved the events leading up to separate episodes' murders, only for those pieces of evidence to be redundant. They made me look amusingly foolish, but that's part of Poker Face's charm. It wants to subvert your expectations of a sleuth-based series, and the inclusion of bluffs usually shows how intelligently it's been assembled.
Deepening the investigation
Poker Face's clever and intricate storytelling is woven throughout its run – at least, during the six entries I've seen so far. Sure, it's primarily positioned as a howcatchem, but it's a genre tapestry that borrows from thrillers, horror productions, and slapstick comedies to help it stand out from its peers.
It helps that Charlie is an engaging and captivating character. Lyonne's quirky, extroverted protagonist is an on-screen firecracker whose witticisms and uncanny observations make her instantly likeable. Charlie's not an archetypal hero by any means – she foregoes the opportunity to train as a detective throughout the series – but she's nonetheless a do-gooder; a trait that makes her journey worth investing in.
And what a journey it is. From her expository origins story in the premiere – as revealed by guest star Adrian Brody – through to its sixth episode, Poker Face effortlessly convinces you to enjoy the ride. Charlie's cross country excursion, all in the name of evading Bratt's Cliff, places her in all manner of weird and wonderfully amusing situations, with each episode acting like a chapter-based pit stop as she barrels along in her trusty Plymouth Barracuda.
Whether they're the criminals in question, characters who help Charlie unearth the truth, or simply side-splitting cameos, Poker Face's supporting ensemble are as eccentric, unsettling, and endearingly dislikeable as they come.
From Brody's selfish Sterling Frost and Hong Chau's oddball truck driver Marge, to Lil Rey Howery's charmingly devilish Taffy, and Simon Helberg's skittish FBI agent Luca, Poker Face is packed full of stars. Each of the show's 40 big-name actors provide plenty of humor, drama, action, menace, sorrow, and relatability to their characters.
They brilliantly bounce off Lyonne's Charlie, regardless of the depth of their conversations with Poker Face's lead, too, chewing the scenery and delivering some riotously funny moments as they go. Not many creatives could turn a diner scene about a trucker's fox logo, or a dog sidekick who loves to listen to xenophobic radio stations, into hilariously must-watch television. Johnson, co-showrunners Nora and Lilla Zuckerman, and Poker Face's wider writing team, though, absolutely nail it. I guarantee you'll laugh out loud at least three times (if not more) per episode.
No matter how much good Charlie does, the ever-present threat of Bratt's Cliff also ensures she's never safe. This isn't a show where the protagonist can saunter around the US, solving murders and making friends as she goes. With Cliff on her tail, Charlie is always looking over her shoulder; the ensuing, elaborate game of cat and mouse adding a constant undercurrent of tension throughout.
Poker Face isn't a complete knockout. The anthology-based style of its episodes means that some entries are weaker than others, with narrative cohesiveness and the occasionally irksome character decision chief among my complaints.
The show's release schedule – four episodes dropped on launch day – means that, by its fourth instalment, I was growing a bit tired of Poker Face's formula. Sure, episode 4's story was still largely entertaining, but its expository story beats and other creative flaws (such as the convenient nature of Charlie's arrival) took some of the enjoyment out of it. With Poker Face's remaining episodes releasing weekly from now on, I'm hoping those issues will iron themselves out.
My verdict
Poker Face feels like a seminal moment for Peacock. NBCU's streamer is far from being the best streaming service around, and that's mostly down to its lack of unmissable films and shows.
Rian Johnson's inaugural TV series could be the making of Peacock, though. In much the same way that Stranger Things turned Netflix into the world's most popular streamer, or Ted Lasso made it worth signing up to Apple TV Plus, Poker Face is the show that'll turn Peacock's fortunes around.
Fans of Johnson's previous works will come for its signature style. Some viewers will be intrigued by comparisons to Knives Out. Other audience members might even be drawn in by its '70s aesthetic and callbacks to a bygone era of detective storytelling. Combined, these elements make Poker Face one of the most surprising (and best!) shows of 2023 thus far – and you can bet that I'll be back for more comedy-infused misadventures with Charlie if Poker Face gets another season or two.
For more Peacock coverage, read up on what we know about John Wick TV spin-off The Continental. Alternatively, find out if the Peacock free trial is still available.
Poker Face is streamble now on Peacock in the US and City TV Plus in Canada. It's currently unavailable in the UK and Australia but, if it's released in these territories, it'll likely land on Now TV (UK) and Stan (Australia).
Sign up for Black Friday email alerts!
Get the hottest deals available in your inbox plus news, reviews, opinion, analysis and more from the TechRadar team.
Senior Entertainment Reporter
As TechRadar's senior entertainment reporter, Tom covers all of the latest movies, TV shows, and streaming service news that you need to know about. You'll regularly find him writing about the Marvel Cinematic Universe, Star Wars, Netflix, Prime Video, Disney Plus, and many other topics of interest.
An NCTJ-accredited journalist, Tom also writes reviews, analytical articles, opinion pieces, and interview-led features on the biggest franchises, actors, directors and other industry leaders. You may see his quotes pop up in the odd official Marvel Studios video, too, such as this Moon Knight TV spot.
Away from work, Tom can be found checking out the latest video games, immersing himself in his favorite sporting pastime of football, reading the many unread books on his shelf, staying fit at the gym, and petting every dog he comes across.

Got a scoop, interesting story, or an intriguing angle on the latest news in entertainment? Feel free to drop him a line.