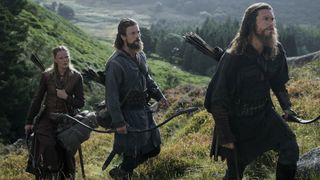 (Image credit: Bernard Walsh/Netflix)
Vikings Valhalla creator Jeb Stuart had a problem on his hands heading into the Netflix show's second season.
The historical drama series' first instalment didn't have a viewership issue – Vikings Valhalla's debut racked up over 266 million hours viewed (per Netflix's in-house Top 10 website) between February and April 2022. Instead, Stuart's main obstacle lay in the historical texts Vikings Valhalla is chiefly inspired by.
History buffs already know the legendary stories of the show's key characters, such as Harald Sigurdsson and Leif Erikson. So how did Stuart ensure their journeys – and that of Freydís Eiríksdóttir, Valhalla's third protagonist – were historically accurate, entertaining, and personally relatable? By turning Valhalla into a road trip-style tale.
"I didn't want to tell a story in the same locale, doing the same thing," Stuart tells TechRadar. "Historically, we know Harald became a fugitive in the Kievan Rus', and Leif goes to the new world at some point, which shows Vikings traveled a lot. But what does that look like? What does a Viking look like when he's somewhere else? And can they hold onto their culture and identities? Basically, I wanted to blow our heroes out of their comfort zones."
Band on the run
Vikings Valhalla season 2 opens one month after the season 1 finale with Leif (Sam Corlett), Freydís (Frida Gustavsson), and Harald (Leo Suter) painted as outlaws. The trio is physically and mentally broken following the brutal battle at Kattegat, but there's no time to feel sorry for themselves.
Installed as enemies of the state, the three are forced to reinvent themselves as they hide from their pursuers – Freydís travels to the safe haven of Jomsborg, and Leif and Harald embark on a grueling quest to Constantinople. Their journeys will test their courage, faith, and loyalty to each other, and set them on paths to becoming the iconic Vikings they're destined to be.
The trials the trio faces in season 2, then, are far greater than those they previously encountered. Valhalla's sophomore season pulls the rug from under our heroes, leaving them with few allies and resources, which places them in uncharted territory.
"One of this season's main themes is the idea of building your own legacy," Stuart says. "Harald wants to be king of Norway, but he feels like he's deserted his destiny at the start of season 2. When he eventually acts on that ambition again, what happens when no one in Kievan Rus' cares that he's prince of Norway? And how does he go from Harald Sigurdsson to Harald Hardrada, aka the hard ruler?
"Equally, Freydís is haunted by abandoning Kattegat. Leif has lost Liv and is suffering a crisis of faith, so they're all forced to adapt and create new destinies. They have to learn to pull from other cultures to fill up their toolboxes so they can accomplish their goals, but they also have to make hard decisions about whether they stick together or not. That makes for more personal stories."
The road less traveled
The "personal stories" that Stuart alludes to form the backbone of season 2's main storylines. If Vikings Valhalla's first season was about introducing audiences to this era's famous faces, its successor pushes them to the limits.
One thematic avenue season 2 travels down is Leif and Harald's fraying friendship. The trauma they sustained during the battle of Kattegat, and how they process that in different ways, visibly challenges their previously tight bond.
"Leif's been looking for guidance about how to operate as a man in this world from the outset," Corlett says. "His father wasn't the masculine example he needed, so he's been looking for a clarity of direction that Harald has, which he hasn't found yet. When Harald asks him to go with him to Constantinople, he's reluctant because he's struggling to grieve and express the rage he feels. But he eventually joins Harald to start figuring out who he is."
"The only way Harald's going to become king of Norway is to head to Constantinople," Suter adds. "And he knows it's going to be treacherous. He can see Leif is in serious distress, but he needs Leif to be the great sea captain Harald seeks.
"That puts pressure on their friendship, but it's one that gets deeper throughout the season. There's a big turning point when Leif reminds Harald that, if he wants to complete this mission, there are other people on board who are just as desperate to get to Constantinople. Harald can't do this alone so they need to work together. Those are the pearls of wisdom that Leif drops for Harald and makes him realize this journey is more than just about him."
Freydís is also afflicted by psychological wounds she sustained in the season 1 finale. As Kattegat's protector-in-chief, Freydís struggles to overcome the survivor's guilt she feels after she abandons her post to rescue Harald during Kattegat's downfall.
"She thinks 'I left all of those people behind to save myself, so how can I be the chosen one?'" Gustavsson explains. "How can she be a leader if she can't help them or even admit who she is to herself? She's having an identity crisis when she arrives in Jomsburg, but there's a character there who's instrumental in helping her grow into her leadership and motherhood. That gives her strength and helps her share what she's learned."
Battling through
Gustavsson's reference to motherhood isn't a metaphorical one, either. In the season 2 premiere, Freydís tells Leif she's pregnant with Harald's child. She refuses to tell Harald, though, as she doesn't want her first born to be brought up as a Christian, which Harald is.
Understandably, Freydís' pregnancy causes problems as the season progresses, not least because she continues to train and fight. For Gustavsson, wearing increasingly bigger prosthetic bellies – to represent the different stages of pregnancy – forced a rethink regarding how Freydís moved during combat sequences.
"[Costume designer] Susan O'Connor Cave and I broke the season down over how the pregnancy would progress," Gustavsson reveals. "We created prosthetics that weighed the same as a normal baby would at each stage. Wearing them transforms the way you walk and sit, but fighting is another thing entirely. Your body instinctively wants to protect itself in a way it didn't before, so I had to relearn how to fight to put the 'baby' first and myself second."
Harald and Leif also find themselves drawn into conflicts. With Leif grappling with his mental anguish, Harald takes matters into his own hands – literally – in a bid to raise funds for their trip. The quickest way to make money? Participating in Novgorod's brutal fighting pits, where contestants need to be at peak strength. Suter, then, had to be in top physical shape, plus comprehensively study the fight sequence's complicated choreography, to make this skirmish look as authentic as possible.
"It was a really rewarding sequence," he says. "It took months of preparation. I was ready to go for two months, but filming that scene was pushed until September [2021, two months before production wrapped], so I just kept my training ticking over. By the time we shot it, I was happy to be done because it was very taxing. You have to go to a very primal, crazy place to try and win those fights. I really enjoyed it, though, and I hope viewers do, too."
Prepare for the next chapter in the Vikings: Valhalla saga with this look back at Season 1. Season 2 of Vikings: Valhalla premieres January 12 on @netflix. pic.twitter.com/BGlUjcMxUcJanuary 2, 2023
The road trip-style journeys Leif, Harald, and Freydís go on are as allegorical as they are physically demanding. As Corlett surmises, the roads we choose to walk "provide us with a purpose in life and help us to achieve love and acceptance as adults".
In that sense, Vikings Valhalla season 2 is more than your typical action-heavy historical drama. It bleeds thematic resonance and puts viewers through the wringer as much as its heroes. The series' bloody battles are enthralling to watch and its continent-spanning story will keep you engrossed. However, it's the quieter, more intimate moments that make Vikings Valhalla season 2 stand out from the crowd and reinvents one of the best Netflix shows in a surprisingly creative manner.
"It wasn't easy [to take that step]," Stuart admits. "We had a lot of challenges with making a road trip movie-like season. It's an action show so, every time you stop, you have to make something happen. There's a lot of fun with that, but season 2 is really a story about personal growth, and I think audiences are going to love what they see."
Vikings Valhalla season 2 launches exclusively on Netflix on Thursday, January 12.
Sign up to receive daily breaking news, reviews, opinion, analysis, deals and more from the world of tech.
Senior Entertainment Reporter
As TechRadar's senior entertainment reporter, Tom covers all of the latest movies, TV shows, and streaming service news that you need to know about. You'll regularly find him writing about the Marvel Cinematic Universe, Star Wars, Netflix, Prime Video, Disney Plus, and many other topics of interest.
An NCTJ-accredited journalist, Tom also writes reviews, analytical articles, opinion pieces, and interview-led features on the biggest franchises, actors, directors and other industry leaders. You may see his quotes pop up in the odd official Marvel Studios video, too, such as this Moon Knight TV spot.
Away from work, Tom can be found checking out the latest video games, immersing himself in his favorite sporting pastime of football, reading the many unread books on his shelf, staying fit at the gym, and petting every dog he comes across.

Got a scoop, interesting story, or an intriguing angle on the latest news in entertainment? Feel free to drop him a line.