UPDATE: Chilling Adventures of Sabrina has been added to our list of the best shows on Netflix Australia, and Daredevil has re-entered our trending shows section — find out all about them below!
Since its arrival on Australian shores, we've enjoyed unfettered access to all of Netflix's critically-lauded original shows. Not only that, users also have access to a wealth of other licensed material.
If you're like us, you spend a good deal of your time Netflixing. Sure, Netflix also streams movies, but its television output is perhaps the reason most people have signed up for an account. There's nothing quite like firing up Netflix and binge-watching a series at your own pace. Getting instant access to entire seasons of Stranger Things from day one is half the appeal.
This is why we've created the TechRadar guide to the best shows on Netflix Australia right now (in no particular order). We'll keep this best TV show list constantly updated with the latest television shows that you should be watching on Netflix in Australia and also tell you why.
The best new shows on Netflix Australia
Of course, the list includes Netflix Australia classics like Stranger Things, House of Cards, Making a Murderer, Black Mirror, Narcos and BoJack Horseman, but there's so much more to binge on the service than the well-known titles.
We've selected more than 60 great series worth watching over the following pages, but if you've watched 'em all already you can also find out what's new on Netflix this month right here, or cut to the chase with our quick picks for the top trending shows on Netflix right now.
The following list charts the best shows that are currently trending right now on Netflix Australia. For our complete list of shows, which has been separated into genre, continue on to the next page or select your preferred genre from the drop-down list above!
1. The Haunting of Hill House
Loosely based on the 1959 gothic horror novel by Shirley Jackson, The Haunting of Hill House follows seven members of the Crain family who are forever traumatised by their brief time living at an old mansion in 1992. From the show's title, you've probably surmised that the house is haunted, however, these particular ghosts will continue to haunt the Crain children well into adulthood – no matter where they live. Regularly flicking back and forth between the present and past, The Haunting of Hill House gets under your skin slowly, gradually revealing the escalation of horror that led the family to be as fractured as it is today. As chilling as The Haunting of Hill House is, it's the family drama aspect that resonates most. That said, you'll probably want to sleep with the lights on after binging this is one. If you're a fan of films like The Conjuring, It and Hereditary, you're going to love this.
Seasons on Netflix: 1
2. Chilling Adventures of Sabrina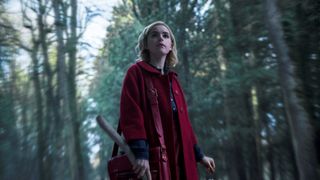 Forget the '90s TV series Sabrina the Teenage Witch, because aside from sharing character names, Chilling Adventures of Sabrina is an entirely different beast. Darker and scarier than that family-friendly take, Netflix's version of the classic Archie Comics character owes a lot more to creator Roberto Aguirre-Sacasa's recent comic series of the same name. Dealing head on with Satanism, demons and other dark subject matter, Chilling Adventures of Sabrina makes for a perfect companion to Riverdale (also from Aguirre-Sacasa), which tends to dabble in death and mystery, too. Of course, the show is quite fun, too, with a terrific performances from Kiernan Shipka (Mad Men) as Sabrina, Lucy Davis (Wonder Woman) as Aunt Hilda and Australia's own Miranda Otto (Return of the King) as Aunt Zelda. Spooky and clever, Chilling Adventures of Sabrina positively ghoulish fun.
Seasons on Netflix: 1
3. Making A Murderer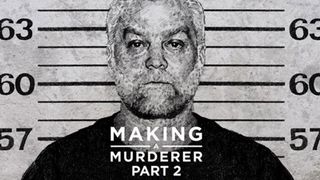 True crime stories are so hot right now, evidenced by the immense popularity of the podcast Serial and HBO's The Jinx. Netflix's original series Making A Murderer however, is probably the hottest of them all, documenting and recounting the trials of Steven Avery and Brendan Dassey, two working-class Americans accused of the murder of 23-year-old photographer Teresa Halbach. Over the first season's 10 episodes, the show exposes the failings of the Wisconsin justice system in blood-boiling detail. Having spent 18 years in prison for a crime he did not commit, Steven Avery is exonerated based on new DNA evidence. However, shortly after his release, he becomes the prime suspect in Halbach's murder, and Avery is put through the ringer once again by law enforcement figures that seem to have it out for him. What follows is an anger-inducing sequence of events that involve forced confessions, unconvincing (and possibly planted) evidence, dodgy lawyers and a complete presumption of guilt from almost everyone involved. Years later, as Avery and Dassey continue to sit in prison, the appeals process continues in Making A Murderer: Part 2, which covers each attempt to free the pair in great detail. Compelling, infuriating and tragic, we guarantee you won't be able to stop watching Making a Murderer once you've started.
Seasons on Netflix: 2
4. Riverdale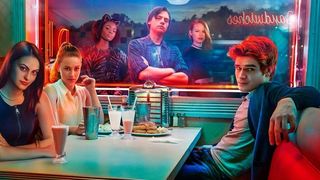 Set aside any pre-conceived notions that you might have about a 'sexy Archie' series and get ready for one of the most addictive new shows of the moment with Riverdale. First things first — this ain't your grandpappy's Archie show. A modern day re-imagining of the beloved comics franchise that has spanned almost eight decades, this Twin Peaks-inspired version of Riverdale is fraught with murder, deception and small town scandal. Famous characters like Jughead, Veronica, Betty and even Josie and the Pussycats are all present and accounted for, only with a decidedly millennial twist. The first season followed the murder of star quarterback (and most popular kid in school) Jason Blossom, and the mystery surrounding it. This was followed by the arrival of a Zodiac-style serial killer who terrorised Riverdale from behind a black hood. Now, Archie must prove his innocence after last season's shocking cliffhanger ending. With new episodes fast-tracked from the US every Thursday, your only problem will the seven day wait between episodes. Check out the season 2 recap below.
Seasons on Netflix: 3
5. Maniac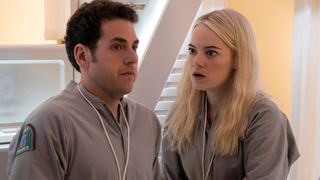 From director Cary Fukunaga (True Detective) comes Maniac, a sci-fi dramedy that's almost impossible to describe (we'll try our best, though). Set it a retro-futuristic version of New York City (think 'Big Apple' by way of Blade Runner), Maniac follows two troubled individuals (played by Emma Stone and Jonah Hill) who sign up for a mysterious pharmaceutical trial that promises to improve their lives exponentially. Placed in a series of dream-like states, the pair somehow find themselves repeatedly drawn to each other in their shared delusion. Do the two characters share a destiny, or is this just a side-effect of the trial? Featuring beautiful visuals and incredible performances, Maniac is the kind of mind-bending miniseries that deserves your time.
Seasons on Netflix: 1
6. BoJack Horseman
The best way to approach BoJack Horseman is to let it slowly grow on you. Chances are you won't be blown away by it from the first episode, but once you get hip to its rhythm, you'll likely find it to be one of the best animated comedy shows since Bob's Burgers (only with a lot more depth). Will Arnett voices BoJack, a washed-up '90s sitcom star who spends his days being bitter about his failures alongside his perpetual houseguest, Todd (Breaking Bad's Aaron Paul). Things get complicated when his cat girlfriend and agent Princess Carolyn (Amy Sedaris) hires ghost writer Diane (Alison Brie) to pen BoJack's memoir. Filled with hilarious characters that could only exist in drawing-form, BoJack Horseman is a real winner. Now back for its fifth season, BoJack finds himself leading a terrible new cop show for a television channel that shouldn't exist. Meanwhile, Diane finds herself on a spiritual journey after her break up with Mr. Peanutbutter.
Series on Netflix: 5
7. Queer Eye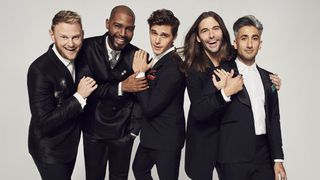 Queer Eye is back! Taking over from where the original Fab Five left off, the new team has been put together with the same ultimate mission: to remodel individuals into the best possible version of themselves, whether it be their wardrobe, living arrangements, grooming, diet or even their confidence. We know, makeover shows are usually pretty lame, but this one is fantastic in the way that the guys really get to the emotional heart of each subject they undertake. Often, there's a reason these men (and for the first time, a woman) have let themselves go or have put up defensive walls against the outside world. Because the Fab Five really seem to care about them, it becomes incredibly rewarding to watch them go from unhappy to full of life. Chances are you'll cry at least once per episode.
Seasons on Netflix: 2
8. Marvel's Daredevil
When Marvel revealed that it would be creating several Netflix shows tied directly into the Marvel Cinematic Universe, fanboys (like me) were over the moon. The fact that it would start by bringing Daredevil back to life (Evanescence pun completely intentional) after the much-maligned Ben Affleck film was more than we could have ever hoped for. This isn't some low-level player – Daredevil is a genuine fan favourite. And if you ask us, 'The Man Without Fear' is probably better suited to being the star of a series rather than another movie – especially as he'll eventually team up with Netflix's other Marvel heroes Jessica Jones, Iron Fist and Luke Cage in the Netflix miniseries, The Defenders. Though the series kicked off with a bang in the first season, Marvel matched it with its second season, which also included The Punisher and Elektra. In season 3, Matt Murdock has gone back to basics, returning to his old black costume and devoting himself entirely to being Daredevil. He'll have to take on Kingpin once again, as well as his comic arch-nemesis, Bullseye.
Seasons on Netflix: 3
9. GLOW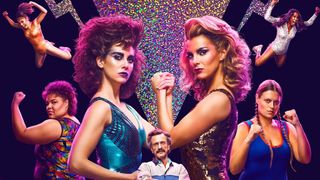 From the makers of Orange is the New Black comes GLOW, a show based on a real-life all-women wrestling league that existed in the '80s. Why's it called GLOW? It stands for Gorgeous Ladies of Wrestling, that's why! The show stars Alison Brie (Community) as an aspiring actress who auditions for the wrestling gig after being fed up with the lack of meaty female roles in Hollywood. Here, she can be a fierce warrior, one who is in charge of her own destiny and gets to play opposite other strong women. Like Orange is the New Black, GLOW is a show that masterfully balances comedy and drama. In its second season, we follow the ladies as they try to keep the show on the air — we can only hope that Netflix's GLOW gets as many seasons as its real-life counterpart.
Seasons on Netflix: 2
Based on the classic 1960s television series (and rather forgettable 1990s film) of the same name, Lost in Space is the latest show to get its own Netflix makeover. The space colonist family Robinson has found itself stranded on a mysterious planet once again, and it's up to them to find a way off that rock and back on course to its actual destination. Darker and more serious in tone than the original series, the new Lost in Space still offers the same sense of wonder, albeit with a new emphasis on survival in a harsh new realm. Visually spectacular.
Seasons on Netflix: 1
10. Marvel's Iron Fist
While many Marvel fans found the first season of Netflix's Iron Fist underwhelming, steps have been taken to address the show's issues (the fight scenes, the lead character's personality), leading to a vastly superior second season overall. Danny Rand (Finn Jones), heir to the Rand Industries fortune, returns to New York City after being presumed dead for 15 years. During that time, Danny was being trained by monks, earning himself the title of the Immortal Iron Fist — protector of the mystical (and eternal) hidden city of K'un-Lun. Upon his return, Danny discovers that his company is secretly being controlled by The Hand, an order that has been at war with K'un-Lun for centuries. With the help of martial arts teacher Colleen Wing (Jessica Henwick), Danny must use his extremely powerful glowing fist to take down The Hand once and for all. Check out the trailer for season 2 below.
Seasons on Netflix: 2
Want to know more about Netflix's take on binging? Watch our very own Jon Porter live on the couch discussing his time at Netflix HQ!