If you've ditched regular TV and you're getting your fix online, we bet you're using Netflix. The online streaming platform has more than 140 million subscribers worldwide, so it's made sure there's a diverse range of Netflix shows, as well as exclusive Netflix TV series, for viewers with a range of tastes to enjoy.
UPDATE: The highly-anticipated third season of Jessica Jones has arrived on Netflix. It's the last in the Marvel TV and Netflix collaboration, after The Punisher and Daredevil were cancelled, and early reviews suggest it's going out on a high point. We felt the second season dwindled a little, but Jessica is back on form in the third and final season - enjoy!
Netflix offers a huge number of TV shows, from old classic sitcoms and soaps to the site's own Netflix Originals, produced in-house and birthing the likes of Bojack Horseman, Orange is the New Black, and the brilliantly quirky Russian Doll - which has just been renewed for a second season, hooray!
But long gone are the days when there'd be one big show everyone was talking about at the water cooler – now there's all sorts of big-hitters and cult hits competing for your eyeballs, with TV shows being added and removed from Netflix on almost a daily basis.
And the streaming platform will need to keep up its winning streak of great TV content because with rising subscription prices and fierce competition from the likes of Disney+ it's in danger of becoming everyone's second favourite online subscription service.
But, until them, the big question is: how do you know which TV shows are really worth watching, and which are just your coworkers's terrible tastes?
We've put together this guide to the best Netflix shows that you can watch in the UK right now – and so you can keep up-to-date with Netflix's busy release schedule, which we'll be updating you on once a week. You can check out the box to the right for the best Netflix shows by category – comedy, drama, sci-fi, Netflix Originals, and the like – or read on below for what's coming and going on the service.
If you're more of an Amazon Prime fan, and there's a lot to love about this Netflix rival at the moment, then you can see all the best Amazon Prime TV shows in our separate guide.
New Netflix TV shows
There's a great selection of new shows to watch on Netflix right now, including the second season of The Chilling Adventures of Sabrina, which is even stronger, darker and spookier than the first, as well as a new season of Charlie Brooker's sci-fi future shock series Black Mirror.
So far this month, our top pick is When They See Us, the hard-hitting new drama miniseries from Ava DuVernay, which is a powerful look at systemic racism in the US featuring some exceptional performances. In fact, since its release earlier this month, the show has become the most popular series Netflix has ever featured on the platform - in short, it's a must-watch.
Netflix has also welcomed the third and final season of Jessica Jones, which goes out on a high note bringing a fantastic new villain to the story and exploring more of Jessica's character in the process.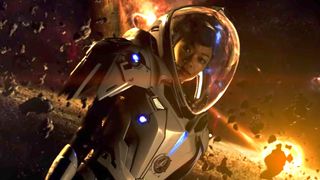 What's coming soon on Netflix?
For Netflix TV shows, there's a lot to look forward to later in the year too.
The third season of GLOW will land on August 9, 2019, while fans of Stranger Things will be happy to hear that Netflix has now confirmed the highly-anticipated third season will arrive on July 4 2019.
More details have also been revealed about The Witcher TV show. The Netflix adaptation of The Witcher game and book will be released before the end of 2019, the company has now confirmed.
There's also a whole host of great TV shows that have been renewed for another season, like Bojack Horseman, The Crown, Manhunter, Lucifer and Sex Education, but no official details about launch dates have been revealed.
In other Netflix news, the streaming platform has now amassed an enormous 139 million subscribers, more than the populations of Tokyo, Delhi, Shanghai, Sao Paolo, and Mumbai combined.
But will it continue its long reign as the best streaming platform for much longer Now that Apple has released its own streaming service, Apple TV Plus, and Disney's offering, Disney+ is coming soon, competition is mounting.
Here's some of the brilliant Netflix UK shows you can expect in 2019:
Dark, Season 2 - June 21, 2019
Stranger Things, Season 4 - July 4, 2019
Orange is the New Black, Final Season - July 26, 2019
GLOW, Season 3 - August 9, 2019
Disenchantment, Part 2 - September 20, 2019
The Witcher - before the end of 2019
Bojack Horseman, New Season - Date Unknown
The Crown, New Season - Date Unknown
Manhunter, New Season - Date Unknown
Lucifer, New Season - Date Unknown
Sex Education, New Season - Date Unknown
Ozark, New Season - Date Unknown
Umbrella Academy, New Season - Date Unknown
For more, read our round up of the best upcoming TV shows and movies on Netflix
Netflix UK FAQ: quick questions answered
How much does Netflix cost in the UK? There are a few different plans you can choose from in the UK, depending on whether you want to watch in SD, HD, or Ultra HD (4K), and how many separate devices you want to watch on. The current pricing is as follows:
Basic– £5.99 per month – With the cheapest membership option, you can watch one one screen at a time in Standard Definition, and download videos to one mobile device.
Standard – £7.99 per month – This membership allows you to watch in HD on two screens at a time and download videos to two mobile devices.
Premium – £9.99 per month – The most expensive subscription allows you to watch in HD and Ultra HD on four screens at a time, and download videos to four mobile devices.
Netflix says that "High Definition (HD) and Ultra High Definition (Ultra HD) availability subject to your internet service and device capabilities and not all content [is] available in HD or Ultra HD." See our which Netflix plan guide to see why this matters.
How can I get a free Netflix account? Netflix offers new customers a free month of the service as a trial period – simply choose a membership type and payment plan and your first month will be free.
At the end of this period, if you choose to continue watching Netflix, you'll be charged one "low monthly fee" regardless of how much you used the service and on how many devices you watched videos on.
Netflix will send you a reminder towards the end of your trial period – if you want to cancel your membership, you can do so at any time during this period and you won't be charged.
Can I watch live TV on Netflix? No – you can only watch films and TV series from Netflix's rather extensive library. If you want to watch live TV in the UK, you can try services like Sky's Now TV, BBC iPlayer, or ITV Hub.
Is Amazon Prime better than Netflix? The answer to that question really depends on the shows and movies you want to watch. Check out our roundup of the best Amazon Prime Video TV Shows for an idea of what you can watch on Amazon Prime. You can also read our Amazon Prime review for more information on what the service offers.
Do you get Netflix free with Sky Q? Netflix can be accessed on a Sky Q box, but it doesn't come for free – you'll still need to sign in with a paid-for Netflix subscription. However, if you opt for Sky's Ultimate on Demand package, it will integrate Netflix billing with your Sky bill, while reducing its cost and unlocking Netflix recommendations within the Sky Q interface. If you're paying for both services, it's well worth combining them in this way as a result.