The Huawei P30 maintains many of the same features as its bigger brother while cutting the SIM-free price down a fair bit into the realm of affordability.
Huawei P30 Fact File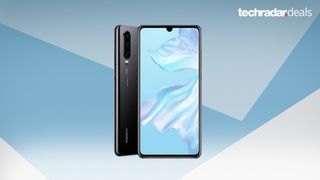 Release date: March 2019
Launch price: £699
Platform: Android 9.0 (Pie)
Storage: 128GB
Camera: 40MP + 16MP + 8MP
Screen: 6.1-inch
Battery: 3650mAh
Colours: Aurora, Amber Sunrise, Breathing Crystal, Black, Pearl White
Read TechRadar's Huawei P30 review
With one of the best cameras currently on a phone, a large battery, a vibrant array of colours and an impressive chipset - the P30 is a standout, relatively affordable flagship smartphone.
There are plenty of Huawei P30 deals to be had on contract, but going for your P30 SIM-free means that at least you're not tied down to a lengthy term giving you more flexibility and, in the long run, the potential to save you money. Especially when you see that attractive Huawei P30 price tag.
Once you've bought the handset you can then also pair it with one of the best SIM only deals, giving you the option to customise your data, cost and contract length.
Below, you'll find our price comparison table with a list of who's stocking unlocked Huawei P30 handsets and the best prices that are available. If the prices don't match up to what you were hoping for then it could be worth considering going for a contract instead...or another phone altogether of course.
Today's cheapest Huawei P30 SIM-free prices: