We all love a good scare (so long as we're safe and sound at the end of it), so with that in mind, we've taken the liberty of shining a spotlight on some of the best horror movies currently streaming on Netflix Australia. These freaky flicks are guaranteed to send shivers down your spine!
Get Out
Before you check out Jordan Peele's latest film Us, it might be worth watching (or rewatching) the writer-director's debut feature, Get Out, which is an absolutely brilliant horror film dealing with race relations in America. Upon meeting his girlfriend's white parents for the first time, African American man Chris (Daniel Kaluuya) begins to feel a growing sense of unease – particularly in the presence of the family's all-black staff. Before too long, the seemingly-progressive family's all-too-accommodating demeanour starts to unravel, eventually revealing a horrible truth that will show Chris just how much danger he's actually in. Insightful and suspenseful in equal measure, Get Out is one of the most socially-relevant horror movies ever made. It's no wonder Peele won an Oscar for Best Original Screenplay on his time out of the gate.
IMDB Rating: 7.7, Rotten Tomatoes: 98%
Watch Get Out on Netflix right now
Dawn of the Dead
George A. Romero's 1978 original may be king, but Zack Snyder's fast-paced Dawn of the Dead remake is still a terrific zombie film in its own right! Thanks to an excellent script by James Gunn (Guardians of the Galaxy), Snyder's directorial debut is still one of the best in his entire filmography, with fleshed out (and fleshy) characters to root for as all hell breaks loose. Holed up in a suburban shopping mall, a group of people from various walks of life come together to fight for survival during an all-out zombie uprising. Scary and action-packed, the 2004 version of Dawn of the Dead is one of the best horror remakes around. And, with the recent announcement that Snyder will return to the zombie sub-genre once more (for the Netflix's Army of the Dead), now's the perfect time to revisit this positively ghoulish flick.
IMDB Rating: 7.3, Rotten Tomatoes: 75%
Velvet Buzzsaw
Writer-Director Dan Gilroy (Nightcrawler) delivered a film that's a whole lot crazier than we were expecting with Velvet Buzzsaw. The supernatural/satirical horror film is set in the art world, where a series of paintings by an unknown deceased artist begin to take revenge on those who worship money. The film stars Nightcrawler alums Jake Gyllenhaal and Rene Russo, along with John Malkovich, Daveed Diggs, Natalia Dyer, Tom Sturridge, Billy Magnussen and Zawe Ashton. It won't be everyone's cup of tea, but if you like your films left of centre, you just might appreciate Velvet Buzzsaw.
IMDB Rating: 5.8, Rotten Tomatoes: 66%
Apostle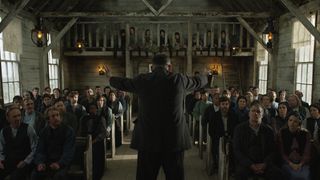 In the grim tradition of The Wicker Man and The Witch comes Apostle, a gory new folk horror tale from Gareth Evans, director of The Raid films. Set in 1905, Apostle sees Thomas Richardson (Dan Stevens) infiltrate an island-based cult which is holding his sister Jennifer (Elen Rhys) for ransom. Led by Prophet Malcolm (Michael Sheen), the cult is entering a particularly dark time — its crops and livestock are rotting from within, as if the people are being punished by their deity. With the community in dire straits, Malcolm and his followers have become murderous monsters, resorting to horrific, medieval practices in a vain attempt to restore life to their home. In other words, a terrible time to be discovered as an intruder! With Apostle, Evans has not lost his knack for bodily destruction, with several scenes of torture and violence that may be too much for some viewers. Those with strong stomachs, however, will be rewarded with a nail-biting horror story with incredibly production design and cinematography that's willing to go to some truly dark places. It's nerve-jangling score is also worth keeping an ear out for.
IMDB Rating: 6.6, Rotten Tomatoes: 77%
It
Get ready, fright fans — the highest-grossing horror movie of all time has made its way onto Netflix and is bound to make you terrified of clowns all over again. Based on Stephen King's classic novel of the same name, It follows a group of tightly-knit adolescent misfits known as The Losers Club as they investigate an evil force that's been stealing and murdering children in their small town for decades. With its late '80s setting and talented cast of young performers, It is bound to appeal to fans of Netflix's brilliant series Stranger Things (and not just because Finn Wolfhard stars in both). As far as Stephen King adaptations go, it's one of the very best, managing to strike the right balance between horror and heart. Simply put, It is the kind of crowd-pleasing scare film we'd like to see more of. We recommend watching It before the upcoming sequel, which takes place 27 years later and sees the kids all grown up and terrorised by Pennywise the Dancing Clown all over again.
IMDB Rating: 7.4, Rotten Tomatoes: 85%
Jaws
The film that defined the term 'blockbuster', Steven Spielberg's classic fright film Jaws has swam its way onto the the service and is hungry for more viewers to chomp on. When an aggressive great white shark starts eating swimmers in the lead up to Fourth of July weekend, the mayor of a popular tourist destination sets a bounty for the shark's head. The town's sheriff (Roy Scheider), an oceanographer (Richard Dreyfuss) and a shark hunter with a grudge (Robert Shaw) set out on the seas to take it down for good. They're gonna need a bigger boat...
IMDB Rating: 8.0, Rotten Tomatoes: 97%
It Follows
Considered a modern horror classic by many, It Follows sees a young girl (Maika Monroe) terrorised by a sexually-transmitted demon. This terrifying apparition looks different every time and will chase you relentlessly until you either pass it on by sleeping with someone else, or until it catches up to you and finishes you off for good. To make matters worse, if the person you pass it on to dies, it will turn its attention back to you again. Did we mention that it can only be seen by the people that have been 'infected', so your friends won't be able to help as much as they'd like to? Yeah, it kinda sucks. Stylish, atmospheric and with a terrific John Carpenter-inspired synth score, It Follows in an effective horror movie which may suffer a little from a few odd decisions by its characters, but is still well worth watching.
IMDB Rating: 6.9, Rotten Tomatoes: 97%
The Babysitter
One for the horror comedy fans, the Netflix Original film The Babysitter, from director McG (Charlie's Angels), is an energetic and fun flick with some killer one-liners and a star-making performance from Aussie actress Samara Weaving (yes, she's related to Hugo), whom horror fans may remember from her role in the first season of Ash vs Evil Dead. The plot is simple: kid develops a crush on his incredibly cool babysitter, only to find out that she's sadistic, devil-worshipping killer with a group of equally psychotic friends, all of whom are planning to kill him. Though he's a total wimp, he must now fight back in order to survive. Gory and funny in equal measure, The Babysitter is a hell of a time.