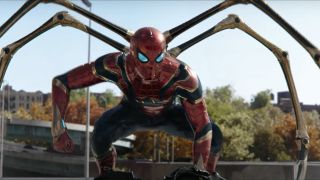 (Image credit: Sony Pictures/Marvel Studios)
Best Netflix movies: December 2023 update
Tom Power, senior entertainment reporter
Our final update for the year sees the departures of Fast 9, The Hunger Games trilogy, and Nobody as they've been removed from Netflix. In their place, we've added The Suicide Squad, Talk to Me, and Godzilla vs Kong.
Looking for the best Netflix movies? You've come to the right place.
In this guide, we've handpicked 43 of the greatest movies to stream right now on the best streaming service around. Indeed, Netflix is always a safe bet for finding fantastic flicks to watch – after all, its movie library is in the thousands – but, given how much choice it offers, it can be tricky to determine what's worth your time.
That's where we come in. Our entertainment boffins have scoured the streaming giant's back catalogue to select 40-plus films that are must-see today, or any day for that matter. You'll find each entry categorized by genre, too, making it easier to find the kinds of movies you enjoy most.
If you're after even more recommendations, our new Netflix movies guide is packed with all of the new movies to land on Netflix in recent weeks. For now, though, these are the best Netflix films to catch before 2023 ends.
Best action movies on Netflix
Extraction 1 and 2
For anyone looking for a non-stop thrill ride with some of the best action sequences we've seen in a long time, Netflix's in-house Extraction franchise is the one for you.
Marvel star Chris Hemsworth stars as Tyler Rake, a black ops mercenary with a tragic past. In each movie thus far, Rake is tasked with rescuing someone (or numerous individuals) from a seemingly impossibly situation, before leading them to safety as they try to escape any number of thugs, gang members, and other characters looking to kill Rake and those he's liberated.
Extraction 1 was a pretty good watch, in our view, and its sequel is slightly better thanks to its 21-minute-long, heart-pounding, intricately assembled, and dangerous one-shot sequence. Be sure to read our Extraction 2 review for more on why it's one of the best Netflix movies around, and then check out our exclusive chats with director Sam Hargrave about why the film's one shot sequence took four grueling months to shoot and how he had Marvel to thank for that unexpected cameo.
Godzilla vs Kong
The fourth film entry in Warner Bros and Legendary Pictures' MonsterVerse, Godzilla vs Kong might be the best film in the franchise yet.
Given its title, it'll come as no surprise to learn that the two titans duke it out for supremacy for much of the movie, but something happens in its final act that – well, that's getting into spoiler territory. Read our Godzilla vs Kong ending explained article to find out more, if you dare.
It certainly favours style over substance but, as an entertaining popcorn flick that you can switch off your brain to, Godzilla vs Kong is better than most. Who doesn't want to see two kaiju knock seven bells out of another? And, with another film – Godzilla vs Kong: The New Empire – debuting in theaters in April 2024, plus the arrival of Apple TV Plus series Monarch: Legacy of Monsters, which fleshes out the MonsterVerse further, now's as good a time as any to stream it. In 2021, we said Godzilla vs Kong should be the MonsterVerse's true beginning, not its end, and we're glad we were right.
Best animated movies on Netflix
Apollo 10 1/2: A Space Age Childhood
If you're keen to mix up your movie-watching diet, films don't come much more unconventional than Netflix's Apollo 10 1/2: A Space Age Childhood. Boyhood director Richard Linklater returns to filmmaking duties with this animated feature, which tells the story of the 1969 moon landing from multiple perspectives.
The movie shares the visual style of Linklater's previous animation, 2006's A Scanner Darkly, and features the voice talents of The Super Mario Bros. Movie's Jack Black, Shazam! Fury of the Gods' Zachary Levi, and Top Gun: Maverick star Glen Powell. Despite its needlessly lengthy title, Apollo 10 1/2 is a genuinely unique take on one of history's most iconic moments, and serves as yet more proof of Netflix's willingness to invest in boundary-pushing storytelling.
Guillermo del Toro's Pinocchio
Who says Netflix has lost its taste for originality? With Guillermo del Toro's Pinocchio, the streamer breathes new life into Carlo Collodi's beloved 1883 fairytale about a wooden puppet who longs to become a real boy.
Shot entirely using stop-motion (in a manner akin to Netflix series The House), del Toro's darker adaptation is set in 1930s Italy during Mussolini's fascist regime and features a star-studded voice cast that includes Ewan McGregor, David Bradley, Tilda Swinton, Christoph Waltz, and Cate Blanchett. Indisputably one of the best Netflix movies in years.
The Mitchells vs the Machines
Originally intended for a theatrical release, Netflix bought this animated movie from Sony and producers Phil Lord and Chris Miller – best known as the minds behind The Lego Movie and 21 Jump Street, and also part of the team behind Spider-Man: Into the Spider-Verse and Spider-Man: Across the Spider-Verse. It's exactly as charming and funny as those movies, too.
Katie Mitchell (Abbi Jacobson) is an aspiring filmmaker who's about to head to college – until her dad, conscious that they've been drifting apart, cancels her plane ticket and insists on a family roadtrip. Halfway through this fraught journey, an AI takes revenge on its billionaire creator and the world is suddenly under duress from smart robots.
A lot of Spider-Verse's visual touches cross over into this film, with 2D annotations and drawings on the already-pretty 3D visuals. Most of all, it's nice to see Netflix backing a family movie that's not just full of talking dogs and other hackneyed nonsense so often seen in CG kids' fare.
Nimona
Based on ND Stevenson's 2015 graphic novel of the same name, Nimona is a delightfully fun, action-packed, funny, and heartfelt flick that's also unapologetically queer.
Star Wars alumnus Riz Ahmed voices Ballister Blackheart, a futuristic knight who's framed for a crime he didn't commit. The only witness who can save him from a lengthy jail term is Nimona (The Peipheral's Chloe Grace Moretz), a shapeshifter who Blackheart is sworn to seek out and destroy. Cue a wild buddy cop-style adventure that teaches kids to have an open mind about people who are different to them in more ways than one.
Nimona has been lauded for its LGBTQ+ representation, subversive storytelling, and gorgeous visuals among many other positives. A truly worth entry in our best Netflix movies guide.
The Sea Beast
The Sea Beast proved Disney doesn't have a monopoly on layered, child-friendly storytelling upon its arrival in July 2022.
Directed by Oscar-winning filmmaker Chris Williams (Moana, Big Hero Six), the movie follows Jacob Holland (voiced by The Boys' Karl Urban), a celebrated sea monster hunter whose life is upended when a young girl, Maisie Brumble (newcomer Zaris-Angel Hator), stows away on his ship.
Charming, action-packed, and beautifully-rendered, The Sea Beast was praised by audiences and critics alike upon release, and serves as further proof that Netflix should think twice about scaling back its animation department. If it still is, that is.
Spirited Away
Studio Ghibli has an unbeatable selection of kid-friendly movies, and almost the entire archive is now on Netflix. Of the bunch, though, Spirited Away is arguably the most well-known (sorry, My Neighbor Totoro fans). It's about a girl whose parents are turned into pigs who then goes to work in a mystical bathhouse, is one highlight, but you could pick any of these and have a great viewing experience.
If you're looking for more Ghibli films to stream, Netflix has a bunch of other flicks for you to peruse. Here's the complete list: Howl's Moving Castle, My Neighbor Totoro, Princess Mononoke, Ponyo, Pom Poko, The Wind Rises, When Marnie Was There, From Up on Poppy Hill, Whisper of the Heart, Arriety, Spirited Away, Kiki's Delivery Service, Porco Rosso, Only Yesterday, The Cat Returns, Castle in the Sky, Nausicaä, My Neighbors the Yamadas.
They're all beautifully animated and most of them are deeply moving, with more thematic texture than you'd typically get from a movie targeted at kids.
Best children's movies on Netflix
Matilda: The Musical
Based on the hugely popular stage musical of the same name – which itself is based on Roald Dahl's beloved book – Matilda the Musical is a delightful sing-a-long comedy-drama that families will enjoy from start to finish.
Alisha Weir stars as the titular character who, after being neglected and mistreated by her parents, develops telekinetic abilities. With her newfound powers at hand, Matilda puts her abilities to good and humorous use, such as taking on the wicked Crunchem Hall School headmaster Miss Trunchbull.
Matilda the Musical is a wonderful adaptation of Dahl's iconic works. With standout performances from Weir and Thompson – the latter almost unrecognizable as Miss Trunchbull – too, it's one not to be missed.
Paddington 1 and 2
We're just going to come out and say it: Paddington and its sequel – Paddington 2 – are some of the best family movies of all-time.
Don't argue with us. At first glance, everyone's favorite, marmalade sandwich-eating Peruvian bear didn't seem like he'd be the star of a truly terrific family-friendly film. As it turns out, though, Paddington (voiced with a deftness, warmth, and stacks of humor by Ben Whishaw) is a bonafide movie star – and his two CGI-cum-live-action movies prove it.
You'll laugh at both films' slapstick moments, you'll cry at its heart-wrenching (and heart-warming!) scenes, and shout "I didn't know they were in it!" at every big-name actor who turns up in the two Paddington movies. In short: go and watch these immediately.
Best comedy movies on Netflix
The Gentlemen
Guy Ritchie's The Gentlemen is, well, quintessentially Guy Ritchie – and that's a great thing. The British director's latest foul-mouthed crime caper follows an American marijuana kingpin's (Matthew McConaughey) efforts to sell off his narcotics empire. Charlie Hunnam, Henry Golding, Michelle Dockery, Jeremy Strong, Eddie Marsan, Colin Farrell, and Hugh Grant make up the movie's stellar supporting cast, with every character boasting their own brand of humor (and unique style of violence).
We previously reported on Netflix's ongoing negotiations to green-light a Gentlemen TV show, so there's never been a better time to get yourself acquainted with Mickey, Raymond, and the rest of this motley (though admittedly dysfunctional) crew.
Hustle
If you were a fan of 2019's Uncut Gems (also on this list), then listen up: Hustle, a surprisingly entertaining basketball drama, aims to deliver more Adam Sandler-sized surprises.
After discovering a once-in-a-lifetime player with a rocky past abroad, Stanley Sugerman (Sandler), a down-on-his-luck Philadelphia 76ers scout, takes it upon himself to bring the young phenom to the States without his team's approval. Against the odds, the pair must work to prove that they both deserve to make it big in the NBA.
That synopsis might sound like standard sports drama fare, but Hustle earned unexpectedly glowing reviews ahead of its muted release. Trust us: this is no Jack and Jill.
The Unbearable Weight of Massive Talent
As meta comedies go, The Unbearable Weight of Massive Talent is up there with the best.
Beloved and eccentric actor Nic Cage stars as, well, Nic Cage, a fictionalized version of himself and a struggling actor who has been passed over for numerous movies. When Cage is offered $1 million to appear to be the guest of honor at a mysterious billionaire playboy's (The Last of Us' Pedro Pascal) birthday party, he reluctantly accepts. Little does Cage know, though, he's about to embark on a dangerous adventure that wouldn't look out of place in one of his own action movies.
With fantastic performances from Pascal and Cage – we never knew we wanted a buddy cop film starring the pair until now – as well as a barnstorming plot that makes other action genre flicks look weak in comparison and dollops of humor, The Unbearable Weight of Massive Talent is not to be missed. If nothing else, it'll turn you into a Cage super fan and make you want to watch all his other movies.
Best crime movies on Netflix
The Irishman
This threateningly long Scorsese pic attracted attention for the extensive effects work used to de-age its old stars, and it's a creative decision that's sometimes distracting. But there's no denying the appeal of seeing Robert De Niro, Joe Pesci, and Al Pacino in the same movie together for likely the last time, and this life-spanning, mostly rewarding crime epic is a suitable tribute to their collective talents.
The Irishman follows Frank Sheeran (De Niro) as he recounts his long association with the Bufalino crime family and infamous union leader Jimmy Hoffa (Pacino). It's a languid film – and not a patch on Goodfellas – but absolutely among the best Netflix movies the streaming service has financed to date.
Uncut Gems
This sweaty-palmed thriller tells the frenetic tale of Howard Ratner (Adam Sandler), a jeweller and gambler who plans a gem sale that'll solve all his problems. Instead, Howard makes more and more ill-advised bets, and the walls begin to close in.
Uncut Gems is a stressful but enthralling film with a really impressive performance from Sandler, not to mention a fantastic ensemble cast. It's a fascinating character study, as you watch Ratner begin to suffocate under the weight of his terrible decisions and inability to put anyone but himself first. A seriously underrated film.
Best drama movies on Netflix
Blonde
The first thing to say about Blonde is that it isn't a Marilyn Monroe biopic – not in the traditional sense of the genre, anyway. Instead, Andrew Dominik's controversial Netflix production plays more like a psychological horror movie in which Monroe (an exceptional Ana de Armas) is the troubled protagonist.
Blonde loosely chronicles the rapid rise to fame (and equally uncompromising demise) of the 1950s icon, but the film is also a hallucinatory thriller – shot mostly in black and white – about a young star haunted by her troubled past and swallowed up by the industry around her. Adrien Brody, Bobby Cannavale, Xavier Samuel, and Julianne Nicholson star alongside Armas in this divisive conversation-starter.
Drive
Before he wowed us all with his unique take on Ken-ergy in 2023 megahit Barbie, Ryan Gosling made his name in numerous but no less terrific indie films, including this 2011 action drama.
Drive stars Gosling as, well 'The Driver', who moonlights as a getaway driver when he's not being a stunt performer during the day. One such well-paying job sees the unnamed protagonist hired by a debt-ridden gangster named Standard (Oscar Isaac). However, when the million-dollar heist goes awry, Gosling's character gets way in over his head as he tries to evade the authorities.
A hyper-stylized and gratuitously violent (but equally heartfelt) movie, Drive is peak arthouse action. Gosling regularly mesmerizes audiences in his films, but this may be one of his most stand-out performances ever.
The Hand of God
The Hand of God marks the movie-making return of beloved Italian director Paolo Sorrentino, and tells the semi-autobiographical tale of a young man (Filippo Scotti, standing in for a teenage Sorrentino) grappling with the pressures of growing up in 1980s Naples.
As well as referring to the infamous goal scored by Argentine footballer (and Napoli legend) Diego Maradona at the 1986 World Cup, the film's title alludes to a tragic and life-affirming event that forces its protagonist to grow up quicker than he'd otherwise like. To say more risks spoiling The Hand of God's most tender moments, though the movie's beautiful locations, hypnotic camerawork, and larger-than-life characters ensure it ranks among Sorrentino's best work. If you're a fan of Luca Guadagnino's Call Me by Your Name, add this one to your watchlist.
Little Women
Little Women chronicles the domestic lives of the March sisters – Jo (Saoirse Ronan), Meg (Emma Watson), Amy (Pugh), and Beth (Eliza Scanlan) – as they navigate romance, family tragedy, and the pressures of adulthood in 19th century Massachusetts.
Greta Gerwig directs this (seventh) film adaptation of Louisa May Alcott's revered coming-of-age novel, which manages to stand out from its lesser-celebrated siblings thanks to a star-studded cast (Laura Dern, Timothée Chalamet, and Meryl Streep all feature), some poignant storytelling, and an exceptional score from Alexandre Desplat. You'll laugh, cry, and maybe even pick up reading again.
Roma
An astonishing ode to motherhood in all forms, Roma is the most personal film to date from visionary director Alfonso Cuarón (Children of Men, Gravity).
On paper, it's is not the easiest sell – a subtitled black and white film about a live-in housekeeper spoken almost entirely in Spanish and the indigenous Mixtec language. But Cuarón's 2018 critical hit is nonetheless riveting from a cinematic standpoint. More a series of vignettes than a traditional three-act story, it examines the life of a Mexico City family in the early 1970s during a time of great social upheaval.
The Two Popes
As soon as Pope Francis was elected head of the Catholic Church in 2013, people started asking when Jonathan Pryce – who shares a remarkable likeness with the Pontiff – might play him on screen. Netflix eventually made it come to pass, as City of God and The Constant Gardener director Fernando Meirelles took a peek through the keyholes of the Vatican.
We'll never know how accurate the portrayal of Francis's meetings with Benedict XVI – his more conservative predecessor (played by Anthony Hopkins) – really are, but The Two Popes is a brilliant odd couple drama, especially when the duo let their hair down to watch their teams face off in the 2014 World Cup final.
The Wonder
Florence Pugh (Black Widow, A Good Person) proved her generational talent yet again in Netflix's unsettling drama-cum-horror The Wonder.
Set in the Irish Midlands in 1862, the movie stars Pugh as an English nurse called to observe a young girl (Kíla Lord Cassidy) who remains miraculously alive and well despite not having eaten for four months. Ciarán Hinds, Niamh Algar, and Toby Jones also star in Sebastián Lelio's period mystery.
As period dramas go, The Wonder is an absorbing and fantastic flick that confirms Pugh's ability to embody every role she plays.
Best fantasy movies on Netflix
The Harry Potter collection
The incredibly popular Harry Potter films don't really need a formal introduction. For anyone who's been living in a cave for the last 15 years, though: they're based on J.K. Rowling's hugely successful fantasy book series, and tell the magical story of Harry Potter, a young wizard who attends Hogwarts School of Witchcraft and Wizardry. Oh, and his increasingly dramatic and perilous conflict with Lord Voldemort, a dark wizard who wants to subjugate wizards and muggles (that's non-magic wielders) alike.
Given the franchise's worldwide fanbase, the Harry Potter films were extraordinarily successful during their theatrical run between 2001 and 2011. Cumulatively, the octet raked in $7.7 billion globally, made overnight stars of its young cast, and cemented Harry Potter as the cultural phenomenon of our times.
A TV series remake is currently in the works for Max, but we're unconvinced it'll capture the imagination, allure, and majesty of the films. Find out how to watch the Harry Potter movies in order, or read our Harry Potter movies ranked piece while you're here.
Okja
If you've enjoyed Bong Joon Ho's Oscar Best Picture winner Parasite, you might want to check out his previous movie, Okja, which is still one of the best Netflix movies on the platform.
It tells the bizarre tale of a young girl Mija and her best pal, an enormous creature called Okja, whose friendship comes under threat when a nasty CEO (Tilda Swinton) has evil plans for the titular animal. It's a refreshing movie with a nice angle of animal activism – a very different proposition to Parasite, for sure, but one that also demonstrates the director's ability to blend genres.
Best history movies on Netflix
Gladiator