5 unmissable crime movies on Netflix with over 90% on Rotten Tomatoes
They say crime doesn't pay – but these films sure did deliver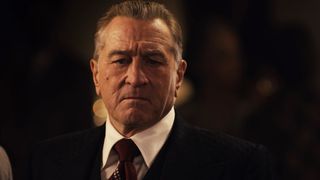 (Image credit: Netflix)
Netflix is once again expanding its library in time for the holiday season. And, while it's always nice to sit back, relax, and enjoy something wholesome at this time of year, it's equally as satisfying to dive into something a little more wild.
Enter the crime movie genre. While the earliest crime movies go as far back as the early 1900s, their popularity has continued to skyrocket with each passing decade. Of course, Martin Scorsese's gangster movies have played a major role in this – most recently via Killers of the Flower Moon, aka one of 2023's best new movies – but more and more we've seen experimental twists on what it means to be a crime-centric flick. Best of all, lots of brilliant crime movies have now found a home on Netflix, arguably the world's best streaming service, ready for your viewing pleasure.
So, where should you begin? We've put in the hard work and scoured Netflix's current offerings to bring you five unmissable crime movies that are worth streaming now. Each one currently hold a rare 90% or higher critic rating from Rotten Tomatoes, too, giving you some comfort that there is an air of quality about them.
Catch Me If You Can
Rotten Tomatoes score: 96%
Director: Steven Spielberg
Age rating: PG-13
Steven Spielberg's biographical crime comedy-drama is a gripping two-hour plus chase, as FBI agent Carl Hanratty (Tom Hanks) hunts down conman Frank Abagnale Jr. (Leonardo DiCaprio), who supposedly swindled millions by writing bogus cheques.
Well, we say supposedly. Although it's based on a semi-autobiographical book by the man on the run himself, a recent New York Post article suggests he made the whole thing up. Whether that makes Catch Me If You Can better or worse is up to you, but it certainly doesn't take away from the film's quality, humor-laced chase sequences, and dramatic depth.
BlacKkKlansman
Rotten Tomatoes score: 96%
Director: Spike Lee
Age rating: R (18-plus)
Before finding international stardom in Tenet and The Creator, John David Washington headlined biographical black comedy drama BlackKkKlansman. Set in the 1970s, It tells the first-hand experience of Ron Stallworth, the first African-American detective to join the Colorado Springs Police Department, and who infiltrated and exposed a local Ku Klux Klan group.
This is a smart satire and an incredible true story that resonates long after the credits roll. Spike Lee has his ups and downs but when he hits, he hits big. After all, it won Best Adapted Screenplay at the Oscars for a reason.
The Irishman
Rotten Tomatoes score: 95%
Director: Martin Scorsese
Age rating: R (18-plus)
In the mood for some Scorsese? While it's not on the same level as Goodfellas or Casino, The Irishman is a stunningly well-made movie with some of the best actors in the business: Robert De Niro. Al Pacino, Harvey Keitel... Joe Pesci even came out of retirement for one last role.
The three-hour-plus epic gangster drama, which was one of 2019's new Netflix movies, follows Frank Sheeran (De Niro), who looks back at his time as a hitman for the Bufalino crime family, and it's arguably one of best original movies Netflix has made (not to mention being one of the best Netflix movies on the service overall).
Dealing with themes of loss, betrayal, and the morality of those who commit some of the worst crimes known to mankind, The Irishman is a rich examination that any cinephile will get something out of. Sure, it's maybe a bit too long, but it still shows why no one makes them like Scorsese. Find out where it placed on our best Martin Scorcese movies ranked list.
Emily the Criminal
Rotten Tomatoes score: 94%
Director: John Patton Ford
Age rating: R (18-plus)
Parks and Recreation star Aubrey Plaza switches comedy for crime in Emily the Criminal. Unable to get a job due to past offences and stuck with a mounting student debt, Emily Benetto enters the LA underworld after getting involved with a credit card scam. Winning Best First Screenplay at the Independent Spirit Awards for director John Patton Ford, it's Plaza's performance that really escalates this from good to great.
The Stranger
Rotten Tomatoes: 92%
Director: Thomas M. Wright
Age rating: TV-MA (US)
The Stranger is based on the true crime case surrounding the murder investigation of 13-year-old Daniel Morcombe in Sunshine Coast, Queensland. It stars Joel Edgerton as an undercover police officer who is tasked with leading a sting operation by getting close to the prime suspect, who is played by Sean Harris. Filled with tension, superb acting from its leads, and a slow satisfying burn, Australian director Thomas M. Wright is surely one to watch going forward.
---
For more Netflix-based recommendations, read our guides on the best Netflix shows and best Netflix documentaries. Alternatively, find out how to sign up to Netflix.
Sign up for Black Friday email alerts!
Get the hottest deals available in your inbox plus news, reviews, opinion, analysis and more from the TechRadar team.
Matt is a full-time freelance journalist who specializes in arts, culture and tech – be that movies, TV, video games, or otherwise. He's also turned his hand to everything from mattresses to motorbikes as a journalist. Prior to this, Matt headed up the games and entertainment section at T3.com, alongside being published across TechRadar, IGN, Tom's Guide, Fandom, NME, and more. In his spare time, Matt is an avid cinema-goer, keen runner and average golfer (at best). You can follow him @MattPoskitt64.