Looking for the best Netflix movies to watch right now? Allow us to assist you.
Our pick of the 30 best Netflix movies is regularly updated with the latest original titles and returning classics alike, so there's plenty of choice for whatever genre you find yourself pining after on a cosy night in. We frequently keep an eye on, and replace, the movies taken off Netflix, too (RIP, Scott Pilgrim), so this list is as up-to-date as possible.
We've just added a handful of new Netflix original movies to our top 30 – including The Power of the Dog, Passing and tick, tick...BOOM! – which are all worth watching if you're after a gripping, character-driven adventure with a unique story.
That is, after all, what Netflix does best, which is why, for our money, it's still the best streaming service for original content – despite increased competition from the likes of Disney Plus and HBO Max in 2021.
Below, then, you'll find our pick of the best Netflix movies in the US right now.
The Power of the Dog
It's safe to say that Jane Campion's The Power of the Dog has been the critical hit of the year so far – and with just a few weeks to go until 2022, it wouldn't be premature to describe this one as the best movie of 2021.
Widely praised for its slow-burning psychological drama, it follows the story of a menacing rancher (Benedict Cumberbatch) who doesn't take kindly to the arrival of his brother's new wife (Kirsten Dunst) and her son (Kodi Smit-McPhee).
Cumberbatch arguably gives a career-best performance as the volatile Phil Burbank here – which undoubtedly made interesting prep for next year's Doctor Strange 2.
tick, tick...BOOM!
Well, it turns out that Spider-Man (okay, Andrew Garfield) can sing.
In Lin-Manuel Miranda's feature directorial debut, promising young theater composer Jonathan Larson (Garfield) navigates love, friendship and the pressures of life as an artist in New York City on the cusp of his 30th birthday.
Incidentally, tick, tick...BOOM! is actually based on the semi-autobiographical musical of the same name by Larson himself, whom Garfield plays in this one, so fans of the playwright (and musicals in general) should find lots to love here.
A Boy Called Christmas
Now, we're not suggesting Gil Kenan's A Boy Called Christmas is Godfather-level filmmaking, but it's still a heartwarming watch for the festive season, and absolutely worth a look if you're after a break from all the doom, gloom, blood and gore of other movies on this list (looking at you, Scarface).
A collaboration with UK broadcaster Sky, A Boy Called Christmas follows the journey of Nikolas, a seemingly ordinary boy who sets out on an adventure in search of his father and the fabled village of the elves. Standard Christmas fare, then, but this one also boasts a stacked cast which includes Maggie Smith, Kristen Wiig, Jim Broadbent and Sally Hawkings – so expect fuzzy, festive feels for all the family.

Passing
Based on the novel by Nella Larsen, Passing follows two black women (Tessa Thompson and Ruth Negga) who can 'pass' as white, but choose to live on opposite sides of the color line in 1929 New York.
This one marks actress Rebecca Hall's directorial debut, and has been near-universally praised for the sensitive handling of its complex subject matter and important examination of racial identity in the early 20th century.
Expect Passing to prove the subject of much Oscar buzz in the coming months, particularly for its lead actors.
The Harder They Fall
Arriving nine days before the most expensive film that Netflix has ever made – the Dwayne Johnson-starring Red Notice – The Harder They Fall marks the feature film directorial debut from Jeymes Samuel. Don't let that fact put you off, though. The Harder They Fall is one of the best films that the streaming giant has produced in 2021, which says a lot about Samuel's eye for detail, the movie's all-star cast and its pulsating plot.
After Rufus Buck (Idris Elba) is sprung from prison by his former gang, including Trudy Smith (Regina King), Nat Love (Jonathan Majors) rounds up his own posse of lawmakers to exact revenge on the man who murdered his parents.
The Harder They Fall also stars the likes of Delroy Lindo (Da 5 Bloods), Zazie Beetz (Deadpool 2) and Lakeith Stanfield (Knives Out) in this Western flick that pays tribute to the Black cowboys who are often overlooked in similar productions. A film that shouldn't be missed.
Layer Cake
If you still haven't got your Daniel Craig fix from No Time To Die, consider a rewatch of this excellent British crime film, where the actor plays a nameless drug distributor who tries to avoid conflict while he plots his escape – until he's roped in to a nightmarish drug war. This film is less stereotypical than you might think from the daft name and the fact it's a film from the UK with gangsters in it. It's less about cockney accents and more about dense plotting and big twists. Director Matthew Vaughn arrived with a real bang.
Scarface
Let's stick with the gangster theme, shall we?
A remake of the 1932 film of the same name – and one of the best crime flicks of the 20th century – Scarface tells the story of Cuban refugee Tony Montana (Al Pacino), who arrives penniless in 1980s Miami but rises the ranks to become a powerful drug lord.
Perhaps best known for its iconic dialogue lines ("the eyes, Chico, they never lie" and "say hello to my little friend," in particular), Brian De Palma's Scarface is in fact a sweeping, emotional tale of a human being corrupted by greed and confused by a misplaced sense of family duty.
Zodiac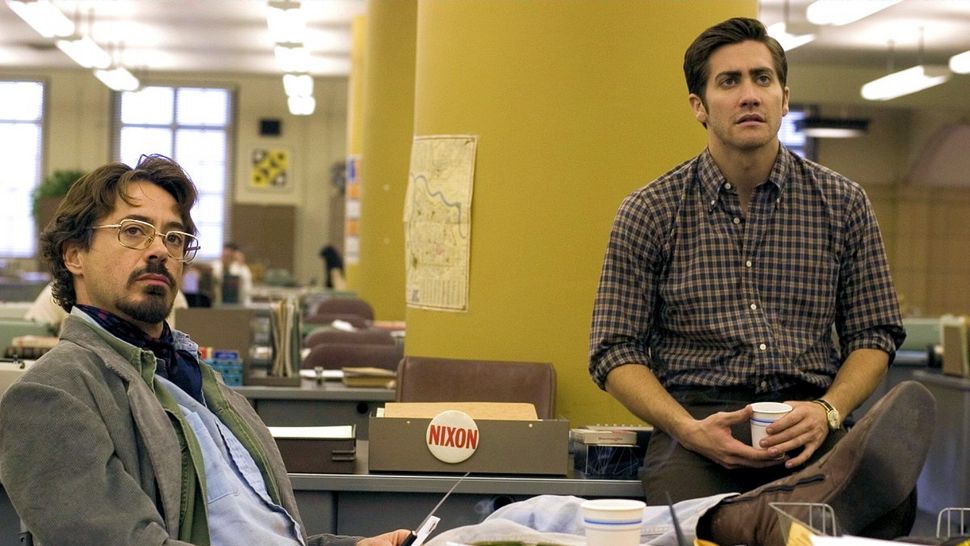 David Fincher's crime thriller Zodiac has returned to Netflix. This movie is a precursor to his series Mindhunter, and deals with the real-life mystery behind the identity of the Zodiac serial killer haunting San Francisco in the late 1960s. Jake Gyllenhaal plays obsessed journalist Robert Graysmith. It portrays the killings themselves in harrowing fashion, and details the fruitless attempts to learn the killer's identity.
In general, the movie does a great job of exploring how the case was so all-consuming that it managed to damage the lives of those covering it in the media. A pre-MCU Robert Downey Jr and Mark Ruffalo co-star in this unmissable addition to the Netflix movie library, which is quietly one of Fincher's best movies.
The Guilty
A same-name adaptation of the award-winning Danish drama, The Guilty stars Jake Gyllenhaal as a 911 call center operator who faces a race against time to save a kidnapped woman on the other side of the line.
Netflix reportedly paid $30 million to acquire this one, which comes from director Antoine Fuqua (Training Day) and screenwriter Nic Pizzolatto (True Detective). The Danish original is already a great thriller, combining taut dialogue sequences with unexpected twists, so throwing a talent like Gyllenhaal into the mix makes this version of The Guilty an easy recommendation.
Blade Runner: The Final Cut
Now available again on Netflix as of September 2021, the ultimate sci-fi movie is always worth a rewatch – especially in the form of Ridley Scott's 2007 Final Cut. Deckard is what's known as a blade runner, essentially a cop paid to track down rogue replicants, a type of android. But when he confronts the dangerous killer known as Roy Batty, how will Deckard deal with his own role as a human being? This rainy movie is as much a noir film as it is an '80s vision of the future, and it's a stunning work of world building decades later.
Croupier
One of the best Netflix movies is a Clive Owen flick you've probably missed, living in the US – Croupier is his breakout film, a moody 1998 crime thriller about a failing writer who takes on a job in a casino. Soon, though, he makes a series of poor decisions and gets dragged into a heist he should probably have left alone. You won't regret watching it, and it might be a nice break from noisier blockbuster fare on the big streaming services.
Django Unchained
Probably the most blockbuster action movie-style film that Quentin Tarantino has made, Django Unchained is a high-energy modern western. Django (Jamie Foxx) is a former slave who works with Dr King Schultz (Christoph Waltz) to hunt scoundrels across the American South – eventually teaming up to try and free Django's wife from the appalling Calvin Candie (meme king Leonardo DiCaprio). It's very much a rewrite of history in the vein of Inglourious Basterds – violent, entertaining and ambitiously realized.
Fear Street Trilogy
Netflix's trilogy of Fear Street movies are best described as throwback slasher films. They're based on the R.L. Stine books of the same name, and while they don't necessarily hit the same heights as the Screams of this world, they're absolutely worth a watch, even if they're a little cheesy. All three movies, Fear Street: 1994, Fear Street: 1978 and Fear Street: 1666 are now streaming on the service.
The Game
David Fincher's The Game is a fascinating '90s mystery movie. On his 48th birthday, wealthy banker Nicholas Van Orton (Michael Douglas) is gifted a voucher to participate in a game, hosted by a mysterious company. It's basically like a fancy version of an escape room – except it starts to warp Nick's whole reality, to the point where he can figure out what's fake and what's real. Do not miss this less-discussed classic from Fincher's filmography.
Army of the Dead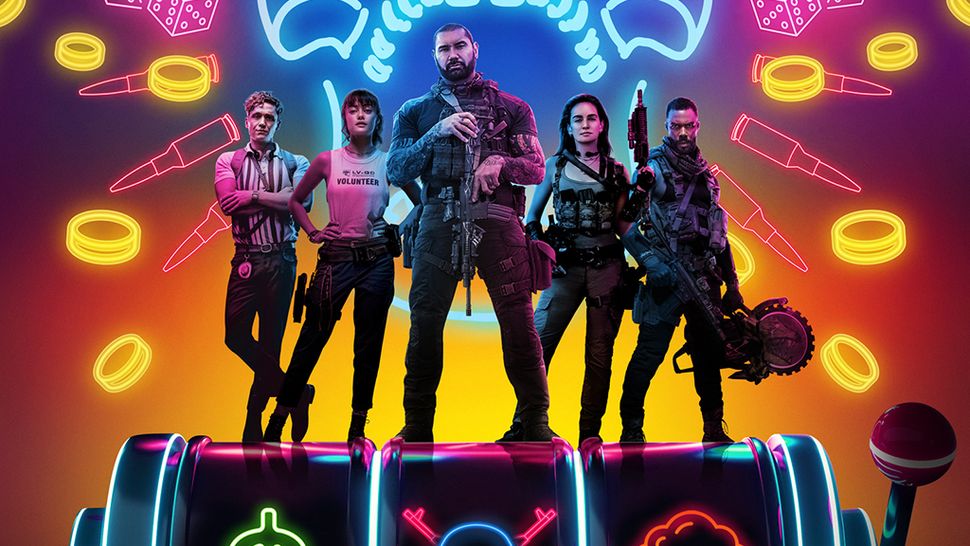 Army of the Dead is Zack Snyder's first feature film since his increasingly acrimonious split with Warner Bros, and it's everything that his DC superhero movies weren't. It's bright, colorful, action-packed, funny and topical, even if its 45-minute introduction is a little self-indulgent.
Dave Bautista leads a strong cast as Scott Ward, a former zombie-stomping war hero who's approached with an intriguing proposal by casino owner Bly Tanaka (Hiroyuki Sanada). The assignment? Enter a zombie infested Las Vegas, break into Tanaka's casino vault, escape with his $200 million assets and Ward and his group will receive $50 million to split between them as a reward.
Of course, things don't go to plan and Ward's group soon find themselves pursued by the undead hordes led by an alpha zombie known as Zeus (Richard Cetrone). With a US government approved nuclear strike set to wipe Las Vegas off the map in less than 32 hours, too, survival, not money, becomes the gang's main aim.
The Mitchells vs the Machines
Originally intended for a theatrical release, Netflix bought this new animated movie from Sony and producers Phil Lord and Chris Miller – best known as the minds behind The Lego Movie and 21 Jump Street, and also part of the team behind Spider-Man: Into the Spider-Verse. It's exactly as charming and funny as those movies, too.
Katie Mitchell (Abbi Jacobson) is an aspiring filmmaker who's about to head to college – until her dad, conscious that they've been drifting apart, cancels her plane ticket and insists on a family roadtrip. Halfway through this fraught journey, an AI takes revenge on its billionaire creator, and the world is suddenly under duress from smart robots.
A lot of Spider-Verse's visual touches cross over into this film, too, with 2D annotations and drawings on the already-pretty 3D visuals. Most of all, it's nice to see Netflix backing a family movie that's not just full of talking dogs and other hackneyed nonsense so often seen in CG kids' fare.
Rush
Rush is a biographical sports movie about the heated rivalry between Formula 1 drivers James Hunt and Niki Lauda – played here brilliantly by Chris Hemsworth and Daniel Brühl respectively, in one of Ron Howard's best movies in recent memory. The film portrays their rivalry as lucky playboy vs hotheaded strategist, and while it might exaggerate real-life events somewhat, it's a riveting movie. Along with documentary Senna and dad-friendly flick Ford Vs Ferrari, Rush is one of the best movies about racing around – don't miss it on Netflix.
I Care A Lot
One of Netflix's big 2021 movies is this thriller starring Gone Girl's Rosamund Pike as Marla Grayson, a con artist who uses an elaborate hospital setup to scam elderly patients out of their homes and possessions. It's a nasty film in a lot of ways, as you might expect from a premise like that, but this movie takes a left turn into being something totally different when it transpires that Marla's latest victim is related to a dangerous gangster (played by Peter Dinklage). It's well worth a watch, even if it could benefit from being around 30 minutes shorter than it is, and the overall plot is never less than implausible.
Pan's Labyrinth
Still Guillermo del Toro's best movie by some distance, Pan's Labyrinth is set against the backdrop of post-Civil War fascist Spain. It's about a young girl who starts to believe she is Princess Moana, a fairytale figure who's princess of the underworld. The film then expertly balances the danger Ofelia and her family face in the real world with this more out-there fantastical imagery – the result is breathtaking, but extremely sad. An unmissable movie.
Uncut Gems
This sweaty-palmed thriller is about Howard Ratner (Adam Sandler), a jeweller and gambler who plans a gem sale that'll solve all his problems. Instead, Howard makes more and more ill-advised bets, and the walls begin to close in. Uncut Gems is a stressful but enthralling film with a really impressive performance from Sandler, not to mention a fantastic ensemble cast. It's a fascinating character study, as you watch Ratner begin to suffocate under the weight of his terrible decisions and inability to put anyone but himself first.
His House
The true horror of His House lies in the real world. This British horror movie tells the story of a Sudanese couple that endure the consequences of a tragic crossing to England, only to be rehomed in a nondescript estate surrounded by racism, and with something else lurking in the house. It's a supremely confident debut from writer-director Remi Weekes, and Wunmi Mosaku and Sope Dirisu both standout as the two leads in emotionally-challenging roles.
Ma Rainey's Black Bottom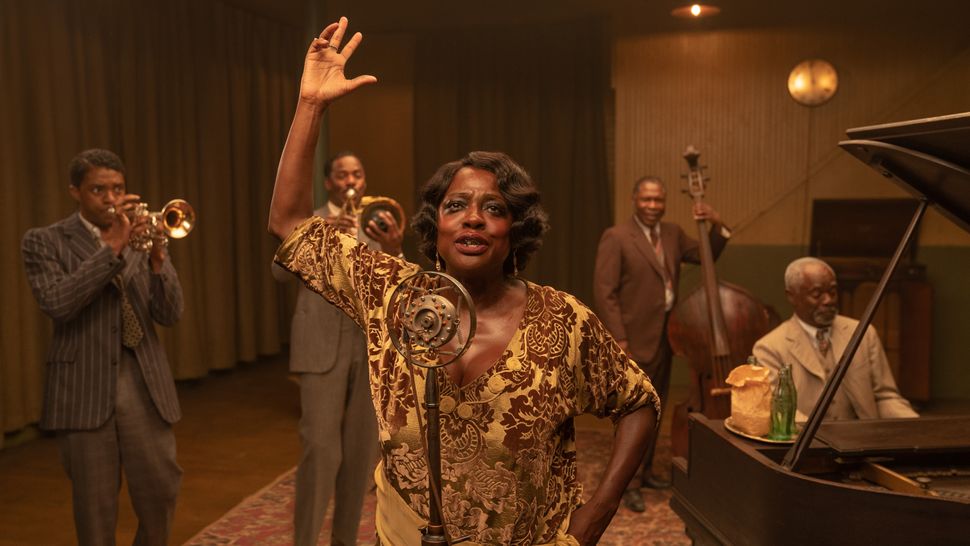 Based on the play by August Wilson – and despite the gorgeous period set dressing and costume design, it definitely feels very stage-y – Ma Rainey's Black Bottom is one of the best Netflix original movies of the past year. Viola Davis stars as legendary 'Mother of Blues' Ma Rainey, and the film focuses on one fraught recording session with Ma and her band, and the tension between the musician and her white producers and management.
Meanwhile, the late Chadwick Boseman stars as Levee, an innovative trumpet player who struggles to find his place in the music scene, amid bandmates who don't always take him seriously. It's a sad but insightful movie that explores how culture is worth protecting and valuing, in a world where it's easily taken and monetized, and the film truly comes to life in its amazing musical sequences. Don't miss it.
Always Be My Maybe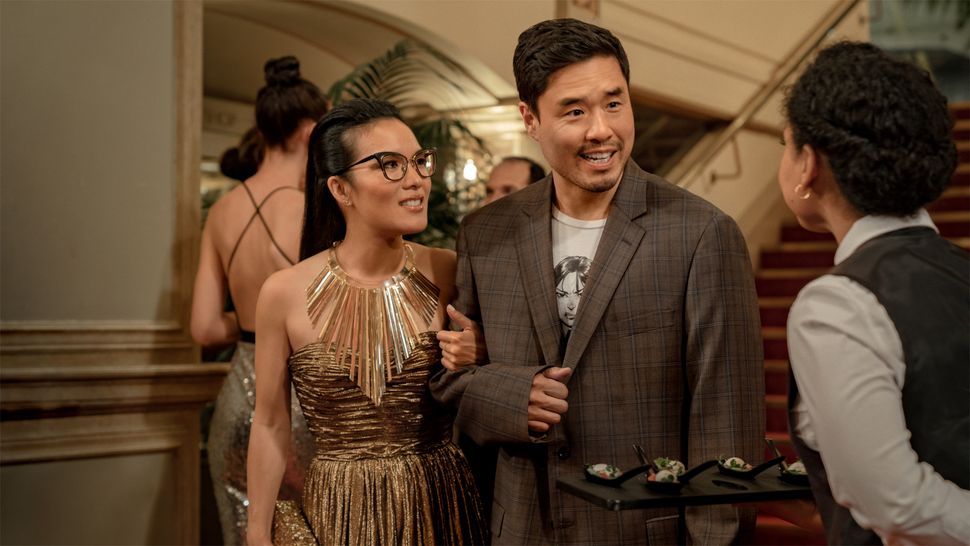 You may know Always Be My Maybe's leading lady Ali Wong from her raucous Netflix stand-up specials, but it's as a successful celebrity chef that she really hits her stride. After a failed engagement, Wong's character Sasha Tran heads to her hometown of San Francisco to setup a new restaurant, only to run into her old bff played by Randall Park. Through the turbulence of the relationship, a sudden fling with actor Keanu Reeves and despite the differences in careers, the two try to make it work, and the journey from old friends to lovers is a joy to watch.
The Irishman
This threateningly long Scorsese pic attracted attention for the extensive effects work used to de-age its old stars, and it's a creative decision that's sometimes distracting. But there's no denying the appeal of seeing De Niro, Pesci and Pacino in the same movie together for likely the last time, and this life-spanning, mostly rewarding crime epic is a suitable tribute to their collective talents. It's a languid film – and not a patch on Goodfellas – but absolutely among the best Netflix movies the streaming service has financed to date. The Irishman is about the life of Frank Sheeran (De Niro), as he recounts his long association with the Bufalino crime family, and infamous union leader Jimmy Hoffa (Pacino).
Good Time
If you've already seen the Safdie Brothers' Uncut Gems – further down on this list of the best Netflix movies – then don't miss this similarly stressful but thrilling debut about a couple of siblings who botch a robbery. When his mentally challenged brother gets caught, a man (Robert Pattinson) goes to desperate measures to break him out. A vivid, memorable and unusual film – you get these sense that the Safdies really know what they like.
Hunt for the Wilderpeople
Forget Thor Ragnarok: Taika Waititi's best film is still Hunt for the Wilderpeople, a quirky (and genuinely hilarious) comedy-drama starring Sam Neill and newcomer Julian Dennison. Set in New Zealand, it's about a misbehaving teenaged orphan who goes to live with foster parents out in the countryside. When his foster mother passes, though, it's just the boy and his grumpy foster father left – and they soon get caught up in a headline-making manhunt. If all of that sounds heavy, it really isn't – Hunt for the Wilderpeople is touching, but it also features the funniest performance from Neill that you'll ever see.
Da 5 Bloods
Spike Lee's entry in the Vietnam War canon is unlike anything else before it. Focusing on the black American experience of the war, it's about a group of soldiers who return to the country decades later in their old age to retrieve the remains of their squad captain (played in flashback by Chadwick Boseman). At the same time, they seek out buried gold they left behind years before – though they're not alone in this pursuit. The movie flips from being a mournful movie about trauma to a bonkers action film with almost no notice, too, but the mix here works.
This is the one of the best new Netflix movies of 2020. Make sure you check it out.
Okja
If you've enjoyed Bong Joon Ho's Best Picture winner Parasite (and you've watched Snowpiercer, discussed above), you might want to check out his last movie, Okja, which is one of the best Netflix originals so far. It's the bizarre tale of a young girl and her best pal, an enormous creature called Okja. Their friendship is under threat when a nasty CEO (Tilda Swinton) has evil plans for Okja. It's a refreshing movie with a nice angle of animal activism – a very different proposition to Parasite, for sure, but one that also demonstrates the director's ability to blend genres.
Marriage Story
Ensure you're in the right mindset to watch Marriage Story – i.e. skip this if you're in the middle of a break-up – because this sympathetic movie about a failing marriage and the resulting fallout can be tough viewing. It's the latest picture from director Noah Baumbach (Frances Ha), and features actors Adam Driver and Scarlett Johansson at the top of their game in what are surely emotionally draining roles. Watch it before it gets memed and gif-ed to death on social media, and you only see Marriage Story as that movie where Kylo Ren cries a lot.
Roma
An astonishing ode to motherhood in all forms, Roma is the most personal film to date from visionary director Alfonso Cuarón (Children of Men, Gravity). On paper, Roma is not the easiest sell – a subtitled black and white film about a live-in housekeeper spoken almost entirely in Spanish and the indigenous Mixtec language, Cuarón's latest is nonetheless riveting from a cinematic standpoint. More a series of vignettes than a traditional three-act story, Roma examines the life of a Mexico City family in the early 1970s during a time of great social upheaval.
Described by Cuarón as 90% autobiographical, the film provides some insight into the famous director's early life, although the story is witnessed primarily through the eyes of his caretaker, Cleo (Yalitza Aparicio), who would become a loved member of the family. One of the most gorgeously photographed films in years, Roma deserves to be seen on the largest screen possible. Shot entirely in 65mm, Roma would make for an ideal theatrical experience. However, if that isn't an option, you won't be disappointed by the Roma's breathtaking 4K Ultra HD presentation on Netflix – just make sure you keep tissues on hand, because it's very likely you'll shed a few tears during the film.
We loved Roma so much, in fact, that we published a whole op-ed about it.