Here to invest in Huawei P30 Pro deals? We wouldn't blame you. As the best camera phone on the market and a device that topped all of our expectations, this handset seems like an ideal flagship to go for right now.
The Huawei P30 Pro is here to leave a mark on the phone scene, offering a camera to match Google, a screen to compete with Samsung and a processor pushing for Apple's crown.
If you've been eagerly awaiting your chance to grab a Huawei P30 Pro deal, they have now been out for a month or so and some excellent offers are forming. Our editors are doing detailed sweeps of what is available to bring you the best offers in the price comparison down below.
But before that, let us lavish you with details about the new P30 Pro from Huawei. We're talking about a new 40MP SuperSpectrum camera, the capability for 50x digital zoom, ridiculously big battery capacity, 6.47-inch OLED display, and wireless charging. Want to know even more? Head to the bottom of this page or simply straight to our Huawei P30 Pro review.
If you've already been convinced that this is the phone for you and know that you'd prefer this more powerful, bigger brother to a Huawei P30 deal then get stuck straight into our comparison and get your Huawei P30 Pro deal sorted.
Compare Huawei P30 Pro deals
The top five P30 Pro deals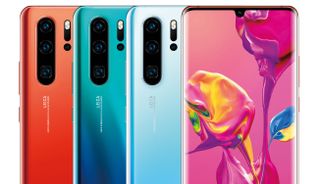 The Huawei P20 Pro was such a hit last year, that expectation around the P30 Pro's launch has been massive. And from the evidence we've seen so far, Huawei hasn't disappointed.
All the focus (if you'll forgive the pun) has understandably been on the incredible camera arrangement on the P30 Pro. The so-called SuperSpectrum main sensor boasts 40MP and an f/1.6 lens. Combined with some clever sounding software smarts, this phone will inevitably be vying for a spot on our best camera phone list.
But concentrating on the snappers alone would be a disservice to the increased battery capacity, minimum 128GB storage, powerful Kirin 980 chipset and 6.47-inch OLED Full HD display. This is another serious smartphone from Huawei.
Read TechRadar's Huawei P30 Pro review
Huawei P30 Pro deals by network
EE, O2, Vodafone or Three? Whether you have a preference or not, below you'll find our top picks for Huawei P30 Pro deals available from each major network.
Huawei P30 Pro deals: best on EE
Huawei P30 Pro deals : best on O2
Huawei P30 Pro deals : best on Vodafone
Huawei P30 Pro : best on Three