The best iPad weather and travel apps
Our favorite iPad apps for weather forecasts and planning a journey.
CARROT Weather ($4.99/£4.99/AU$7.99 + IAP)
CARROT Weather is a weather app helmed by a human-hating AI. As you check whether it will be sunny tomorrow, CARROT will helpfully call you a 'meatbag' and threaten to hurl cows at you.
It sounds gimmicky, but the constant snark adds color and personality to a kind of app usually devoid of both. That's the case elsewhere, too: the forecasts are beautifully illustrated, and make fantastic use of the iPad's large screen. The Today view widget is excellent, and the multi-layered maps are detailed.
The main downside is this comes at a cost – literally. Mapping data is pricey – as are notifications. If you want the best of both, you'll need an IAP sub. But even in its standard incarnation, CARROT gives you information and entertainment, propelling it ahead of strait-laced competitors.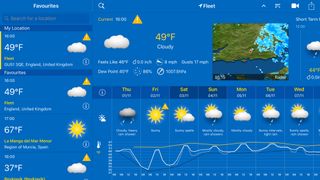 WeatherPro for iPad (US$0.99/79p/AU$0.99)
WeatherPro for iPad is a weather app for people at the geekier end of the spectrum when it comes to meteorology and forecasts. It's far from the prettiest app in the world, but it does pack a ton of information into your iPad's display.
Set up several locations and their current conditions sit in a scrolling pane at the side of the screen. For the current selection, you can in the main pane check out a rainfall radar, along with the outlook for the coming week. And that's way beyond a few symbols and temperature predictions – graphs and wiggly lines outline sun hours, precipitation, wind, and more.
For at-a-glance forecasting, you're probably better off with Dark Sky. But for digging into the details, Weather Pro's a good bet, especially considering the small outlay.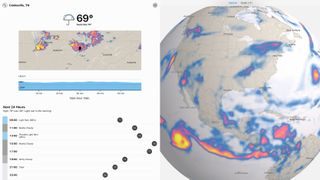 Dark Sky Weather provides weather forecasts with an emphasis on hyperlocal rainfall. The Forecast tab displays current conditions, with a handy map indicating the movements of nearby storms. If rain's imminent, its severity is shown in graph form.
Below that are outlooks for the next 24 hours and upcoming week. The app also includes notifications, including the means to make custom ones triggered by changes in temperature, rain/snowfall, wind, UV, and humidity.
In the past, Dark Sky never felt optimized for iPad. It's still a bit wasteful of space (notably in the tricky-to-parse Next 24 Hours view), but the latest redesign feels more considered and less like a blown-up iPhone app.
Also, the Map view is best experienced on a tablet, where you can watch the ebb and flow of temperatures and rainfall across a virtual Earth you spin with a finger.
Dark Sky Weather (US$3.99/£3.99)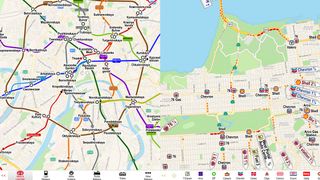 Poison Maps ($1.99/£1.99/AU$2.99)
Poison Maps is an app for finding points of interest – POIs – on maps. Hence: Poison Maps. If you were hoping it'd provide insight into finding toxins, you're out of luck, but for restaurants, hotels, banks, tourist attractions, parking, shops, hospitals and so on, it does the job – millions of such POIs can be found by way of the efficient search function.
This might strike you as unnecessary, given the existence of the entirely free Google Maps, but Poison Maps has some trump cards. First, it has interesting and useful interface components, such as signs that clearly denote the distance to and direction of off-screen POIs.
Beyond static POIs, cycling and transport routes are built-in. Poison Maps also works offline, so should you find yourself in a new town and without a data connection, you'll still have a fighting chance of finding the things you need.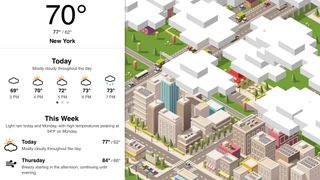 Tinyclouds (US$1.99/£1.99/AU$2.99)
Tinyclouds is an adorable weather app. That's perhaps a slightly odd description to use for something that's usually utilitarian, but then Carrot Weather (elsewhere in this list) showcases how weather apps can have a character of their own, and Tinyclouds is certainly unique.
Select a location (you can store several within the app) and it provides a big temperature reading at the top of the sidebar, along with a forecast for the rest of the day and an outlook for the coming week. The rest of the screen is an ever-changing isometric city, with cars zipping about, its weather mirroring that of your chosen location.
The app does, admittedly, feel like a sketch – it could do with more detail, and at least a wider range of views. Still, as a simple, great-looking weather app for a docked and charging iPad, it's well worth a couple of bucks.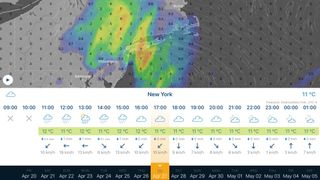 Ventusky (US$2.99/£2.99/AU$4.49)
Ventusky is a weather service that started out online, but feels like it was always destined for iPad.
Select a location and the main view enables you to switch the large map between various weather layers, including temperature, precipitation, snow cover, and air pressure. If you're a weather nerd (and/or British), drag upward and you get an extended forecast to scroll through, along with a ton of graphs and data to bury yourself in.
The one snag is Ventusky lacks Dark Sky's animated radar, and so you don't see storms rolling in – just where they will be during a three-hour window. Even so, the wind streaking across your display as tiny white lines helps you understand why conditions are the way they are.
In short, then, this app looks great, is wonderfully tactile, and is pleasingly different from its contemporaries.
Living Earth ($3.99/£3.99/AU$5.99)
As a combination clock and weather app, Living Earth works well across all iOS devices, but use it with an iPad in a stand and you've got something that'll make other clocks in the immediate vicinity green with envy.
As you might expect, your first job with the app is to define the cities you'd like to keep track of. At any point, you can then switch between them, updating the main clock and weather forecasts accordingly. Tap the weather and you can access an extended forecast for the week; tap the location and you get the current times and weather for your defined locations.
But it's the Earth that gets pride of place, taking up the bulk of the screen. It shows clouds by default, although weather geeks can instead choose colors denoting temperature, wind speed or humidity values. Then with a little swipe the globe rotates, neatly showing heavily populated locations during night time as lattices of artificial man-made light.
Google Maps (free)
You might argue that Google Maps is far better suited to a smartphone, but we reckon the king of mapping apps deserves a place on your iPad, too. Apple's own Maps app has improved, but Google still outsmarts its rival when it comes to public transport, finding local businesses, saving chunks of maps offline, and virtual tourism by way of Street View.
Google's 'OS within an OS' also affords a certain amount of cross-device sync when it comes to searches. We don't, however, recommend you strap your cellular iPad to your steering wheel and use Google Maps as a sat-nav replacement, unless you want to come across as some kind of nutcase.