Looking for the best shows on Amazon Prime? You've come to the right place! Each week Amazon Prime Video adds exclusive TV shows and fresh new episodes to its library - which is great - but it can be difficult to choose just one to binge on next.
That's why we're here to help you make that all important decision about which TV series you should binge watch this weekend and what we recommend you should skip. We've collected together a big selection of TV shows for you to choose from, including shiny new series through to Amazon's own original shows.
April Update: April is a surprisingly good month for movies on Amazon Prime Video between A Quiet Place (arrives April 2) and The Shawshank Redemption (April 1). While things are a bit more sedated on the series side, we will get the fifth season of Bosch on April 19 and the third season of Humans on April 27.
In our guide you'll discover our pick of the best Amazon Prime TV shows that are currently on offer. We have options for fans of thrillers, comedy lovers and those who enjoy nothing more than a fantasy police drama.
So, what's the best Amazon TV show to get sucked into without regretting it by the end of season 2? Read our Prime Video recommendations to find out.
If you can only watch one...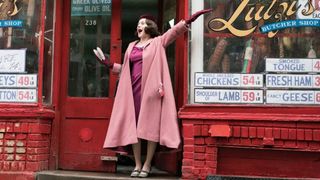 The Marvelous Mrs. Maisel (Season 2)
Winner of a Golden Globe for Best Performance by an Actress in a Television Series, The Marvelous Mrs. Maisel tracks Midge on her rise to the top of the comedy scene in the 1950s. The basic premise of the show is that Midge, a perfect stay-at-home wife, never quite gets the recognition she deserves from her drunk, deadbeat comedian husband. She picks up the mic herself and, as it turns out, is actually funnier than her lesser half. The monologues Midge delivers feel as appropriate for today's audiences as they were for the fictional crowd in the '50s, if not moreso. The result is genuinely funny, inspirational and, above all, human. The first season aired last year and now Midge is back and better than ever in season two.
Amazon Prime or Netflix? Check out our comparison video below!