Ah summer. At one time the warmer months meant nights spent beneath the warm glow of the drive-in movie projector. These days ... not so much.
Thankfully, Amazon Prime Video is here to pick up the slack.
While the service catches a lot of flak for uninteresting, non-noteworthy shows, there's actually a treasure trove of content waiting to be discovered ... if you know where to look.
That's why we're here to help you make that all important decision about which TV series you should binge watch this weekend and what we recommend you should skip. We've collected together a big selection of TV shows for you to choose from, including shiny new series through to Amazon's own original shows.
In our guide you'll discover our pick of the best Amazon Prime TV shows that are currently on offer. We have options for fans of thrillers, comedy lovers and those who enjoy nothing more than a fantasy police drama.
So, what's the best Amazon TV show to get sucked into without regretting it by the end of season 2? Read our Prime Video recommendations to find out.
[Update: Looking for some classic Aughts TV? Suits is now available on Amazon Prime Video as is the much darker, much newer fifth season of Orphan Black.]
Amazon has been developing and creating titles itself over the past few years, which are called Amazon Originals or Amazon Original Series.
These homegrown TV shows are arguably some of the best that the Amazon Prime Video service has to offer (think The Tick and Transparent), which you can watch instantly when you have Amazon Prime access. There are many more shows you can watch through Amazon too of course, but some of these have to be purchased in order for you to start streaming.
We'll be keeping this list constantly updated – if any paid shows become free that we feel need to be included, they'll be added too. Scroll through to see our picks that we've divided up into the following categories: drama, comedy and thriller.
If you can only watch one...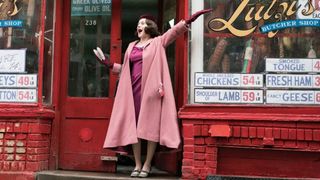 The Marvelous Mrs. Maisel
Nominated for the Emmy in Outstanding Comedy Series, The Marvelous Mrs. Maisel tracks Midge on her rise to the top of the comedy scene in the 1950s. The basic premise of the show is that Midge, a perfect stay-at-home wife, never quite gets the recognition she deserves from her drunk, deadbeat comedian husband. She picks up the mic herself and, as it turns out, is actually funnier than her lesser half. The monologues Midge delivers feel as appropriate for today's audiences as they were for the fictional crowd in the '50s, if not moreso. The result is genuinely funny, inspirational and, above all, human.
Amazon Prime or Netflix? Check out our comparison video below!